Mapping the Leaf Economic Spectrum across West African Tropical Forests Using UAV-Acquired Hyperspectral Imagery
1
Environmental Change Institute, School of Geography and the Environment, University of Oxford, Oxford OX1 3QY, UK
2
School of Informatics, Computing, and Cyber Systems, Northern Arizona University, Flagstaff, AZ 86011, USA
3
Laboratory of Geo-Information Science and Remote Sensing, Wageningen University, P.O. Box 47, 6700 AA Wageningen, The Netherlands
4
Forestry Research Institute of Ghana, Council for Scientific and Industrial Research, P.O. Box UP 63 KNUST, Kumasi, Ghana
5
Finnish Geospatial Research Institute, National Land Survey of Finland, Geodeetinrinne 2, 02430 Masala, Finland
*
Author to whom correspondence should be addressed.
Received: 15 August 2018 / Revised: 10 September 2018 / Accepted: 13 September 2018 / Published: 24 September 2018
Abstract
The leaf economic spectrum (LES) describes a set of universal trade-offs between leaf mass per area (LMA), leaf nitrogen (N), leaf phosphorus (P) and leaf photosynthesis that influence patterns of primary productivity and nutrient cycling. Many questions regarding vegetation-climate feedbacks can be addressed with a better understanding of LES traits and their controls. Remote sensing offers enormous potential for generating large-scale LES trait data. Yet so far, canopy studies have been limited to imaging spectrometers onboard aircraft, which are rare, expensive to deploy and lack fine-scale resolution. In this study, we measured VNIR (visible-near infrared (400–1050 nm)) reflectance of individual sun and shade leaves in 7 one-ha tropical forest plots located along a 1200–2000 mm precipitation gradient in West Africa. We collected hyperspectral imaging data from 3 of the 7 plots, using an octocopter-based unmanned aerial vehicle (UAV), mounted with a hyperspectral mapping system (450–950 nm, 9 nm FWHM). Using partial least squares regression (PLSR), we found that the spectra of individual sun leaves demonstrated significant (
p
< 0.01) correlations with LMA and leaf chemical traits: r
2
= 0.42 (LMA), r
2
= 0.43 (N), r
2
= 0.21 (P), r
2
= 0.20 (leaf potassium (K)), r
2
= 0.23 (leaf calcium (Ca)) and r
2
= 0.14 (leaf magnesium (Mg)). Shade leaf spectra displayed stronger relationships with all leaf traits. At the airborne level, four of the six leaf traits demonstrated weak (
p
< 0.10) correlations with the UAV-collected spectra of 58 tree crowns: r
2
= 0.25 (LMA), r
2
= 0.22 (N), r
2
= 0.22 (P), and r
2
= 0.25 (Ca). From the airborne imaging data, we used LMA, N and P values to map the LES across the three plots, revealing precipitation and substrate as co-dominant drivers of trait distributions and relationships. Positive N-P correlations and LMA-P anticorrelations followed typical LES theory, but we found no classic trade-offs between LMA and N. Overall, this study demonstrates the application of UAVs to generating LES information and advancing the study and monitoring tropical forest functional diversity.
View Full-Text
►

▼

Figures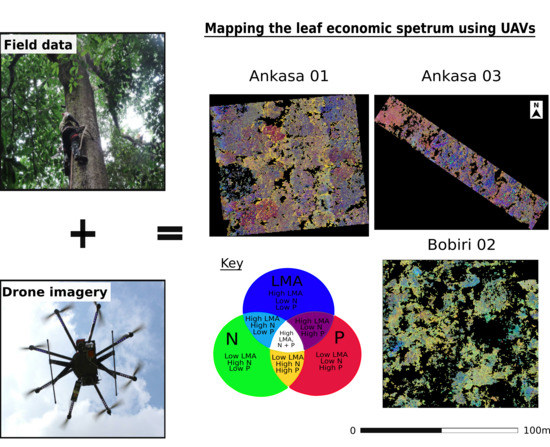 Graphical abstract
This is an open access article distributed under the
Creative Commons Attribution License
which permits unrestricted use, distribution, and reproduction in any medium, provided the original work is properly cited (CC BY 4.0).

Share & Cite This Article
MDPI and ACS Style
Thomson, E.R.; Malhi, Y.; Bartholomeus, H.; Oliveras, I.; Gvozdevaite, A.; Peprah, T.; Suomalainen, J.; Quansah, J.; Seidu, J.; Adonteng, C.; Abraham, A.J.; Herold, M.; Adu-Bredu, S.; Doughty, C.E. Mapping the Leaf Economic Spectrum across West African Tropical Forests Using UAV-Acquired Hyperspectral Imagery. Remote Sens. 2018, 10, 1532.
Note that from the first issue of 2016, MDPI journals use article numbers instead of page numbers. See further details here.
Related Articles
Comments
[Return to top]