Soil Moisture Mapping from Satellites: An Intercomparison of SMAP, SMOS, FY3B, AMSR2, and ESA CCI over Two Dense Network Regions at Different Spatial Scales
1
School of Earth Sciences and Engineering, Hohai University, Nanjing 210098, China
2
State Key Laboratory of Remote Sensing Science, Jointly Supported by Institute of Remote Sensing and Digital Earth, Chinese Academy of Sciences and Beijing Normal University, Beijing 100101, China
3
School of Hydrology and Water Resources, Nanjing University of Information Science and Technology, Nanjing 210044, China
4
Ministry of Education Key Laboratory for Earth System Modeling, Department of Earth System Science, Tsinghua University, Beijing 100084, China
5
The Joint Center for Global Change Studies, Beijing 100875, China
6
Airborne Remote Sensing Center, Institute of Remote Sensing and Digital Earth, Chinese Academy of Sciences, Beijing 100094, China
*
Author to whom correspondence should be addressed.
Received: 2 November 2017 / Revised: 18 December 2017 / Accepted: 23 December 2017 / Published: 25 December 2017
Abstract
A good knowledge of the quality of the satellite soil moisture products is of great importance for their application and improvement. This paper examines the performance of eight satellite-based soil moisture products, including the Soil Moisture Active Passive (SMAP) passive Level 3 (L3), the Soil Moisture and Ocean Salinity (SMOS) Centre Aval de Traitement des Données SMOS (CATDS) L3, the Japan Aerospace Exploration Agency (JAXA) Advanced Microwave Scanning Radiometer 2 (AMSR2) L3, the Land Parameter Retrieval Model (LPRM) AMSR2 L3, the European Space Agency (ESA) Climate Change Initiative (CCI) L3, the Chinese Fengyun-3B (FY3B) L2 soil moisture products at a coarse resolution of ~0.25°, and the newly released SMAP enhanced passive L3 and JAXA AMSR2 L3 soil moisture products at a medium resolution of ~0.1°. The ground soil moisture used for validation were collected from two well-calibrated and dense networks, including the Little Washita Watershed (LWW) network in the United States and the REMEDHUS network in Spain, each with different land cover. The results show that the SMAP passive soil moisture product outperformed the other products in the LWW network region, with an unbiased root mean square (ubRMSE) of 0.027 m
3
m
−3
, whereas the FY3B soil moisture performed the best in the REMEDHUS network region, with an ubRMSE of 0.025 m
3
m
−3
. The JAXA product performed much better at 0.25° than at 0.1°, but at both resolutions it underestimated soil moisture most of the time (bias < −0.05 m
3
m
−3
). The SMAP-enhanced passive soil moisture product captured the temporal variation of ground measurements well, with a correlation coefficient larger than 0.8, and was generally superior to the JAXA product. The LPRM showed much larger amplitude and temporal variation than the ground soil moisture, with a wet bias larger than 0.09 m
3
m
−3
. The underestimation of surface temperature may have contributed to the general dry bias found in the SMAP (−0.018 m
3
m
−3
for LWW and 0.016 m
3
m
−3
for REMEDHUS) and SMOS (−0.004 m
3
m
−3
for LWW and −0.012 m
3
m
−3
for REMEDHUS) soil moisture products. The ESA CCI product showed satisfactory performance with acceptable error metrics (ubRMSE < 0.045 m
3
m
−3
), revealing the effectiveness of merging active and passive soil moisture products. The good performance of SMAP and FY3B demonstrates the potential in integrating them into the existing long-term ESA CCI product, in order to form a more reliable and useful product.
View Full-Text
►

▼

Figures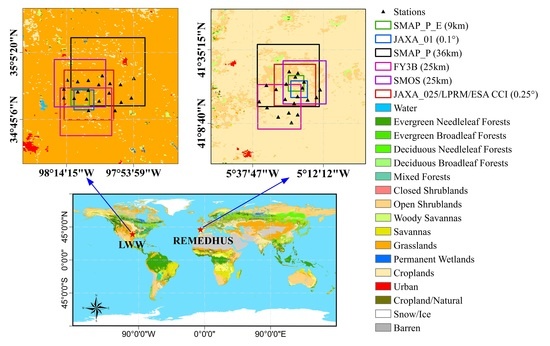 Graphical abstract
This is an open access article distributed under the
Creative Commons Attribution License
which permits unrestricted use, distribution, and reproduction in any medium, provided the original work is properly cited (CC BY 4.0).

Share & Cite This Article
MDPI and ACS Style
Cui, C.; Xu, J.; Zeng, J.; Chen, K.-S.; Bai, X.; Lu, H.; Chen, Q.; Zhao, T. Soil Moisture Mapping from Satellites: An Intercomparison of SMAP, SMOS, FY3B, AMSR2, and ESA CCI over Two Dense Network Regions at Different Spatial Scales. Remote Sens. 2018, 10, 33.
Note that from the first issue of 2016, MDPI journals use article numbers instead of page numbers. See further details here.
Related Articles
Comments
[Return to top]