Open Access This article is
freely available
re-usable
Article
Design of a Novel Spectral Albedometer for Validating the MODerate Resolution Imaging Spectroradiometer Spectral Albedo Product
1
The State Key Laboratory of Remote Sensing Science, Jointly Sponsored by Beijing Normal University and Institute of Remote Sensing and Digital Earth of Chinese Academy of Sciences, Beijing 100875, China
2
Beijing Engineering Research Center for Global Land Remote Sensing Products, Institute of Remote Sensing Science and Engineering, Faculty of Geographical Science, Beijing Normal University, Beijing 100875, China
3
Department of Geographical Sciences, University of Maryland, College Park, MD 20742, USA
*
Author to whom correspondence should be addressed.
Received: 27 November 2017 / Accepted: 10 January 2018 / Published: 12 January 2018
Abstract
:
Land surface shortwave broadband albedo is a key parameter in general circulation models and surface energy budget models. Multispectral satellite data are typically used to generate broadband albedo products in a three-step process: atmospheric correction, for converting the top-of-atmosphere observations to surface directional reflectance; angular modeling, for converting the surface directional reflectance to spectral albedo of each individual band; and finally, narrowband-to-broadband conversion, for transforming the spectral albedos to broadband albedos. Spectroradiometers can be used for validating surface directional reflectance products and pyranometers or broadband albedometers, for validating broadband albedo products, but spectral albedo products are rarely validated using ground measurements. In this study, we designed a new type of albedometer that can measure spectral albedos. It consists of multiple interference filters and a silicon detector, for measuring irradiance from 400–1100 nm. The linearity of the sensors is 99%, and the designed albedometer exhibits consistency up to 0.993, with a widely-used commercial instrument. A field experiment for measuring spectral albedo of grassland using this new albedometer was conducted in Yudaokou, China and the measurements are used for validating the MODerate Resolution Imaging Spectroradiometer (MODIS) spectral albedos. The results show that the biases of the MODIS spectral albedos of the first four bands are −0.0094, 0.0065, 0.0159, and −0.0001, respectively. This new instrument provides an effective technique for validating spectral albedos of any satellite sensor in this spectral range, which is critical for improving satellite broadband albedo products.
Keywords:
spectral; albedometer; interference filter; photoelectric detector; validation
Acknowledgments
This work was supported by the Key research and development program of China 2016YFB0501404, 2016YFB0501502, the Chinese 973 Program under grant 2013CB733403, and the National Natural Science Foundation of China under grant 41171263.
Author Contributions
Hongmin Zhou, Jindi Wang, and Shunlin Liang conceived and designed the experiments; Hongmin Zhou performed the experiments and analyzed the data; Hongmin Zhou wrote the paper; Jindi Wang and Shunlin Liang revised the paper.
Conflicts of Interest
The authors declare no conflict of interest.
Figure 1. Spectral albedometer structure. For each band, upwards and downwards sensors are mounted back-to-back, to receive downwards and upwards radiation, respectively.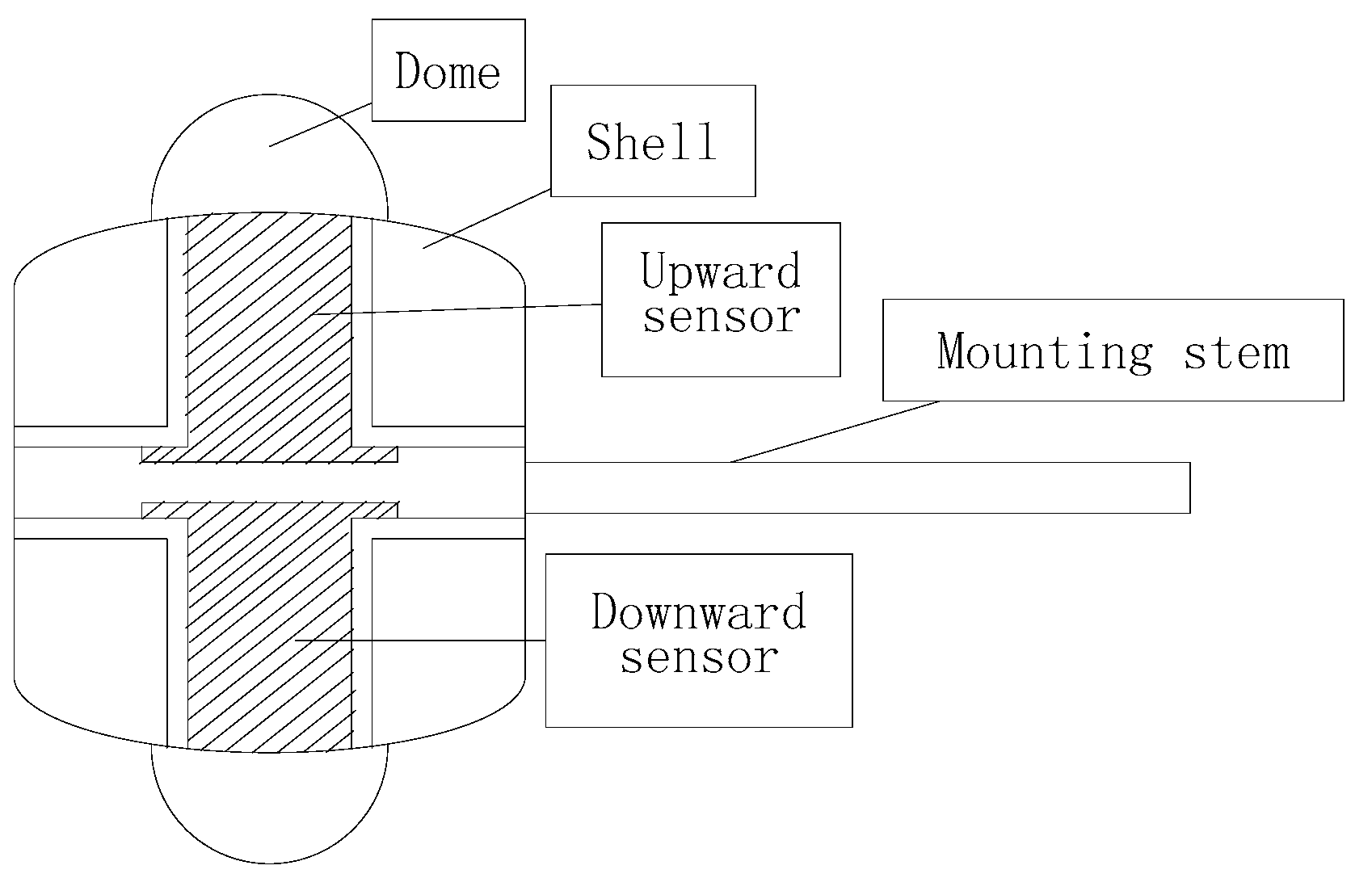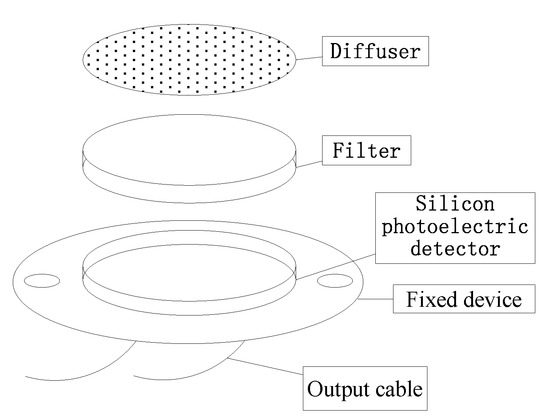 Figure 2. Sensor design. The first layer is a Teflon TM diffuser, the second is an interference filter, the third is a silicon photoelectric detector. Two sensors are included in each band's albedometer: one for and one for .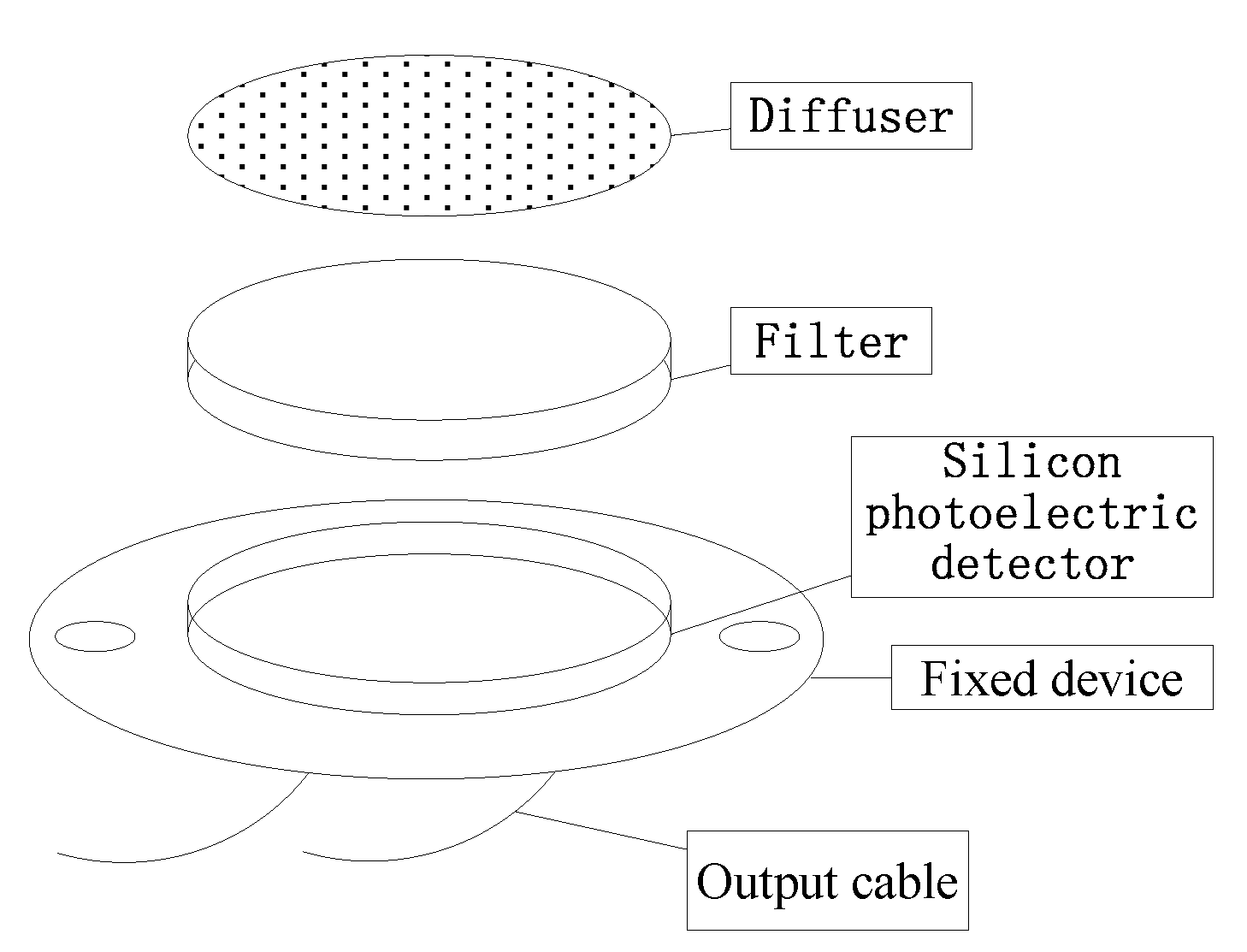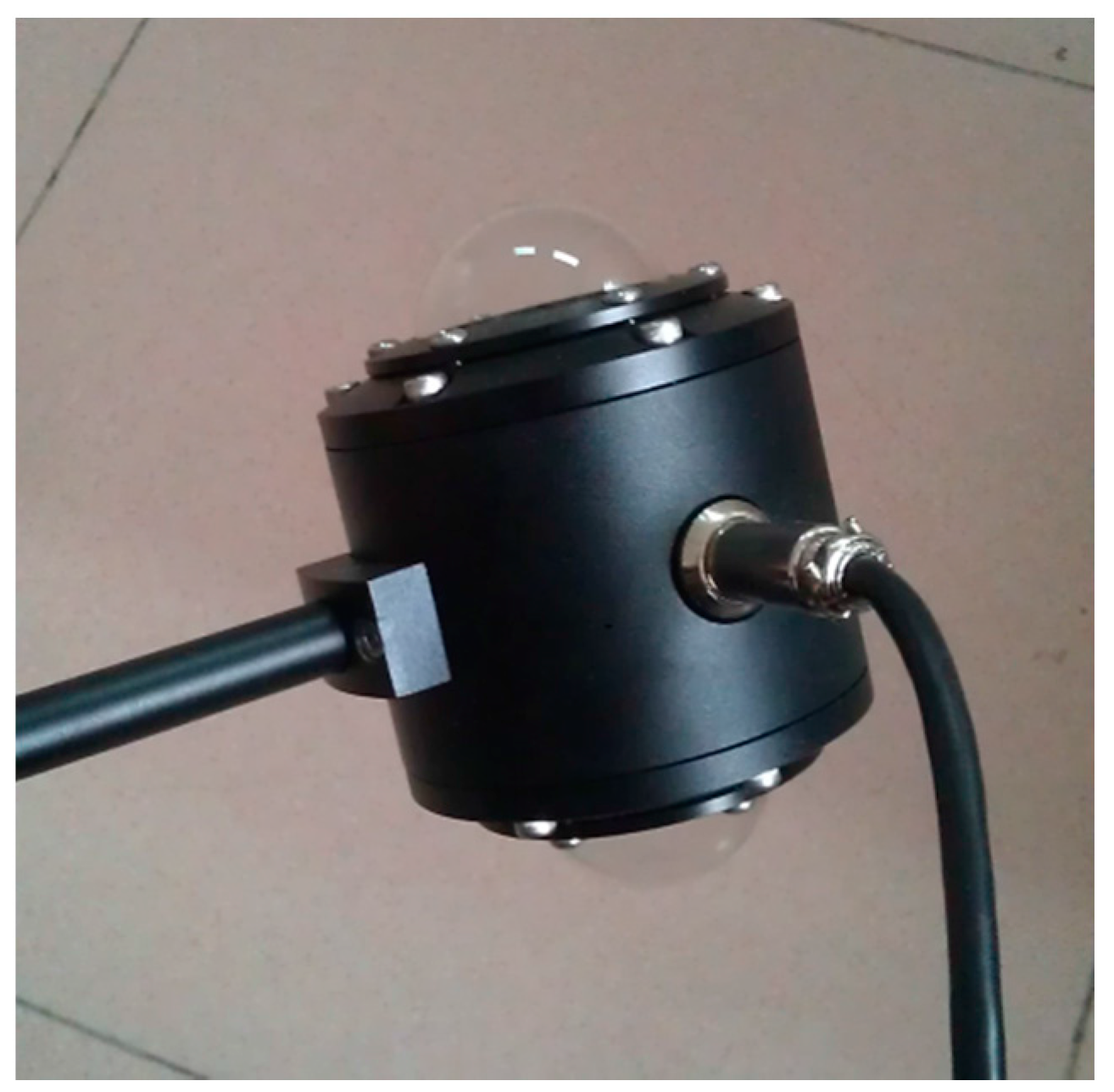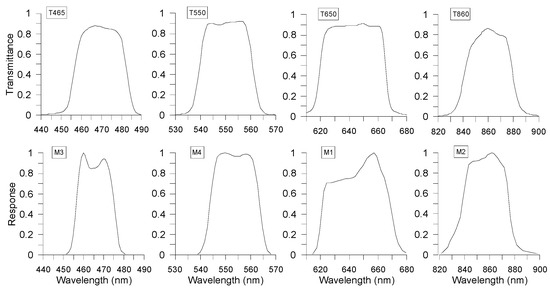 Figure 4. Customized interference filter transmittance versus MODIS band response functions. The top figure of each column is the transmittance of the customized interference filter; the bottom figure is the spectral response function of the MODIS band.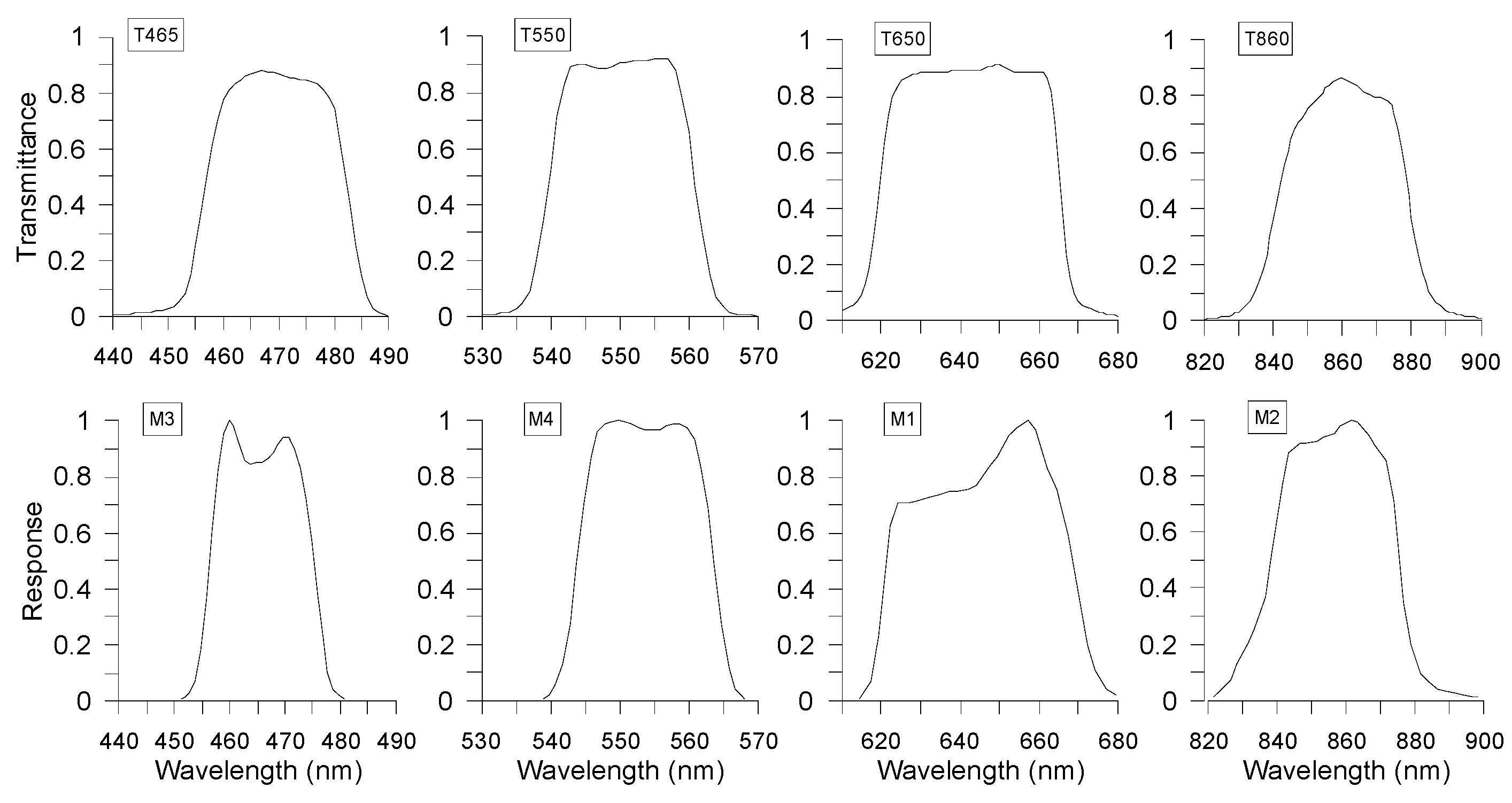 Figure 5. Spectral albedometer calibration. (a) Incident light is first measured by the spectral albedometer and the radiation of each band is integrated; (b) Incident light is then measured by the spectral albedometer sensor. The upward and downward sensors are calibrated independently.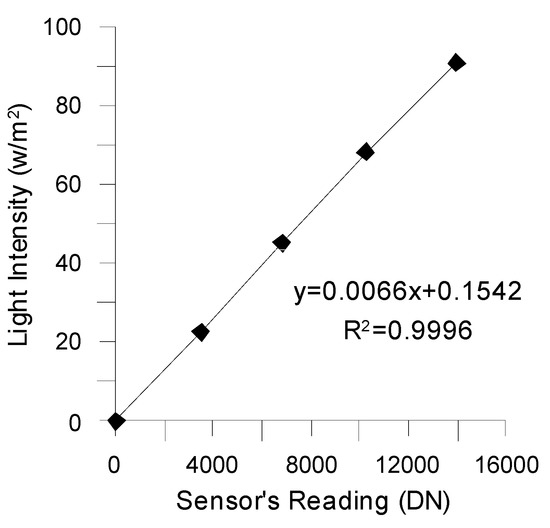 Figure 6. Calibration result of the worst-fitting sensor in the total of 80 calibrated sensors, with coefficient of determination of 0.9996.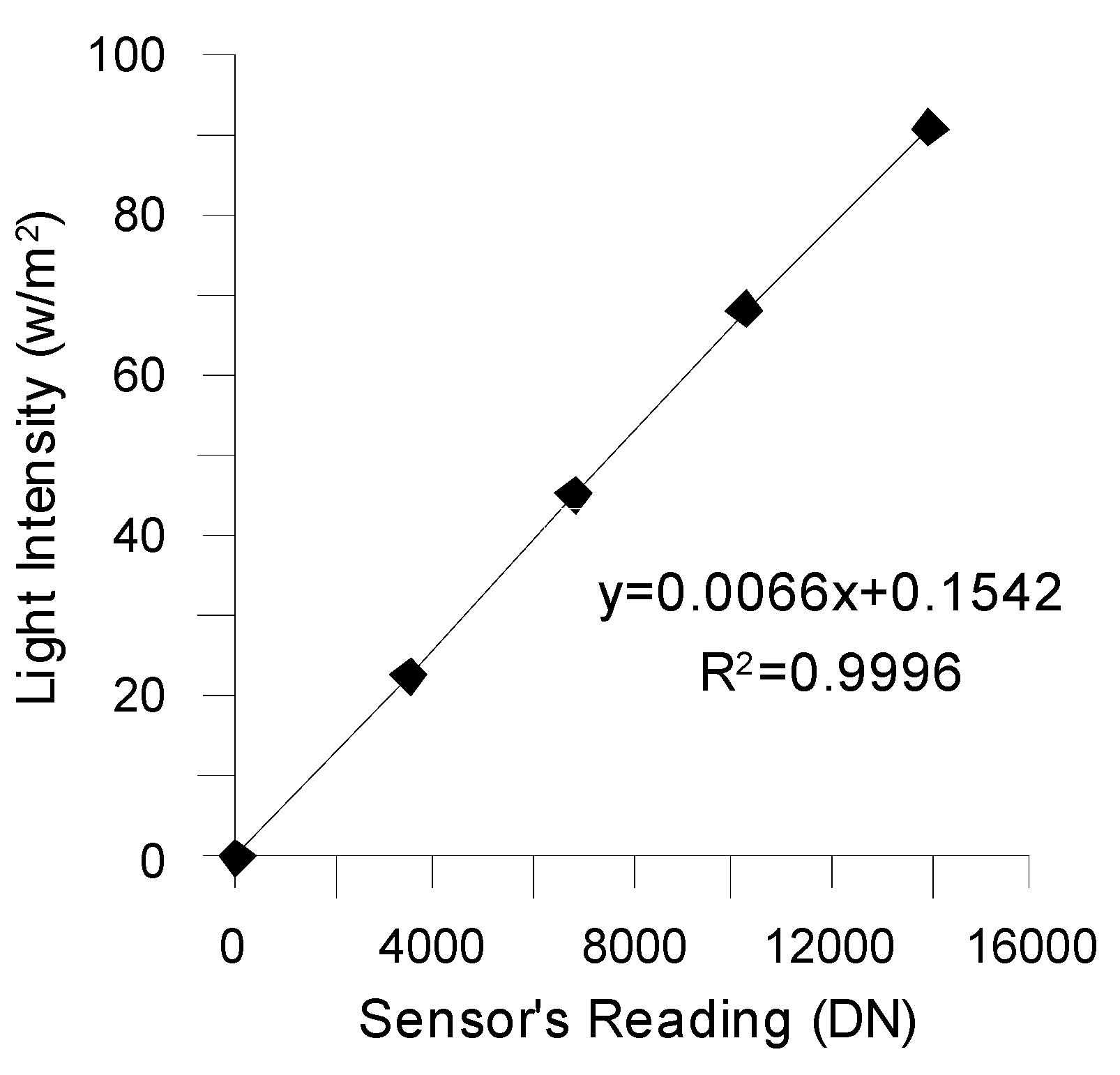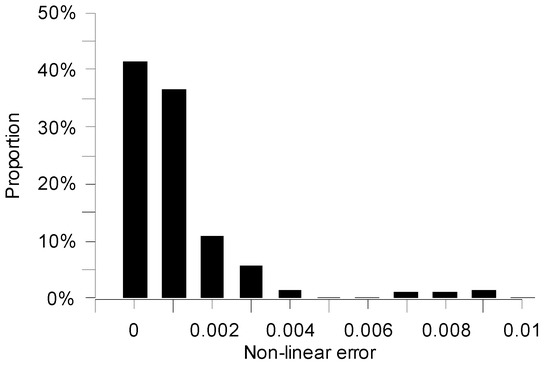 Figure 7. Non-linear error histogram of 80 calibrated sensors. More than 40% of the sensors are absolutely linear, with a non-linear error of 0; all sensors' non-linear error is below 0.01.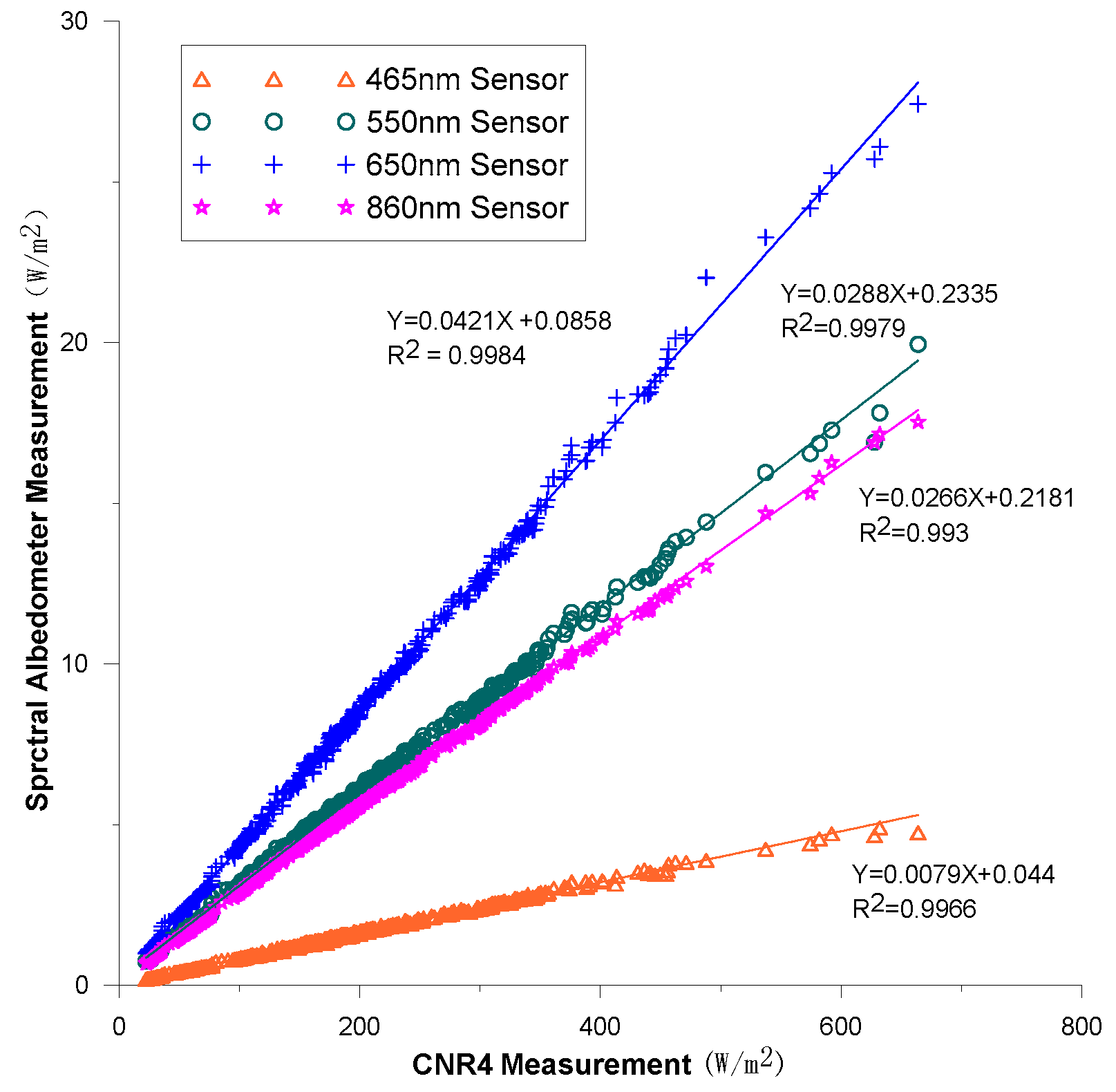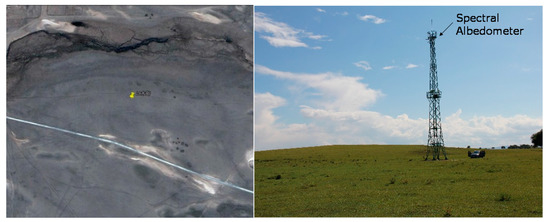 Figure 10. Field observation of the designed spectral albedometer. The left side shows the tower location from Google Earth on 30 April 2013. The site is homogeneous grassland, except for a road passing through the area. The right figure is the 20-m tower. The designed spectral albedometers are mounted atop the tower.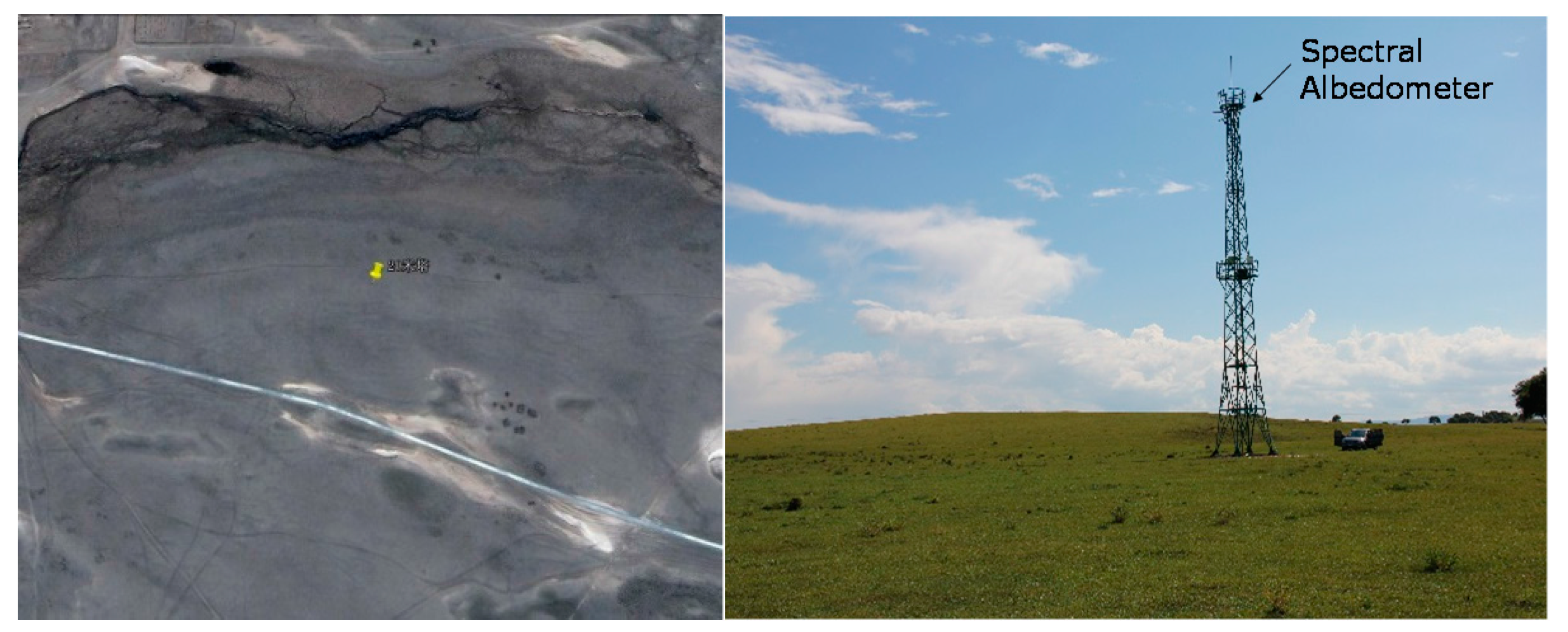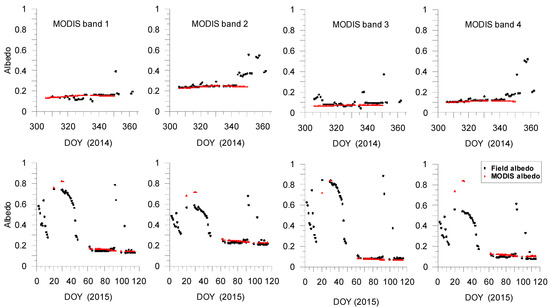 Figure 11. Direct validation of MODIS spectral albedo (bands 1 to 4) with spectral albedometer measurements. The first row are results for 2014 and the second row are results for 2015.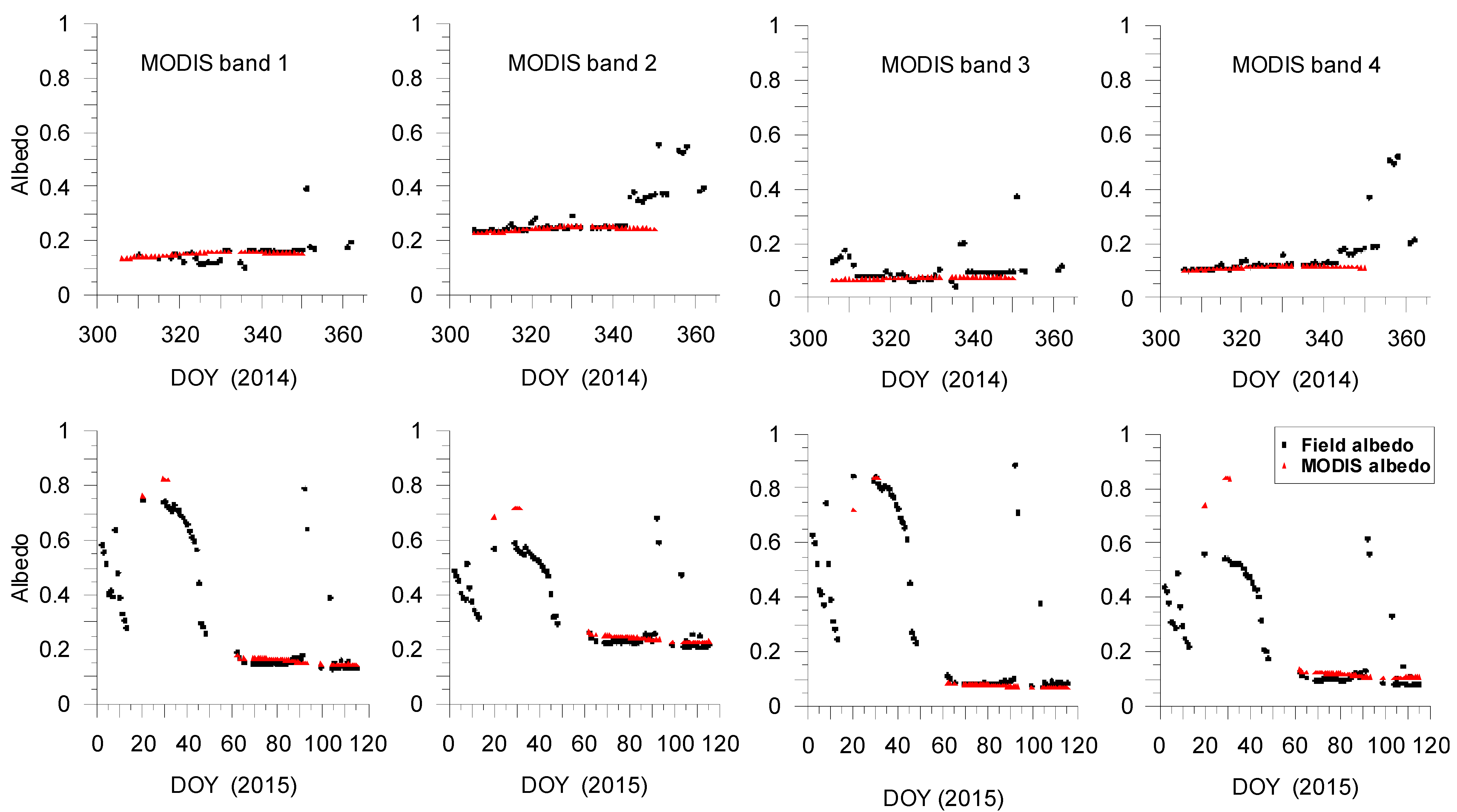 Table 1. Band information of first four MODerate Resolution Imaging Spectroradiometer (MODIS) bands.
| | Band 1 | Band 2 | Band 3 | Band 4 |
| --- | --- | --- | --- | --- |
| Central wavelength (nm) | 645 | 858.5 | 469 | 555 |
| Full width at half maximum (FWHM) (nm) | 50 | 35 | 20 | 20 |
| | Band 1 | Band 2 | Band 3 | Band 4 |
| --- | --- | --- | --- | --- |
| Central wavelength (nm) | 645 | 858.5 | 469 | 555 |
| FWHM (nm) | 45 | 38 | 22 | 21 |

Table 3. Statistical results of direct comparison of MODIS spectral albedo and spectral albedometer measurements.
| | RMSE | BIAS |
| --- | --- | --- |
| Band 1 | 0.019 | −0.0094 |
| band 2 | 0.0368 | 0.0065 |
| band 3 | 0.0317 | 0.0159 |
| band 4 | 0.0244 | −0.0001 |

© 2018 by the authors. Licensee MDPI, Basel, Switzerland. This article is an open access article distributed under the terms and conditions of the Creative Commons Attribution (CC BY) license (http://creativecommons.org/licenses/by/4.0/).