Open Access This article is
freely available
re-usable
Article
Operating Strategy for Local-Area Energy Systems Integration Considering Uncertainty of Supply-Side and Demand-Side under Conditional Value-At-Risk Assessment
1
State Key Laboratory of Alternative Electrical Power System with Renewable Energy Sources, North China Electric Power University, Beijing 102206, China
2
China Energy Engineering Group Tianjin Electric Power Design Institute Co., Ltd., Tianjin 300400, China
3
Inner Mongolia Power (Group) Co., Ltd., Huhehaote 010020, China
*
Author to whom correspondence should be addressed.
Received: 9 June 2017 / Accepted: 15 September 2017 / Published: 18 September 2017
Abstract
:
To alleviate environmental pollution and improve the energy usage efficiency of terminals, energy systems integration (ESI) has become an important paradigm in the energy structure evolution. Power, gas and heat systems are becoming tightly interlinked with each other in ESI. The dispatching strategy of local-area ESI has significant impact on its operation. In this paper, a local-area ESI operational scheduling model based on conditional value-at-risk (CVaR) is proposed to minimize expected operational cost, which considers the uncertainty of energy supply-side and demand-side as well as multi-energy network constraints, including electrical network, thermal network and gas network. The risk cost is analyzed comprehensively under the condition of under- or overestimated cost. On this basis, a hybrid method combining particle swarm optimization with interior point algorithm is executed to compute the optimal solutions of two-stage multi-period mixed-integer convex model. Finally, a case study is performed on ESI to demonstrate the effectiveness of the proposed method.
Keywords:
energy systems integration (ESI); conditional value-at-risk (CVaR); risk cost; multi-energy network constraints; bi-level optimization
1. Introduction
The energy industry has gone through great changes as a result of the rapid development of technology and economy since twenty-first century. In recent years, the development of sustainable, affordable, and clean sources of energy is considered a prerequisite for today's economic strength and will benefit tomorrow's society. Under the impetus of competition in the energy industry, the unbundling of the electricity sector has introduced new technologies for the generation and the delivery of electricity, which signify less pollutant, highly efficient, and less costly ways of supplying the electricity. The large-scale integration of variable renewable units in power systems would require a fast response generating capacity. In this case, energy systems integration (ESI) as an important form of a new energy system is proposed; it covers electric power system, heat system and natural gas system with the purpose of coordinating the whole system in the processes of generation, transmission and consumption, which is considered to be the core technology of the "third industrial revolution" [
1
]. A recent survey of the references shows that considering their characteristics range of application, the different mainstream ESI approaches adopted by researchers can be classified into two categories [
2
,
3
]: wide-area ESI and local-area ESI. Local-area ESI has many forms and includes city ESI, community ESI, industrial park ESI, etc. The paper focuses on the local-area ESI which lays solid foundations and provides valid support for entire energy systems; the local-area ESI can be seen as an upgraded level of a microgrid. The relationship between wide-area ESI and local-area ESI is shown in
Figure 1
.
There are a large number of references on ESI economic dispatch and many works have been conducted with regard to the decision making model. Parisio et al. [
4
] propose a robust optimization method for energy hub management which can be defined as an interface between generating units and the energy consumers, bounded uncertainties on energy hub parameters are taken into account and calculation methods are exploited to gain robust solutions which are feasible for all values. In [
5
], An integrated model of gas and electricity networks was developed to analyze the operational strategy using deterministic method, two stage stochastic method and multi stage stochastic method, which takes into account the uncertainty in wind power forecast and fuel availability of gas-fired generators. In [
6
], the coordination of constrained electricity and natural gas infrastructures is considered for firming the variability of wind energy in electric power systems, and the stochastic security-constrained unit commitment is applied for minimizing the expected operation cost in the day-ahead scheduling of power grid. In [
7
], an interval optimization based coordinated operating strategy for the gas-electricity integrated energy system is proposed considering demand response and wind power uncertainty. Zhang et al. [
8
] present a co-optimization planning model that considers the long-term interdependency of natural gas and electricity infrastructures, whose model is decomposed into a least-cost master investment problem for natural gas and electricity systems and interacts with two operation subproblems representing the feasibility (security) and the optimality (economic) of the proposed co-optimization.
The approaches mentioned above have the limitation that no mechanism was presented to deal with the gap between forecast values and real-time values for both energy supply and demand sides in ESI. Specifically, in energy supply side, high penetration distributed generations (DG) bring about more and more randomness and fuzziness, which is considerably difficult to make potentially costly operational decisions for energy management system (EMS). Meanwhile, in energy demand side, although several sources of loads have strong coupling relationships with each other that may improve the forecasting accuracy, uncertain energy consumption fashion in local-area still poses an enormous dilemma regarding the appropriate implementation of prediction algorithms. Therefore, as the risks of different energy systems are gradually aggregated, the interaction among various energy sources becomes more relevant, as illustrated in
Figure 2
. A number of energy service issues will be more complex to solve without assessing system risk, such as the economic scheduling of distributed energy system, scheduling of energy purchase, system security assessment, and planning for energy transactions and demand response. Thus, how to effectively quantify the risk of ESI is still an urgent problem to be solved. Value-at-risk (VaR) and conditional value-at-risk (CVaR), as well-known risk measures, have been widely used in various energy management problems for different entities in the electricity market such as retailers [
9
], producers [
10
,
11
,
12
], distribution companies [
13
], and in generation operation planning [
14
], optimal power flow [
15
] as well as coordinated energy trading problems [
16
,
17
].
The main contributions of this paper can be summarized as follows.
(1)

To the best of our knowledge, the CVaR as risk evaluation approach has rarely been applied in local-area ESI operating strategy research. In this paper, risk assessment of local-area ESI is proposed to quantify the impact occurred by uncertainty of energy supply-side and demand-side.

(2)

In the modeling process, risk cost, which includes the fuel cost, maintenance cost and facility adjustment cost, is especially analyzed in the case of overestimation and underestimation as multiple sources of energy interact, and constraints of multi-energy systems network are fully taken into account.

(3)

By considering the advantage of the algorithm and the complexity of the ESI model, a bi-level optimization algorithm which combines particle swarm optimization (PSO) approach with interior point (IP) method is used to solve the stochastic multi-period mixed-integer model for dispatching issue.
The content of this paper is organized as follows.
Section 2
presents the fundamental mathematical model related to energy supply equipment and uncertainty analysis on energy supply and demand side.
Section 3
introduces the CVaR based economic dispatch model for integrated energy systems. The results of our numerical experiment and sensitivity analysis are presented in
Section 4
. Finally, the conclusion and plan for future work avenues are presented in
Section 5
.
2. Mathematical Model Formulation
2.1. Mathematical Model of Electricity Supply Equipment in Local-Area ESI
2.1.1. Micro Turbine CHP Model
Micro-turbine is a type of small gas turbine, whose rated power generally ranges from 25 kW to 300 kW. The efficiency of micro-turbine, which supplies energy source in the form of heat and electricity, can be up to 70%. Considering that the Capstone C65 micro is widely used in the practical application [
18
], power generation efficiency can be approximated by Equation (1):
where
PCHP
denotes the electrical power of micro turbine; when the fluctuation of
PCHP
is limited, can be regarded as a fixed constant.
LHVng
represents natural gas calorific value. The amount of nature gas consumed by CHP unit can be described as follow:
Cng
represents the price of nature gas. The fuel cost of CHP
CCHP
can be described as:
denotes the heat loss rate, denotes waste heat recovery efficiency, and
COPh
represents the heating coefficient of bromine cooler. The heating power of CHP can be noted as:
2.1.2. Fuel Cell Model
Fuel cell is a device that converts the chemical energy from a fuel into electricity through a chemical reaction of positively charged hydrogen ions with oxygen or another oxidizing agent [
19
]. The amount of nature gas consumed by FC per unit time can be calculated as:
where presents generation power and presents generation efficiency. The power efficiency of a fuel cell and fuel cost of FC
CFC
can be described as follows:
2.1.3. Photovoltaic Power Generation Model
Photovoltaics (PV) are a type of equipment that convert light into electricity using semiconducting materials that exhibit the photovoltaic effect. Considering that the output power of PV is closely related to temperature, radiance, pressure humidity, etc., the output of the photovoltaic cell can be expressed by Equation (8)
where
PPV
(
t
) is the output of PV.
GSTC
,
TSTC
and
PSTC
are radiance, photovoltaic cell temperature and maximum output power, respectively.
G
(
t
) and
Tc
(
t
) are radiance and photovoltaic cell temperature at
t
-th period, respectively.
k
is the power temperature coefficient.
2.1.4. Wind Power Generation Model
A wind turbine is a device that converts the wind's kinetic energy into electrical power. Specifically, cut-in wind speed
vci
rated wind speed
vr
and cut-out wind speed
vco
as three typical wind speed parameters and can comprehensively describe wind resource utilized by facility. The relationship between the WT output power and the wind speed are described in Equation (9):
where
PWT
is actual output power of WT,
Pr
is rated power, and
k
1
and
k
2
are fitting parameters.
2.2. Mathematical Model of Heat Supply Equipment in Local-Area ESI
2.2.1. Ground Source Heat Pump Model
Ground source heat pump model GSHP is a central heating or cooling system that transfers heat from the ground. It uses the earth as a heat source (in the winter) or a heat sink (in the summer) [
20
]. The design takes advantage of the moderate temperatures in the ground to boost efficiency and reduce the operational cost of heating and cooling systems. In this paper, we employ a quadratic function as mathematical model to simplify the relationship of input and output.
where
a
,
b
and
c
are the coefficients of the quadratic function.
2.2.2. Gas Boiler Model
Gas boiler (GB) is the most commonly used thermal facility; it directly burns natural gas to produce heat [
21
]. The amount of nature gas GB consumed per unit time can be calculated as follow:
where
QGB
is heating power and is heating coefficient.
Fuel cost of GB
CGB
can be calculated as follow:
2.3. Uncertainty Analysis in Local-Area IES
2.3.1. Uncertainty of Energy Supply Side
Given that renewable energy sources including PV and WT usually possess the characteristic of randomness and uncertainty in the ESI energy supply side, the Weibull distribution and the
β
distribution are commonly used to describe the uncertainty of wind speed and radiance for long-term power system planning and operation scheduling issues in conventional fashion, which ignores coupling between adjacent periods. These strategies might not be suitable for ESI economic scheduling in short-term or very short-term range to simulate the actual operation scenario. Thus, we employ short-term forecasts of wind speed and radiance to predict WT and PV output the next day.
The forecasting error of the wind speed can be obtained from the deviation between the wind speed predicted value and the actual value , which can be calculated as . Some studies have shown that the prediction error of wind speed is subject to normal distribution [
22
] whose mean and standard deviation are 0 and , respectively. Thus, the probability of the actual wind speed is:
The distribution function is:
where is standard normal distribution function.
According to Equation (9), for the reason that the relationship between WT output and wind speed is nonlinear, the output of the WT is not subject to the normal distribution. The output power probability distributions of WT can be calculated by Equations (9) and (14):
The probability density function of WT output in interval [, ] is:
As per the analysis above, we can obtain the distribution of the WT output for the next 24 h after estimating the standard deviation .
Similarly, according to Ref. [
23
], PV output can be computed in a similar way.
2.3.2. Uncertainty of Energy Demand Side
A large body of references suggests that the probability density distribution of electrical and heat load approximately obeys normal distribution. Therefore, the normal distribution model with boundary is used to describe the uncertainty of electrical and heat loads [
24
,
25
] because the maximum and minimum points always appear during on-peak and off-peak periods.
Suppose that the random variable is subject to the normal distribution in the interval [a, b], the probability density function of can be described as:
where is the mean of random variables , and is the standard deviation.
Suppose that the predicted value of electrical load is , the actual value is . The minimum and maximum value are and , respectively. In addition, is subject to the normal distribution with standard deviation, , thus the probability density function of the load actual value in the interval [, ] can be described as:
Similarly, the probability density function of the heat load actual value can also be obtained by method mentioned above.
2.3.3. Reduction of Uncertainty Scenarios
In this paper, we employ the Monte Carlo based Latin Hypercube Sampling (LHS) technique to generate scenarios by means of randomly sampling and comparing the probability distance. More details are provided in Ref. [
26
].
3. CVaR Based Dispatching Model for Local-Area ESI
4. Case Study
The suitability of the proposed approach for conducting CVaR based economic dispatch studies was tested on the system network shown in
Figure 4
. EBi, HBi and GBi served as the nodes of the power, thermal, and gas systems, respectively. A gas compressor was installed in the gas subsystem to ensure pressure and gas supply. The electrical power subsystem is connected to the utility grid via the node EB12. PV with rated power of 160 kWp and 240 kWp is installed at nodes EB3 and EB8, and WT with rated power 1000 kW is installed at node EB4. CHP unit works in the following the electric load (FEL) model. The forecasting values of PV, WT, electrical load and heat load in each period are demonstrated in
Figure 5
and
Figure 6
. The parameters of power supply equipment in ESI are shown in
Appendix A
. The power factor of each electric load node is 0.9. Assuming that the forecasting errors of PV and WT are subject to the normal distribution with variance of and , respectively, the forecasting errors of the electrical load and thermal load are both subject to the normal distribution with variance of , respectively.
The time of use share price (TOU) for the electrical power exchange between the ESI and the external utility grid is demonstrated in
Table 1
. The price of natural gas is 2.51 Yuan/m
3
. The adjustment cost of the electrical power supply facility is 0.52 Yuan/kW. The adjustment cost of the thermal power supply facility is 0.42 Yuan/kW. The compensation cost for interrupting electrical loads and thermal loads are 0.612 Yuan/kWh and 0.452 Yuan/kWh, respectively. The penalty cost for wasting electrical power and thermal power are 0.32 Yuan/kWh and 0.22 Yuan/kWh, respectively. For line constants of the ESI, refer to
Appendix B
.
The dispatching period is , time interval is . Most of the experiments could be completed on machine with a Core i7 central processing unit and 8 GB of memory using the 2014a MATLAB environment.
5. Conclusions
A CVaR-based optimization algorithm for energy management problem of ESI in the presence of uncertainty on energy demand and supply side was proposed in the paper, which has fully considered the constraints of electrical network, thermal network and natural gas network. Risk cost, including overestimated risk cost and underestimated risk cost, has been clearly analyzed according to practical demand. A bi-level optimization method based on the fast particle swarm algorithm and interior point method is used to solve ESI model.
Through a case study, we can see the CVaR method can well evaluate the risk level of the ESI dispatching problem, which effectively avoids economic losses caused by the uncertain factors. As the confidence level increases, the scheduling risk increases accordingly. Furthermore, multiple constraints considering electricity, heat and gas flow ensure the system operation safely, which has more significance on theory and engineering. The hybrid optimization algorithm we deployed has good convergence property.
Acknowledgments
This work was supported by Fundamental Research Funds for the Central Universities (2016XS10), National Natural Science Foundation of China (51507061) and Development of international standards for power grid technology (201510207-3).
Author Contributions
Jiaqi Shi and Yingrui Wang designed the study; Jiaqi Shi and Ruibin Fu performed the experiments and wrote the paper; and Jianhua Zhang reviewed and edited the manuscript. All authors read and approved the manuscript.
Conflicts of Interest
The authors declare no conflict of interest.
Appendix A
| Equipment Name | Minimum Power Output (kW) | Maximum Power Output (kW) | Ramping up Rate (kW/min) | Ramping down Rate (kW/min) | Maintenance Cost (Yuan/kW) |
| --- | --- | --- | --- | --- | --- |
| CHP | 5 | 130 | 5 | 10 | 0.0149 |
| FC | 10 | 200 | 10 | 10 | 0.009 |
| GSHP | 0 | 200 | 5 | 5 | 0.0311 |
| GB | 100 | 1500 | 5 | 6 | 0.025 |
| Utility grid | −600 | 600 | - | - | - |
Appendix B
| Direction of Line | Length (m) | Direction of Line | Length (m) |
| --- | --- | --- | --- |
| 12–2 | 50 | 2–10 | 50 |
| 2–3 | 130 | 8–9 | 100 |
| 3–4 | 100 | 10–9 | 100 |
| 4–5 | 100 | 11–10 | 100 |
| 3–6 | 100 | 1–11 | 50 |
| 7–6 | 100 | - | - |
| Direction of Pipeline | Length (m) | Diameter (mm) | Direction of Pipeline | Length (m) | Diameter (mm) |
| --- | --- | --- | --- | --- | --- |
| 4–3 | 50 | 100 | 1–2 | 150 | 100 |
| 5–3 | 100 | 100 | 7–1 | 100 | 100 |
| 2–4 | 150 | 100 | 6–4 | 50 | 100 |
| Direction of Pipeline | Length (m) | Diameter (mm) | Direction of Pipeline | Length (m) | Diameter (mm) |
| --- | --- | --- | --- | --- | --- |
| 1–2 | 100 | 200 | 3–4 | 100 | 200 |
| 2–3 | 300 | 200 | 3–5 | 350 | 200 |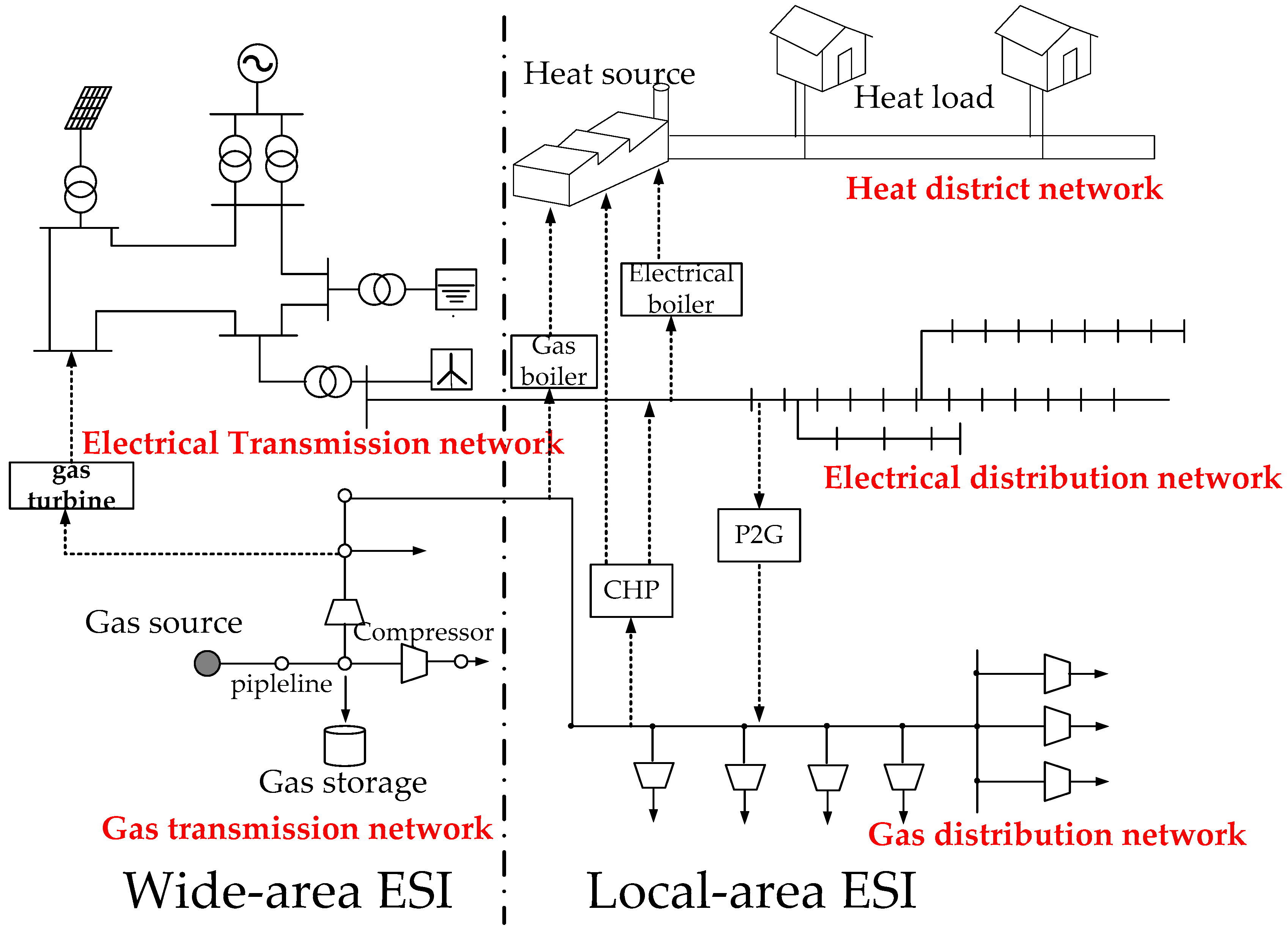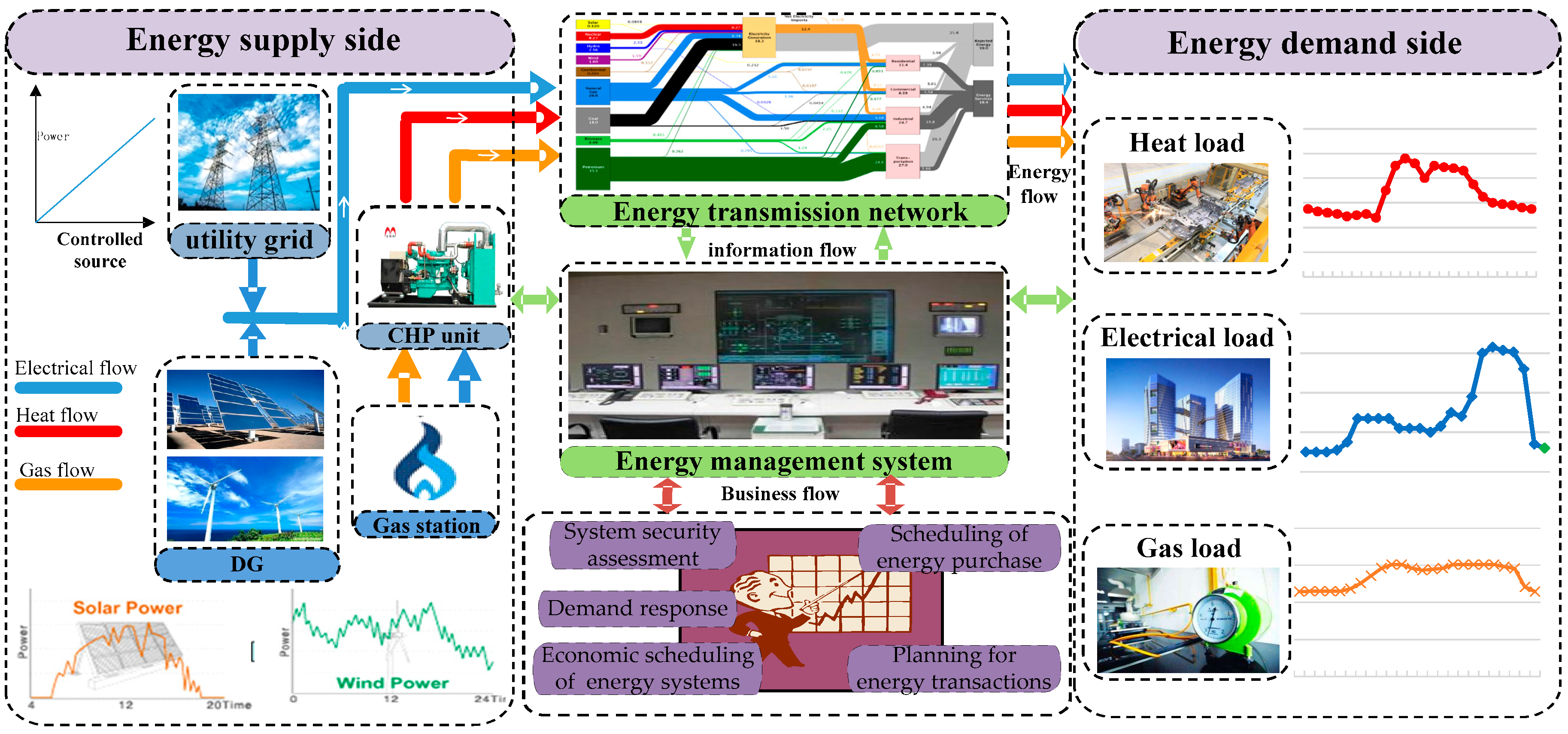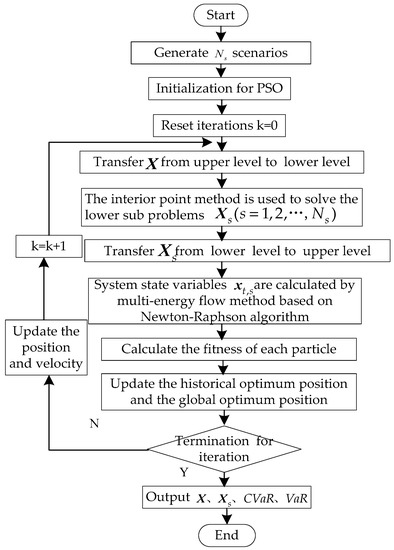 Figure 3. The solving process based on particle swarm optimization (PSO) and interior point (IP) method.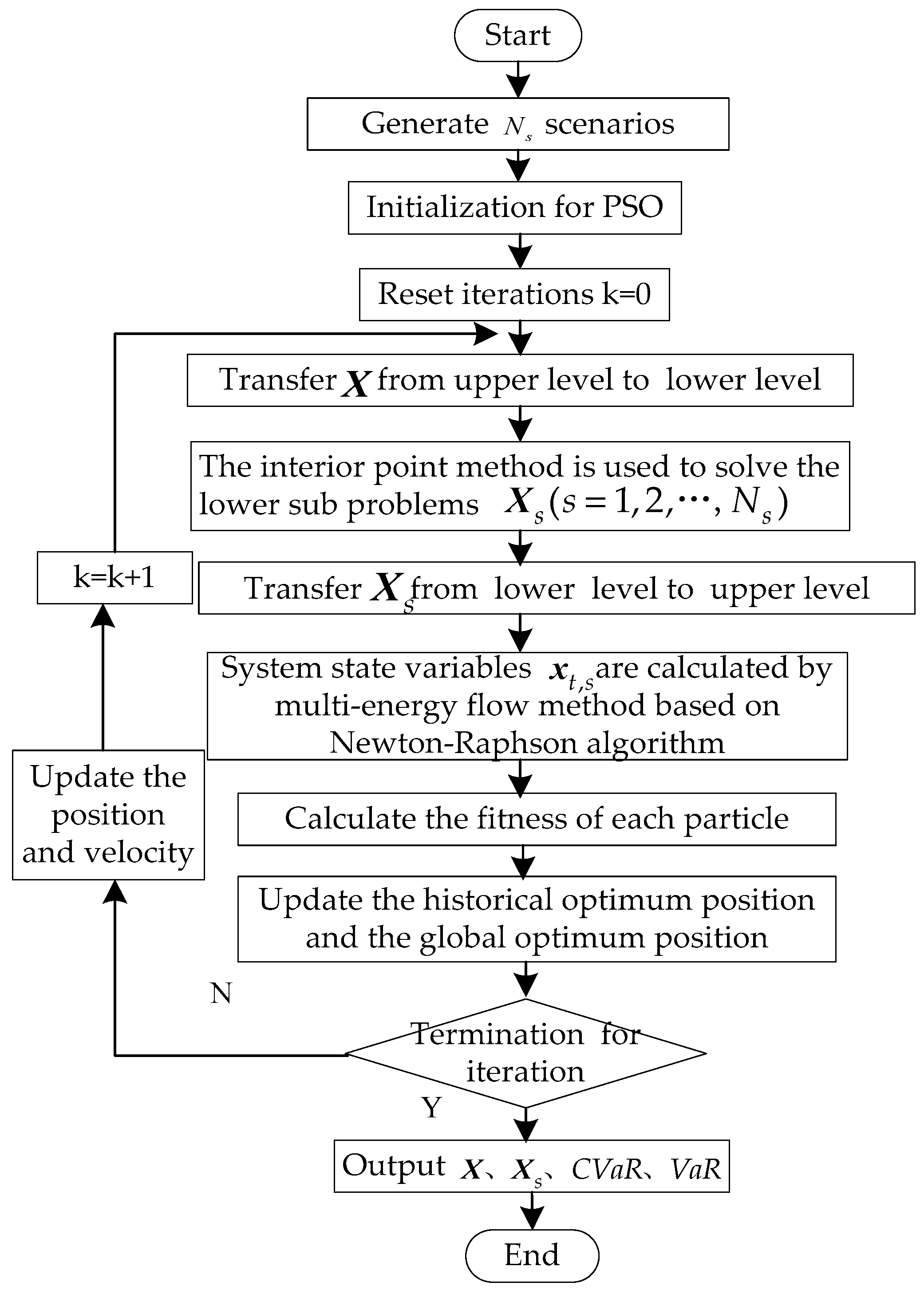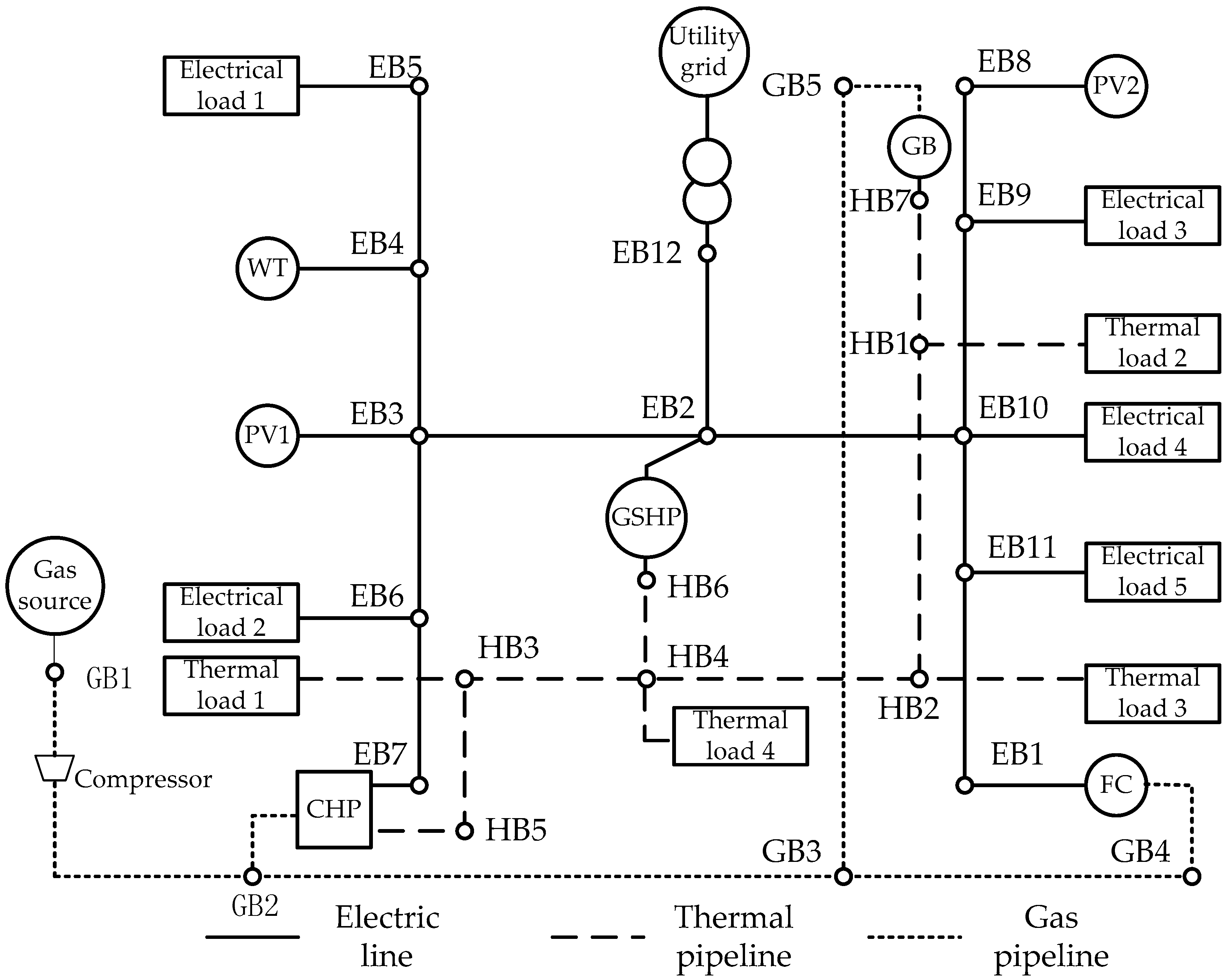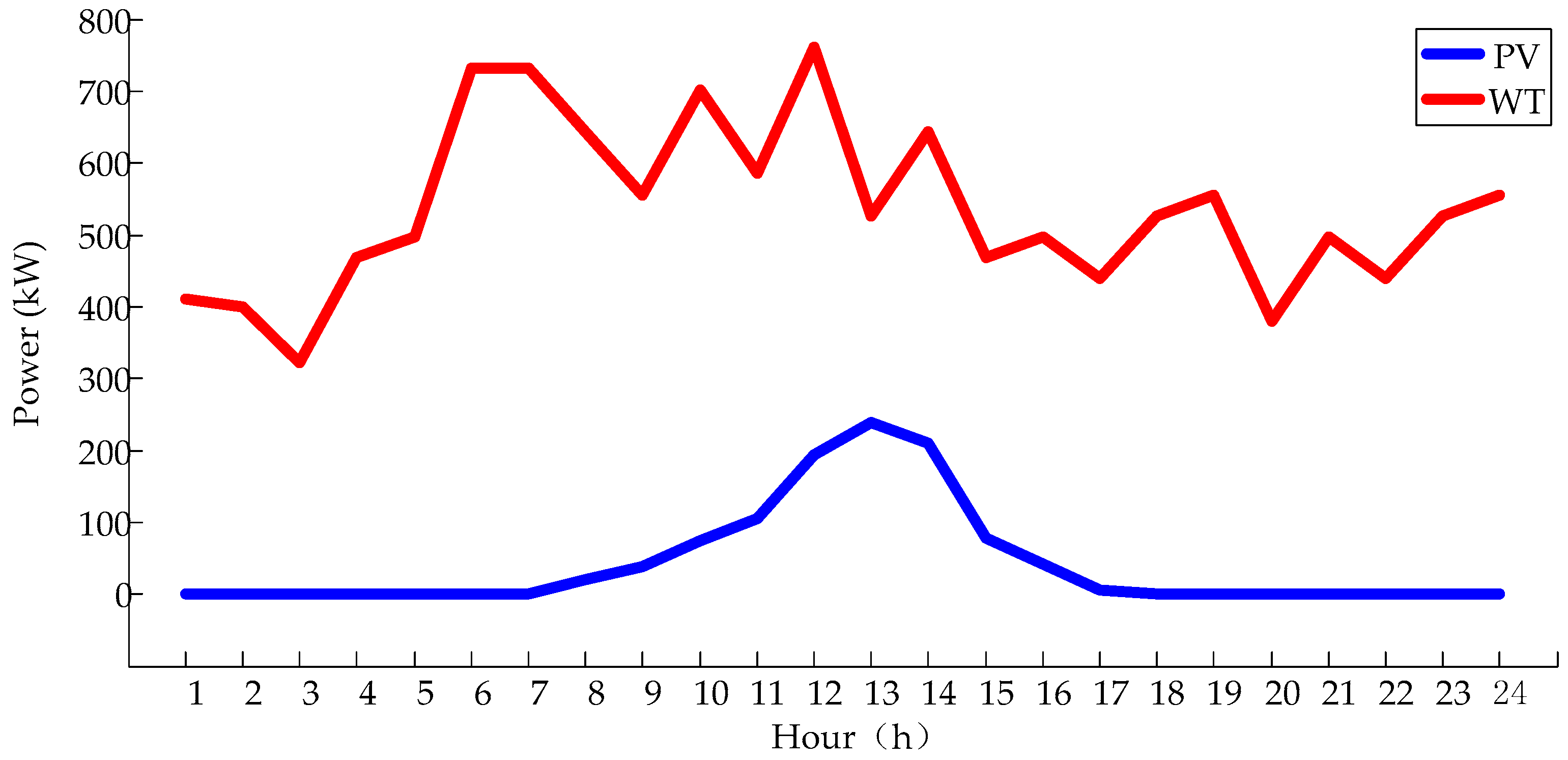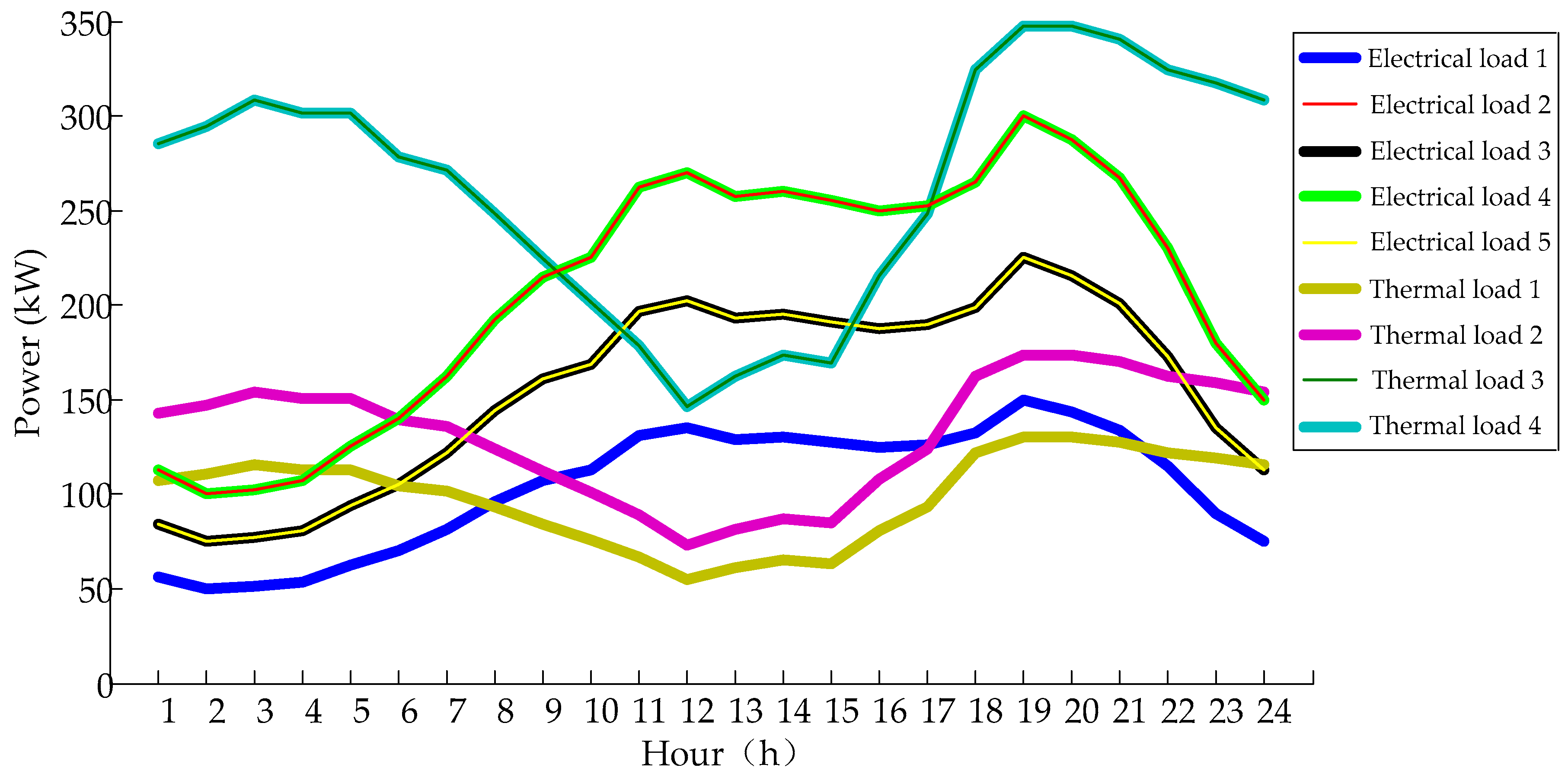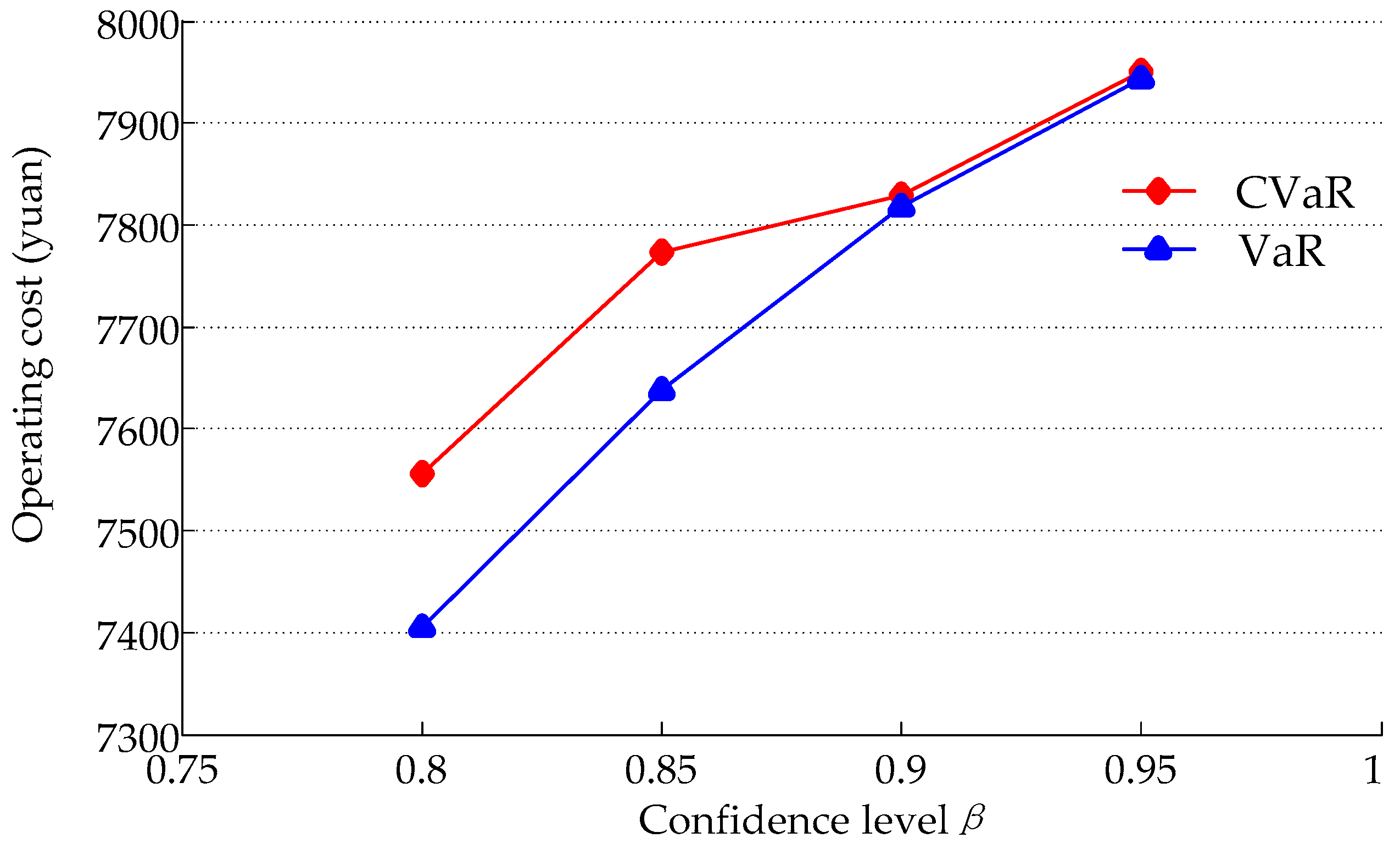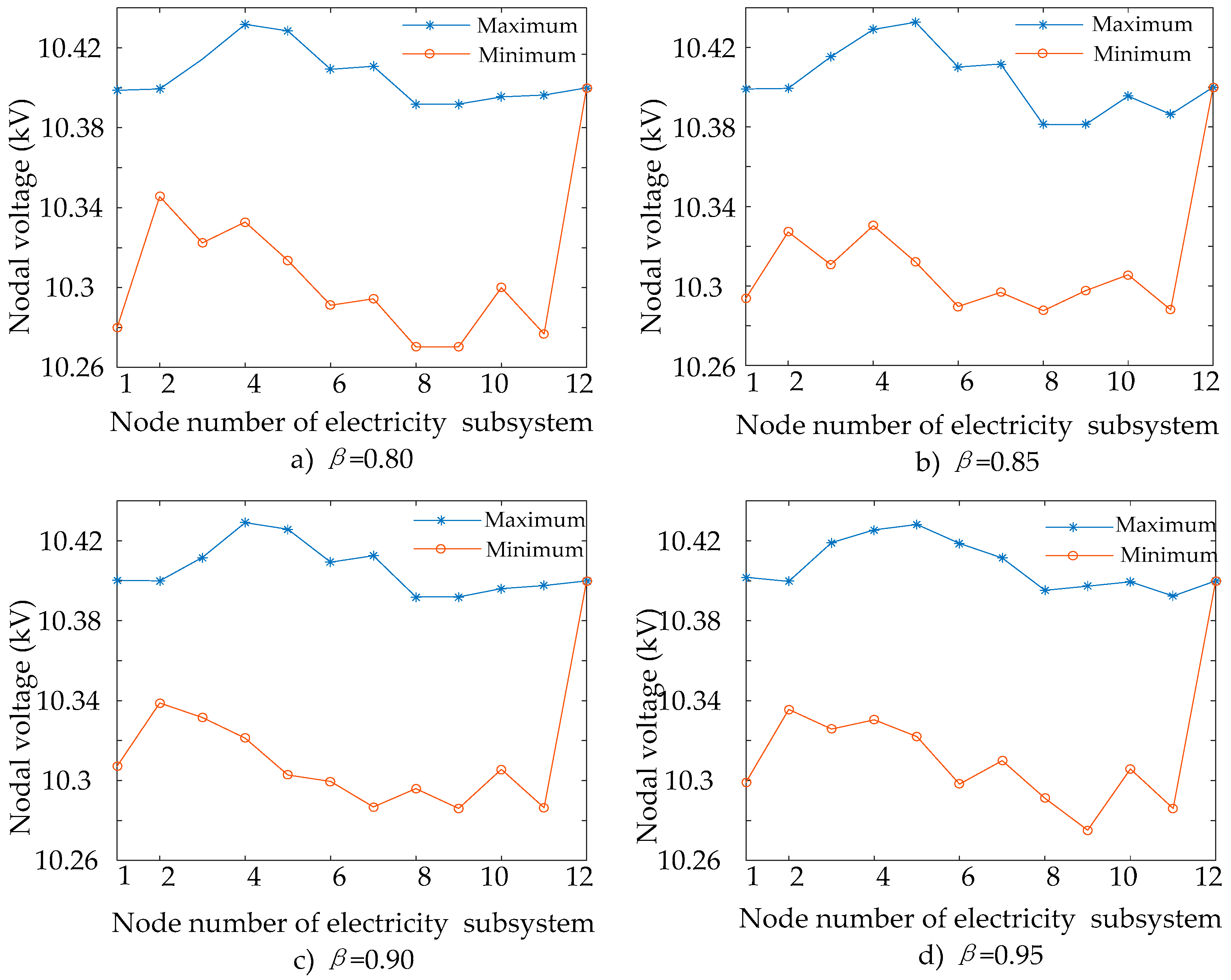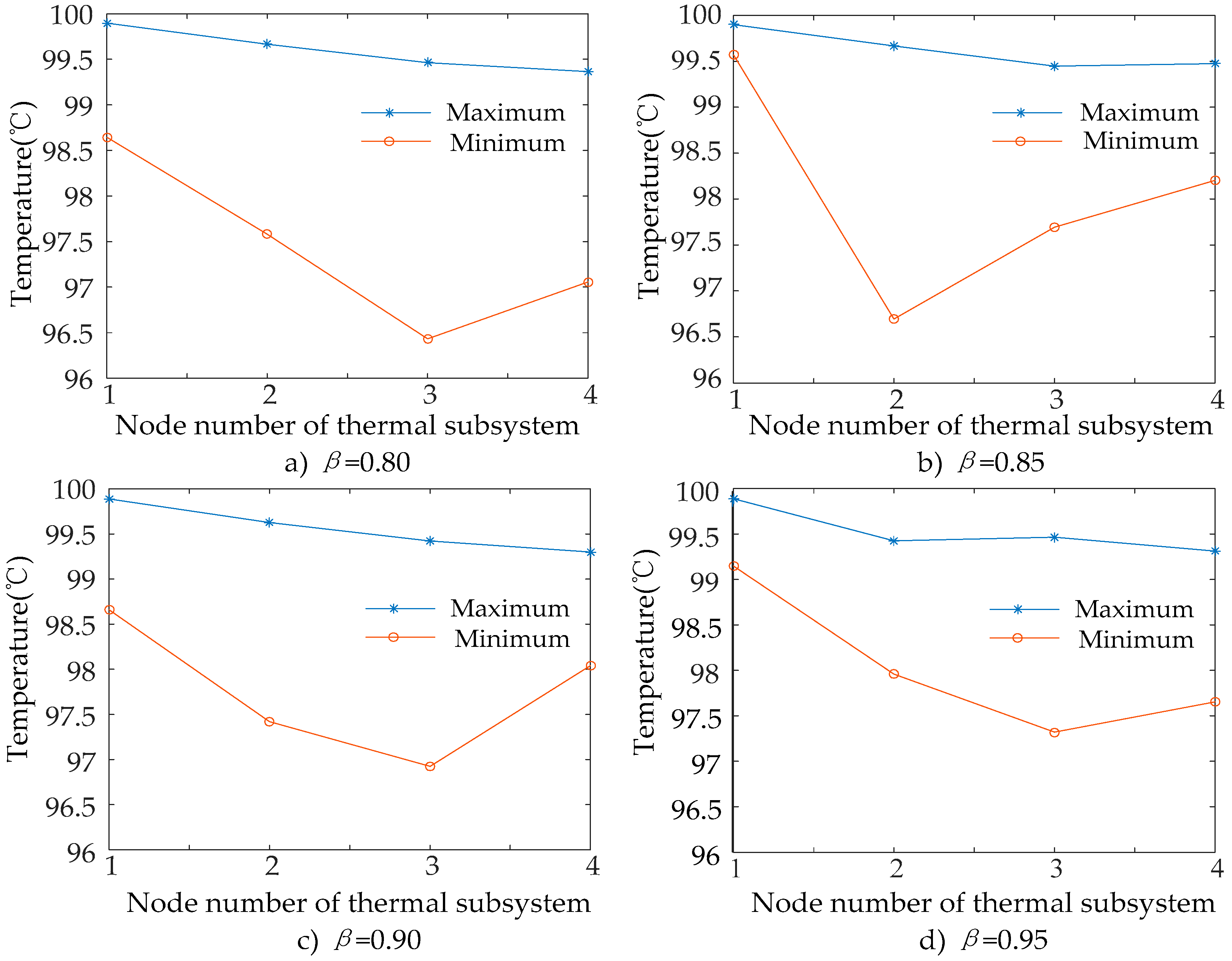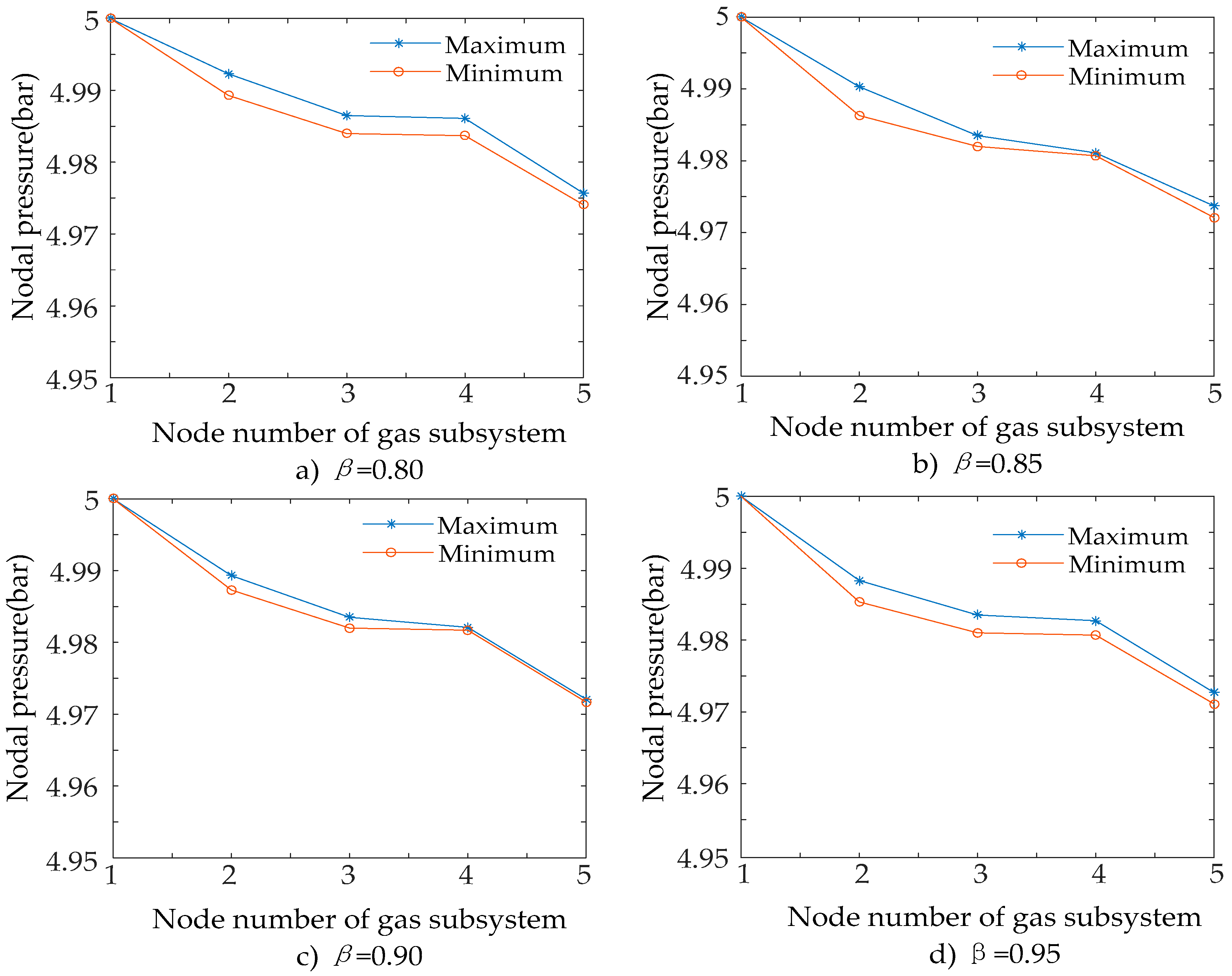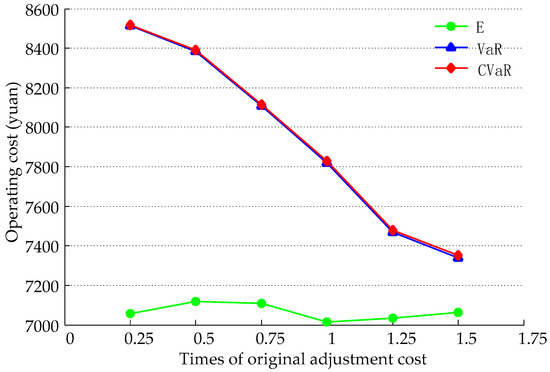 Figure 11. The influence of energy supply equipment unit power adjustment cost on simulation results.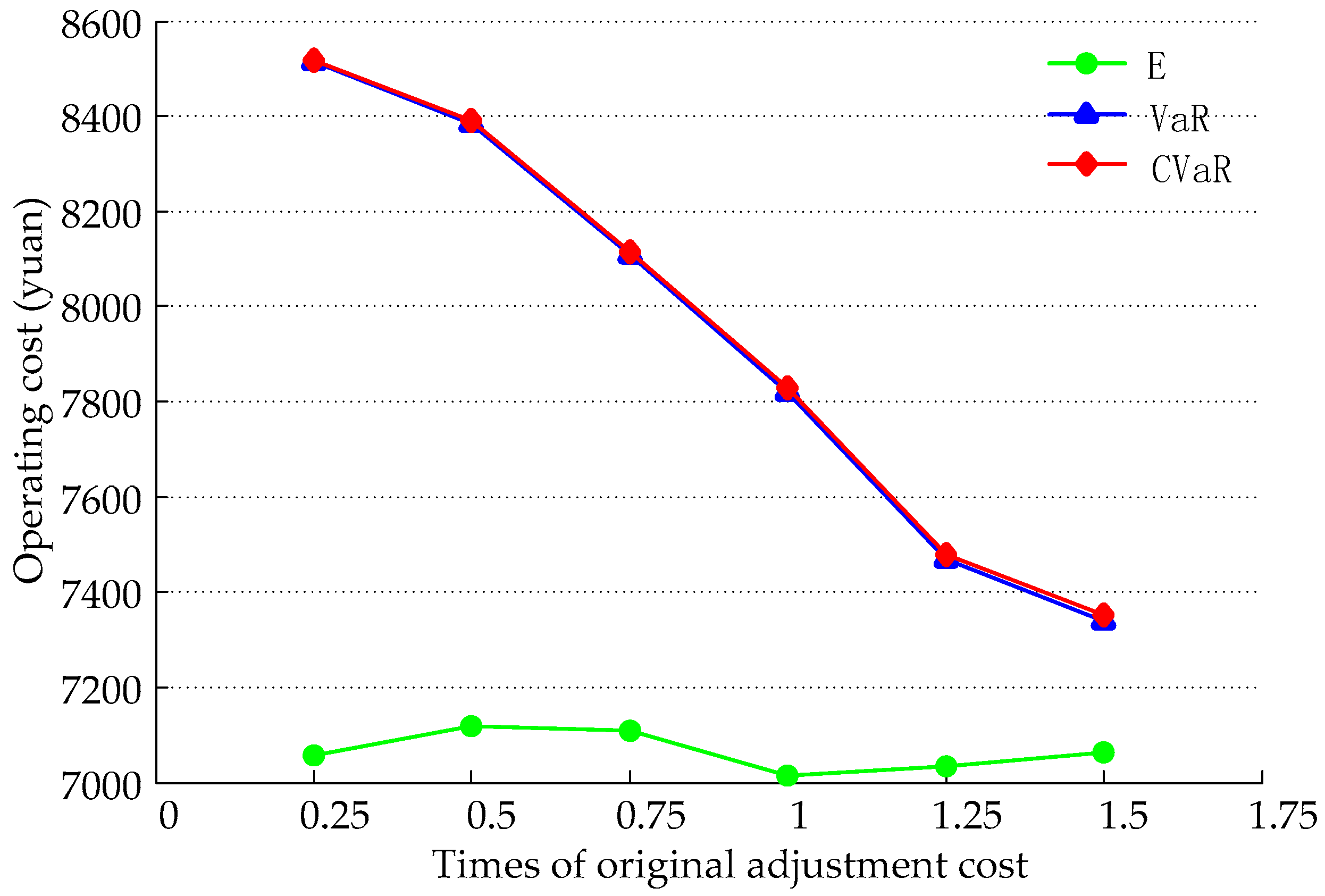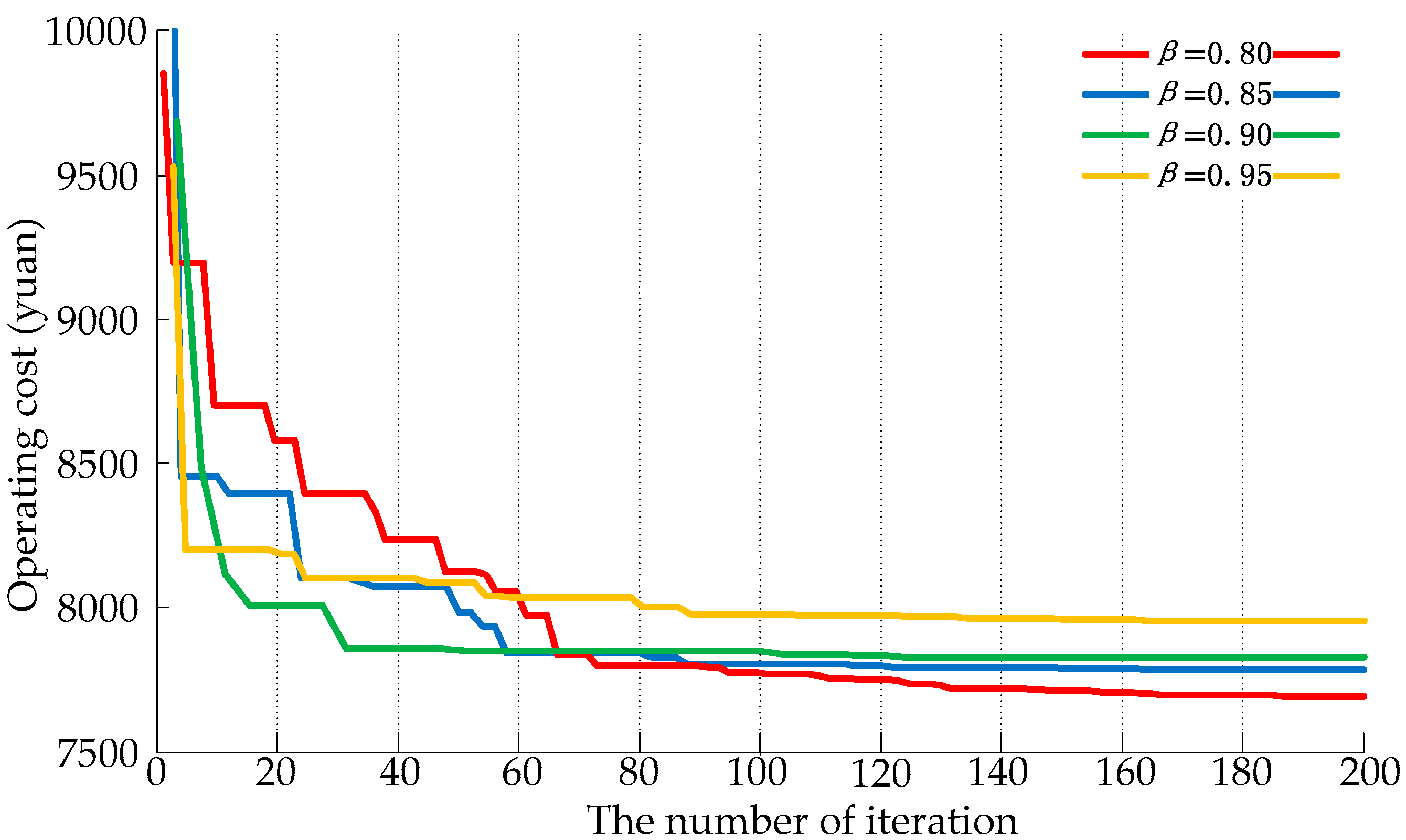 Name
Peak Period
Normal Period
Valley Period
Period
10:00–15:00
18:00–21:00
7:00–10:00
15:00–18:00
21:00–23:00
23:00–7:00
Electricity purchasing price (Yuan/kWh)
0.83
0.49
0.17
Electricity Selling price (Yuan/kWh)
0.65
0.38
0.13
β

Electrical Power Output (kWh)
Thermal Power Output (kWh)
CHP
FC
Grid
GSHP
GB
0.80
1741.5
2759.4
2012.1
2287.1
13,642.0
0.85
2028.2
2527.0
1953.1
2265.9
13,291.0
0.90
1607.8
2727.7
2336.0
3000.4
13,103.0
0.95
1738.0
2091.0
2831.1
2949.0
12,985.0

© 2017 by the authors. Licensee MDPI, Basel, Switzerland. This article is an open access article distributed under the terms and conditions of the Creative Commons Attribution (CC BY) license (http://creativecommons.org/licenses/by/4.0/).