Open Access This article is
freely available
re-usable
Article
Integrated Landscape Approach: Closing the Gap between Theory and Application
1
Landscape Research Center, Swiss Federal Research Institute WSL, CH-8903 Birmensdorf, Switzerland
2
Bangladesh Rice Research Institute BRRI, Gazipur 1701, Bangladesh
3
Centre for Development and Environment and Institute of Geography, University of Bern, 3012 Bern, Switzerland
4
International Rice Research Institute IRRI, Dhaka 1213, Bangladesh
5
Nepal Centre for Contemporary Research NCCR, Kathmandu 977, Nepal
6
Institute for Environmental Studies, VU University Amsterdam, 1081 HV Amsterdam, The Netherlands
*
Author to whom correspondence should be addressed.
Received: 28 June 2017 / Accepted: 1 August 2017 / Published: 3 August 2017
Abstract
:
Recently, the integrated landscape approach has gained increasing interest of the scientific community, as well as of organizations active in the field of sustainable development. However, the enthusiastic welcome is challenged by little consensus on theory, terminology and definitions. Moreover, the operationalization of the approach into practice is a major challenge. In this paper, we present a framework to operationalize the integrated landscape approach in practice by putting a long-term collaboration between scientists and various stakeholder at center stage. Based on encompassing understanding of landscape-level processes and interactions, four pillars addressing different steps of a joint-learning circle are described and illustrated with examples. We consider the integrated landscape approach to be a prime way of targeting the Sustainable Development Goals (SDGs), but novel forms of collaboration between scientists and other stakeholders based on long-term commitments will be needed for operationalization in practice.
Keywords:
land change science; joint learning; transdisciplinarity; SDGs; indicators; stakeholder involvement; monitoring; modelling
1. Introduction
Acknowledging the risk of a global socio-ecological descent, the 2012 United Nations (UN) Rio+20 Conference on sustainable development decided to define a set of Sustainable Development Goals (SDGs), adopted 2015 by the UN General Assembly [
1
]. Addressing the multitude of global challenges expressed in the SDGs requires novel integrative approaches, such as integrative socio-ecological system analyses and more recently the landscape approach [
2
,
3
,
4
]. The growing importance of the landscape approach in the sustainable development agenda is due to its potential to overcome the problems of sectorial approaches [
5
], to address tradeoffs within larger spatial entities [
4
], enabling a better understanding of the processes of change and the resilience of local communities and their environment [
6
] and to tackle the aspects of place attachment in every-day landscapes [
7
]. A range of international organizations has adopted the Integrated Landscape Approach (ILA), e.g., the International Association for Landscape Ecology (IALE), the Global Landscapes Forum, the FAO-Initiative Landscapes for People, Food and Nature and the International Union of Forest Research Organizations (IUFRO) Landscape Ecology Group. The Global Landscapes Forum calls an integrated landscape approach "the most promising tool for realizing the Sustainable Development Goals (SDGs) and Intended Nationally Determined Contributions (INDCs) as outlined under the Paris Agreement".
A recent review of integrated landscape approaches revealed that there is, however, little consensus on theory, terminology and definitions [
4
]. At the same time, it found only very few documented examples of practical implementation [
2
,
8
]. There is of course an interrelationship between defining the approach and the number of case studies determined fitting this definition. Indeed, other reviews of (integrated) landscape approaches came up with longer lists of case studies [
3
]. In any case, there seems to be gaps between how readily the global development community adopted the term, what exactly is meant by it, and finally, how to operationalize the approach for its meaningful application in real-world situations.
The objective of this paper is to contribute to closing this gap by outlying a framework to operationalize the integrated landscape approach in practice based on the specific strengths of the integrated landscape approach beyond other established approaches.
2. Development and Characterization of the Landscape Approach
The landscape approach as newly adopted in the development context is rooted in integrative landscape research with a long tradition in geography, planning, urban and rural design going back to scholars like Carl Troll, the founder of the term landscape ecology [
9
,
10
]. While on one side of the spectrum, landscape research puts the analyses of pattern and processes within the landscape at center stage (e.g., [
11
]), on the other side, landscape research focusses on holistic approaches, in which landscape is understood as "an area, as perceived by people, whose character is the result of the action and interaction of natural and/or human factors" [
12
]. It is this school of thought that we believe holds most potential for solving real-world problems of landscape management.
In a scientific context, the landscape approach stands in a line of approaches aiming at conceptualizing and evaluating the interconnectedness of societies and their environment, such as the resilience approach [
13
], the socio-ecological system (SES) analyses [
14
], the driving forces-actors analyses [
15
], the landscape agronomy concept [
16
], integrative planning and modelling [
17
,
18
] and sustainable land management [
19
]. The development of scientific concepts was paralleled by the promotion of integrated management approaches since the 1990s [
8
], ranging from agrolandscape ecology [
20
], integrated ecosystem management [
21
] or the landscape service framework [
22
]. On first view, it seems as if the integrated landscape approach is therefore ill-defined and even not novel. What is it, though, that makes the landscape approach so appealing to the above-mentioned international organizations and the development community at large?
The term "integrated landscape approach" obviously has been filled with various meanings, which share some diffuse common ground, but a clear definition, which can easily be explained to stakeholders ranging from practitioners to donor agencies, is lacking [
2
]. Attempts to overcome this limitation go in various directions. Sayer et al. [
5
] formulated ten principles for a landscape approach, referring to a wide range of methodological starting points and providing a rough guideline, i.e., continual learning and adaptive management, common concern entry point, multiple scales, multifunctionality, multiple stakeholders, negotiated and transparent change logic, clarification of rights and responsibilities, participatory and user-friendly monitoring, resilience and strengthened stakeholder capacity. However, for practical implementation, further refinement is needed. Reed et al. provide a definition, including also some key concepts: "A landscape approach is a multi-faceted integrated strategy that aims to bring together multiple stakeholders from multiple sectors to provide solutions as multiple scales. By ensuring the equitable and sustainable use of land, a landscape approach is a potential mechanism to alleviate poverty in an equitable manner, conserve biodiversity, safeguard forests, sustainably manage natural resources, while maintaining food production and mitigating climate change" [
4
]. Freeman et al. [
3
] conclude participation, interdisciplinarity, multifunctionality and sustainability to be the main concepts shared by different studies trying to specify what an integrative landscape approach stands for. They, moreover, distinguish between different framings of the approach, ranging from interpreting the landscape approach as: (a) a conceptual framework; (b) a set of principles; or (c) a process. Rather than aiming to reconcile these different definitions and meanings, we aim at analyzing what these mean for operationalization in practice. Based on these different conceptual meanings, the principles and what is common among the described processes, we propose a framework for the operationalization of the integrated landscape approach in new projects or areas.
3. The Joint Learning Circle as a Pathway to Implementation
In the following, we will outline more specifically what the content of the four pillars is, and we will provide pillar-specific examples.
This solid understanding of the ecosystem services provided by the landscape under study is based on the analyses of functions and processes, i.e., a system analysis, resulting in spatially-explicit information on past and present process-based relations between land use and provisioning of ecosystem services and insights into the institutional and social structures affecting landscape function, which in Pillar 2 is confronted with actual and potential future societal demands.
Pillar 2 provides an overview of synergetic and conflicting changes in societal demand for ES under different global change and climate change scenarios, which can be translated into a set of design and adaptation targets, which forms the basis for designing future landscape options.
Pillar 3 results in a discussed and co-designed set of options of landscape plans and interventions that aim at meeting the societal demands for alternative landscape development options, land change requirements and related specific interventions, which serve as input in Pillar 4.
The application of designed landscape options in reality may lead to new system understanding not accounted before in the analytic and co-design phases of a project. Hence, learning from practice is essential in this phase, and issues may arise that feed into a next iteration of analysis and design, i.e., the next round of the learning circle. In that sense, prototyping fulfills a phase in the learning cycle before the upscaling of implementation is promoted. At the same time, prototypes may act as disseminators, showing the benefits of a novel approach in practice and convincing others to follow the example, thus leading to upscaling of the interventions.
Thus, Pillar 4 results in prototypes of implementation, insight in implementation and upscaling pathways. As such, Pillar 4 is not only the step towards transformation and implementation, it is also an essential element in informing scientific understanding by practical application and provides a reality check of all of the work done in the previous steps.
4. Discussion
The joint learning circle proposed is intended to help operationalize the principles of the integrative landscape approach in practice. It is not meant as a strict protocol, but rather as a framework providing guidance by providing structure to the different elements of an ILA.
Specifying roles to generate locally-relevant forms of knowledge:
While recently, many have argued for co-design and other means of stakeholder involvement [
47
], these studies have given little clarification on the different roles of scientific knowledge in such processes. In our joint learning cycle, we show the different ways in which knowledge, which was created through a collaborative process between the scientists and different stakeholders, contributes to the design of more sustainable future landscapes. As a base, systems knowledge is needed to understand the characteristics, the history and the potentials of the landscape to provide ES demanded by society. Scientists can then help to analyze the spatial dependencies of people inside and outside the specific landscape on these ES, and they can also provide context information regarding future environmental conditions (e.g., due to climate change) to which this landscape has to adapt. In Pillar 3, scenarios, both exploratory and target-based optimizations, are used as starting points and boundary objects to trigger discussions about alternative futures of the landscape. Where exploratory scenarios provide a context that may help to imagine change, optimizations show the potential of the landscape to provide services. In the prototyping and implementation phase, the role of science is mostly towards evaluating successes and synthesizing these for joint learning. As shown in
Table 1
, scientists, as well as the various groups of stakeholders, hold different roles along the learning circle, and the four pillars distinguished provide much needed guidance on what these roles encompass.
Assessing the past for the future:
A specific feature of our framework is the use of both historic analysis and scenario studies. In contrast to many projects that aim to solve the problems stakeholders are faced with today, we strongly encourage adopting a dynamic perspective on ecosystems and ES through time, especially as global change effects are often at the core of challenges faced. This explicitly results in a 'planning for the future' principle, i.e., not only addressing today's problems, but using scenarios of demands and conditions in the future to ensure that the landscape is adapted to the future context and conditions and will provide the ES required by society.
Contributing to the SDGs:
Although the individual elements of the integrative landscape approach are appealing to many and there is a large agreement on the keywords, the real potential of the approach can only be reached when the elements are properly integrated and specific linkages to locally-adapted SDGs agreed upon and made conceptually clear [
23
]. Interpreting the ILA as a joint learning circle consisting of four pillars provides a suitable structure to define indicators to monitor and evaluate the processes and outcomes, as recently asked for by various authors [
3
], and such indicators will also be suitable to monitor progress towards reaching the national commitments for the SDGs [
23
].
Challenges along the circle:
The integrative landscape approach is very demanding in terms of stakeholder involvement, science information, collaboration, time allocation, funding, etc., and has high ambitions in terms of all of the aspects that need to be accounted for. This is inherent to the multiple claims, changing societal and environmental conditions and complex stakeholder networks involved in land use. Often, this leads to wicked problems: simple solutions are not available, and knowledge of the physical environment is insufficient to lead to implementation. Linear and simple approaches would likely be ineffective and lead to a waste of resources. Demotivation of stakeholders and the public might easily lead to a withdrawal from a joint learning circle, which might even lead to a withdrawal from the public space in general [
67
,
68
]. Consensus building workshops with visualizations or participatory GIS are well-established tools to overcome such barriers [
69
,
70
]. As the joint learning cycle proposed here focusses on landscape-level services, the motivation of the public and of stakeholders to get involved is generally high, because the landscape level is more planning relevant and more relevant to the every-day experience of the public [
22
,
71
]. The higher likelihood to arrive at feasible, legitimate and 'future-proof' solutions by implementing our framework comes with the tradeoff of higher investments in the process of implementation. Using decision support tools such as the Territory Balanced Scorecard (TBSc), developed for decision makers at the local authority level engaged in environmental management projects [
72
], might prove valuable, if adapted for participatory processes. As in all development projects, various additional challenges will arise during such a process, starting from selecting the stakeholders, potential conflicting interests among stakeholders, keeping stakeholder engagement throughout the whole circle, knowledge gaps in scientific knowledge, political and economic uncertainties, natural calamities, but also adjusted funding schemes: following the framework proposed is most likely to take a long time, and what can be achieved in a certain amount of time is limited. Long-term processes require long-term commitments and fitting long-term funding options. These requirements stand in contrast to many current research funding schemes that are providing the foremost short-term funding for system knowledge generation.
5. Conclusions
The framework proposed in this paper attempts to order the different elements into a logical process that optimally combines scientific information and local knowledge in a transdisciplinary process leading from problem identification, the design of solutions to the implementation of these in practice.
It is novel in the sense that researchers, decision makers and practitioners have to work together in every of the four pillars distinguished. It is not a sequence of tasks for specific groups, but true collaboration, not only in the first, but also in the subsequent rounds of the circle.
Putting the joint learning process at center stage fosters continuous capacity building, long-term commitment from the core partners and a continuous reflection on how the learning circle relates to the SDGs and the landscape level changes due to the interventions. This involvement in the process of joint learning, negotiation and reflection will result in long-lasting impact on a personal level for all stakeholders involved at the community level to manage natural resources, maintaining ecosystems services and contributing to achieving sustainability through local ownership.
Acknowledgments
Peter Verburgacknowledges the financial contribution of the European Commission under ERC Grant GLOLAND (No. 311819). We thank the two anonymous reviewers for the helpful comments on the manuscript.
Author Contributions
All authors contributed to the design of the approach presented in this paper; Matthias Bürgi wrote the paper with contributions of all authors.
Conflicts of Interest
The authors declare no conflict of interest.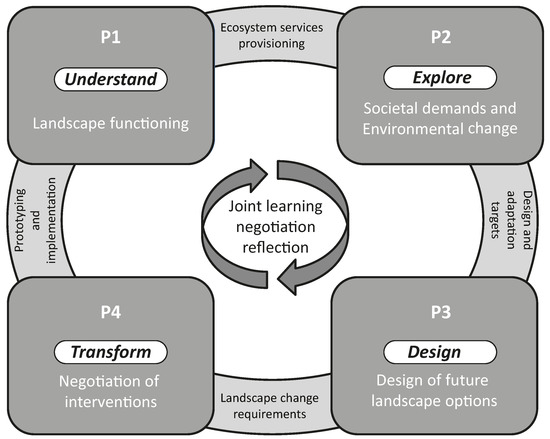 Figure 1.
We propose to operationalize the integrated landscape approach as a process of joint learning, negotiation and reflection, consisting of four pillars to understand, explore, design and transform landscapes to increase their resilience in times of global change and to increase their overall value for society (adapted from [
27
]).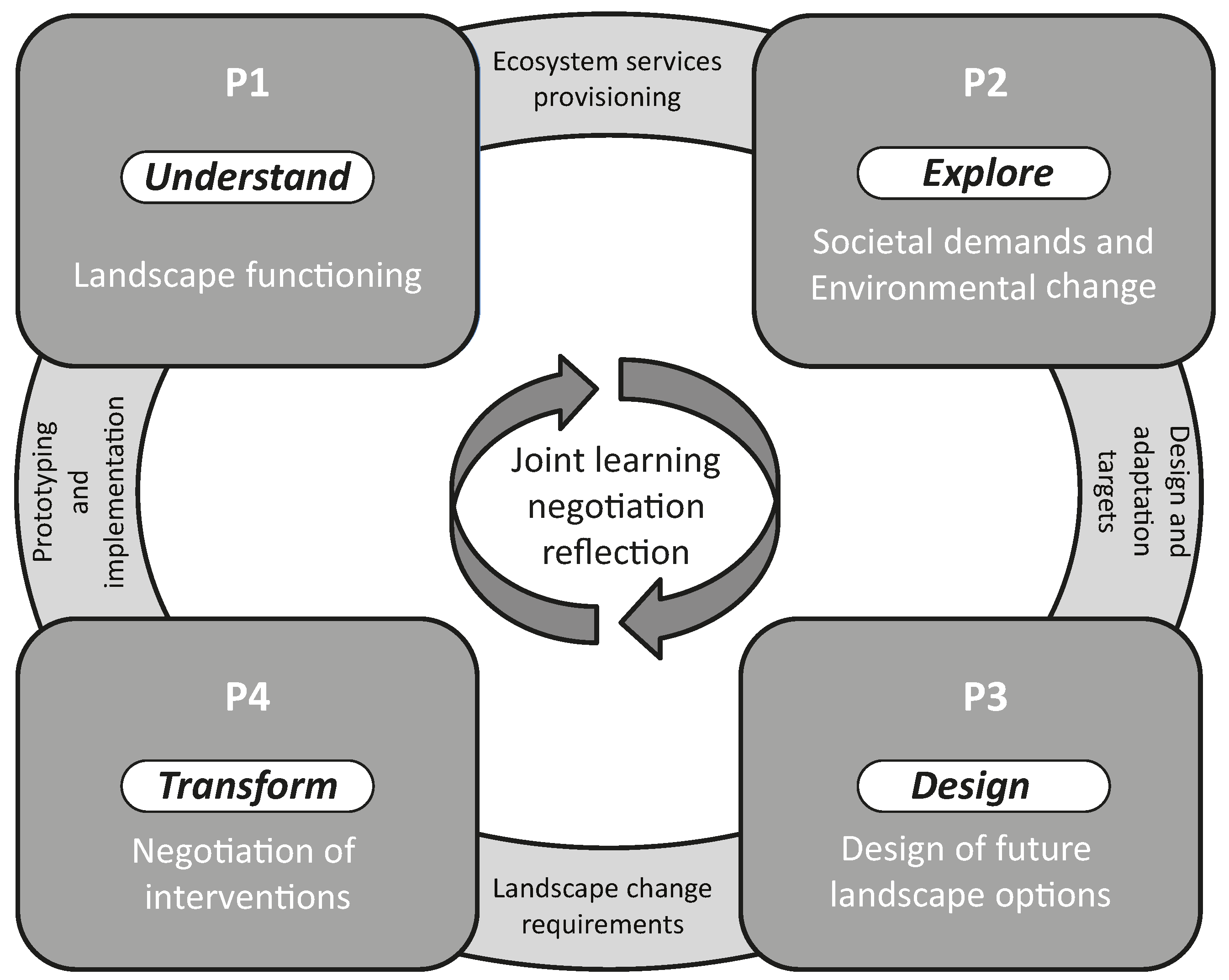 Table 1. Role and contributions of knowledge providers within the four pillars (P1 to P4) of the learning circle. ES, ecosystem service.
Knowledge Provider
P1
P2
P3
P4
Scientific community
-Methodology for synthesizing
-State of the art ecological knowledge
-Climate change scenarios
-Global change scenarios
-Projections of ES demands
-Modelling framework
-Optimization models
-Process moderating
-Policy analysis
-Prototype effectiveness evaluation
Citizens, local land users and community based organizations
-Local ecological knowledge
-Local needs considering climate/global change
-Scenario building
-Participation in design of landscape options
-Participating in learning platforms (farmer to farmer)
Government authorities
-Institutional knowledge
-National/regional priorities
-Scenario building
-Participation in design of landscape options
-Policy framing and opening
Development agencies
-Internationally demanded ES
-Locally adapted SDGs
-Official Development Assistance (ODA) agendas as input to scenario building and design of landscape options
-Resources to test identified development options
Success indicators
Improved system understanding, joint learning on landscape potentials and threats
Set of scenario inputs developed that both reflect the local needs, as well as fitting the national and global context and ambitions
Set of alternative landscape options adapted to varying scenario contexts on which ownership is shared by the different participants in the co-design process
Prototype for landscape options implemented or policy options put forward and discussed; increased commitment for action and implementation with all stakeholders

© 2017 by the authors. Licensee MDPI, Basel, Switzerland. This article is an open access article distributed under the terms and conditions of the Creative Commons Attribution (CC BY) license (http://creativecommons.org/licenses/by/4.0/).