Open Access This article is
freely available
re-usable
Article
Home Gardenscapes as Sustainable Landscape Management on St. Eustatius, Dutch Caribbean
Department of Geography, Miami University, Oxford, OH 45056, USA
*
Author to whom correspondence should be addressed.
Received: 29 June 2017 / Accepted: 26 July 2017 / Published: 27 July 2017
Abstract
:
Home gardens are an important topic for landscape research due to their intersectional contributions to plant diversity conservation and local livelihoods. As sites of ecological restoration, gardens transform small-scale landscapes toward higher plant richness and density. We examine "gardenscapes" on St. Eustatius, a small Caribbean island, focusing on how plants growing around a home contribute to ecological and ethnobotanical measures of plant diversity, and how residents value the importance of gardens to their livelihoods. Through a survey of 14 gardenscapes and 11 home interviews, we report 277 plant species, including 31% native and 69% non-native, high plant densities and structural evenness, 260 plants with uses, and a total of 363 uses, especially as ornamental plants (184) and for other environmental services (16), but also food (101), health remedies (50), material uses (10) and symbolic services (2). Participants indicated that home gardening could be difficult due to drought and pests, but provided resources and incomes to livelihoods, especially through the production of food products. Several respondents reported that gardening was a declining activity on St. Eustatius, but this study shows how gardening activities offer a biocultural approach to conservation that supports plant diversity and livelihoods across the island's highly-modified natural landscape.
Keywords:
Caribbean; ethnobotany; gardens; plant diversity; restoration; sustainable landscape management
Supplementary Materials
The following are available online at
www.mdpi.com/2071-1050/9/8/1310/s1
, Table S1. Floristic and ethnobotanical inventory of plants confirmed in the surveyed gardenscapes on St. Eustatius. Nomenclature and plant origins as native or non-native follow
Plants of the Eastern Caribbean
, an online database maintained by the University of the West Indies in Barbados, Acevedo-Rodriguiz and Strong's (2012) "Catalogue of seed plants of the West Indies", Rojer's (1997) floristic inventory of St. Eustatius, and a report by van der Burg (2012) on naturalized and invasive plants in the Dutch Caribbean. Common names (in bold) were provided by the study participants and local field assistants, or shown on display at the St. Eustatius National Parks (STENAPA) botanical garden. Plant types include trees (t), shrubs (s) or herbs (h), and origins are reported as native or non-native introduced (int), naturalized (nat) or invasive (inv). Ethnobotanical use categories include ecosystem services (ES), food (F), health remedies (HR), material uses (M), and symbolic services (SS). Voucher specimens (BB) were deposited at Miami University's Turrell Herbarium (MU).
Acknowledgments
This research was supported by grants from the Willard Sherman Turrell Herbarium (#229), the Department of Geography, and the Graduate School at Miami University. We especially thank our field research assistants, Hannah Madden and Celford Gibbs, the gardenscape participants for generously welcoming us into their gardens, and Michael Vincent, Director of the Turrell Herbarium, for his Caribbean flora expertise, assistance in processing the plant vouchers, and review of the plant list. The Caribbean Netherlands Science Institute (CNSI) and St. Eustatius National Parks Foundation (STENAPA) provided logistical assistance. We thank Mary Jane Berman and David Prytherch for their valuable comments as committee members for the MA thesis upon which this paper is based, and two anonymous reviewers for their comments on an earlier draft of this research paper.
Author Contributions
B.N.B. and K.E.M. conceived and designed the thesis research; B.N.B. conducted the field study with local participants and completed all data analyses; B.N.B. and K.E.M. wrote the paper.
Conflicts of Interest
The authors declare no conflicts of interest.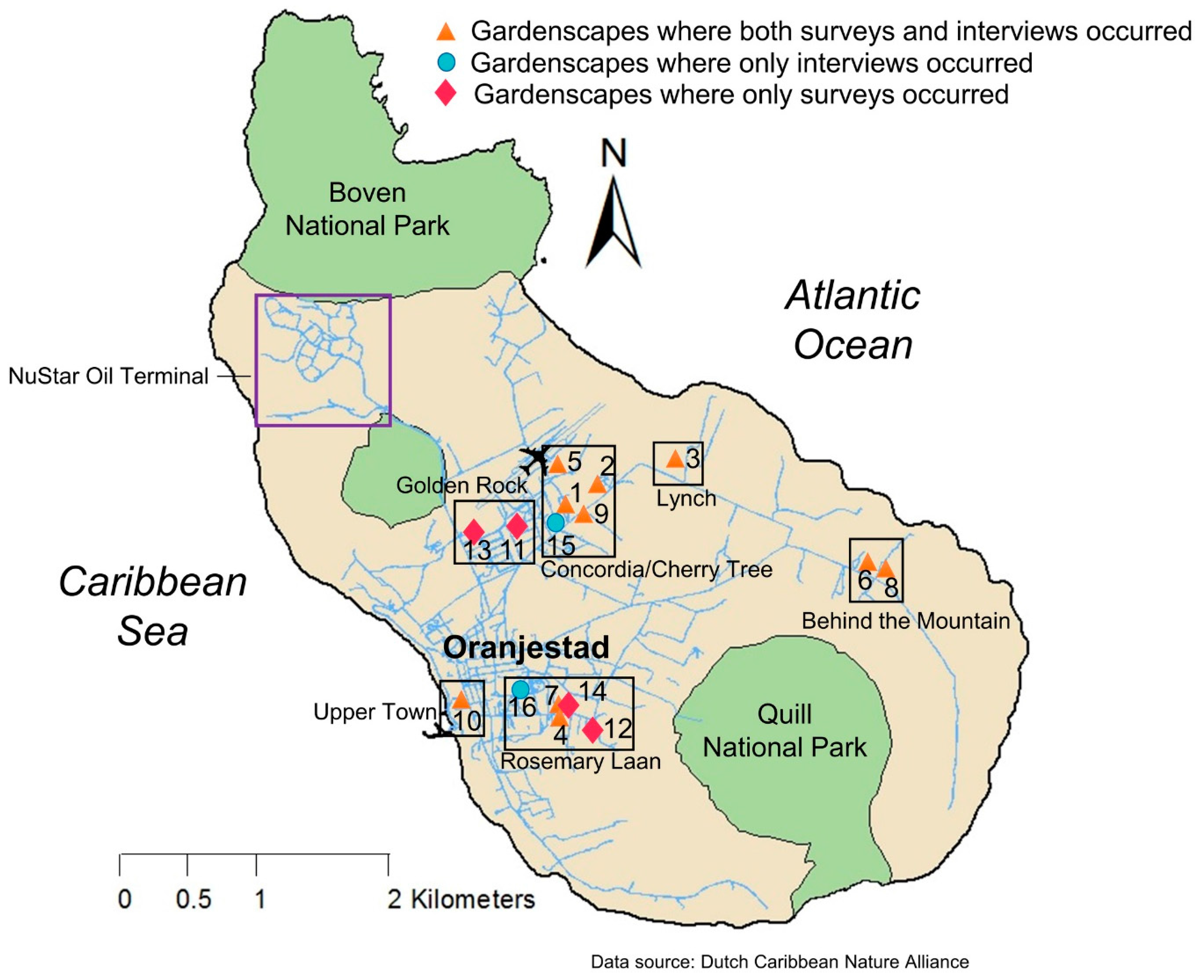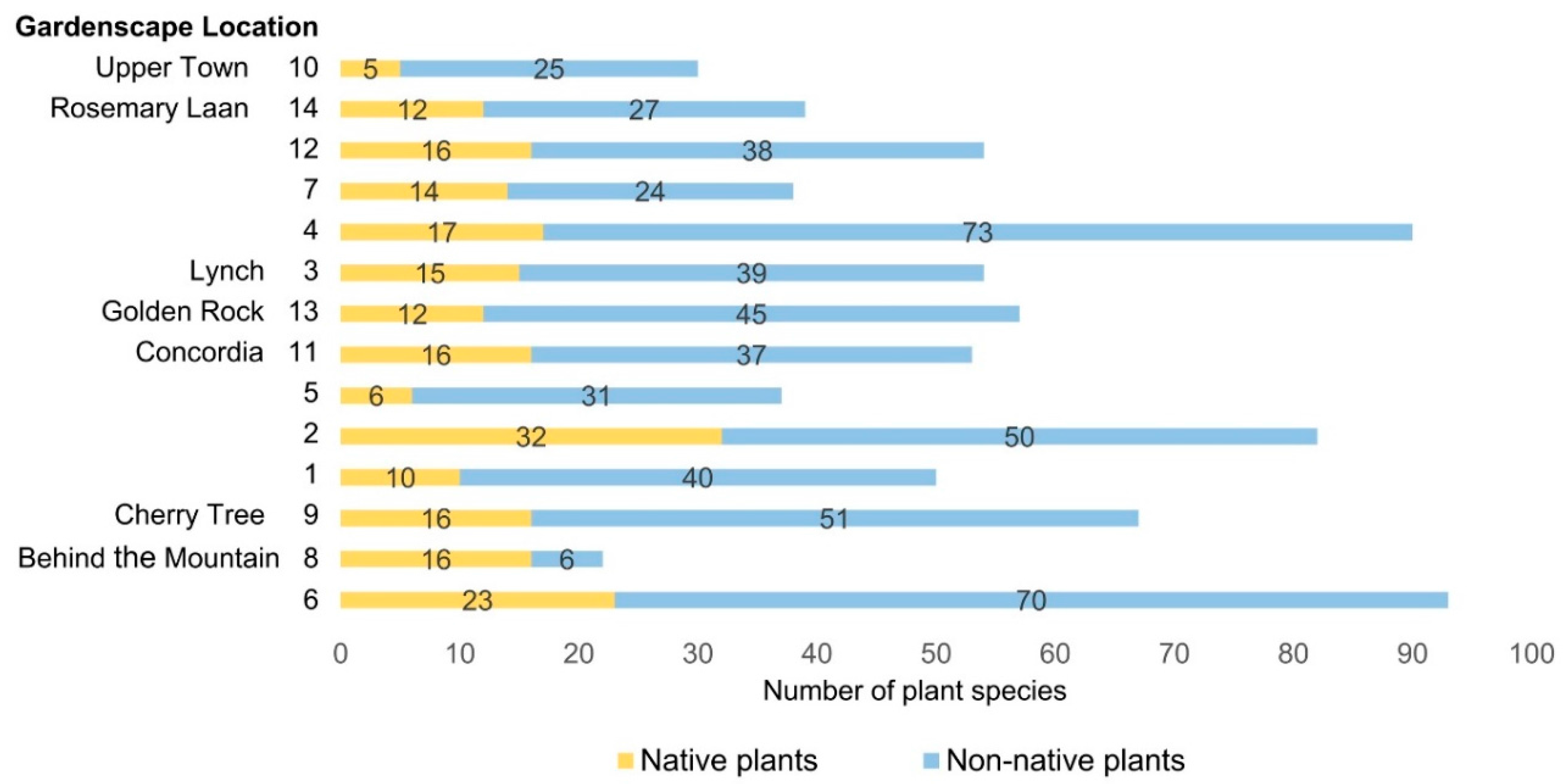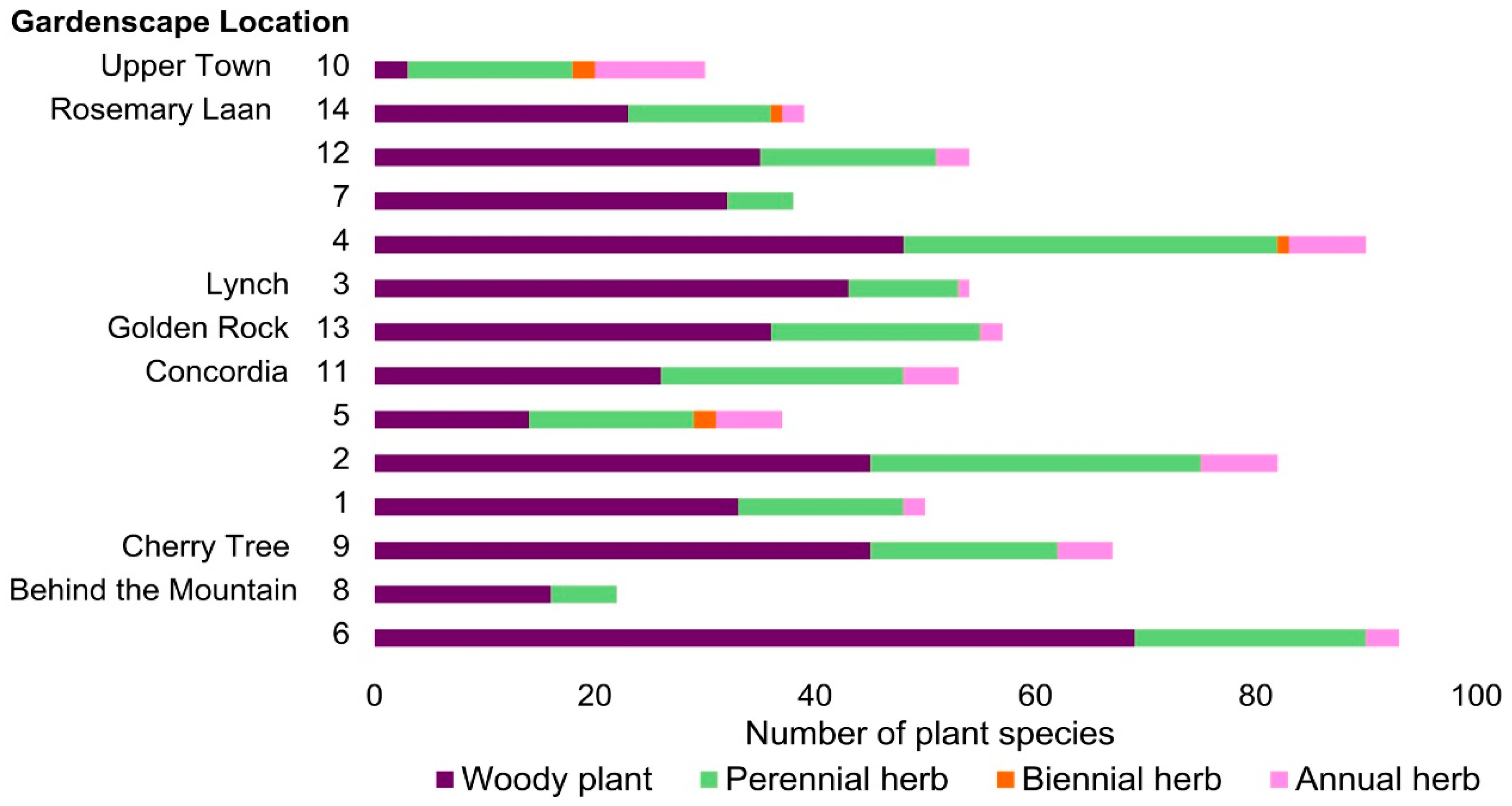 Figure 4. Variation in species richness among the sampled gardenscapes. Gardenscape 4 (left) was among the most species rich (90), with an above average species density (0.08), plant density (3193/ha) and species evenness (0.872), and showing high structural diversity. Gardenscape 10 (right) was below the average in species richness (30), species density (0.04), and plant density (794/ha), with a focus on annual vegetables and perennial herbs.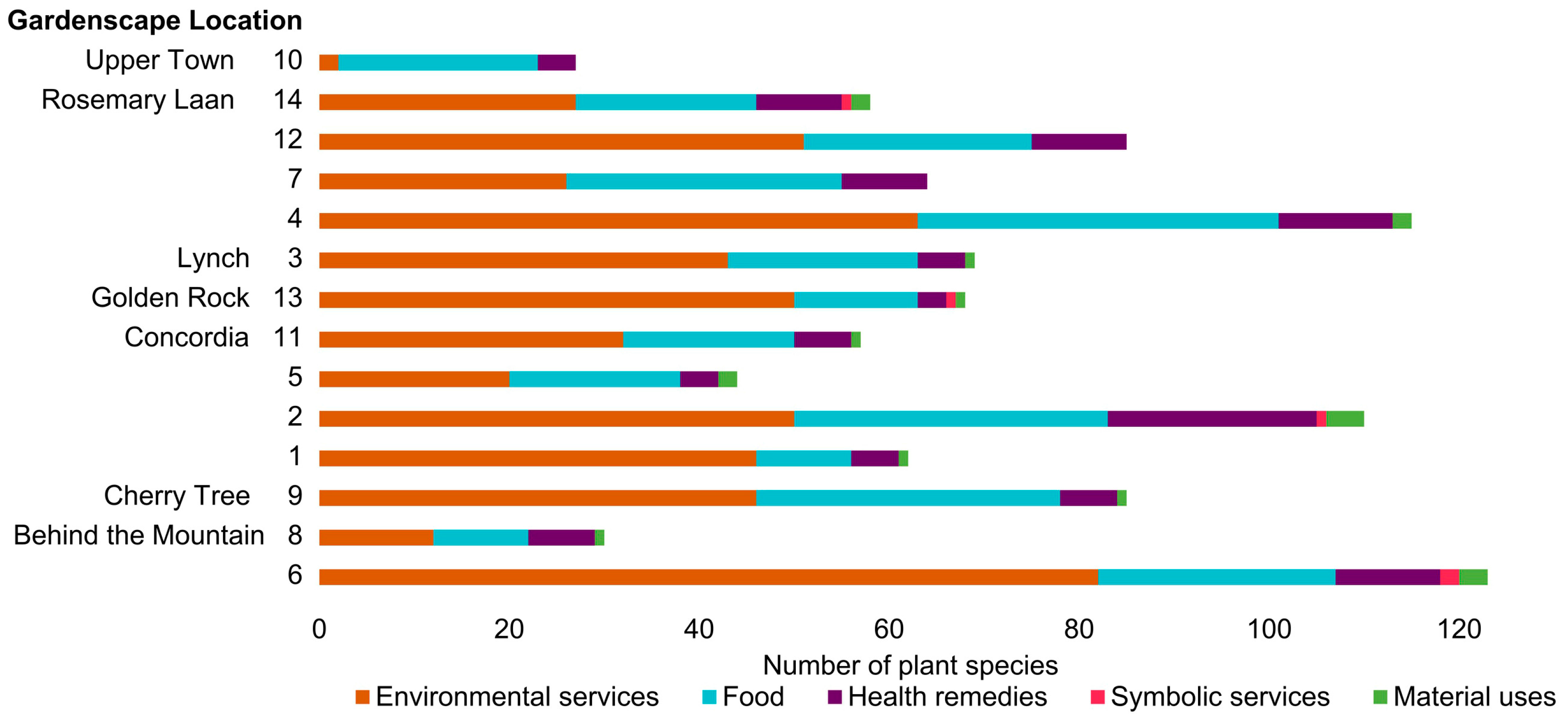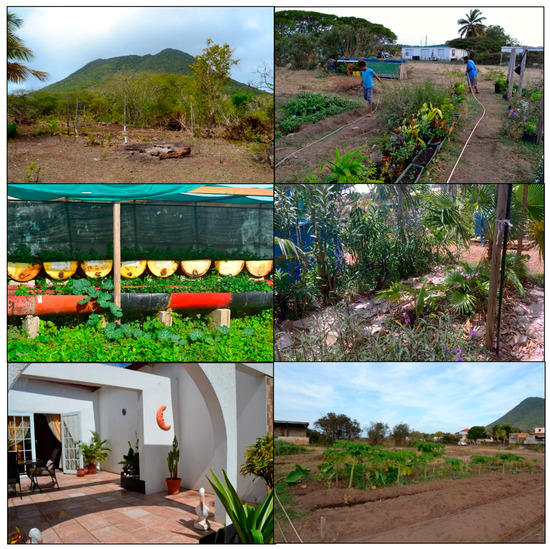 Figure 6. Field observations of gardenscapes, focusing on the transformation of the land (top) through burning and planting seedlings, ways of enriching diversity (middle) through the use of raised beds and shade, and the income contributions of gardenscape (bottom) from tourists and vegetable sales.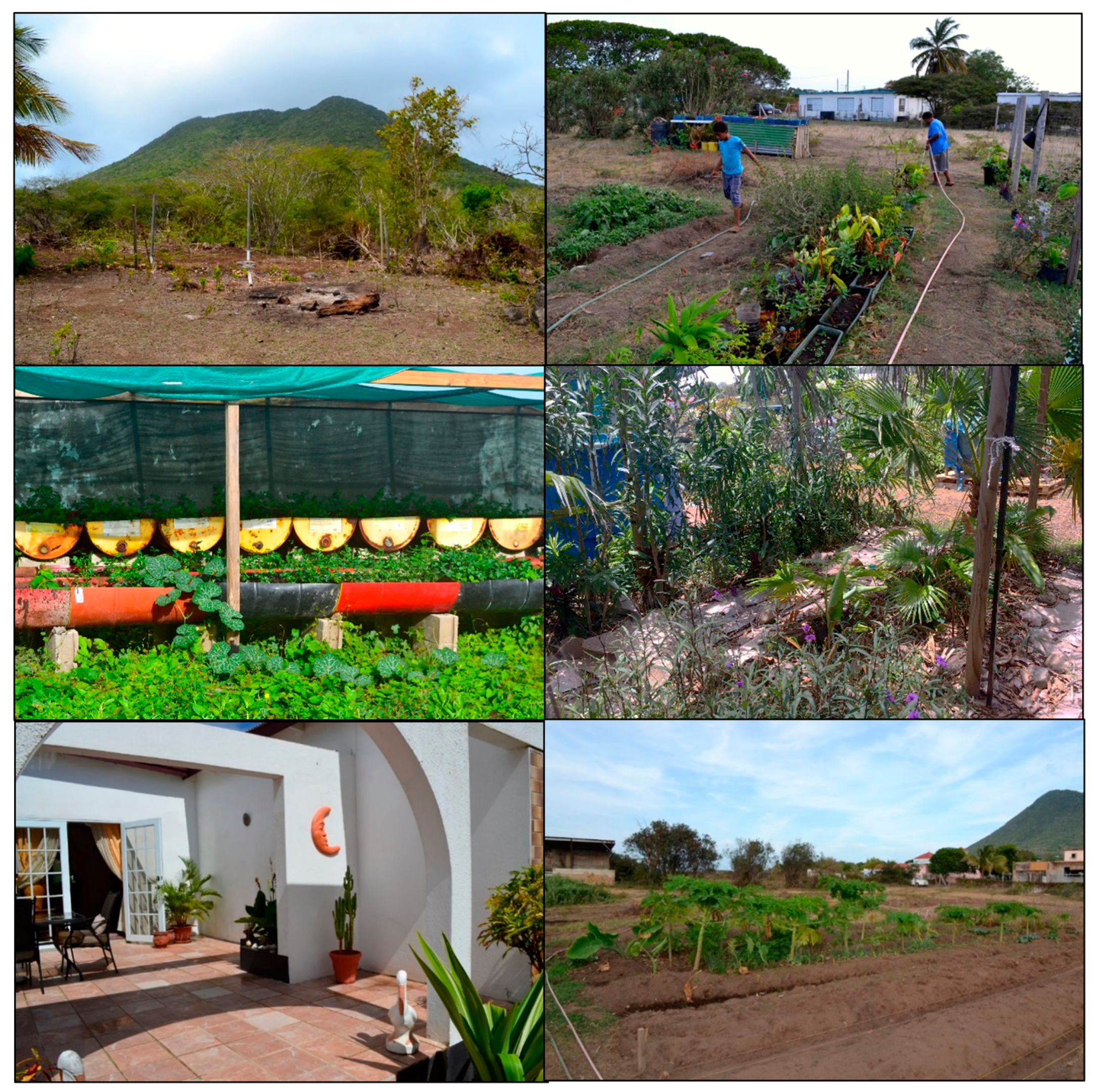 Gardenscape (GS)
Size (m2)
Participants
Country of Origin
Length of Time at Gardenscape (Years)

Gardenscapes where surveys and interviews occurred

1
704
Female
Aruba
21
2
1132
Female
St. Eustatius
24
3
1750 1
Male
St. Eustatius
"many decades"
4, 5
1116, 492 2
Female
Dominica
"many years"
6
18171
Female
United States
7
7
6518
Male
St. Eustatius
~15
8
2243
Male
St. Eustatius
1
9
1077
Female
St. Lucia
10
10
685 3
Male
Guyana
2–3

Gardenscapes where only surveys occurred

11
804
Female
St. Eustatius
25
12
906
Female
St. Eustatius
not known
13
500
Couple
St. Kitts
not known
14
1694
Couple
St. Eustatius, UK
3–4

Gardenscapes where only interviews occurred

15
Not surveyed
Female
The Netherlands
5
16
Not surveyed
Male
St. Eustatius
2–3
1 Gardener's property contained more area than the surveyed gardenscape. 2 Gardenscape is located in a community garden managed by the Agriculture Department. 3 Gardenscape is not on the gardener's property.
Transformation of The Garden Space
Where did you gain your plant and gardening knowledge?
What work did you do to create your gardenscape?
Does anyone else help you garden, and if so who?
How much time do you spend gardening?
Supporting Plant Diversity in Gardenscapes
Where did you acquire your plants (grew naturally, bought, given,

etc.

)?
What do you do to create positive change in your gardenscape?
What problems do you have managing your gardenscape?
Gardenscape Contributions to Homes and Livelihoods
How does your gardenscape and its plants contribute to your livelihood?
What importance does your gardenscape and its plants have in your life?
How has gardening on St. Eustatius changed over the years?
What opportunities do you currently see for gardening on St. Eustatius?

Table 3.
Plant species by origin status, following van der Burg [
59
].
Origin Status
Number of Species (%)

Native

—plants indigenous to an area.
85 (31%)

Introduced

(exotic)—plants transported across geographical barriers by humans.
162 (58%)

Naturalized

—non-native plants that sustain their populations.
25 (9%)

Invasive

—non-native plants that spread away from their site of introduction and outcompete native vegetation.
5 (2%)
| Use Categories | Recorded Uses (# of Species) | No. of Uses | No. of Species |
| --- | --- | --- | --- |
| Food | Side dish (1), edible leaves (6), edible stalks (4), edible bulbs (2), edible fruits (47), edible nuts (1), fruit used to make jam (2), fruit used to make juice (7), edible herb (9), adds fiber to diet (1), milk for tea and porridge (1), used to make oil (1), good source of starch (1), seeds used to flavor cooking (1), cut up and eat like string beans (1), makes a cooling drink (2), used for salad (2), edible roots (4), grind seeds to make coffee (1), good for flavoring soups, meat and salads (1), used to make a Christmas drink (1), ferment fruit to make wine (1), edible flowers (1), leaves good for tea (2), source of sugar (1) | 101 | 94 |
| Material uses | Used to cover charcoal pits (1), attracts fish so they are easier to catch (1), bowls and cups can be made from the fruit (1), good for making fences (1), powder from seeds used for skin decoration (1), repels mosquitos (1), used on hair (1), fish poison (1), animal fodder (1), can be used as a roof on structures for shade (1). | 10 | 9 |
| Symbolic services | Branches tied to fences/doors on independence day (1), cut for decorative flowers (1) | 2 | 2 |
| Health remedies | Tea to get rid of worms (1), (tea) for weight loss (2), (tea) for blood pressure (4), (tea) for diabetes (6), drink juice to treat diabetes (1), pieces of plant can be eaten to treat diabetes (1), jelly good for kidney and bladder (1), drink oil for colon (1), tie on foot if a nail or kasha plant is stepped on to prevent tetanus and draw out poison (1), good for eyes (1), tie on stomach to reduce pain (1), tea to cause an abortion (1), tea to stop bleeding (1), treatment for mosquito bites (1), used to "clean out" after having a baby (1), used to help a baby come out quicker during birth (1), (tea) for cough (2), (tea) for dengue (1), make powder from root for prostate problems (1), leaves draw down swelling (1), good for menstrual pain (2), tea to relieve pain (1), helps with memory (1), treats colds (1), rub leaves on wasp stings (1), chew a piece to go to sleep (1), makes a tincture for pain (1), general health remedy (1), apply to face to treat mumps (1), (tea) to stop diarrhea (1), chew roots to stop pain (1), make bush tea (1), drink juice to get rid of typhoid (1), leaves used to make tea (tea) to treat fever (4), used to make a treatment for prostate problems (1), treatment for sores (1) | 50 | 33 |
| Environmental services | Ornamental plant (184), drought resistant (3), good for shade (2), leaves can be put around plants to keep in moisture (1), hummingbirds like flowers (1), popular tree habitat for iguanas (1), used as a windbreak (2), can break off a stick and plant to quickly grow a tree (1), branches used to protect growing vegetables from livestock (1), boil leaves to make a tea that can be applied to plant leaves to get rid of/prevent pests (1), flowers attract bees (1), can grow on an arbor and have a greenhouse space underneath (1), fragrant flowers (1). | 200 | 187 |
| Totals | | 363 | 260 |
Island Location
Gardenscape (GS)
No. of Species
Species Density (#/m2)
Density (#/ha)
Evenness
Behind the Mountain
6
92
0.05
3089
0.793
8
22
0.01
1937
0.640
Cherry Tree
9
67
0.06
2374
0.869
Concordia
1
50
0.07
2455
0.843
2
82
0.07
3367
0.702
5
37
0.08
2726
0.763
11
53
0.07
1774
0.778
Golden Rock
13
57
0.11
3953
0.856
Lynch
3
54
0.03
1689
0.803
Rosemary Laan
4
90
0.08
3193
0.872
7
38
0.01
640
0.757
12
54
0.06
1910
0.875
14
39
0.02
599
0.749
Upper Town
10
30
0.04
794
0.796
Average
55
0.05
2179
0.793

© 2017 by the authors. Licensee MDPI, Basel, Switzerland. This article is an open access article distributed under the terms and conditions of the Creative Commons Attribution (CC BY) license (http://creativecommons.org/licenses/by/4.0/).