Open Access This article is
freely available
re-usable
Editorial
Open Innovation in Value Chain for Sustainability of Firms
1
Daegu Gyeongbuk Institute of Science and Technology (DGIST), 333 Techno Jungang Daero, Hyeonpung-Myeon, Dalseong-Gun, Daegu 711-873, Korea
2
School of Civil Engineering and Built Environment, Queensland University of Technology (QUT), 2 George Street, Brisbane, QLD 4001, Australia
*
Author to whom correspondence should be addressed.
Academic Editor: Marc A. Rosen
Received: 28 April 2017 / Accepted: 29 April 2017 / Published: 12 May 2017
Abstract
:
This piece serves as the guest editorial of the Special Issue on the 'Open Innovation in Value Chain for Sustainability of Firms'. Firstly, this editorial piece asks whether it is possible for firms to sustain their performance forever. Then, it reviews the popular literature on the value chain. Afterwards, it develops a research framework for open innovation in the value chain, and proposes five ways of open innovation taking place within it. These include user open innovation, customer open innovation, common profit community, together growth community, and inner open innovation. Lastly, this editorial introduces articles from the Special Issue that concentrate on the various open innovation perspectives for firms to achieve sustainability.
Keywords:
open innovation; value chain; sustainability; sustainable development; sustainability of firms
1. Introduction
Even though some companies exist only as a name, a brand, an office building or a memory: remnants of a glorious past, a lot of companies such as Dupong, the Hudson's Bay Company, W.R. Grace and Kodak and others in North America meet van Wachem's longevity company criteria [
1
]. Long-lived companies were sensitive to the environment: they had built their fortunes on knowledge (such as Dupont's technological innovations) or on natural resources (such as the Hudson's Bay Company's access to the furs of Canadian forests), and they remained in harmony with the world around them [
1
]. Corporate longevity depends on matching cycles of autonomous and induced strategy processes to different forms of strategic dynamics, and that the role of alert strategic leadership is to appropriately balance the induced and autonomous processes throughout these cycles [
2
]. In addition, interfirm diversity increases organizational learning, and motivates firm longevity in global strategic alliances [
3
].
Firms cannot survive forever, basically because businesses of firms are embedded in market, and society, which are changing dynamically. In addition, they cannot keep up with the changing conditions and situations of the market, and society. However, if firms can perform creative destruction to meet the changed requirements of the market, or society by combining technology, and market or society continuously, they may be able to survive forever—at least theoretically [
4
]. How can we realize such a combination for companies to survive forever? Perhaps through open innovation—open connections between technology, the market, and open business models—we may be able to create new opportunities to link technology, market and society.
In this perspective, creative destruction should be perceived as the introduction of a new business model, or the changes happening within the existing business models. In the end, even though any firm can maintain the firm's title, the firm can become a totally different firm after it introduces a new business model, or changes its existing business model to a new one. In order to survive forever—or a very long-time—firms should consider changing their business models continuously according to the requirements of the environment. Nevertheless, strictly speaking, the firm that changes its business model according to the requirements of the market or society is no longer the same firm.
3. Approaches and Methods
According to the locations in the value chain, very diverse open innovations exist. These include (a) user open innovation, (b) customer open innovation, (c) common profit community, (d) together growth community, and (e) inner open innovation (see
Figure 2
).
(1)

User open innovation: When users of the products are not end users of those production lines, producers can innovate based on the opinions of organized users including user communities. Most medical instrument producers organize communities of doctors or nurses to receive innovative ideas from them systemically.

(2)

Customer open innovation: Computer companies, high-end smartphone companies, or luxurious auto–bicycle companies organize customer communities, and receive customer innovation requirements, or additional innovative ideas. Open innovation from the customer's perspective is the newest connection between existing technology, and the new market. Thus, open customer innovation normally motivates market growth directly with incremental innovation.

(3)

Common profit community: Toyota automotive tries to innovate by itself, or let direct suppliers innovate. If a direct supplier innovates, and Toyota makes profits from the innovation, then Toyota tries to share the benefits from the innovation with the supplier. This common profit community provides and incentive for suppliers to innovate, and gives the producer an opportunity to obtain benefits from the innovation activity. Common profit community motivates the supplier to actively innovate.

(4)

Together growth community: Together growth communities are organized by Korean Hyundai Motors at the Lee Myung-Bark Presidency. If producers make any profits from innovations proposed by suppliers, then they try to distribute the benefits from the innovation to supplies in the supply chain. Together growth community can be a kind of open innovation channel in the supply chain without additional costs, if it is well organized by producers.

(5)

Inner open innovation: Within the producer, any individual or group can develop a new idea about the creative connection between technology and the market; this is a kind of inner open innovation mechanism. If a producer organizes an inner open innovation system such as an inner venture system, spin-off system, or spin-out system well, then producers can continuously develop a new business model by themselves.
4. The Special Issue
This Special Issue includes selected studies that contribute to our understanding on how sustainability and open innovation capabilities in the supply chain, such as network analysis, policy analysis, corporate sustainability, and so on can lead to corporate survival and growth, and, hence, to the conditions of sustainability in its diverse aspects and dimensions. Corporate sustainability is usually accomplished with numerous factors.
Acknowledgments
This research work was supported by the DGIST R&D Program of the Ministry of Science, ICT and Future Planning, Korea.
Author Contributions
JinHyo Joseph Yun prepared the full draft of the editorial and Tan Yigitcanlar formatted and language edited the piece.
Conflicts of Interest
The authors declare no conflict of interest.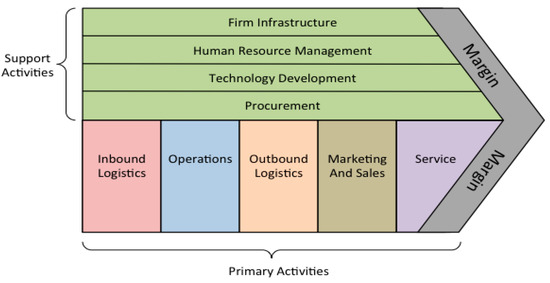 Figure 1.
Michael Porter's value chain [
6
].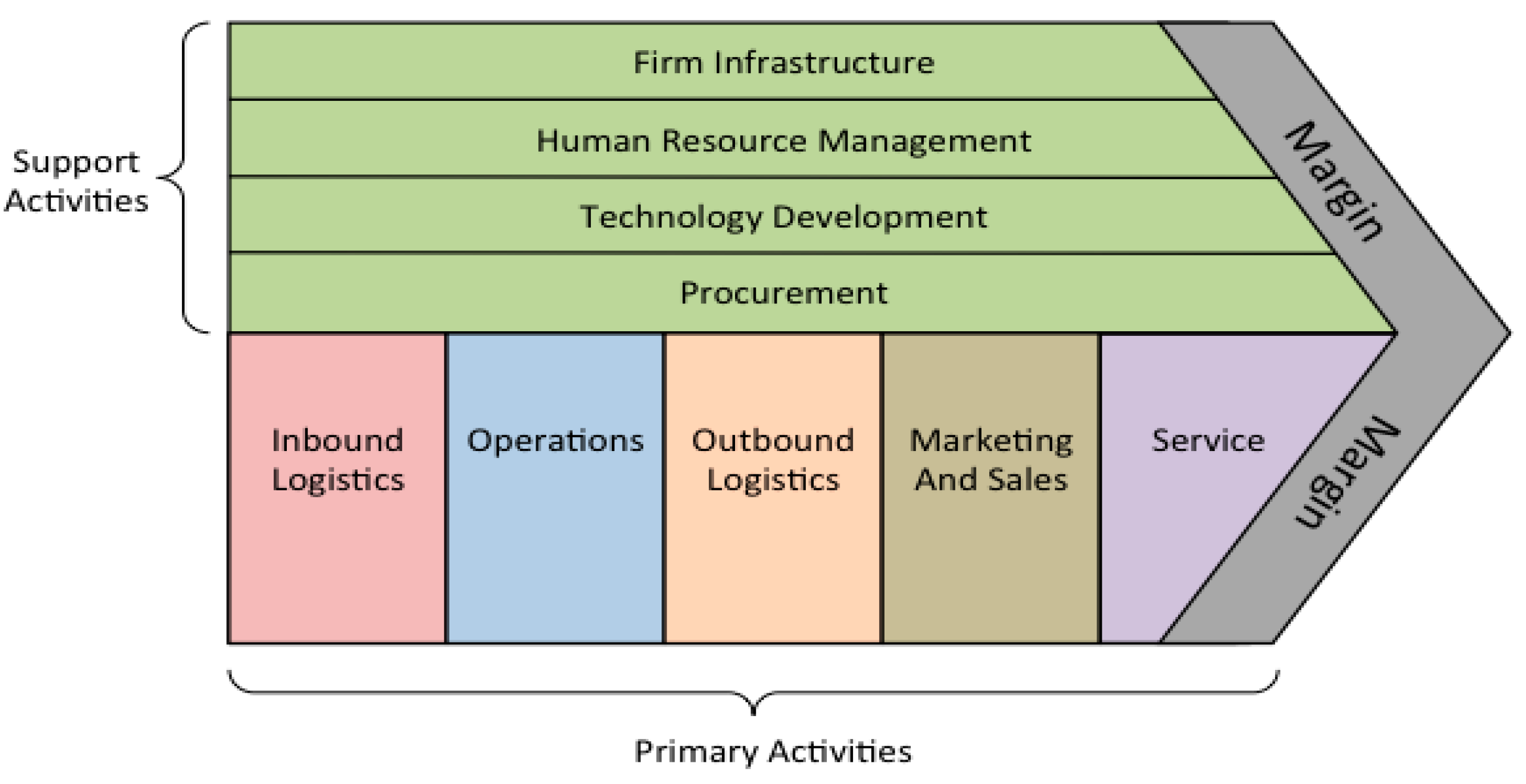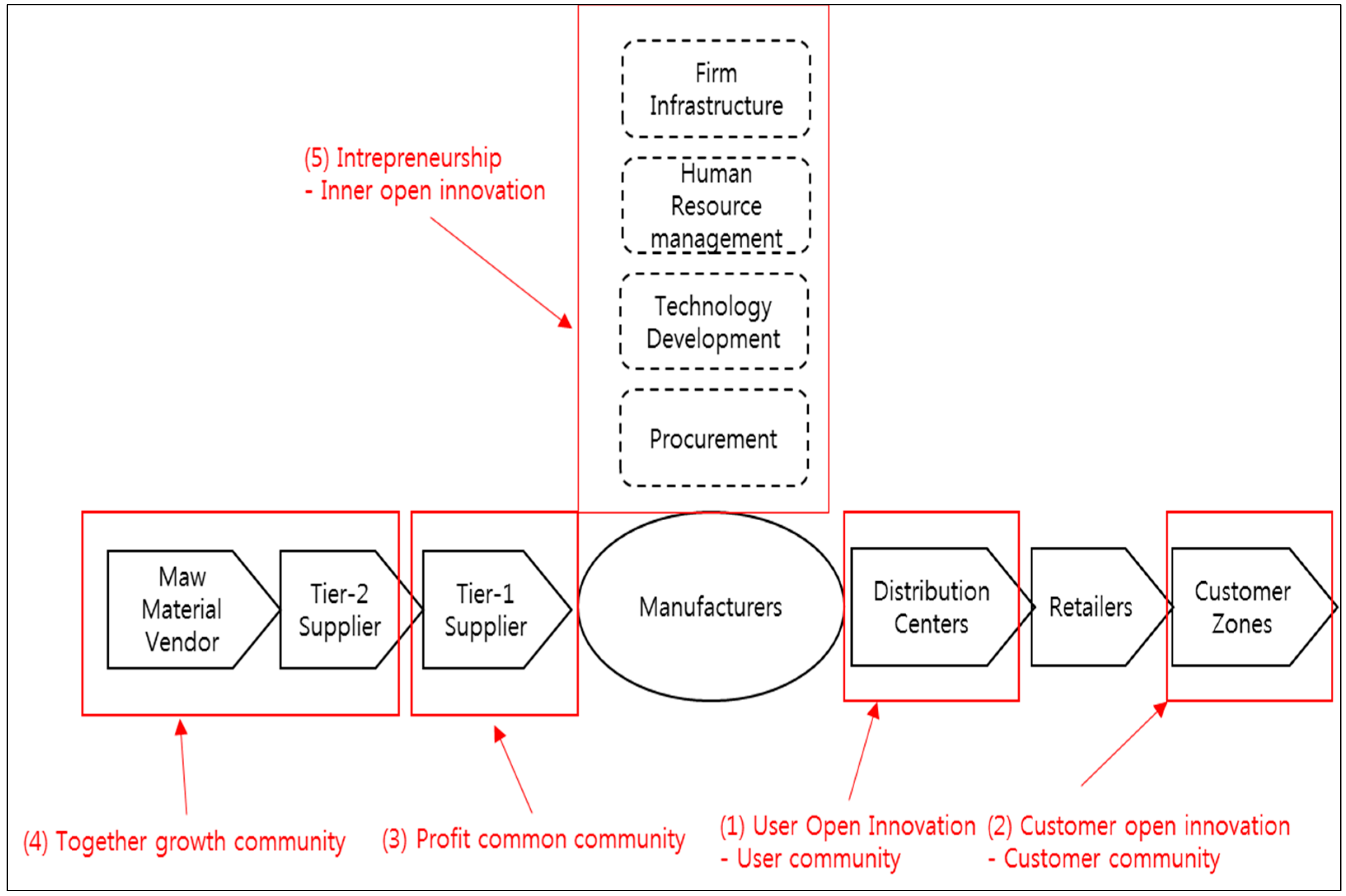 © 2017 by the authors. Licensee MDPI, Basel, Switzerland. This article is an open access article distributed under the terms and conditions of the Creative Commons Attribution (CC BY) license (http://creativecommons.org/licenses/by/4.0/).