Open Access This article is
freely available
re-usable
Article
Analytical and Thermal Evaluation of Carbon Particles Recovered at the Cyclone of a Downdraft Biomass Gasification System
1
Institute of Technology, University of Fort Hare, P. Bag X1314, Alice 5700, South Africa
2
Department of Physics, University of Fort Hare, P. Bag X1314, Alice 5700, South Africa
*
Author to whom correspondence should be addressed.
Academic Editors: Anthony I Okoh and Voster Muchenje
Received: 21 December 2016 / Accepted: 14 April 2017 / Published: 19 April 2017
Abstract
:
Gasification of biomass gives off syngas that is contaminated mostly by carbon particulates and tars. The degree of contamination is attributed to factors such as gasification process, type of gasifier and type of biomass material. Downdraft gasifier minimizes the production of tar to a tolerable limit for engine applications; however, carbon particles still pose a challenge particularly with the integration of a heat exchanger for the purpose of heat recovery from the product gas. The presence of carbon particles in the syngas does influence the heat recovery process and materials used in the recovery. Hence, there is need for the characterization of these carbon particles to ascertain their chemical compositions, thermal properties and morphological features. This study was aimed at evaluating the characteristic features of carbon particles recovered from the syngas stream during gas cleaning at the cyclone. The elemental analysis of the carbon particle samples was performed using energy dispersive X-ray spectroscopy. An electron beam from scanning electron microscopy was passed through the sample surface at a magnification of 1000× and an accelerating voltage of 15 kV to determine the morphological features of the carbon particles. Their thermal properties were investigated using a thermogravimetric analyzer at a heating rate of 10°C/min. A weight loss of approximately 5.4 wt % was recorded at the maximum temperature of 900 °C. Silicon, oxygen and carbon were found to be the dominating elements in the carbon particulate.
Keywords:
carbon particles; cyclone; biomass gasification; particle elemental composition; downdraft gasifier; syngas
1. Introduction
Carbon Particle Theory
The bulk of particulate matter from the gasification of biomass in a downdraft gasifier is constituted by solid carbon particles. These carbon particles vary in their compositions as well as sizes from less than 1 μm to over 100 μm [
15
]. Based on these sizes, also referred to as particle diameter, carbon particles are divided into fine and coarse particles. Particle diameter (dp) is a significant parameter used in describing the properties and behavior of particles. However, defining the diameter of particles is difficult in some cases due to irregularities in shapes of some particles. Two descriptions of particle diameter that stand out are Stokes diameter and aerodynamic diameter. Stokes diameter defines the diameter of a particle with similar terminal settling velocity and density, while aerodynamic diameter has similar terminal settling velocity and a particle density of 1 g/cm
3
[
16
]. The two diameters, aerodynamic and Stokes, are related by Equation (1):
where d
ae
is aerodynamic diameter, d
s
is Stokes diameter, is particle density, is standard density with a given value of 1 g/cm
3
, and Cc is Cunningham slip correction factor [
17
]. The formation of particles during biomass gasification differ from that of combustion, and the mechanism of the formation for combustion is well-known and studied compared to that of gasification. In addition, the particle formation mechanism of fine- and coarse-mode particles is said to be different. Fine particles are formed through chemical reactions and homogeneous condensation and nucleation, while coarse particles are formed through mechanical processes. Their elemental compositions are also reported to differ. Potassium, sulphur and chlorine are mostly present in fine particles, while coarse particles are rich in calcium, aluminum, potassium, and silicon [
18
]. This is in agreement with the statement that different sized particles have different origins and are generated via different routes, and thus usually vary in chemical compositions and physical properties.
Three particle formation routes were identified in a study by San Miguel et al. [
14
]; firstly, particles formed as result of the progressive wearing down of carbonaceous biomass particles due to mechanical interactions inside the gasifier. Secondly, carbon particles formed through the condensation of gaseous organic molecules and are accompanied with the coagulation, agglomeration and aggregation of primary particles into larger solid particles. The third formation mechanism involves the emanation of inorganic components after complete gasification of carbonaceous fraction. Due to the generation of particles alongside syngas during gasification, syngas undergoes some cleaning processes before its subsequent use for energy, heat or chemical applications. The extraction of heat from hot syngas requires the use of heat exchanger devices, hence, the presence of carbon particles in the syngas is a concern.
Prior to the integration of a heat exchanger in the existing downdraft gasification system, an investigation into the physical condition, thermal reactivity and chemical composition of carbon particles contained in the syngas stream is required for long-term and economical operation of the heat exchanger and gasification plant. The deposition of carbon particles on the surface of a heat exchanger over time, as syngas passes through it during heat recovery, is detrimental to heat exchangers. These carbon particle deposits result in fouling which impacts the thermal and mechanical performance of the heat exchanger. Fouling impacts negatively on the heat exchanger, as it increases the overall thermal resistance and lowers the overall heat transfer coefficient. Hence, understanding the chemical composition as well as the thermal reactivity of these carbon particles will provide information on how these carbon particles will react with heat exchanger materials. This will also aid in the choice of a heat exchanger and in determining whether a direct or indirect type is suitable for a gasification plant. Therefore, the objective of this present work is to characterize the carbon particles (char) generated from gasification of wood in a downdraft gasifier. The sample carbon particles used for further characterization were recovered from the cyclone chamber of a gasification system.
2. Materials and Methods
2.1. Carbon Particle Generation
2.2. Characterization Techniques and Instrumentation
The morphological surface and elemental composition of the carbon particles were studied using a JSM-6390LV scanning electron microscope (SEM) and an energy dispersive X-ray spectrometer (EDS). JSM-6390LV is a high-performance SEM with a high resolution of 3.0 nm. An electron beam from JSM-6390LV SEM was passed through the sample surface at a magnification of 1000x and an accelerating voltage of 15 kV to determine the morphological features of the carbon particles. The sample was coated with gold for clear visibility of the surface morphology. The mineral constituent was determined using an X-ray diffractometer (XRD). The thermogravimetric analysis of the sample was performed using Perkin-Elmer TGA 7 (Norwalk, CT, USA). A sample weight of 10.9 mg was placed in the analysis pan and nitrogen was used as a purge gas at a constant purge flow rate of 20 mL/min. The weight of the sample was then monitored by the precision balance as the sample pan gets heated in the furnace. The sample was held at 10 °C/min (heating rate) as it was heated from 20 °C to 900 °C and maintained for 1 min at 900 °C. The weight loss by the sample and its derivative rate with respect to time and temperature were recorded as the experiment was ongoing. The heating value of the sample was determined in a previous experiment, and was established to be 35.3 MJ/kg [
20
].
3. Results and Discussion
3.1. Morphology and Elemental Composition of Carbon Particles
3.2. Thermal Characteristics
Figure 4
presents the weight loss of the carbon particle sample when it was heated in a thermo gravimetric analyzer [TGA] from a temperature of 20 to 900 °C, and the derivative of the sample weight with respect to time. The heating temperature range represents a typical gasification temperature.
It is observed from
Figure 4
that there was a slight change in the weight of the sample over the heating temperature range of 20–900 °C. On average, a weight loss of approximately 5.4 wt % was recorded at the maximum temperature of 900 °C. The overall 5.4 wt % weight loss observed in
Figure 3
is slightly lower compared to the weight loss of 9.06 wt % recorded in another study at a temperature of 750 °C [
14
]. This indicates the high thermal stable nature of the sample (carbon particles). In addition, the moisture content of the sample was evaluated from a TGA residual weight of 0.4%. The obtained moisture content was very insignificant, implying that nearly all the moisture in the pine wood (feedstock) was driven off during the gasification that led to the generation of the carbon particles. The low moisture content is very beneficial in terms of reduced energy utilization when it is reused as a feedstock in the gasification plant. Considering the temperature range (250–600 °C) within which volatiles are usually released, it could be deduced from
Figure 4
that the volatile matter content of the carbon particles is low. This is comparable to a commercial carbon black with a volatile matter content of <1–5 wt % [
25
]. The differential thermogravimetric curve in
Figure 4
shows three distinct peaks; the first two peaks were observed at a temperature range of 40–200 °C and the third peak occurred within 600–700 °C. From the thermal degradation of the carbon particles shown in
Figure 3
, one can deduce that the fear of the carbon particles undergoing further degradation inside the heat recovery unit is minimal.
4. Conclusions
Biomass gasification was carried out in a downdraft gasifier using pine wood as feedstock, and carbon particles in the syngas were collected at the cyclone bottom chamber. The analyzed carbon particles showed a low concentration of sulphur (0.13 wt %), which is advantageous in terms of reduced sulphurdioxide (SO2) emission. It was found that the presence of alkali and alkaline earth metals, such as potassium (K), sodium (Na), magnesium (Mg), and calcium (Ca), in the particles could lead to the formation of deposits on the heat exchanger surface when it is used to extract heat from a particle-laden gas. High concentrations of oxygen and some other ions such as iron (Fe) and sulphate can also lead to the corrosion of the heat exchanger equipment when carbon particles are deposited on them over time. Hence, this study suggests the use of heat exchangers that are highly resistant to corrosion in a gasification plant. In addition, a scheduled cleaning of the heat exchanger should be adopted once integrated into the gasification plant to avoid the accumulation of carbon particles on the surface due to the presence of alkali and alkaline earth metals within these particles. Lastly, carbon particles are inevitable byproducts of the gasification of biomass; hence the choice of heat exchanger material should be based on its resistance to corrosion.
Acknowledgments
The authors wish to acknowledge the Energy and Water Sector Education and Training Authority (EWSETA) for funding the study of which this article is a part.
Author Contributions
The design, analysis and writing of the manuscript were done by corresponding author, The manuscript was revised by Sampson Mamphweli and Golden Makaka.
Conflicts of Interest
There are no conflicts of interest. The funding sponsors played no role in the design of the study; in the collection, analyses or interpretation of data; in the writing of the manuscript, or in the decision to publish the results.
Abbreviations
| | |
| --- | --- |
| SEM | Scanning Electron Microscope |
| EDS | Energy Dispersive X-ray Spectrometer |
| TGA | Thermogravimetric Analyzer |
Chemical Formulas
| | |
| --- | --- |
| CO | Carbon monoxide |
| H2 | Hydrogen |
| C | Carbon |
| O2 | Oxygen |
| Na | Sodium |
| Mg | Magnesium |
| Al | Aluminum |
| Si | Silicon |
| S | Sulphur |
| K | Potassium |
| Ca | Calcium |
| Fe | Iron |
References
Acton, A.Q.

Advances in Carbon Research and Application

; Scholarly edition: Atlanta, GA, USA; ISBN 978-1-481-66978-8.
Ahmad, M.I.; Alauddin, Z.A.Z.; Soid, S.N.M.; Mohamed, M.; Rizman, Z.I.; Rasat, M.S.M.; Razab, M.K.A.A.; Amini, M.H.M. Performance and carbon efficiency analysis of biomass via stratified gasifier.

ARPN J. Eng. Appl. Sci.

2015,

10

, 9533–9537. [Google Scholar]
Kumar, A.; Jones, D.D.; Hanna, M.A. Thermochemical Biomass Gasification: A Review of the Current Status of the Technology.

Energies

2009,

2

, 556–581. [Google Scholar] [CrossRef]
Laurence, L.C.; Ashenafi, D. Syngas Treatment Unit for Small Scale Gasification—Application to IC Engine Gas Quality Requirement.

J. Appl. Fluid Mech.

2012,

5

, 95–103. [Google Scholar]
Woolcock, P.J.; Brown, R.C. A review of cleaning technologies for biomass-derived syngas.

Biomass Bioenergy

2013,

52

, 54–84. [Google Scholar] [CrossRef]
Villot, A.; Gonthier, Y.; Gonze, E.; Bernis, A.; Ravel, S.; Grateau, M.; Guillaudeau, J. Separation of particles from syngas at high-temperatures with an electrostatic precipitator.

Sep. Purif. Technol.

2012,

92

, 181–190. [Google Scholar] [CrossRef]
Ichikawa, K.; Kajitani, S.; Oki, Y.; Inumaru, J. Study on char deposition characteristics on the heat exchanger tube in a coal gasifier—Relationship between char formation and deposition characteristics.

Fuel

2004,

83

, 1009–1017. [Google Scholar] [CrossRef]
Gupta, R.; Wall, T.; Baxter, L. (Eds.) Impact of mineral impurities in solid fuel combustion. In Proceedings of the Engineering Foundation Conference on Mineral Matter in Fuels, Kailua-Kona, HI, USA, 2–7 November 1997; KluwerAcademic/Plenum Publishers: New York, NY, USA, 1999. [Google Scholar]
Kilgallon, P.; Simms, N.J.; Oakey, J.E.

Materials for Gasifier Heat Exchangers

; Power Generation Technology Centre, Cranfield University: Cranfield, UK, 2004. [Google Scholar]
Puig-Arnavat, M.; Bruno, C.J.; Coronas, A. Review and analysis of biomass gasification models.

Renew. Sustain. Energy Rev.

2010,

14

, 2841–2851. [Google Scholar] [CrossRef]
Martínez, D.J; Mahkamov, K.; Andrade, V.R.; Lora, E.E.S. Syngas production in downdraft biomass gasifiers and its application using internal combustion engines.

Renew. Energy

2012,

38

, 1–9. [Google Scholar] [CrossRef]
Knoef, H.

Handbook Biomass Gasification

; BTG Biomass Technology Group: Enschede, The Netherlands, 2005; ISBN 978-90-810068-1-1. [Google Scholar]
Hindsgaul, C.; Schramm, J.; Gratz, L.; Henriksen, U.; Bentzen, J.D. Physical and chemical characterization of particles in producer gas from wood chips.

Bioresour. Technol.

2000,

73

, 147–155. [Google Scholar] [CrossRef]
San Miguel, G.; Domínguez, M.P.; Hernández, M.; Sanz-Pérez, F. Characterization and potential applications of solid particles produced at a biomass gasification plant.

Biomass Bioenergy

2012,

47

, 134–144. [Google Scholar] [CrossRef]
Hoffmann, A.C.; Stein, L.E.

Gas Cyclones and Swirl Tubes: Principles, Design, and Operation

, 2nd ed.; Springer: Berlin, Germany; New York, NY, USA, 2008; Volume 26, p. 422. [Google Scholar]
Hinds, W.C.

Aerosol Technology: Properties, Behavior, and Measurement of Airborne Particles

, 2nd ed.; Wiley: New York, NY, USA, 1999. [Google Scholar]
Morgalla, M.; Lin, L.; Seemann, M.; Strand, M. Characterization of particulate matter formed during wood pellet gasification in an indirect bubbling fluidized bed gasifier using aerosol measurement techniques.

Fuel Process. Technol.

2015,

138

, 578–587. [Google Scholar] [CrossRef]
Jöller, M.; Brunner, T.; Obernberger, I. Modeling of aerosol formation during biomass combustion in grate furnaces and comparison with measurements.

Energy Fuels

2005,

19

, 311–323. [Google Scholar] [CrossRef]
Nwokolo, N.; Mamphweli, S.; Meyer, E.; Tangwe, S. Electrical performance evaluation of Johansson biomass gasifier system coupled to a 150 KVA generator.

Renew. Energy

2014,

71

, 695–700. [Google Scholar] [CrossRef]
Melapi, A.; Mamphweli, S.N.; Katwire, D.M.; Meyer, E.L. The Physical and Chemical Properties of Fine Carbon Particles-Pinewood Resin Blends and Their Possible Utilization.

J. Chem.

2015,

2015

, 137580. [Google Scholar] [CrossRef]
Addepalli, S.; Eiroa, D.; Lieotrakool, S.; Francois, A.L.; Guisset, J.; Sanjaime, D.; Kazarian, M.; Duda, J.; Roy, R.; Phillips, P. Degradation study of heat exchangers.

Procedia CIRP

2015,

38

, 137–142. [Google Scholar] [CrossRef]
Pan, C.; Liang, Q.; Guo, X.; Dai, Z.; Liu, H.; Gong, X. Characteristics of Different Sized Slag Particles from Entrained-Flow Coal Gasification.

Energy Fuels

2015,

30

, 1487–1495. [Google Scholar] [CrossRef]
Lund, P.; Byrne, J.A.; Berndes, G.; Vasalos, I.

Advances in Bioenergy: The Sustainability Challenge

; John Wiley & Sons: New York, NY, USA, 2015; ISBN 1118957865, 9781118957868. [Google Scholar]
Demadis, K.D. Combating heat exchanger fouling and corrosion phenomena in process waters. In

Compact Heat Exchangers and Enhancement Technology for the Process Industries

; Begell House Inc.: Danbury, CT, USA, 2003; pp. 483–490. [Google Scholar]
Miller, F.P.; Vandome, A.F.; McBrewster, J.

Carbon Black

; German publishing group: Saarbrücken, Germany; ISBN 6130702493.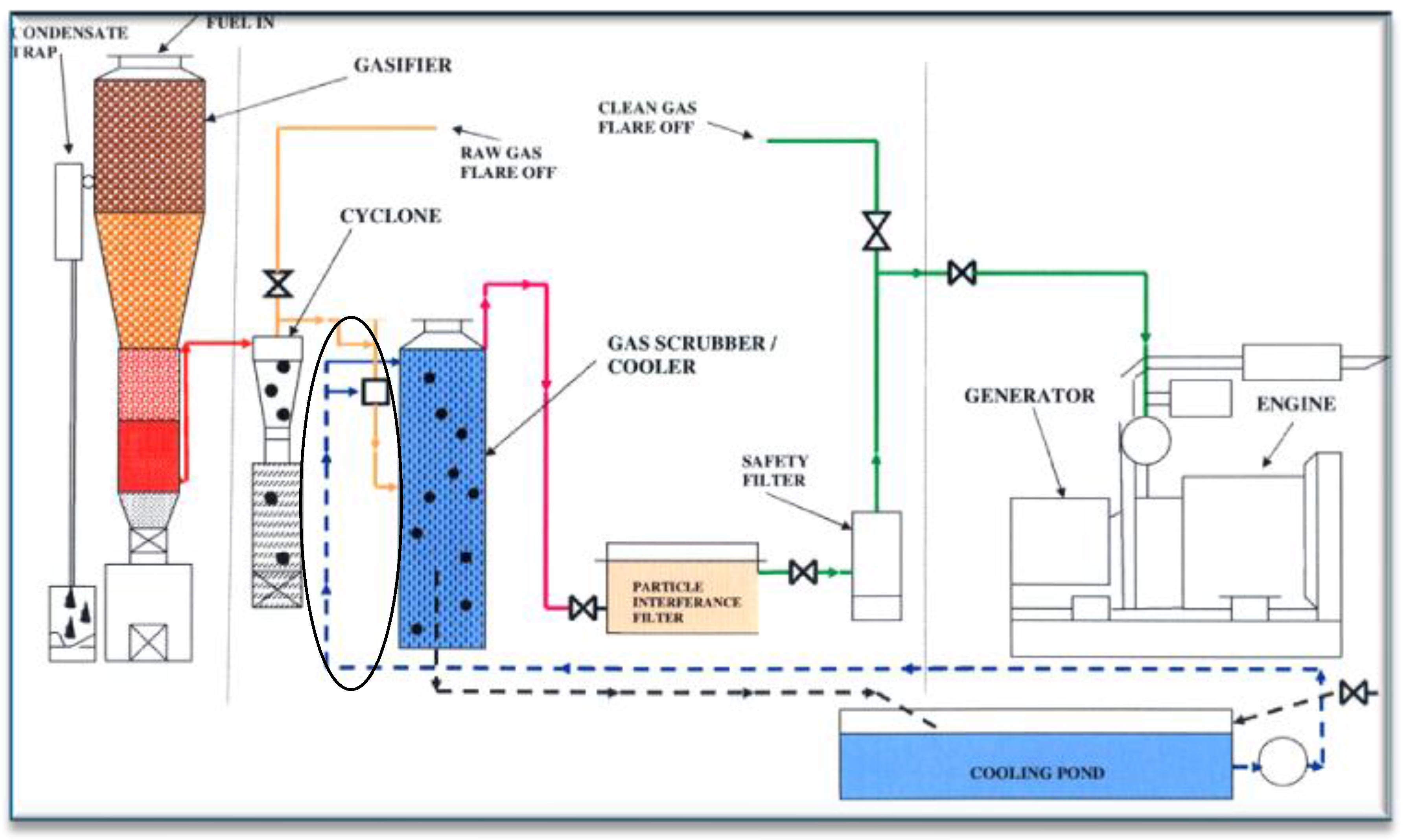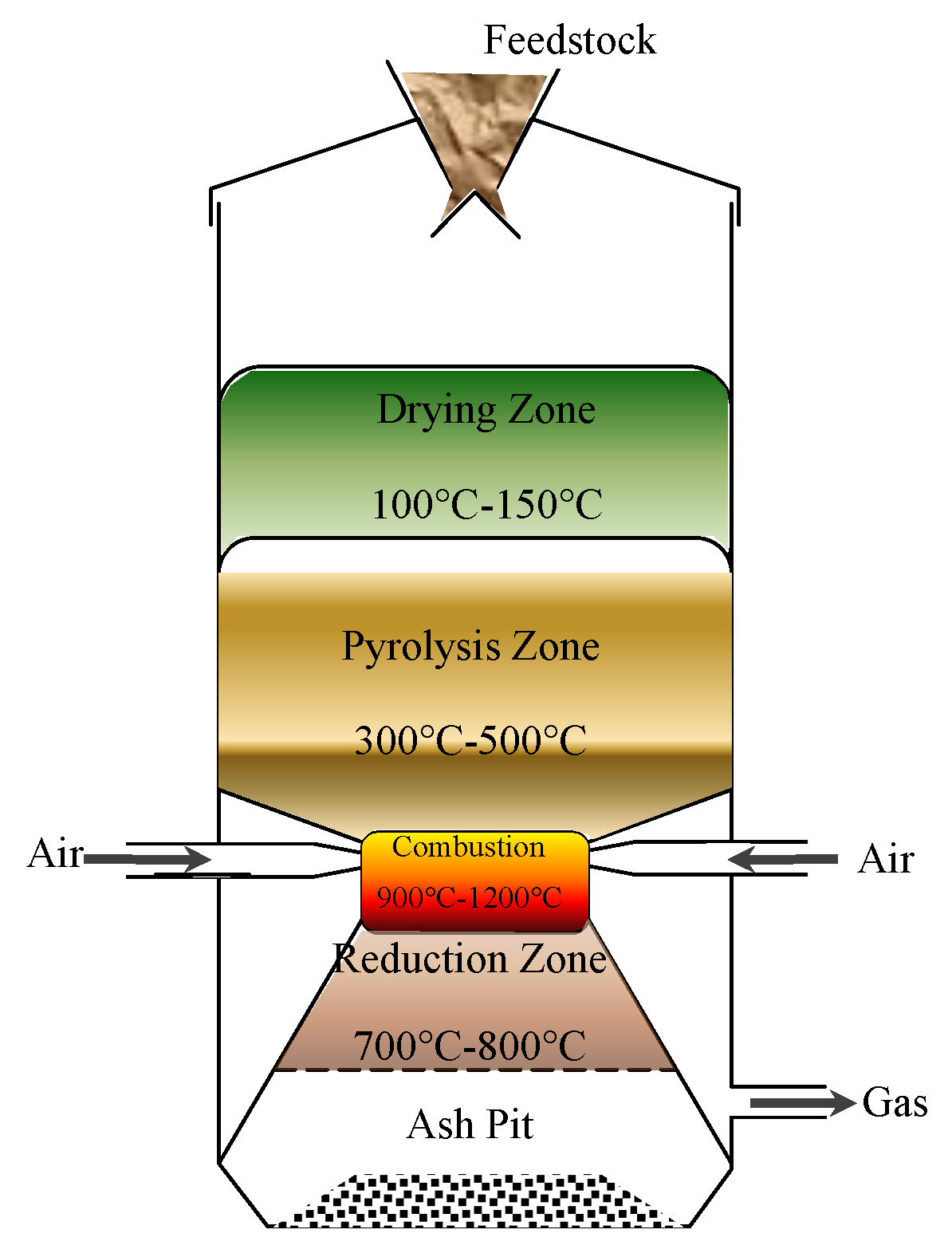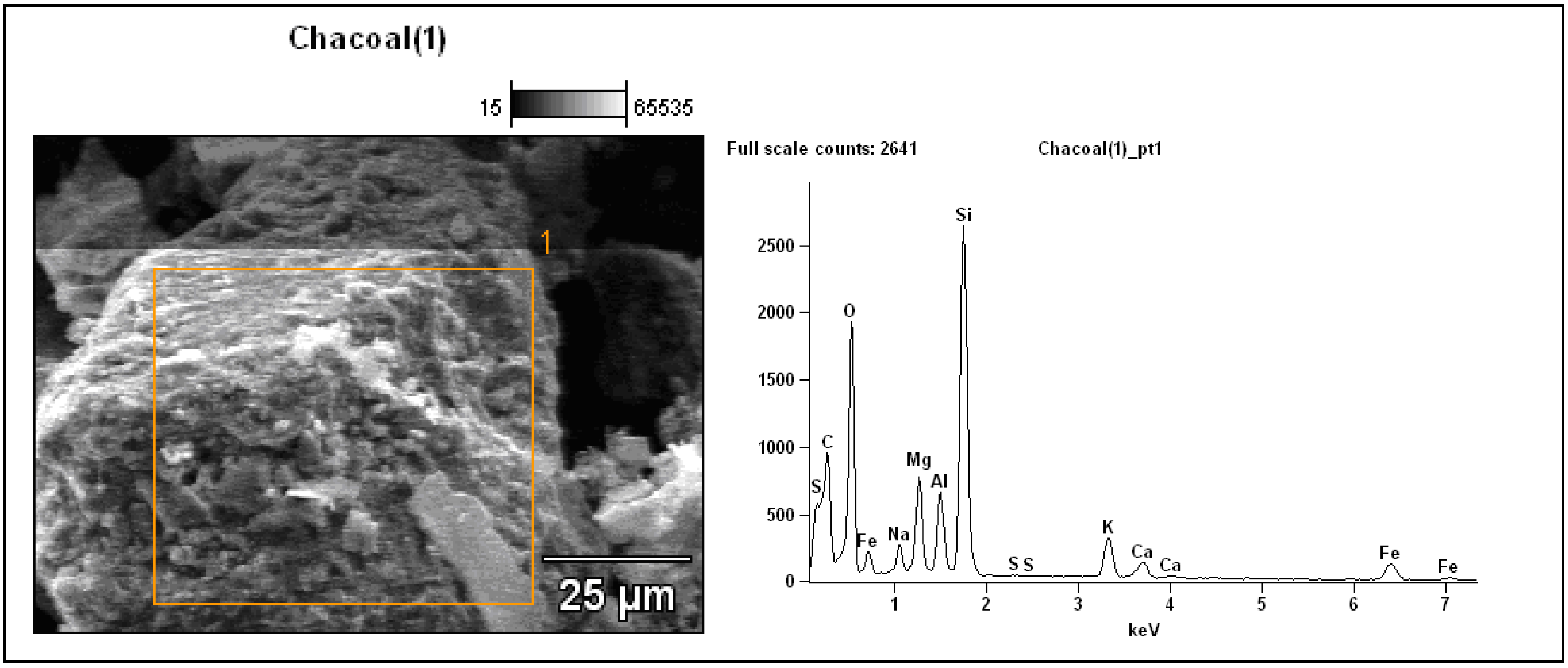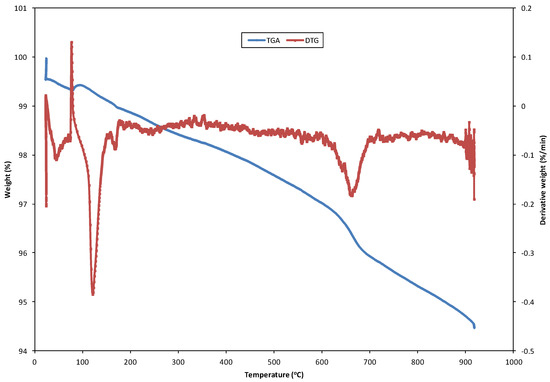 Figure 4. Thermogravimetric analysis and differential thermal analysis plot of carbon particles in a nitrogen atmosphere.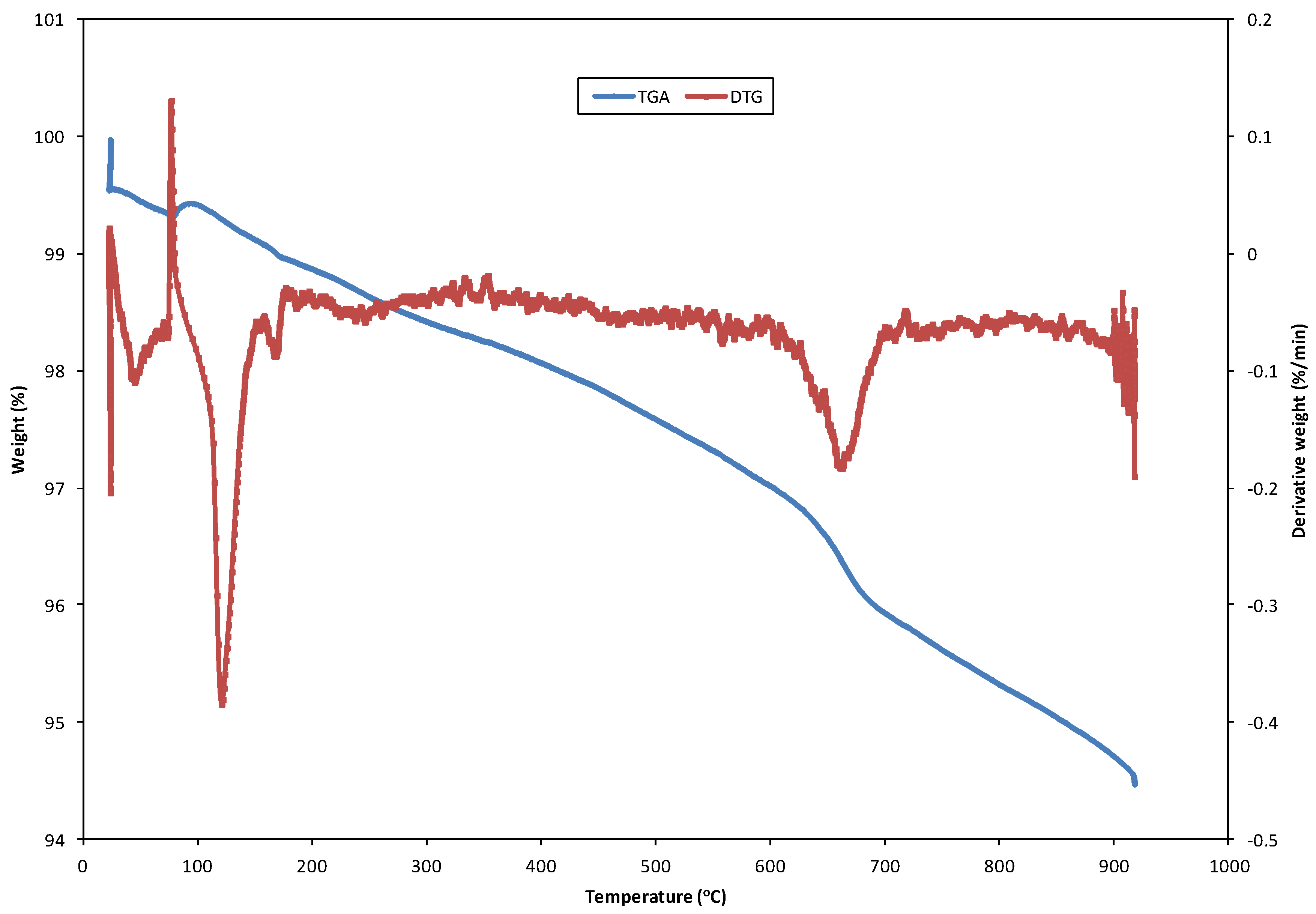 Table 1.
Proximate and ultimate analysis of pine wood [
19
].
Pine Wood
Proximate Analysis (wt %)
MC
VM
FC
AC
14
67.72
17.88
0.4
Ultimate analysis (wt %)
C
H
N
O
47.51
6.52
0.095
45.87
MC—Moisture Content, VM—Volatile Matter, FC—Fixed Carbon, AC—Ash Content, C—Carbon, H—Hydrogen, O—Oxygen, N—Nitrogen.
Element (wt %)
PS (µm)
C
O
Na
Mg
Al
Si
S
K
Ca
Fe
25
20.35
34.38
1.56
4.96
3.98
19.68
0.13
4.19
2.09
8.67

© 2017 by the authors. Licensee MDPI, Basel, Switzerland. This article is an open access article distributed under the terms and conditions of the Creative Commons Attribution (CC BY) license (http://creativecommons.org/licenses/by/4.0/).