Open Access This article is
freely available
re-usable
Article
Securing the Future of Cultural Heritage by Identifying Barriers to and Strategizing Solutions for Preservation under Changing Climate Conditions
Department of Parks, Recreation and Tourism Management, College of Natural Resources, North Carolina State University, 2820 Faucette Dr., Campus Box 8004, Raleigh, NC 27695, USA
*
Author to whom correspondence should be addressed.
Received: 30 October 2017 / Accepted: 19 November 2017 / Published: 21 November 2017
Abstract
:
Climate change challenges cultural heritage management and preservation. Understanding the barriers that can impede preservation is of paramount importance, as is developing solutions that facilitate the planning and management of vulnerable cultural resources. Using online survey research, we elicited the opinions of diverse experts across southeastern United States, a region with cultural resources that are particularly vulnerable to flooding and erosion from storms and sea level rise. We asked experts to identify the greatest challenges facing cultural heritage policy and practice from coastal climate change threats, and to identify strategies and information needs to overcome those challenges. Using content analysis, we identified institutional, technical and financial barriers and needs. Findings revealed that the most salient barriers included the lack of processes and preservation guidelines for planning and implementing climate adaptation actions, as well as inadequate funding and limited knowledge about the intersection of climate change and cultural heritage. Experts perceived that principal needs to overcome identified barriers included increased research on climate adaptation strategies and impacts to cultural heritage characteristics from adaptation, as well as collaboration among diverse multi-level actors. This study can be used to set cultural heritage policy and research agendas at local, state, regional and national scales.
Keywords:
needs assessment; climate change adaptation; cultural resource management; historic preservation
1. Introduction
Barriers to Heritage Preservation and Climate Adaptation
2. Materials and Methods
To identify current barriers to climate adaptation of cultural resources and strategies for overcoming those barriers, we elicited the opinions of historic preservation and cultural resource management experts in the southeastern U.S. using online survey research methods [
50
]. We opted for a regional assessment, as climate change threats and impacts vary depending on geographic location and associated biophysical conditions within those locations [
12
]. Furthermore, a regional assessment was selected as it represents the second-level of the NPS' hierarchical order of policy and decision-making. The southeast region was selected due to ongoing cultural resource climate adaptation planning research being conducted in collaboration with the NPS at Cape Lookout National Seashore (North Carolina, USA). Data presented in this paper are part of a larger research project and only represent a subset of questions. The full questionnaire contained 4 sections with 41 questions; 2 sections with 10 questions are used for this paper.
2.1. Questionnaire
Specific questionnaire items included in this study are: (a) 6 questions about professional background and work experience of the expert (closed-ended), and (b) a series of 4 open-ended questions to assess expert opinion about important heritage preservation challenges presented by sea level rise and stronger or more frequent storms in coastal environments and identify strategies and information needs to overcome those challenges. Specifically, respondents were asked to list up to three of the greatest challenges related to heritage preservation (i) policy and (ii) practice, and up to three of the greatest (iii) strategies to overcome those challenges and (iv) information, training, and guidance needs to overcome those challenges or implement that strategies. The survey instrument was developed and administering using Qualtrics (Provo, UT, USA) survey software (v.2017).
2.2. Sampling
Purposive sampling [
51
] was used to recruit the experts actively working in the field of heritage preservation across southeast region of the U.S. In this study, an expert is defined as an individual known to NPS personnel with specialized knowledge or technical expertise in cultural resource management and/or historic preservation. A list of 85 experts was developed by the NPS Southeast Regional Office and Washington DC Office. We sought experts with various primary responsibilities and decision-making authority to obtain a variety of opinions and concerns. This list included experts from federal (i.e., NPS) and state governments (i.e., State Historic Preservation Offices), as well as non-profit organizations (e.g., National Trust for Historic Preservation, tribal organizations), academics, and architects and engineers from the private sector.
In February and March 2017, each expert was contacted via email announcing they would be receiving a telephone call in one of the following three days to receive information about the study's goals and the structure of the online questionnaire, as well as to confirm voluntary participation in the study. Accordingly, one week later each expert received the link to and instructions for completing the online questionnaire. Two reminder emails were sent to non-respondents during a one-month period. Once an expert had completed the questionnaire, that individual received no further reminders. Non-respondents and those who only partially completed the questionnaire were sent a final email request after an additional two-week period. This study was conducted in accordance with the Declaration of Helsinki, authorized by the U.S. Office of Management and Budget (OMB No. 1024-0278), and all protocols were approved by the Institutional Review Board for work with human subjects at NC State University (IRB Protocol No. 6339).
2.3. Data Analysis
We analyzed the participant background information (responses were downloaded from Qualtrics into a Microsoft Excel spreadsheet) using descriptive statistics. To analyze the qualitative data from open-ended questions, we utilized content analysis [
52
]. Specifically, data were downloaded as text into a Microsoft Excel spreadsheet and coded by one researcher; then the pattern of coding was corroborated and additional coding considerations suggested by a second researcher (peer debriefing; [
53
]). This process leads to further refinement of subthemes and relationships between subthemes. The coding process included first categorizing the main four themes of codes such as "policy challenge", "practice challenge", "strategies", and "needs" according to the questionnaire question (i.e., descriptive coding; [
54
]), and then further elaborating into subthemes derived from the data (i.e., open coding; [
54
]). Then, we condensed content coded as either "policy challenge" or "practice challenge" into one main theme titled "barriers". Similarly, we condensed content coded as "strategy" or "needs" into "needs". Then, we classified both the "barriers" and "needs" themes as relating to one of three categories: "institutional", "technical", or "financial". Additionally, using axial coding [
54
], we analyzed and developed conceptualization of relationships or interdependencies among the subthemes of barriers.
Once all open-ended responses were coded, we calculated frequencies of each subtheme to illustrate the range of experts' perceptions. In our Results section (
Section 3
), we report the number of references made by the participating experts for each subtheme with "n" to illustrate how frequently the barrier or need was encountered, experienced or identified. It is important to note that experts did not intuitively differentiate barriers or needs as institutional, technical, or financial; rather, the authors identified these categories within experts' responses and were guided by the existing literature on climate change adaptation [
25
,
28
,
32
]. We also provide some representative quotations in a table to provide support for our analysis [
55
]. It is worth pointing out that we did not intend to carry out a statistically significant assessment of identified barriers and needs; rather, the exploratory nature of the study is intended to provide some important insights about the types of barriers, their interdependencies, and needs for overcoming them as identified by experts and interpreted by researchers. Additionally, it is important to note that the frequency with which barriers were mentioned reflect the saliency of each barrier and need to the experts who participated in this study and, as such, do not reflect relative importance. Future research that presents these barriers and needs in close-ended questions is needed to determine the importance or urgency of each as well as the strength of the relationships between interdependent barriers.
3. Results
In this section, we first provide a profile of study respondents (
Section 3.1
). Then, we present the main findings, which are organized by perceived perspectives on: (a) barriers to heritage preservation given climate change impacts; (b) interactions or interdependencies between identified barriers; and (c) needs to overcome barriers for adapting cultural resources to changing climatic conditions. We found that the barriers, as well as the barriers and needs, appear to be interdependent in many cases; these interdependencies are noted using parenthetical references throughout our presentation of the barrier findings (
Section 3.2
). A discussion of interdependencies between the barriers is presented in
Section 3.3
, and the needs are presented in
Section 3.4
.
4. Discussion and Conclusions
The barriers to climate change adaptation for heritage preservation identified in this study generally align with those presented in the currently few scholarly publications on this topic, which were outlined in the introduction to this paper. To the best of our knowledge, this paper presents the first attempt to specifically document barriers to climate change adaptation for heritage preservation and identify strategies for overcoming those barriers. Our emic approach specifically sought to categorize the barriers and needs most salient to cultural resource and historic preservation experts. Although we contextualized our study with coastal climate change impacts to cultural resources in the southeastern U.S., we found that the heritage preservation barriers and strategies to overcome those barriers are likely transferable to other regions and, perhaps, national and international scales.
Acknowledgments
Funding for this research was provided under Cooperative Agreement P13AC00443 between the United States Department of Interior, National Park Service and NC State University, Task Agreement Number P14AC01737: Informing Plans for Managing Resources of Cape Lookout National Seashore under Projected Climate Change, Sea Level Rise, and Associated Impacts (OMB Control Number: 1024-0278; Expiration Date: 31 October 2019). We would like to thank the historic preservation experts who participated in this study for voluntarily sharing their opinions and time, as well as our colleagues at the National Park Service who helped identify the list of experts: Janet Cakir, Brian Goeken, and Beth Byrd. We would also like to thank Allie McCreary for her thoughtful feedback during peer debriefing.
Author Contributions
Sandra Fatorić performed data collection and analysis. Erin Seekamp conceived and designed the study. Sandra Fatorić and Erin Seekamp wrote the paper.
Conflicts of Interest
The authors declare no conflict of interest.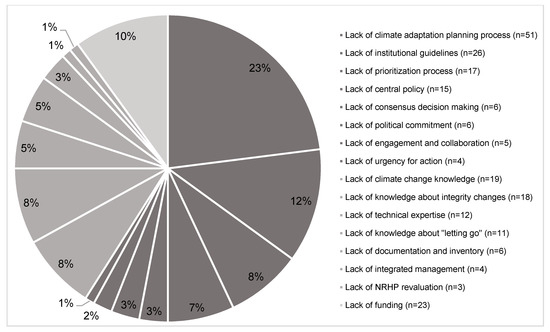 Figure 1. Percentage and number of mentions for institutional barriers (in darkest grey colors), technical barriers (in medium grey colors) and financial barrier (in light grey color) to current heritage preservation given climate change impacts (n = 226).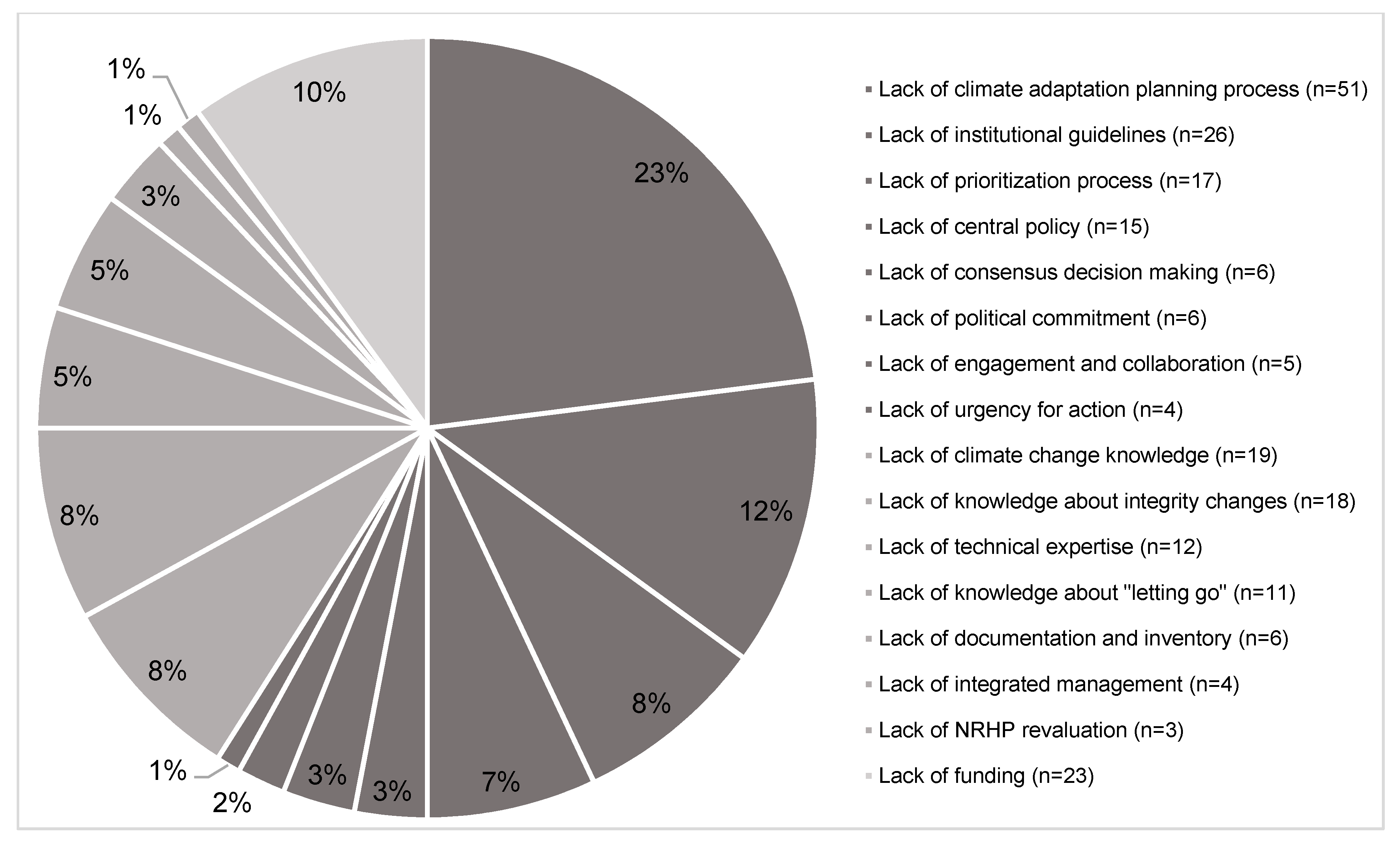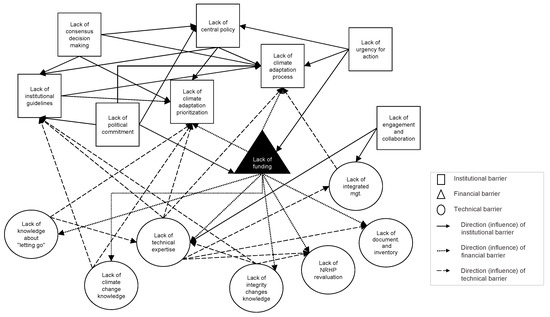 Figure 2. Conceptualization of barrier interdependencies for heritage preservation under changing climate conditions. Institutional barriers are in in square boxes with solid arrows showing direction (influence) of interdependencies; the triangle shows a financial barrier together with the dotted arrows showing its influence on other barriers; circles are technical barriers with corresponding dashed arrows showing the direction of interdependencies with other barriers.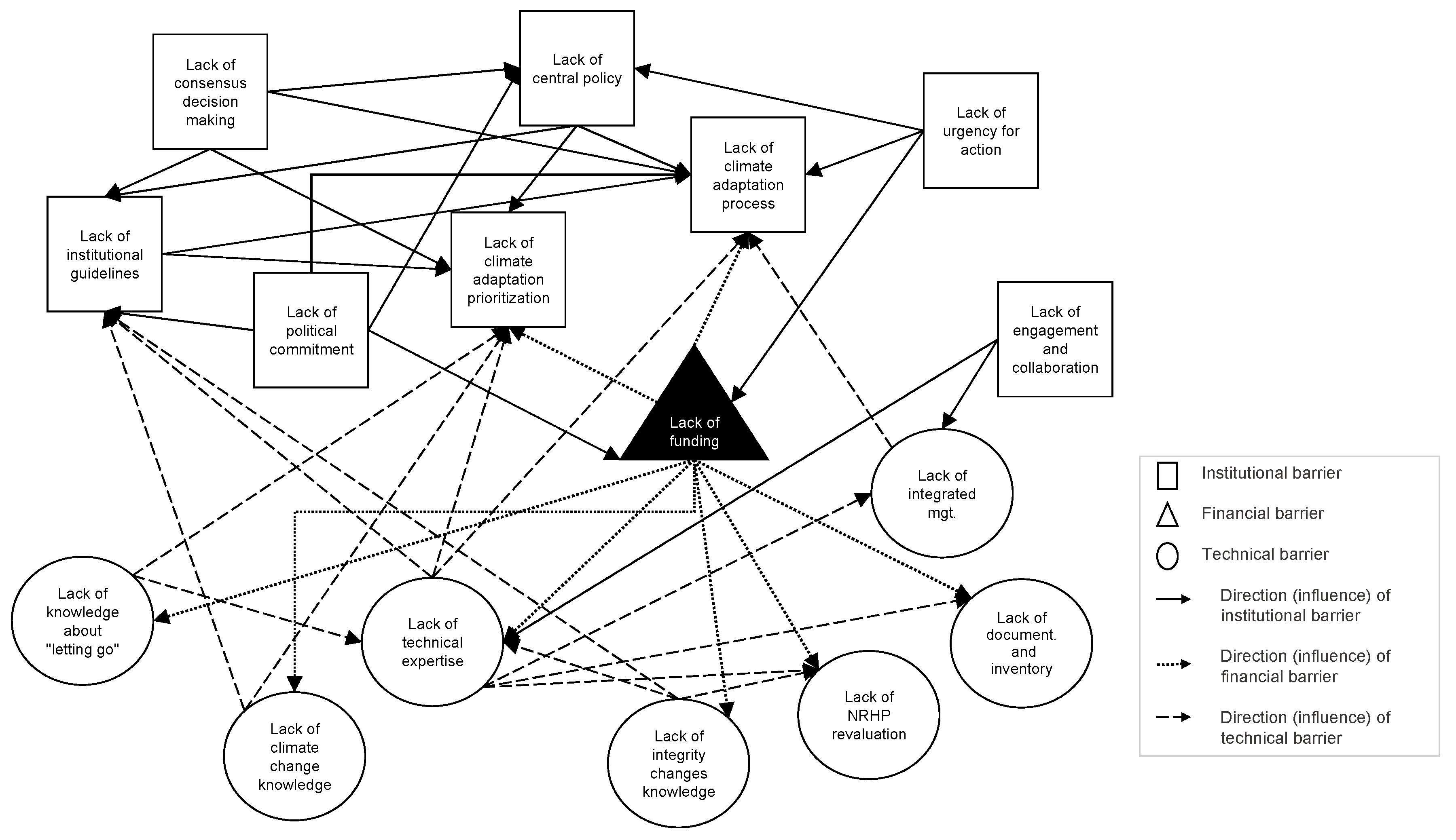 Figure 3. Percentage and number of mentions for institutional needs (in darkest grey colors), technical needs (in medium grey colors) and financial needs (in light grey color) to overcome barriers to current heritage preservation given climate change impacts (n = 214).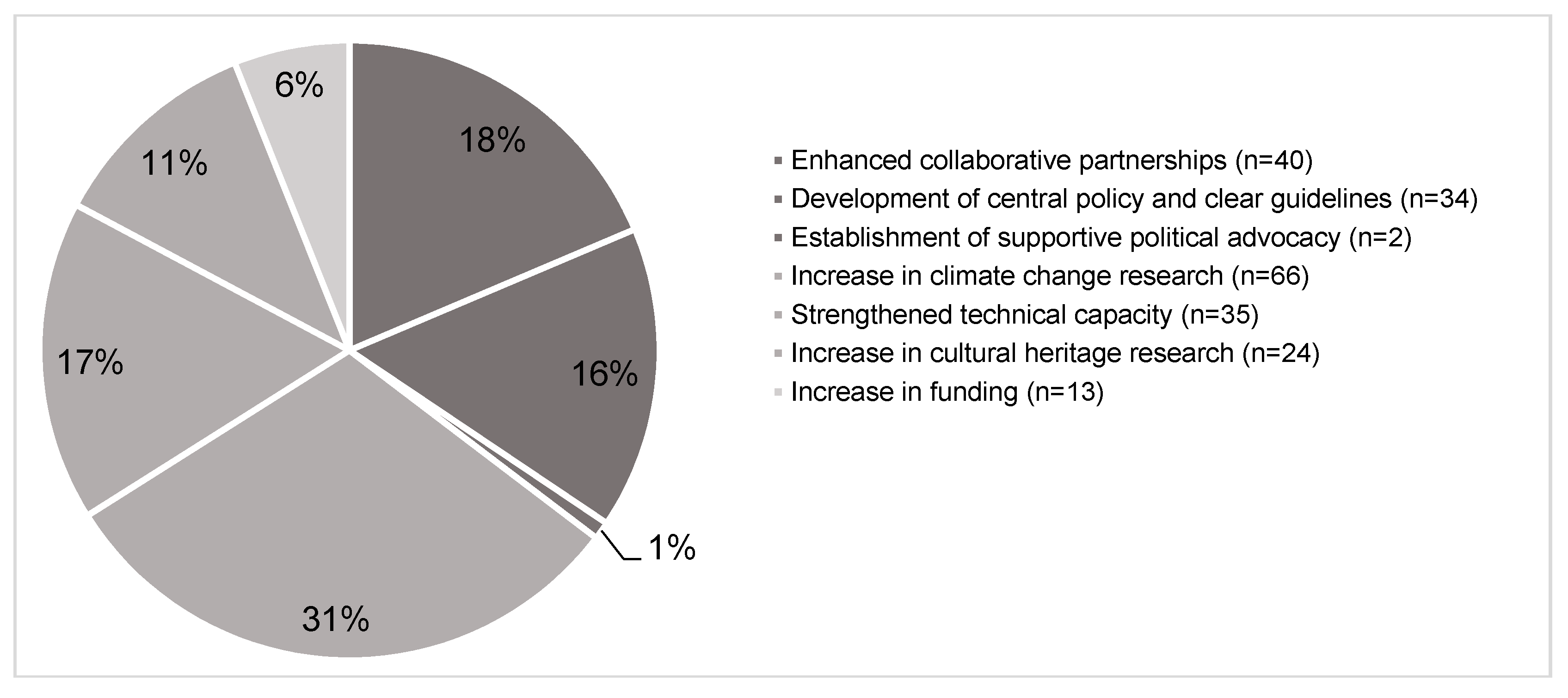 Table 1. Characteristics regarding experts' type of organization, number of work experiences in heritage preservation, geographic region of work experiences in heritage preservation, and number of years of experience in current position and current organization (n = 39).
| Type of Organization | Number of Work Experiences | Geographic Region of Work Experiences * | Years of Experience in Current Position | Years of Experience in Current Organization |
| --- | --- | --- | --- | --- |
| Federal government: n = 17, 44% | 1 experience: n = 15, 38% | South Atlantic U.S.: n = 27 | 1–4 years: n = 15, 38% | 15–20 or more years: n = 17, 44% |
| State government: n = 8, 20% | 2 experiences: n = 11, 28% | Gulf Coast U.S.: n = 23 | 15–20 or more years: n = 10, 26% | 10–14 years: n = 12, 31% |
| Private contractor or consultant: n = 6, 15% | 3 experiences: n = 8, 21% | Mid Atlantic U.S.: n = 11 | 10–14 years: n = 9, 23% | 10–14 years: n = 6, 15% |
| Academic institution: n = 4, 10% | 4 experiences: n = 3, 8% | North Atlantic U.S.: n = 9 | 5–9 years: n = 5, 13% | 1–4 years: n = 4, 10% |
| Historic preservation organization: n = 3, 8% | 5 experiences or more: n = 2, 5% | Great Lakes U.S. and Central U.S. (both): n = 7 | | |
| Local government organization: n = 1, 3% | | Rocky Mountain U.S.: n = 6 | | |
| | | Pacific Northwest and California (both): n = 5 | | |
| | | Caribbean U.S.: n = 4 | | |
| | | International: n = 3 | | |
| | | Pacific Islands U.S.: n = 2 | | |
| | | Southwest U.S.: n = 1 | | |
* Note that majority of experts had multiple regional employment experiences.

Table 2. Questionnaire data reflecting range of barriers that can limit cultural heritage management and historic preservation given climate change risks, together with suggested needs for overcoming these barriers.
| Barrier | Questionnaire Quote of Barrier | Need for Overcoming Barrier |
| --- | --- | --- |
| Lack of climate adaptation process | "Coastal areas more susceptible to deterioration that contain historic resources need better protections for how to prepare and react when sea levels rise, storms occur, etc." | "Adaptation through public engagement and acknowledgment of need for change." |
| Lack of guidelines | "Administrators need clarity as to what legal options are available (for current stewards to divest threatened resources they can no longer protect, to form partnerships with others to provide the protection, etc.)." | "Illustrated guidelines from NPS defining acceptable applications of the Standards." |
| Lack of funding | "No budget to maintain required protections." | "Provide funding to identify needs and preparation for climate change." |
| Lack of knowledge on climate change and cultural heritage | "Yes, there are challenges in terms of the sea level rise and frequent storms. How serious are they in a short and long run? We need to have enough evaluation, information and data which show the impact of the climate change on the resources. Lack of seasonal inspection and evaluation of the impact of the climate and the rise of sea level on the resources is a challenge." | "Modeling—sea level and/or climate change modeling should be mandated." |
| Lack of knowledge on historic integrity changes | "Lack of knowledge, information and education. This includes the resource's values, knowing historic materials and the cultural heritage technique of construction, environment impact on the historic materials overall and in particular." | "The CRM community needs to determine what, if any changes are necessary or applicable to properties threatened by sea level rise, etc. For example, can certain buildings be relocated when that would not otherwise be an acceptable treatment. Is it ok to raise floor levels in cases where the building sees water infiltration on a daily basis due to rising tides? Those of us who interpret and apply preservation standards are challenged by these questions and to approve work that would not otherwise be appropriate in the absence of specific guidance." |
| Lack of climate adaptation prioritization | "In light of stagnant public funding and increasing threats to cultural resources, need info as to how to prioritize among the resources…" | "A framework for evaluating vulnerability and significance to prioritize resources." |
| Lack of central policy | "Need broader policy options for dealing with the threats. Think outside the box of current administrative rules and policies." | "Providing policies, guidelines and procedures in this regard." |
| Lack of technical expertise | "Repeated and frequent events challenge agencies (governmental, non-profit) with limited staffing and financial resources to provide the technical assistance needed by property owners. So too there are limited craftsmen and trades people, and they are not able to do all of the work required and in the timeframe necessary." | "More climate change training on adaptation options and vulnerability assessments." |
| Lack of knowledge on "letting go" | "These climate changes are challenging us to really consider feasibility of long term preservation and forcing us to consider letting resources go to redirect limited funds or to preserve other resources." | "Increase inventory and monitoring of resources that cannot be saved and plan accordingly." |
| Lack of consensus decision making | "Lack of unified response among state and federal agencies." | "Early consultation with Tribal nations and Tribal Historic Preservation Offices." |
| Lack of documentation and inventory | "Having inadequate inventories of resources so the risk of loss is unknown." | "Undertake comprehensive resource inventories." |
| Lack of political commitment | "Lack of support from political leadership on climate change and sea level rise initiatives." | "Education of politicians and policy makers." |
| Lack of engagement and collaboration | "Deference to local knowledge and decision-making may result in losses that can be addressed by decision-making frameworks at a larger scale." | "Creation of multidisciplinary teams to explore adaptation strategies at case study sites." |
| Lack of sense of urgency | "Convincing people that time is of the essence." | |
| Lack of integrated management | "Managing cultural landscapes and biotic cultural resources." | "Approaching adaptation as a cultural and natural integrated effort." |
| Lack of NRHP revaluation | "50 year [eligible criteria for listing in NRHP] has to be revaluated—lots of potential, future resources are threatened and need to be revaluated." | |

© 2017 by the authors. Licensee MDPI, Basel, Switzerland. This article is an open access article distributed under the terms and conditions of the Creative Commons Attribution (CC BY) license (http://creativecommons.org/licenses/by/4.0/).