Open Access This article is
freely available
re-usable
Article
Sustainable Digitalization of Cultural Heritage—Report on Initiatives and Projects in Brandenburg, Germany
University of Applied Sciences Potsdam, 14469 Potsdam, Germany
Academic Editor: Victor T. King
Received: 31 May 2016 / Accepted: 16 August 2016 / Published: 3 September 2016
Abstract
:
While digitalization opens up new possibilities for cultural heritage and tourism it also brings new challenges. Initiatives such as "Europeana", an internet portal for cultural heritage within the European Union, support institutions with the display of their collections. National initiatives complement these efforts. This report describes initiatives and projects for generating and sustaining digital cultural heritage resources in the German state of Brandenburg. With the cultural heritage distributed throughout the state and managed by hundreds of institutions, the task of digitalization is a common challenge for all of these institutions. Digitalization and digital sustainability is limited by shortcomings in areas of human resources, knowledge and IT infrastructure. In light of these limitations, the cultural heritage community addresses challenges with an interdisciplinary approach. It is based on a collaborative model with four levels: (1) a statewide strategy of an interdisciplinary task force; (2) cooperative projects; (3) cooperative IT infrastructure; and (4) an overall coordination. The priorities are: (1) creating and displaying digital content; (2) establishing best practices and workflows; (3) developing cooperative infrastructures for sustainment. Since 2012, several projects have been implemented based on that collaborative model. More than 50 participating institutions benefited from cooperative planning, managing, digitizing and digital presentation. With regard to the third priority, the task force's next step is finding solutions for digital preservation. Considering the lack of funding and resources in the cultural heritage sector, options for creating and sustaining digital resources are limited. Digital cultural heritage requires interdisciplinary thinking, cooperative initiatives, reliable IT infrastructures and additional funding.
Keywords:
cultural heritage; digitalization; digital preservation; cooperation; funding
Acknowledgments
The coordination office is funded by the Ministry of Science, Research and Culture in Brandenburg. Publications, including open access publishing, on the progress of digitalization of Cultural Heritage in Brandenburg are covered as part of that funding.
Conflicts of Interest
The author declares no conflict of interest. The report represents a summary of the challenges associated with digitalization of cultural heritage and solutions developed by an independent and interdisciplinary task force. The Ministry of Science, Research and Culture in Brandenburg provide financial support to projects and the coordination office, without stipulation of the task force's work or execution of the projects. The founding sponsor had no role in the design of the report; in the collection, analyses, or interpretation of data; in the writing of the manuscript, and in the decision to publish the results.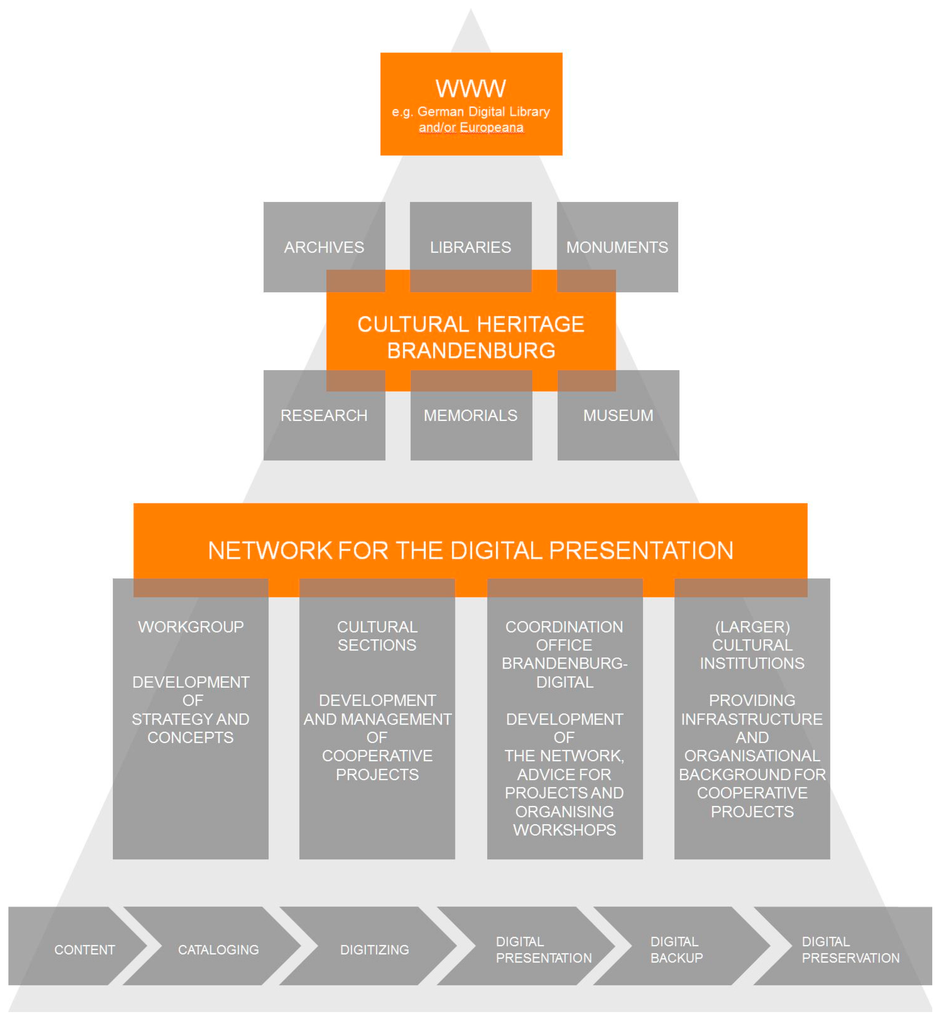 Figure 1.
Components of the cooperative approach to the digitalization of cultural heritage in Brandenburg [
21
].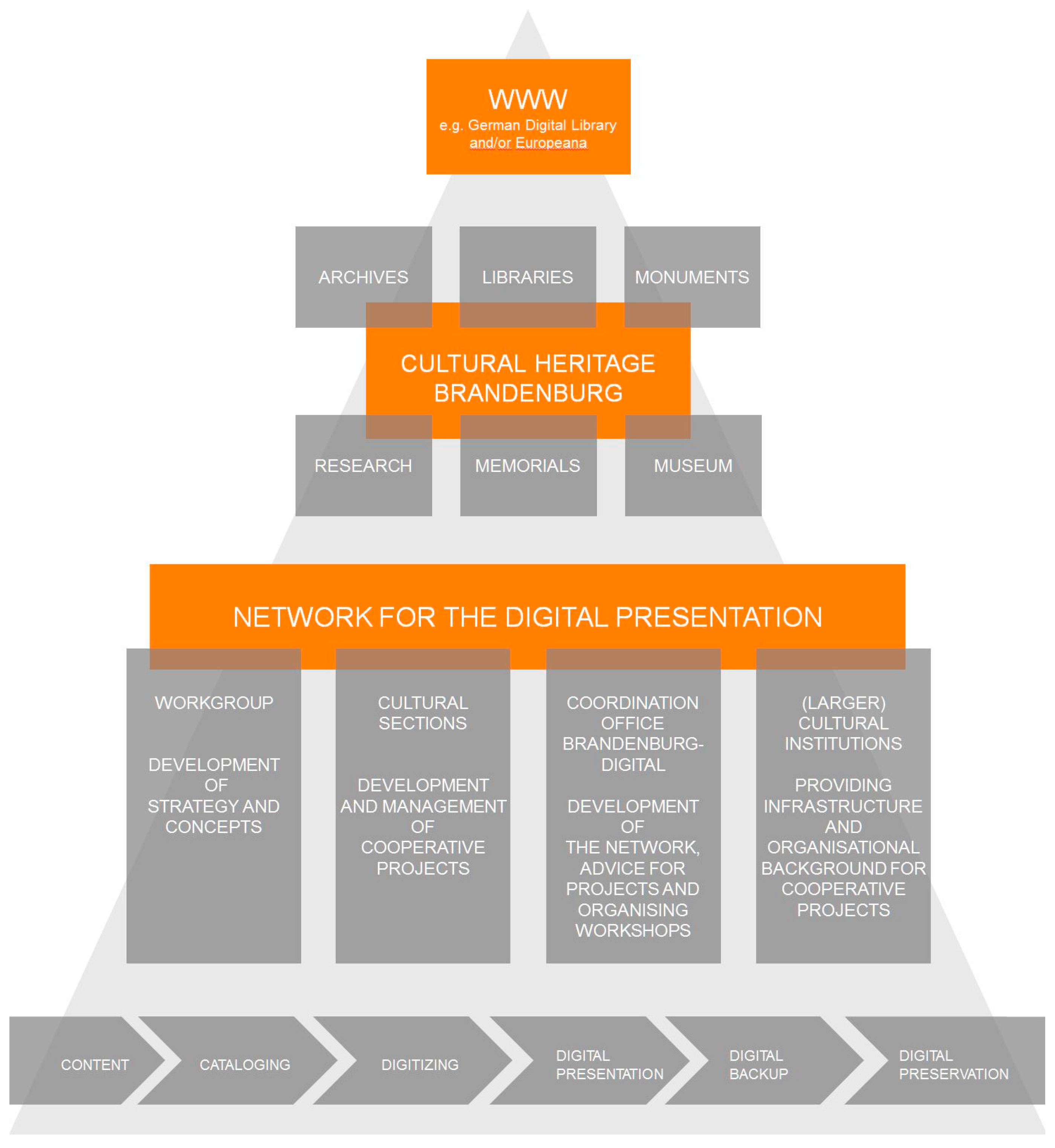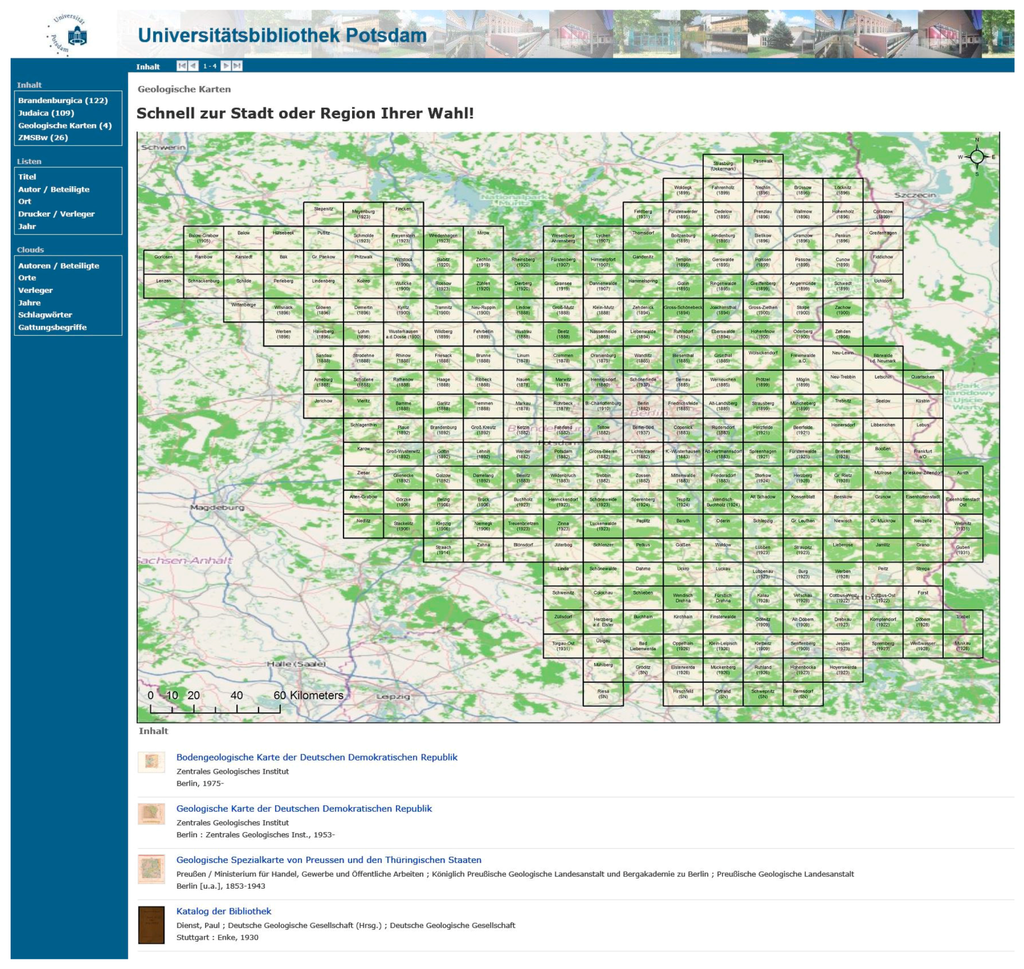 Figure 2.
Collaborative digital presentation of historical geological maps [
39
].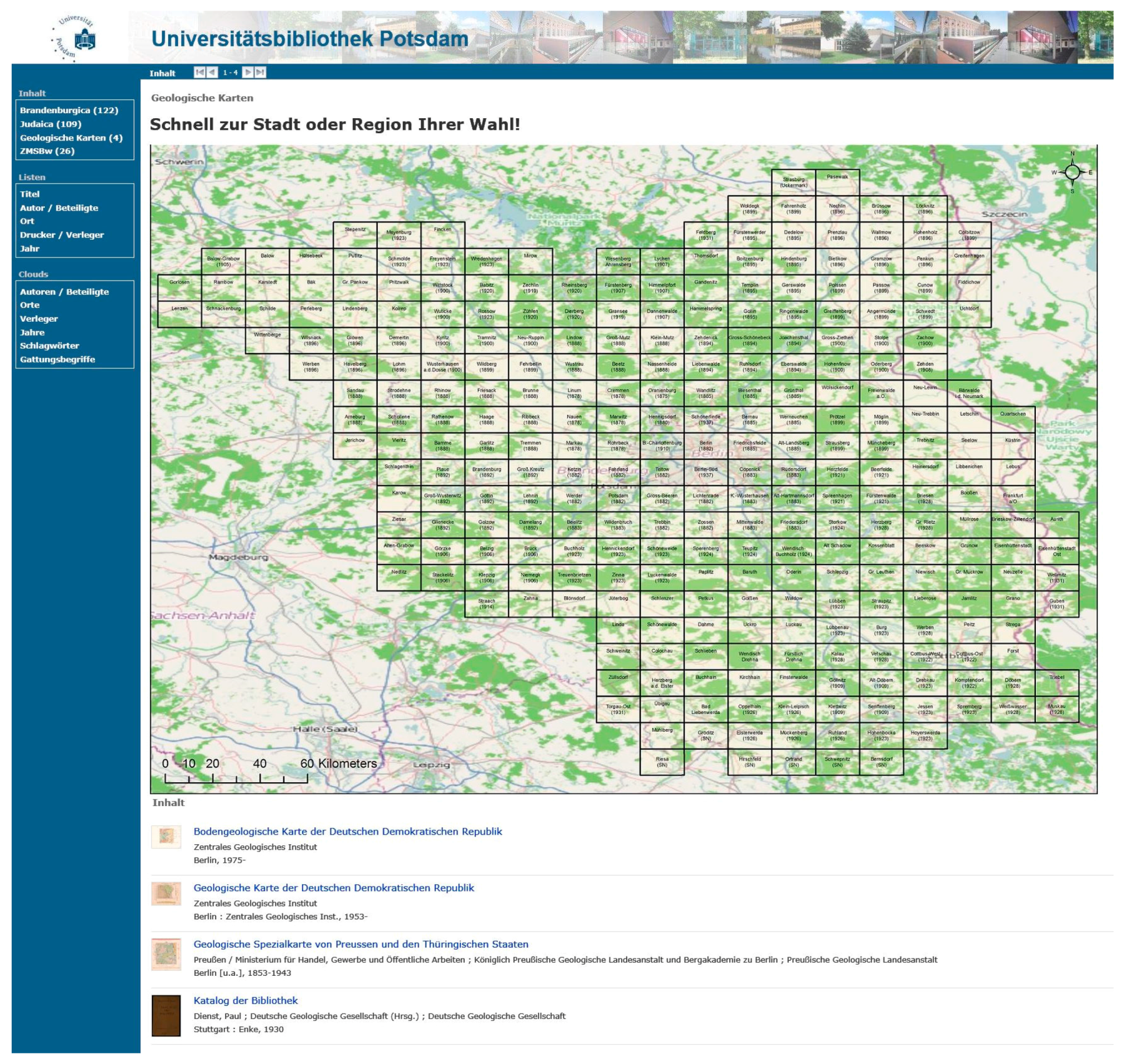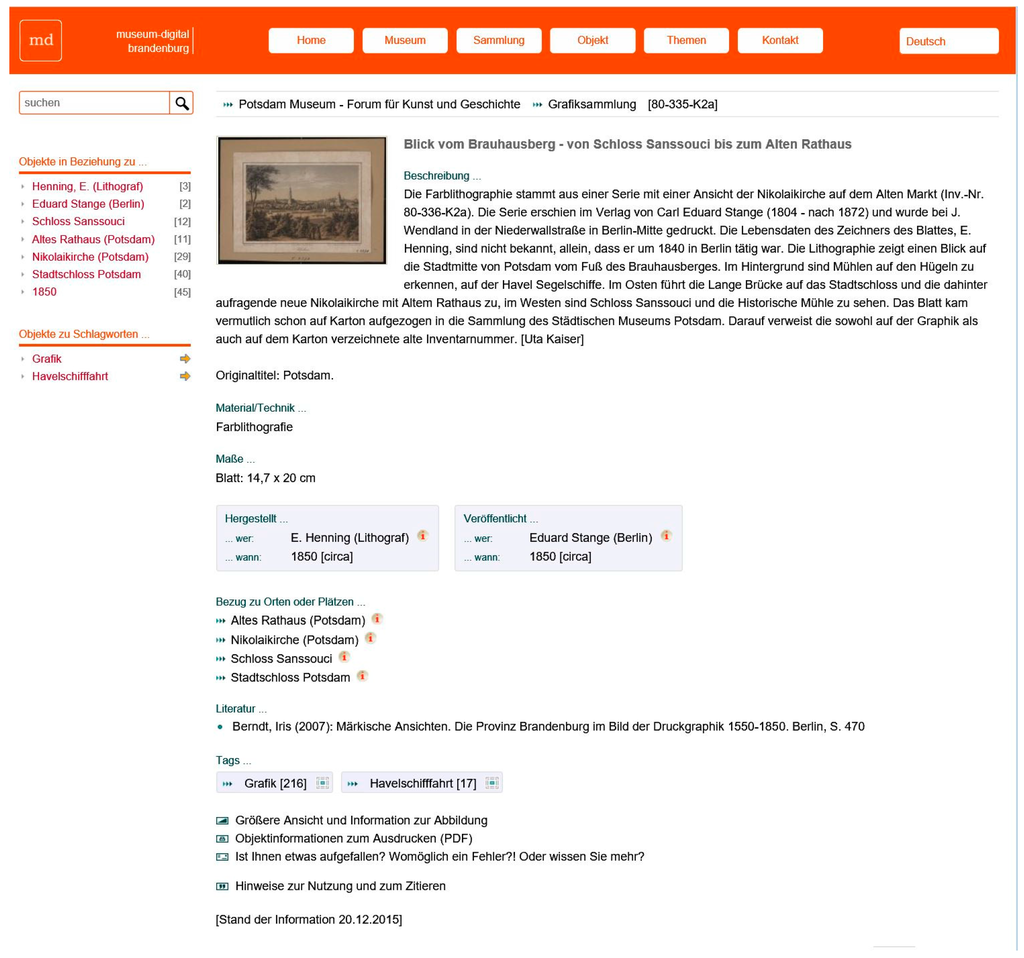 Figure 3.
Dataset "Blick vom Brauhausberg—von Schloss Sanssouci bis zum Alten Rathaus" as part of the project "Historical images of Brandenburg" on the platform museum-digital.de [
56
].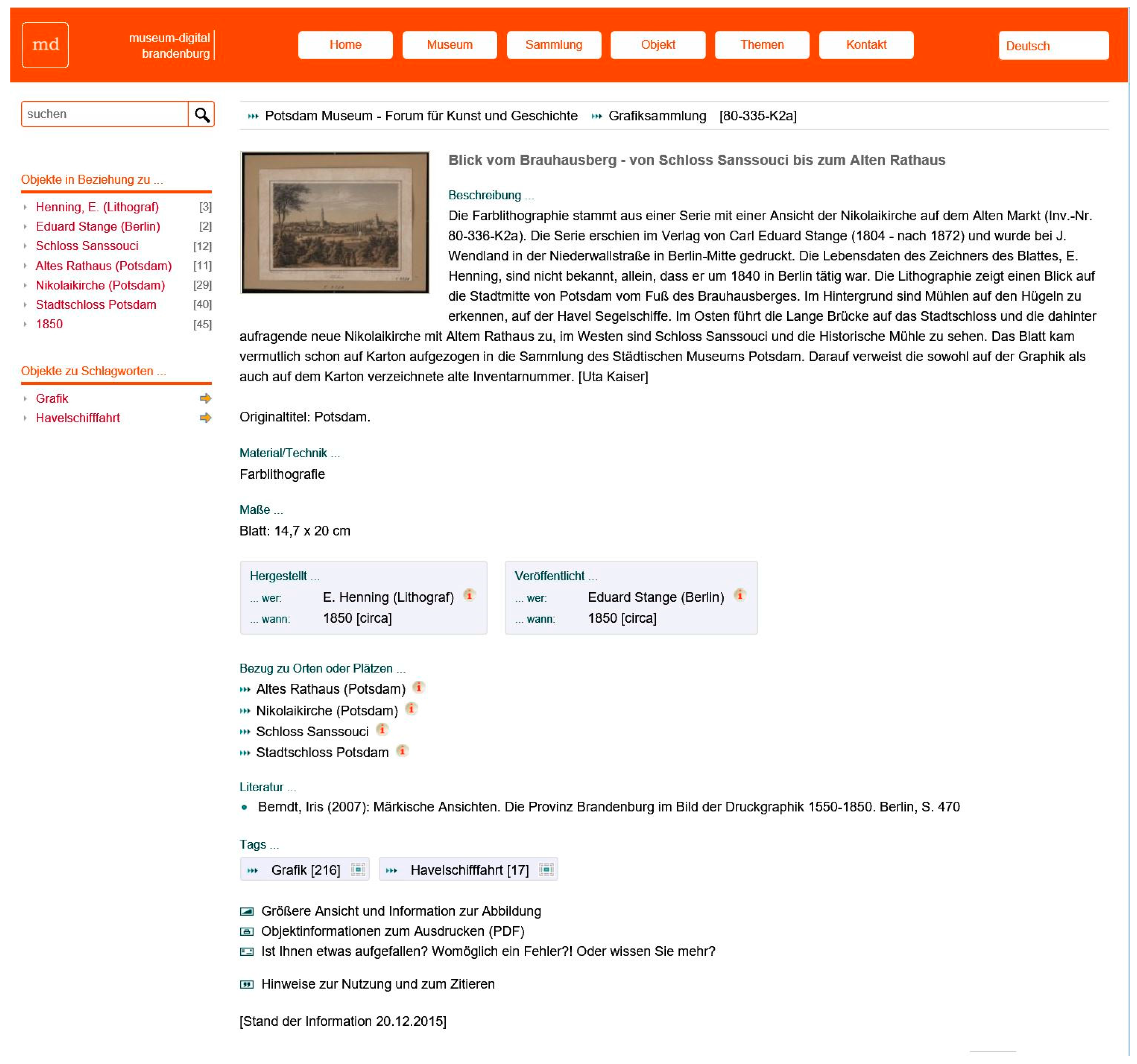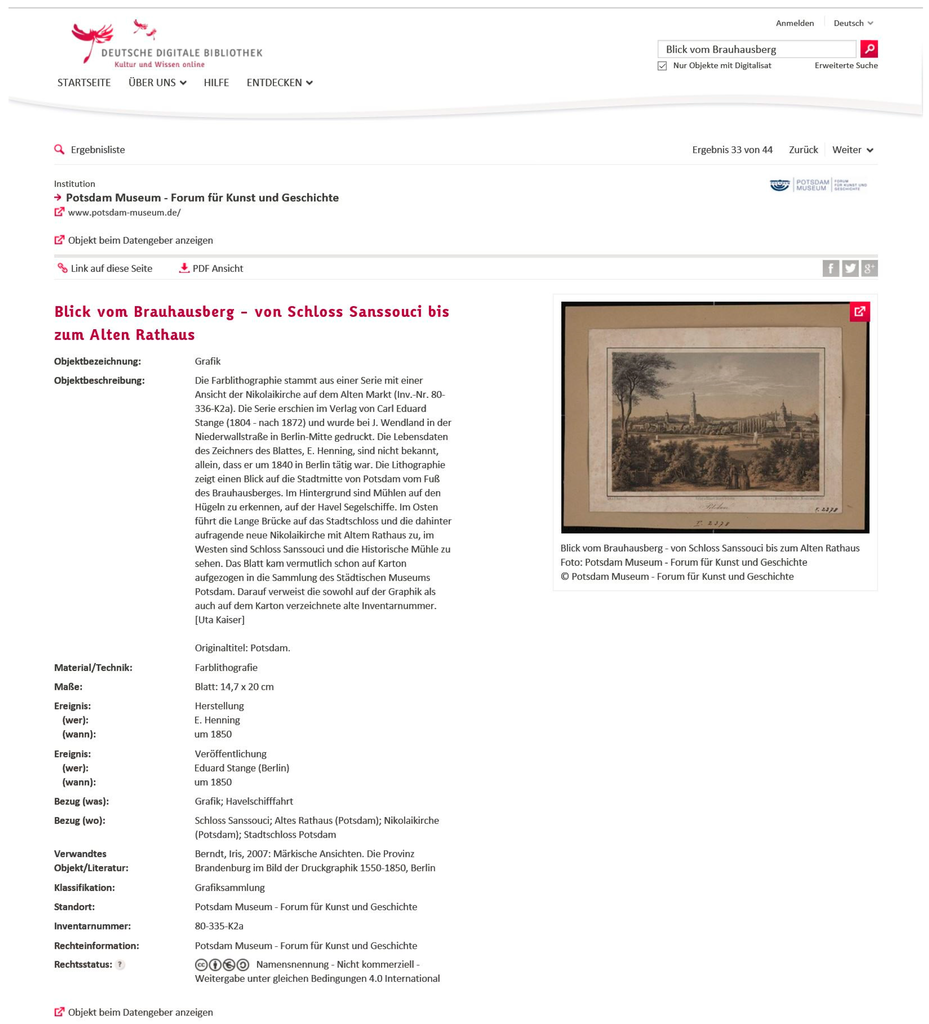 Figure 4.
Dataset "Blick vom Brauhausberg—von Schloss Sanssouci bis zum Alten Rathaus" as an example for data exchange from museum-digital to the DDB [
57
].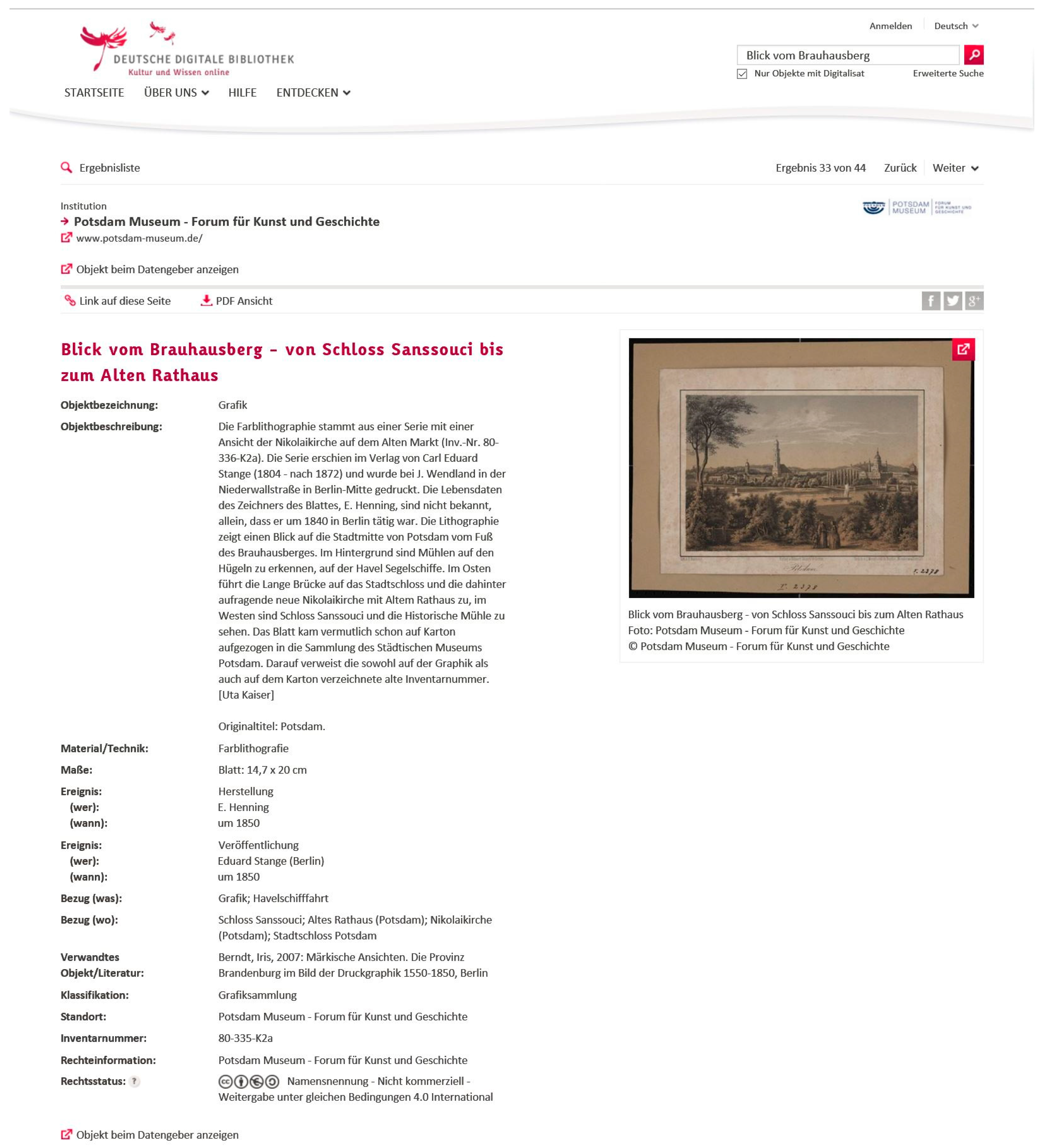 © 2016 by the author; licensee MDPI, Basel, Switzerland. This article is an open access article distributed under the terms and conditions of the Creative Commons Attribution (CC-BY) license (http://creativecommons.org/licenses/by/4.0/).