Genetic Variation and Phenotypic Response of 15 Sweet Corn (
Zea mays

L.) Hybrids to Population Density

1

Nelson Institute for Environmental Studies, University of Wisconsin-Madison, Madison, WI 53706, USA

2

Department of Agronomy, College of Agricultural and Life Sciences, University of Wisconsin-Madison, Madison, WI 53706, USA

*

Author to whom correspondence should be addressed.

Received: 9 May 2013 / Revised: 20 May 2013 / Accepted: 28 May 2013 / Published: 3 June 2013
Abstract
Planting sweet corn at higher densities may increase the canopy cover, reducing light transmission to the understory and suppressing weed growth. High planting densities can also negatively impact the crop, however, by decreasing ear size and overall yield. The objective of this study was to determine the potential for increased density tolerance of 15 sweet corn hybrids by estimating the general combining ability (GCA) and specific combining ability (SCA) for traits of interest. In 2010 and 2011, a half-diallel of six historic sweet corn inbreds was evaluated in a split-block randomized complete block design in four Wisconsin environments, with four replicates in each environment. Hybrids were planted at a low density of 29,936 plants ha
−1
, a medium density of 63,615 plants ha
−1
, and a high density of 97,293 plants ha
−1
. Significant differences between hybrids were found for phenomorphological traits and ear characteristics. Inbreds C68, C40 and Ia5125 produced the progeny most tolerant of the highest population density. Among these genotypes, tolerance to high density is a heritable trait, indicating the feasibility of breeding sweet corn for density tolerance and potential weed competitiveness.
View Full-Text
►

▼

Figures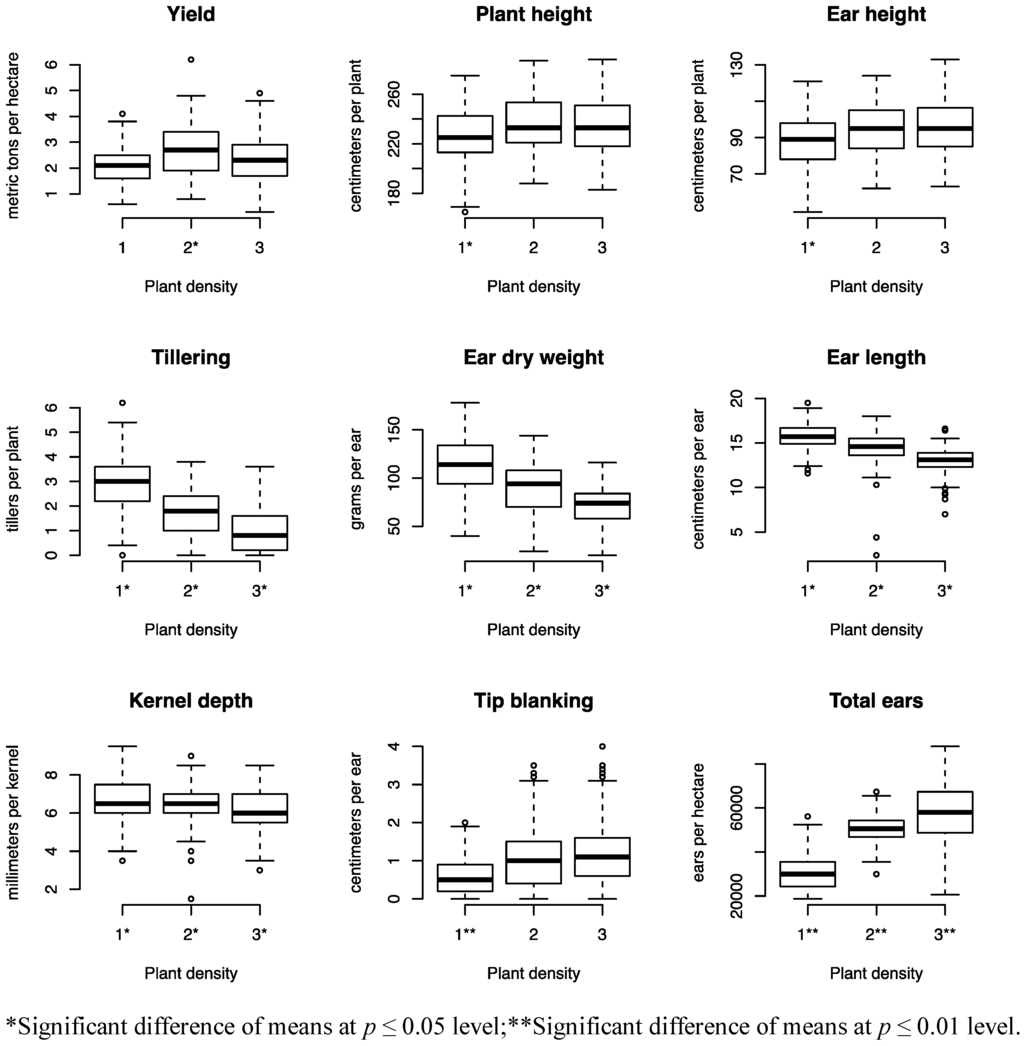 Figure 1

Share & Cite This Article
MDPI and ACS Style
Shelton, A.C.; Tracy, W.F. Genetic Variation and Phenotypic Response of 15 Sweet Corn (Zea mays L.) Hybrids to Population Density. Sustainability 2013, 5, 2442-2456.
Related Articles
Comments
[Return to top]