Open Access This article is
freely available
re-usable
Article
A Multi-Criteria Decision-Making Model to Choose the Best Option for Sustainable Construction Management
1
Department of Construction Management and Real Estate, Faculty of Civil Engineering, Vilnius Gediminas Technical University, Saulėtekio al. 11, LT-10223 Vilnius, Lithuania
2
Laboratory of Operational Research, Institute of Sustainable Construction, Faculty of Civil Engineering, Vilnius Gediminas Technical University, Saulėtekio al. 11, LT-10223 Vilnius, Lithuania
*
Author to whom correspondence should be addressed.
Received: 22 February 2019 / Accepted: 10 April 2019 / Published: 14 April 2019
Abstract
:
The article briefly discusses the content and terms of construction project management. It identifies the main problems of construction management and discusses ways to solve those using multi-criteria methods. Well-performed management is one of the critical factors which leads to the success of any significant sustainable project. Construction project management consists of setting goals and defining user requirements, project constraints, and resources needed. This paper aims to create a practically useful model. The paper presents a comprehensive set of criteria, which led to the creation of a decision-making model for construction management, which was applied to a Turkish case study. The Analytic Hierarchy Process (AHP) method and the Expert Choice computer program were used for calculations.
Keywords:
project; construction; contractor; multiple-criteria decision-making; AHP; sustainable solution; choice; expert
1. Introduction
Two-thirds of the world's people believe that global warming is the most critical environmental problem in the world. Increasing the impact of construction information has a positive impact on stakeholders' interests and encourages sustainable construction [
1
]. Given the balanced implementation of ecological, economic, and social needs in the implementation of projects, there is a need to integrate the principle of sustainability into project management practices and the academic community. Creation and management of a healthy artificial environment based on ecological resources and design efficiency is the goal of contemporary construction. Modern construction emphasizes the need to integrate stability into project planning, management, evaluation, and decision-making to improve project quality and value. Planning and the successful implementation of the project directly affect the goals of constant construction. Therefore, continuous project planning reflects project planning methods for economic, social, and environmental sustainability. Systematic approaches, the views of all stakeholders, knowledge, and expertise in implementing a sustainable development project and their ability to apply them properly are critical factors for the success of sustainable construction. Project planning is a well-known theoretical concept in the literature on project management. However, we know little about how much effort is needed to invest in the project planning phase to ensure efficient and systematic project management and to evaluate the planning of the current project. According to existing research, management of permanent projects involves both internal and external perspectives. The essential aspects related to project management are the project life cycle requirements. The control of external perspectives deals with the life cycle of the product and focuses on planning, implementation, and further support management and processes. The construction project solves stability problems based on ecological, economic, and economic reasons and the life cycle of the project's resources.
There are seven key principles of a building's life cycle in sustainable construction: less resources used, resource reuse, use of recyclable resources, reduction or elimination of negative impacts on the environment, non-use of toxic materials, reduction in the costs of the building's life, and the project's life cycle quality.
Sustainable design is a design philosophy that aims to maximize the artificial environment by reducing or eliminating negative environmental impacts. Building green buildings means improving the efficiency of buildings to use energy, water, and materials efficiently and minimize the negative effects on human health. It means that project managers will be responsible for managing more complex budgets and projects. A green building is carefully designed, built, operated, and reused, or removed from the artificial environment, in an environmentally friendly, energy-efficient, and stable manner. The best location, design, construction, operation, service, and removal (part of the building's life cycle) are the means to achieve this.
The building construction sector is a complex industry. It has a long-lasting impact on the economy, the environment, and society, and requires much investment. Construction management and technology are two critical factors influencing the construction industry. Poor execution of construction projects, taking into account costs and planning, is one of common problems. Over the past three decades, designers and architects have applied dozens of efficient and effective advanced building technologies and engineering innovations to construction projects.
Nevertheless, the overall efficiency of the sector is quite low [
2
]. Prior practice has shown that digital technology allows flexible and efficient planning, management, and implementation of construction projects [
3
]. Successful implementation and results of new techniques and technologies depend on the active participation of project management specialists interested in implementing them, the information available to the population concerned about the project, and effective management of the project. Effective project management aims to achieve project goals by applying knowledge, skills, and estimation tools, overall organization, planning and control techniques in such way that the results meet the requirements of acceptable quality, risk, security, and safety levels, and ensures timely implementation of the project with the efficient use of funds [
4
]. Therefore, sustainability is an essential part of project management.
Sarma [
5
] described the three main groups of effective management process (
Figure 1
). Confucius said [
6
]: "In all things, success depends on previous preparation, and without such previous preparation there is sure to be the failure." The project character changes in each life cycle phase (Project Origination → Project Initiation → Project Planning → Project Execution and Control → Project Closeout → Post-Project Evaluation). In each stage of the project life cycle, new intermediate products are created, with the critical outcome of one phase forming an essential input to the next step. Each project's control system should include costs, planning and scheduling activities, and a change management control. Construction projects of different types of buildings impact the project life cycle and management options.
Figure 2
shows a pyramid (hierarchy) of different available approaches, which are applied to select the proper project option.
The aim of the article is to identify the main problems in construction management; to develop a model (framework) for decision-making; to present a case study analysis; and to make conclusions.
2. Problems of Construction Management
In the last thirty years, maintainable progress has extensively expanded its acknowledgement between policy- and decision-makers. Nowadays, this notion objects to delivering a better setting, a more advanced society, and a settled economy in both developed and developing countries. Consequently, in order to reach a sustainable society, you essentially comprehend the basic gauges and espouse suitable sustainable policies in dissimilar parts of society and its subdivisions. As a vibrant element, the construction industry plays a critical role in sustainable growth, which appeals to decision-makers to discover sustainable solutions globally for such an active sector.
There is not one single management mode for managing each different project. The implementation requirements for various projects do not precisely match the needs of other projects.
All construction professionals, such as civil, mechanical, and electrical engineers, financiers, and architects, have a significant impact on the entire construction process. They affect both situations, people's choice and management, goals, efficiency, and quality. The building is classified as a construction project when the planning of the construction is complete. Tenders select contractors through contests from potential and qualified contractors. The contractor is selected using one of three common selection methods: qualification-based selection, selection according to the best-value selection, or low-bid selection. Today's project manager is confronted with many old or new challenges. Many of these challenges directly affect construction performance, while others have an indirect impact on peripheral activities. Implementation of a construction project is an integration of complex interrelated activities for achieving the objectives set, which is the best-organized disorder.
3. Model for Multi-Criteria Decision-Making in Construction Management
3.1. Multi-Criteria Methods and Construction Management
Multi-criteria decision-making deals with making decisions where multiple criteria (usually being in contradiction) are present. Different criteria can have different specific qualitative features, units of measurement, and relative weight scales. There is the possibility that some of the criteria can only be described subjectively and others only measured numerically. Scientists developed the foundations of modern MCDM in the 1950s and 1960s. There are dozens of ways to solve MCDM problems. The MCDM methods grant the solutions for a whole series of management issues.
In the 1980s and at the beginning of 1990s, the development of MCDM methods grew rapidly. Koksalan et al. [
40
] and Kahraman et al. [
41
] gave a short history of the development of MCDM methods. Zavadskas and Turskis [
42
] and Zavadskas et al. [
43
] gave detailed studies about the application of the MCDM methods in different fields of the management and the economy. Jato-Espino et al. [
44
] reviewed applications of multi-criteria decision-making methods in construction. Mardani et al. [
45
] looked at the use of some multiple-criteria decision-making techniques. The most popular hybrid MCDM methods demonstrate the advantages over traditional ones to solve complicated problems which involve stakeholder preferences, interconnected or contradictory criteria, and uncertain environments. Decision-makers could use multi-criteria decision-making methods [
46
] such as analytic hierarchy process [
47
], fuzzy analytic hierarchy process [
48
,
49
], fuzzy Delphi [
50
], analytic network process under intuitionistic fuzzy set [
51
], Additive Ratio Assessment (ARAS) [
52
], simple additive weighting and game theory [
53
], discrete two persons' zero-sum matrix game theory [
54
], Evaluation based on Distance from Average Solution (EDAS), COPRAS, TOPSIS [
55
], as well as developing original models [
56
].
Saaty [
57
] published a detailed study on AHP applications. The extension of existing and integration of well-known methods or development of hybrid methods became common practice (primarily by the application of the fuzzy and grey systems theory). Some time ago COPRAS [
58
,
59
] and ARAS [
33
,
60
] were presented by Lithuanian scientists. Later, MCDM methods such as multi-objective optimization on the basis of ratio analysis (MOORA) and MOORA plus full multiplicative form (MULTIMOORA) [
61
,
62
] were developed. Then, Step-Wise Weight Assessment Ratio Analysis (SWARA) [
63
], Weighted Aggregated Sum Product ASsessment (WASPAS) [
64
], and KEmeny Median Indicator Rank Accordance (KEMIRA) [
65
] appeared and were applied to particular real-life cases. Different modifications of the TOPSIS method is the second most widely used group of MCDM methods to solve complicated problems in construction [
66
].
Table 1
presents the most common problems solved using multi-criteria decision-making methods.
There are several possible consequences of which the owner who chooses a contractor who uses the method of low bidding should be informed of. First, one supposes by the process of the competitive auction that all enterprises (including the material suppliers, the general contractors, and the subcontractors) have submitted a proposal on the work that is as cheap as permitted, as the drawings and the technical specifications of the project have allowed. Secondly, there is the widespread mistake (particularly among the amateurs) that the technical requirements and the drawings will automatically mean that all contractors will provide the same results, and that the results will correspond to the expectations of the owner. Lastly, lacking any contractor input at this stage of project engineering, the total of the final low-bid is still unknown until the contractor actually finishes the project. This means that the architect and owner must wait uneasily until the design and bidding phases are completed before they will know if their plan is on, or under, or (more probably) over budget.
3.2. Model Development for Multi-Criteria Decision-making
The specific steps are essential to solve a multi-criteria decision-making problem.
Figure 3
presents the developed approach. First, decision-makers define all feasible alternatives to the problem solution. Second, they should set the alternatives' criteria. Decision-makers identify factors, which have an essential influence on and are important to the contractor's choices. Third, the stakeholder identifies goals and a set of criteria. Fourth, decision-makers define the values of criteria, because each criterion has its value for a different specific choice. As an example, an experience of each contractor given as outstanding (OT) or right, average (AV) or below average (BA), and lastly as unsatisfactory (UN). On the other hand, profitability defined as either high (HG), average (AV) or even low (LW), and others. Fourth, it is necessary to establish criteria weights where one can identify more or less essential criteria. The more critical criteria are given greater weight. Then, decision-makers evaluate alternatives. Lastly, the best option is chosen using calculations aided by computer software.
4. Case Study: Turkish Construction Project Management—Sustainable Decision-Making: Finding the Best Contractor
4.1. Project Description and Problem Considered
In construction, one of the most critical tasks is selecting the right contractor. It is a multi-criteria problem including both quantitative and qualitative factors. To choose the right contractor from many applicants available in today's market is a somewhat complicated problem for clients. Selecting of a proper contractor is crucially important to ensure the quality of the constructed building when dealing with long-term assets. To achieve this aim, it will largely depend on the efficiency of the performance of the selected contractor [
89
]. Studies of contractor selection date back to the early 1960s.
A three-star seven-story hotel is to be built in the south of Turkey, close to Antalya. The hotel stakeholders want to create a swimming pool. The measurements are:
Oval shape;

25-m long;

10-m wide;

2.2-m deep.
A little amount of work is left to finish the project. The project manager has to select a building contractor. The primary objective is to choose the correct contractor for the pool. Picking the right contractor to build the pool is the primary aim. The main criteria are:
Good design;

Good quality;

Best financial options.
4.2. Making Alternatives
This example shows the selection of the contractor based on analysis using multi-criteria methodologies. The contractor choice is a significant decision for a construction manager, as the success of the whole project will be affected.
Stakeholders will select the contractor from five contractors. The selection of the contractor is based on the use of multi-criteria methods to evaluate and combine objective and subjective criteria with a significant impact on the effective implementation of the construction project. All contractors are well-known companies in Turkey from Ankara, Istanbul, and Izmir.
4.3. Setting the Criteria, Determining Their Values
Contractor choice for the project will be dependent on many different things. Some are more important, for example, technical experience. Others, such as their safety record are not so important.
Thus, when choosing, it is essential to evaluate a contractor's:
(1)

technical experience,

(2)

record of performance,

(3)

financial stability,

(4)

the qualifications of the employees and the management,

(5)

capacity,

(6)

safety record, and

(7)

equipment and operation.
These main criteria should be taken into account while choosing, but also secondary criteria must be evaluated, for example, capacity, the number of projects on which the contractor is currently working, etc. The criteria set was determined by questioning experts and stakeholders and based on the literature overview.
Figure 4
presents the criteria and sub-criteria sets, which influence the choice of the contractor in this project.
It means that this model has two levels; main criteria and secondary criteria.
Technical Experience (TE)—this shows the contractor's experience in civil (TE1), electrical (TE2), mechanical (TE3), landscaping (TE4), and site (TE5) works. The project number is considered as an essential criterion. If the contractor has completed >20 projects, the evaluation can be considered as outstanding (OT), 15–10 very good (VG), 10–15 average (AV), 5–10 below average (BA), and fewer than five projects – unsatisfactory (UN).

Performance Record (PE)—shows if the contractor usually completes projects on time (PE1) (always (AL), sometimes (SM), or rarely (RR), and will evaluate any quality (PE2) and cost control (PE3) systems, including the finished project quality (PE4). PE2, PE3 and PE4 are assessed as either outstanding (OT) or very good (VG), average (AV) or below average (BA), or unsatisfactory (UN).

Financial Stability (FS)—evaluates such things as the contractor's profitability (FS1), credit availability (FS2), as well as debt (FS3). Either high (HG), average (AV) or low (LW).

Qualification of Management Employees (ME)—This evaluates the number of failures in the contractor's projects (ME1) (never (0), 3 or less (≤3), more than 3 (>3), experience of managers (ME2) (less than 5 years (<5), from 5 to 10 years (5–10), more than 10 year (>10) and workers' experience (ME3) (strong (S), moderate (M), poor (P).

Capacity (CA)—This will evaluate the projects the contractor is working on (CA1) (less than 5 (<5), from 5 to 10 (5–10), more than 10 (>10), and the ability (capacity) to include this project (CA2) strong (S), moderate (M), and weak (W), as well as ongoing project status (CA3). Evaluation of status of current (ongoing) projects: ahead of schedule (SA), as scheduled (SO), behind schedule (SB), and stopped (SS).

Safety Record (SR)—This is about the strengths of the safety program (SR1) (outstanding (OT) or very good (VG), average (AV) or below average (BA), or unsatisfactory (UN), number of accidents that happened in the last five years (SR2) (less than 5 (<5), from 5 to 10 (5–10), more than 10 (>10), and availability of safety training for new employees (SR3) (available (Yes), not available (No).

Operation and Equipment (OE)—This shows the expertise of technical field employees (OE1) (outstanding (OT) or very good (VG), average (AV) or below average (BA), or unsatisfactory (UN) and equipment suitability (OE2). The secondary criteria, (e.g., technical field personnel abilities), are evaluated qualitatively, depending on the competencies of employees: very suitable (VS), average (AV), acceptable (AC), unsatisfactory (UN).
Criteria are worked out depending on their origin.
Table 2
provides a possible evaluation of criteria and sub-criteria. As it shows, aspects of technical experience can be evaluated on a scale from OT to UN, etc. It means that this model has two levels; main criteria and secondary criteria.
4.4. Calculation According to the Model
If CR is less than 0.1, then it is assumed that the expert is consistent in his evaluations.
Therefore, criteria rank according to importance are as follows: TE (the most important); PE; OE; FS; ME; CA; SR (the least important).
5. Conclusions
A large number of problems in construction management are those of MCDM. To counter the complex nature of a problem, one can use four optimization methods. These are multi-criteria, cost-oriented, single-objective, and multi-objective. The case study identified ten groups of significant construction management problems. One of the most important is choosing the right contractor.
Project managers could use optimization, elimination, and probabilistic methods to select and background effective decisions. The multiple-criteria side is significant when decisions deal with construction management.
The research suggested the nine-stage model for decision-making problem-solving. The stages are as follows: (a) definition of the primary goal and objectives; (b) definition of alternatives; (c) determining the criteria set; (d) establishment of a criteria evaluation system; (e) selecting the criteria weight determination method; (f) determining criteria values for each alternative under consideration; (g) selecting a decision-making method; (h) counting of the total performance score; (j) choice of an option to implement.
Based on the overview of the literature, and expert judgement criteria set was worked out as follows: (a) performance; (b) technical experience; (c) stability of finances; (d) management performance/employee qualification; (e) capacity; (f) record of safety; (g) equipment operation.
The model proposed was used to select a sustainable contractor in the construction of the pool at the seven-story hotel near the Mediterranean Sea in Turkey. After analyzing the alternatives, the best contractor was C3 (with a total score of 0.55).
Author Contributions
Conceptualization, S.A.E. and J.Š.; Methodology, S.A.E. and Z.T.; Formal Analysis, S.A.E. and Z.T.; Investigation, S.A.E.; Data Curation, S.A.E.; Writing—Original Draft Preparation, J.Š.; Writing—Review and Editing, S.A.E. and J.Š.; Visualization, S.A.E.; Supervision, Z.T.
Funding
This research received no external funding.
Conflicts of Interest
The authors declare no conflict of interest.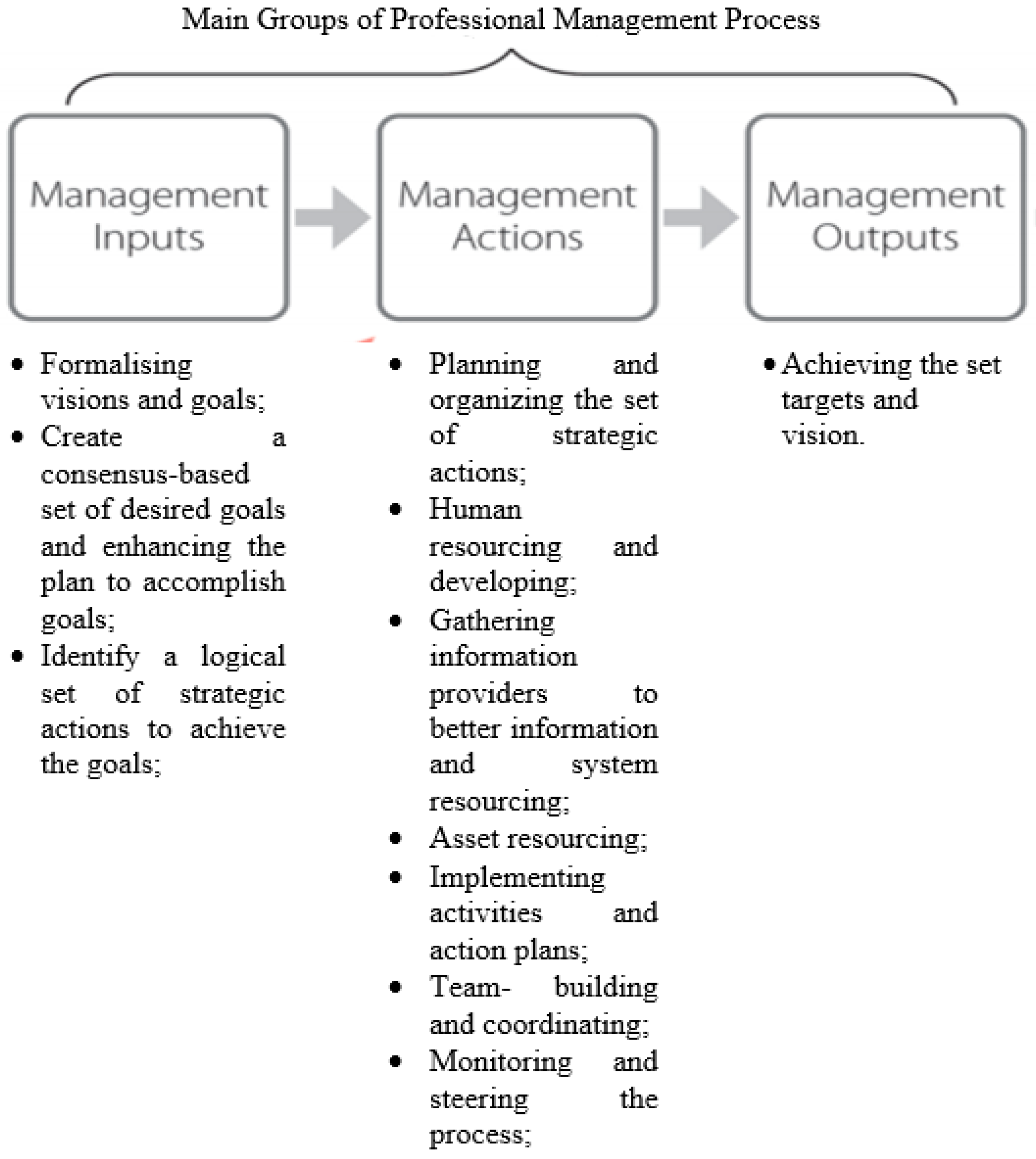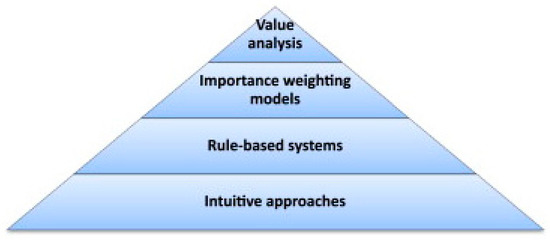 Figure 2.
A pyramid of decision approaches [
7
].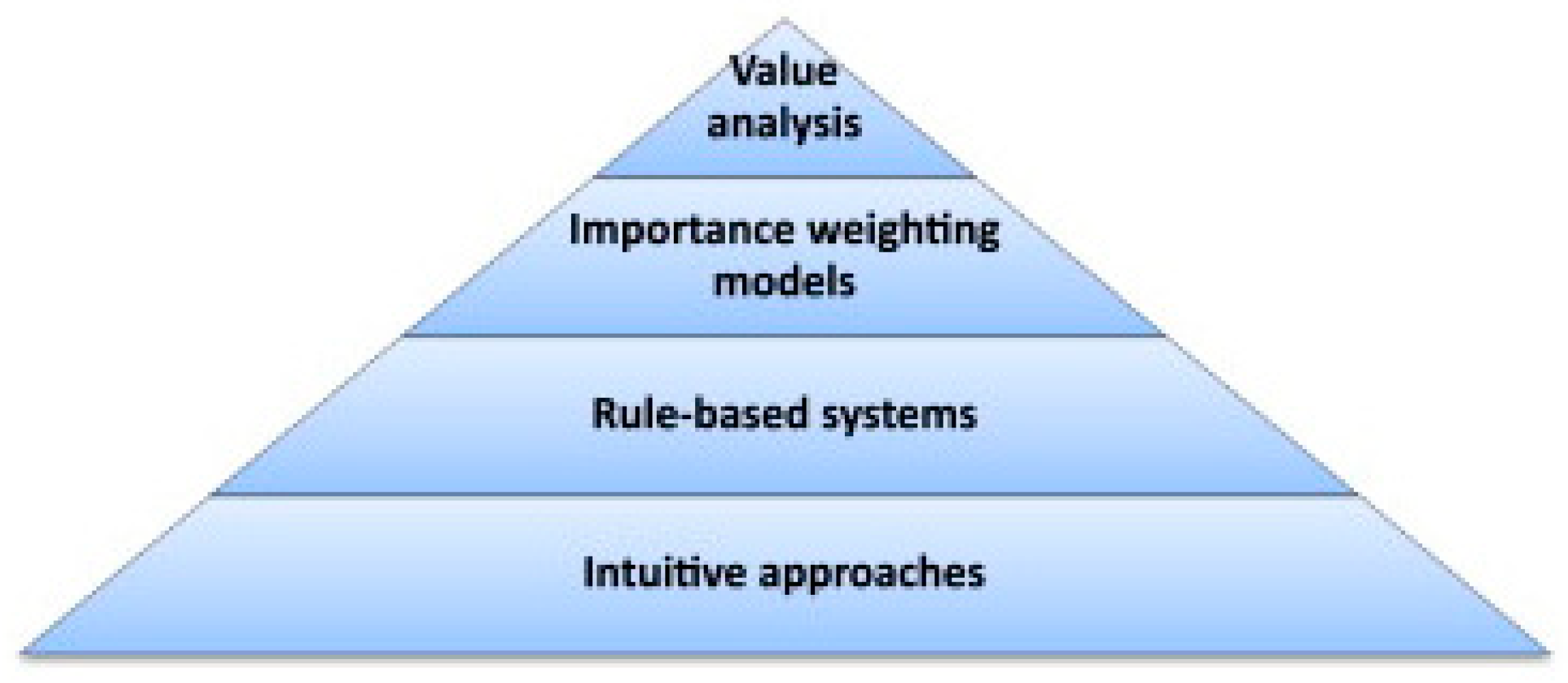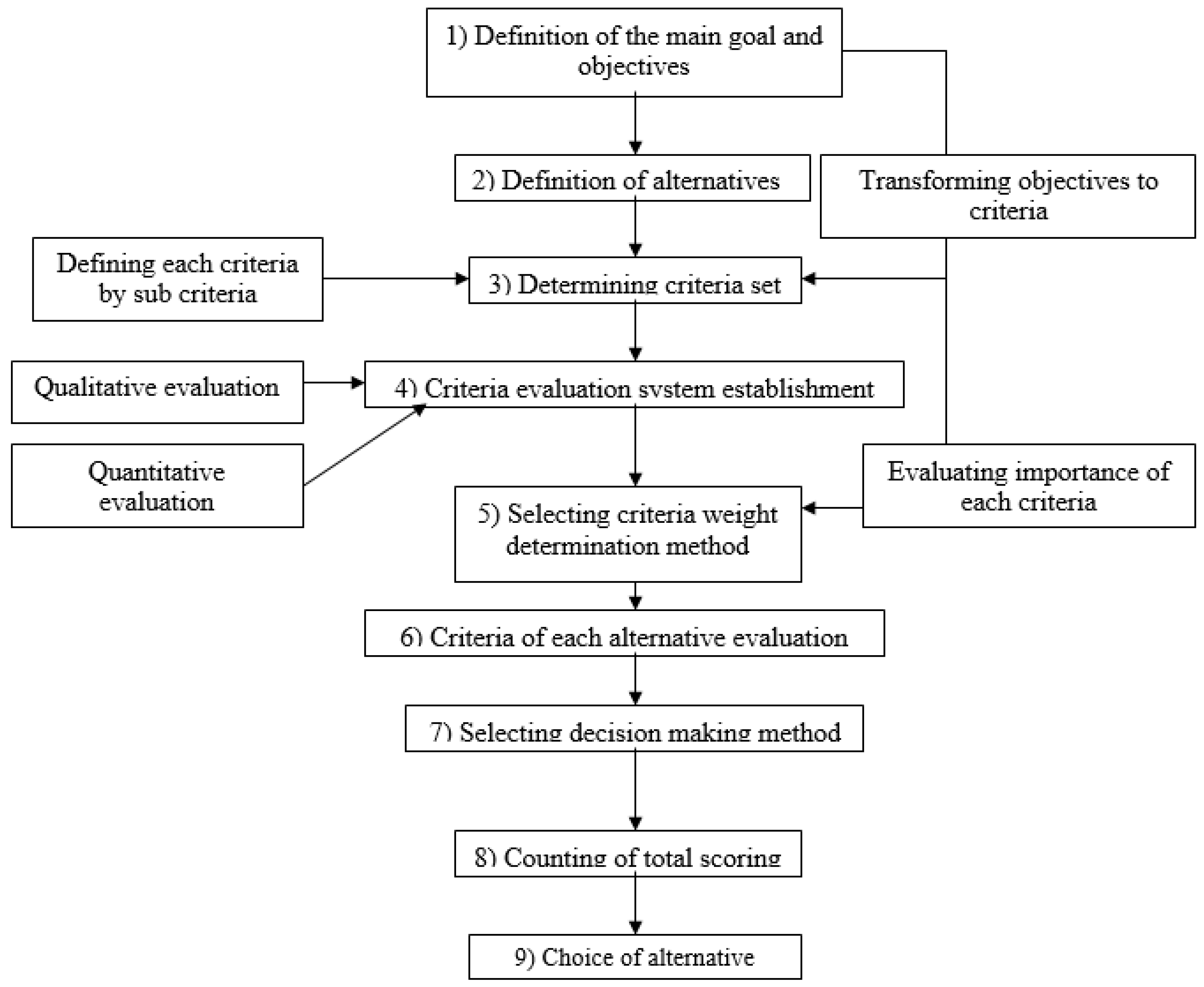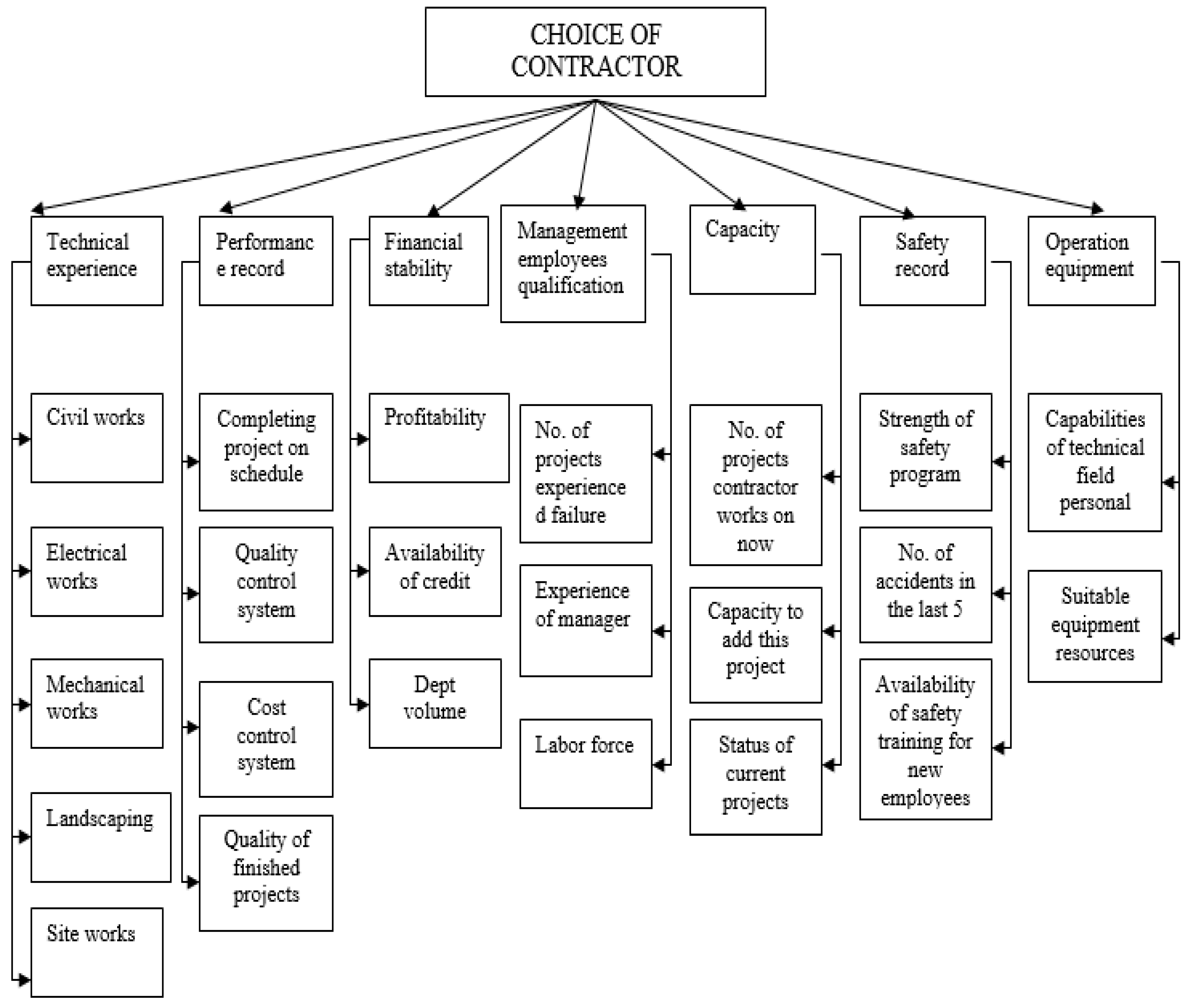 Table 1. Most common problems solved by using multi-criteria decision-making methods (quantitative and qualitative (Q/Q), fuzzy (F)).
Considered Problem
Information
Type
Multiple Criteria Method Used
Reference
Construction project selection
Q/Q
COPRAS-G 1
[59]
F
TOPSIS
[66]
Choice of operating system
F
TOPSIS, AHP
[67]
Service selection
F
Grey correlation TOPSIS, AHP
[68]
Selection of grippers, Selection for financial investments, Selecting robotic processes, Comparing company performances, Comparing financial ratio performance
F
TOPSIS
[69]
Wastewater treatment process selection
F
TOPSIS, AHP
[70]
Selection of sustainable investment
F
TOPSIS
[71]
Green building material selection
F
ANP 2, DEMATEL
[72]
Determination of strategic priorities by analysis of strengths, weaknesses, opportunities and threats (SWOT)
F
Goal Programming
[73]
Project management critical success factors
F
ANP, DEMATEL
[74]
Material selection and new product development
F
COPRAS
[75]
Choice of the action plan and dynamic supplier selection
F
Mixed integer linear programming
[76]
Sustainable building assessment/certification
Q/Q
ARAS
[77]
Selection of suitable bridge construction method
F
AHP
[78]
Selection of construction site
F
ARAS and AHP
[79]
Design of products
Q/Q
Yin-Yang balance, SWARA
[80]
Supplier selection
F
TOPSIS
[81]
F
TOPSIS, AHP
[82]
Contractor selection
F
AHP, PERT 3
[83]
Q/Q
QBS 4
[84]
Q/Q
QBS, Low Bid
[85]
F
MFPR 5
[86]
F
TOPSIS, AHP
[87]
Q/Q
Best-Value, AHP
[88]
1 COmplex PRoportional ASsessment of alternatives with grey relations (COPRAS-G)

;

2 Analytic Network Process (ANP)

;

3 Program Evaluation and Review Technique (PERT)

;

4 Qualifications Based Selection (QBS)

;

5 Multiple-layer Fuzzy Pattern Recognition.
Criteria
Sub-Criteria
Evaluation
TE
TE1
OT
VG
AV
BA
UN
TE2
OT
VG
AV
BA
UN
TE3
OT
VG
AV
BA
UN
TE4
OT
VG
AV
BA
UN
TE5
OT
VG
AV
BA
UN
PE
PE1
AL
SM
RR
-
-
PE2
OT
VG
AV
BA
UN
PE3
OT
VG
AV
BA
UN
PE4
OT
VG
AV
BA
UN
FS
FS1
HG
AV
LW
-
-
FS2
HG
AV
LW
-
-
FS3
HG
AV
LW
-
-
ME
ME1
0
≤3
>3
-
-
ME2
<5
5–10
>10
-
-
ME3
S
M
P
-
-
CA
CA1
<5
5–10
>10
-
-
CA2
S
M
W
-
-
CA3
SA
SO
SB
SS
-
SR
SR1
OT
VG
AV
BA
UN
SR2
<5
5–10
>10
-
-
SR3
Yes
No
-
-
-
OE
OE1
OT
VG
AV
BA
UN
OE2
VS
AV
AC
UN
-
Criteria
TE
PE
FS
ME
CA
SR
OE
Criteria Weights
TE
1
2
5
5
6
6
2
0.33
PE
-
1
6
6
7
6
2
0.29
FS
-
-
1
1
3
3
1
0.09
ME
-
-
-
1
4
3
1/3
0.08
CA
-
-
-
-
1
2
1/5
0.04
SR
-
-
-
-
-
1
1/4
0.03
OE
-
-
-
-
-
-
1
0.15
Σ:
1
CR = 0.05
Criteria
Weight
Sub-Criteria
Weight
TE
0.33
TE1
0.19
TE2
0.02
TE3
0.07
TE4
0.02
TE5
0.03
PE
0.29
PE1
0.07
PE2
0.07
PE3
0.07
PE4
0.07
FS
0.09
FS1
0.02
FS2
0.05
FS3
0.02
ME
0.08
ME1
0.06
ME2
0.01
ME3
0.01
CA
0.04
CA1
0.01
CA2
0.01
CA3
0.02
SR
0.03
SR1
0.01
SR2
0.02
SR3
0.00
OE
0.15
OE1
0.15
OE2
0.00
Criteria
Sub-Criteria
Contractor
C1
C2
C3
C4
C5
TE
TE1
VG
VG
OT
AV
AV
TE2
VG
VG
OT
BA
AV
TE3
VG
VG
OT
BA
AV
TE4
VG
VG
OT
BA
AV
TE5
VG
VG
OT
AV
AV
PE
PE1
SM
SM
AL
RR
SM
PE2
VG
AV
VG
UN
AV
PE3
AV
AV
VG
UN
BA
PE4
VG
VG
OT
BA
AV
FS
FS1
AV
HG
HG
LW
AV
FS2
AV
HG
AV
LW
LW
FS3
LW
LW
LW
LW
AV
ME
ME1
≤3
0
0
>3
0
ME2
>10
5–10
>10
<5
5–10
ME3
M
M
M
P
M
CA
CA1
<5
5–10
>10
<5
>10
CA2
S
M
W
S
W
CA3
SB
SO
SO
SB
SB
SR
SR1
BA
BA
AV
UN
UN
SR2
<5
<5
>10
5–10
>10
SR3
No
No
Yes
No
No
OE
OE1
AV
AV
VG
BA
BA
OE2
AV
AV
VS
UN
AC
Criteria
Sub-Criteria
Contractor
C1
C2
C3
C4
C5
TE
TE1
0.10
0.10
0.02
0.05
0.05
TE2
0.01
0.01
0.02
0.00
0.00
TE3
0.04
0.04
0.03
0.01
0.02
TE4
0.01
0.01
0.02
0.00
0.00
TE5
0.02
0.02
0.03
0.01
0.01
PE
PE1
0.02
0.02
0.07
0.01
0.02
PE2
0.04
0.02
0.04
0.01
0.02
PE3
0.02
0.02
0.04
0.01
0.01
PE4
0.04
0.04
0.07
0.01
0.02
FS
FS1
0.00
0.02
0.02
0.00
0.00
FS2
0.01
0.05
0.01
0.01
0.01
FS3
0.00
0.00
0.00
0.00
0.00
ME
ME1
0.01
0.06
0.06
0.01
0.06
ME2
0.01
0.00
0.01
0.00
0.00
ME3
0.00
0.00
0.00
0.00
0.00
CA
CA1
0.01
0.00
0.00
0.01
0.00
CA2
0.01
0.00
0.00
0.01
0.00
CA3
0.01
0.01
0.01
0.01
0.01
SR
SR1
0.00
0.00
0.00
0.00
0.00
SR2
0.02
0.02
0.00
0.01
0.00
SR3
0.00
0.00
0.00
0.00
0.00
OE
OE1
0.02
0.02
0.05
0.01
0.01
OE2
0.02
0.02
0.05
0.00
0.01
Σ
0.40
0.47
0.55
0.15
0.25

© 2019 by the authors. Licensee MDPI, Basel, Switzerland. This article is an open access article distributed under the terms and conditions of the Creative Commons Attribution (CC BY) license (http://creativecommons.org/licenses/by/4.0/).