Open Access This article is
freely available
re-usable
Article
Implementing Competence Orientation: Towards Constructively Aligned Education for Sustainable Development in University-Level Teaching-And-Learning
1
Freelance Education for Sustainable Development Specialist, anders kompetent GmbH, Gärtnerstrasse 18, 8400 Winterthur, Switzerland
2
Freelance Education for Transformative Learning Specialist, STRIDE unSchool for Entrepreneurial Leadership and dr. ruth förster, training & beratung, Kiefernweg 32, 8057 Zurich, Switzerland
3
Centre for Development and Environment, University of Bern, Mittelstrasse 43, 3012 Bern, Switzerland
*
Author to whom correspondence should be addressed.
Received: 26 February 2019 / Accepted: 26 March 2019 / Published: 29 March 2019
Abstract
:
The call for integration of competences in tertiary education for sustainable development (ESD) has been heard. Helpful competence models for ESD are available but little exists about how to put them into practice. As illustrated in this article in an initial review of competence models for change agency, this is not easy because competences are fundamentally context-bound and generalized models make little sense. Faculty staff who wish to foster competences for SD therefore need help with contextualising and operationalising competences. They often lack the pedagogic-didactic understanding needed to implement competence orientation in their teaching, in an institutional context where knowledge transmission is traditionally rated higher than competence development. Using a reflective practitioner approach, this paper addresses the need for methodological guidance by introducing a heuristic procedure and a didactic planning tool from adult education that enable lecturers to establish coherent ESD teaching-and-learning environments and curricula: the tree of science model and constructive alignment. Two case studies show how these instruments can be used to increase coherence when operationalising competences for SD. The article concludes by outlining three factors that foster integration of competence orientation in ESD: pedagogic-didactic tools, professional development for ESD, and institutional change.
Keywords:
competence orientation; tertiary education; ESD pedagogy; ESD teaching; constructive alignment; reflective practitioner approach
1. Introduction
Our ambition in the present article is to support enhancement of the professionalism of university-level teaching committed to ESD (HESD) and to improve its reference framework. We aim to offer faculty staff more appropriate pedagogic-didactic foundations to enhance the quality and impact of their university teaching-and-learning for sustainable development. We do this
(a)

by showing that it does not suffice to only answer the question "which competences should we select when implementing HESD" at a purely theoretical level, as this neglects the very nature of competences and particularly their context-dependency [

2

],

(b)

by shifting the focus from the "which competences" question to the question of "how" to operationalize them in teaching situations based on pedagogic-didactic foundations,

(c)
2. Approach and Methods
While reviewing the literature, we tried to identify what the competences had in common, how they complemented each other, and how they differed, always in relation to our focus on change agents or leaders for SD and the context of higher education. In the course of this review we identified several challenges that made it difficult to compare competence models. These challenges were all related to issues of concretization and operationalization. We categorized the challenges according to six issues. After characterizing the issues, we decided to move from focusing on "what competences do change agents need" to "how can these competences be fostered in a higher education context", since it had become obvious that questions related to concretization and operationalisation always had to be answered before a comparison was possible. A further step was to refine our understanding of "competence" and to explicitly address the need for paying attention to the contextualization of a competence.
In the following sections, we present and discuss the results of this reflective practitioner process and explain how using tree of science heuristics and constructive alignment can help address the challenge of operationalizing competences when teaching in the context of HESD, and support learning for change.
3. Structuring and Comparing Competences for SD in HE
3.1. Revisiting the Concept of Competence
In pedagogy, the concept of competence implies normative decisions and context dependency [
2
,
51
,
59
,
60
], leading to value-guided action in concrete situations. Context and values are essential premises for the very understanding of a competence for sustainable development. We therefore relied on Rychen and Salganik [
2
] (pp. 41–62), who defined the concept in the broader context of "cop[ing] with the main challenges of the 21st century". According to OECD [
51
] (p. 4), competences cover knowledge, skills, attitudes, and values. This involves the ability to meet complex demands by drawing on and mobilising psychosocial resources (including skills and attitudes) in a particular context. This definition of competences is similar to Le Boterf's understanding [
59
,
61
]; with regard to change agency, however, Le Boterf's definition is slightly more adequate than Weinert's [
62
], and should therefore be preferred when reflecting on how to operationalize competences. Indeed, Le Boterf defines competence as the ability to mobilize resources for solving problems and challenges in life in specific contexts, insisting on the importance of considering performances (see
Figure 1
), while Weinert focuses mainly on cognitive and personal aspects of competences, thus insisting on the importance of the individual. For Le Boterf, it is important to
empower
the individual to
solve
sustainability problems. For Weinert, it is essential to
increase
an individual's
willingness
to act, the conclusion being that adequate action will automatically result from enhanced consciousness of sustainability problems.
The value of this model is that it distinguishes between resources, competences, and performances. Indeed, in teaching situations, it is only possible to transmit and train resources, not competences [
64
]: theoretical debates on competences insist on the fact that competences can neither be transferred nor taught, but only acquired in a specific context [
2
,
18
,
30
,
65
]. A competence is expressed in a performance (
Gestaltung
or shaping) and can thus only be assessed in the actual achievement of a task when solving problems and dealing with challenges. However, a performance never reveals a person's
entire
competence: it only shows the part that enables a person to act in a specific situation [
61
]. This is another reason why the context is so important in describing competences. In addition, when sustainable development is defined as the ultimate goal of education, as is the case for ESD, it is essential to integrate the value dimension of action in the definition of competences; in
Figure 1
, values are implicitly integrated in the inner and external resources, thus also permeating the competences and performances.
When planning a teaching-and-learning situation, the didactic principle of "competence orientation" thus requires asking about future contexts [
9
] in which knowledge, attitudes, and skills will be necessary. Moreover, when dealing with competence orientation, we have to explicitly define for what kind of problem and in what contexts the performance should be shown; this should be formulated as an educational objective and operationalized as learning outcomes.
3.2. Moving from Comparison to Operationalisation
To sum up, although we found common elements and some similarities among the competence profiles, the models turned out not to be comparable because they did not clearly refer to the concrete context to which they apply, although this context plays a role in their conception. In addition, they were shaped by a rather broad spectrum of understandings, framings, and definitions of competences. This fuzziness has also been underlined by other authors [
20
,
58
,
66
,
67
].
Because of the fundamental context-boundedness of competences, trying to compare competence models developed in different contexts and based on different understandings of the role of education does not make it possible to answer the following question: "what competences are key competences for sustainable development?" Nor is it useful to try and develop a universal meta-profile to help universities structure their efforts towards implementing education for sustainable development. This was the original goal of our comparison. But the spectrum of descriptions and lists of competences was so heterogeneous that it could at best serve as a "shopping list", not as a meta-profile for ESD at HEIs. In addition, it became clear that the ambition of developing a meta-profile is inspired by a claim of absoluteness that is inadequate in the context of sustainable development [
68
].
Further systematic analysis of the challenges we met in comparing competence models revealed additional reasons why they were difficult to compare:
Issue 1:

Specificity of the field of application

For example, different levels of expertise are required in the professional fields in which students will perform specific tasks after completing their HE degrees.

Issue 2:

Granularity (level of detail/resolution)

The granularity of the competence categories and subcategories was very different. Thus, attempts to establish matches among the models seemed partly arbitrary.

Issue 3:

Hierarchies and dependencies

When comparing competences among models, it would be necessary to take into account hierarchies and dependencies among competences.

Issue 4:

Operationalisation

For all models, it seemed difficult to break down the competences into tangible learning outcomes, since they are quite abstract (see also Issue 2). There is a trade-off between being precise enough and over-differentiating competences. But operationalisation

must

take place when applying the model to a concrete context and application [

18

]. It may seem particularly demanding, however, to operationalise a model that has more than 40 competences, which in turn must be further broken down into learning outcomes, and finally also be assessed [

53

].

Issue 5:

Learning environments

It is not clear at which level of educational offer the proposed competences are meant to be applied: for a curriculum or for a single course? This will necessarily influence operationalisation.

Issue 6:

Taxonomy

The level of expertise to be achieved by learners was often unclear: do they need to be experts in the field or only novices? The models we analysed did not specify this, except for Meijers et al. [

53

].
These challenges are rooted in the nature of competences, particularly in their contextuality (Issue 1) and in the way they have to be operationalised (Issue 4). In the following sections, we only deal in detail with Issues 1 and 4, as they are the challenges that have the greatest influence on didactic decisions. To be useful, contextualization needs to consider a comprehensive framework of analysis: this can only be achieved through a balanced analysis of the target group and an in-depth inquiry into the future professional fields that students will choose and the tasks they will fulfil as change agents.
In relation with this problem, we found that competences in the chosen competence models were partly formulated in similar ways, but the implied application context differed in terms of target groups as well as educational contexts (school, teacher education, tertiary education, professional education, non-formal learning). The need to take into account this diversity, too, requires different solutions when operationalizing competences.
4. Toward a Pedagogic-didactic Anchoring of ESD in HE
As shown above, the identified challenges connected with the implementation of competence models are not specifically related to the ESD context: they are mostly general pedagogic-didactic questions. Therefore, we suggest shifting the focus of inquiry to pedagogic-didactic practices. Indeed, the scientific ESD debate focusing on "
what competences
need to be promoted" can be enriched if we turn to pedagogical expertise and knowhow from HE didactics and to learning theories [
9
] (p. 86). This will allow us to move the focus from the "what competences" question (Issues 2 and 3) to the question "how can concrete competences be fostered?" (Issue 4). As our focus in the present article is on macro-didactics and the designing of educational settings, we will not deal with didactic and curricular details (Issues 5 and 6).
We suggest overcoming the challenges of fostering specific competences by means of two practices applied in didactic practice: tree of science heuristics [
46
] and constructive alignment [
1
]. In combination, these tools are very useful for structuring ESD teaching in a coherent way.
4.1. Tree of Science
Given the complexity of the tasks of professionalizing higher education and implementing outcome-oriented planning of university education, it is essential to build a coherent understanding of teaching-and-learning practice. The tree of science heuristic model (
Figure 2
) provides valuable services, not only for the development of a theory-based vocational theory and for reflective practice as faculty staff, but also for the development of a coherent and contextualized ESD competence profile. Indeed, using the tree of science model leads to a coherent relationship between one's meta-theoretical assumptions (including worldview and socio-cultural norms), theoretical-conceptual perspectives (including scientific angle, educational objectives, and competence model), and teaching models and practices (including planning instruments for modules and courses, and concrete didactics) [
46
] (pp. 12–15), [
69
] (p. 609), [
70
] (p. 21). The tree of science approach reveals how our choice of learning outcomes, learning environments, and assessment framework depend on our ontological and epistemological assumptions as well as on our disciplinary habits. Usually, this framing of our thinking and doing is implicit. But in the context of wicked problems and with the need for a systemic approach, it is important to make the framing explicit in order to detect where incoherence may emerge; this will in turn increase the coherence of our teaching in relation to the fundamental values that we are pursuing in ESD.
Operationalized as a set of clear questions that each individual needs to answer in their own way, the tree of science heuristics helps structure and analyse the implicit and explicit characteristics of teachers' choices of ESD teaching-and-learning environments:
(1)

Values and meta-theories:

What is our prevailing view of human beings and understanding of education?

What are the underlying norms and values in the course contents and learning outcomes?

(2)

Theoretical-conceptual perspectives:

What characterises our understanding of education for sustainable development?

Upon what learning theories is our own understanding of teaching based?

(3)

Teaching models:

What teaching models do we apply or do we need to know?

What understanding of competence do we have?

What references do we make to existing models of competence for SD?

What didactic principles guide our course work?

(4)

Teaching practice:

What educational objectives have we formulated?

What set of competences should students develop?

What specific competences for SD have we formulated?

What didactic methods do we need to apply?
4.2. Constructive Alignment
Once we have clarified our assumptions and reached the level of practice using tree of science heuristics, we can rely on constructive alignment for further clarification of pedagogic-didactic implementation of the educational objectives. Biggs and Tang [
1
] describe this process as the instructional triangle of learning designs [
10
]. Concretely, with regard to SD competences, this means trying to achieve a coherent alignment between (1) the general educational objective of a "change agent" on the one hand, and the underlying competence profile and learning outcomes on the other, (2) learning environments and activities, and (3) type of assessment (
Figure 3
).
In brief: it is essential to clarify whether teaching activities will actually foster what is required: can the learning activity chosen on the basis of a methodological decision really foster what has been defined as a learning objective? With regard to change agency, does the educational environment really support students in developing the ability to act with sustainable development as a guiding principle? Do the chosen assessment methods help to make the intended learning achievement visible? Until now, teaching-and-learning in higher education has provided few opportunities for students to develop their own values, skills, and attitudes to become
change agents
in the area of sustainability [
7
], even if there are notable examples of change (e.g., in Europe: Leuphana University, the Centre for Sustainable Futures at Plymouth University, the Schumacher College, the UNESCO Chair of Social Learning and Sustainable Development at Wageningen University). Using constructive alignment makes the shift from teaching to learning possible: the aim is no longer to "pass on knowledge" [
35
] (p. 25). Instead, teaching is aligned with the chosen competences. To really foster the competences targeted by the learning objectives, teaching staff must ensure that learning environments are coherent—or they will have to decide to be more modest and adapt the learning objectives. The question remains whether HEIs are prepared to accept learning environments that help students to become change agents for sustainable development.
The concepts of constructive alignment and tree of science offer both a compass and a practicable journey, as they serve as a structuring aid for designing, integrating, and evaluating coherent study programs along with the chosen competences for SD. Both tools help faculty staff to position themselves, achieve clarity, plan and conduct teaching in a purposeful and comprehensible manner, and reflect on their own professional practice [
47
]. "Theory-led reflection is both a tool and a duty when working as a professional in the field of education" [
46
] (p. 18, authors' translation). As both tools are rooted in the context of university teaching-and-learning as well as in the field of professional development of vocational and higher education practitioners, faculty staff should easily be able to adopt them in everyday practice. Besides, such conceptual orientation helps to make current sustainability education even more effective, as it creates a theory-based and reflexive framework to evaluate and optimize existing higher education offers. In addition, it points to perspectives and options for the development of ESD in higher education and provides legitimizing arguments to policy makers and authorities when it comes to establishing new modules and ESD-compatible programs [
72
] (p. 11) and corresponding assessment frameworks [
73
].
In the following sections, we present two examples to illustrate the advantages and challenges of applying the tree of science heuristics and constructive alignment model.
5. Coherent ESD Practice in Higher Education: Two Examples
The following two case studies show how ESD can be integrated into a curriculum in a competence-oriented manner: either through a longer learning and adaptation process or by design, based on clear pedagogical principles. In the first case, a PhD curriculum was developed and adapted ad hoc over a decade, based on the need for training PhDs in a new inter- and transdisciplinary research program focusing on sustainable development. In the second case, a curriculum within a Bachelor program was designed with a view to make it conform to ESD pedagogical principles and serve competences for SD. Both cases illustrate how important it is to achieve coherence between learning outcomes, teaching-and-learning processes, and assessment of outcomes when aiming to foster competences for SD. In addition, the second case reveals how the use of tree of science considerably shortened the process of consistent alignment between theory and practice. Moreover, while the first case only represents one course within a conventional curriculum, the second case covers a complete master minor aiming at trainers of trainers. Describing the case studies, we refer to Issue 1 und Issue 4 (see
Section 3.2
above), illustrating the process of contextualization and operationalisation of competences for SD in teaching.
A further example of applying competence orientation within SD curriculum development and corresponding didactic principles in higher (postgraduate) education is provided by Förster and Grau [
74
]. They describe a newly developed postgraduate study program at the ETH Zurich and show how a competence profile and competence-oriented didactics can be implemented by using constructive alignment, among other tools.
5.1. Case Study 1
Assessment was explicitly included as a skill to be developed, using a guided peer-review exercise: the groups are asked to assess another group's presentation according to clear criteria. This evaluation is complemented by feedback from senior researchers. If time allows, a final module focusses on scientific writing and publication and communication with non-scientific audiences. Overall, the course lasts 7–12 days, depending on availability of funds.
5.2. Case Study 2
The second case describes an ESD curriculum development process within the context of the Bachelor program "Environmental Engineering" at the Zurich University of Applied Sciences. This Bachelor offers students knowledge and skills to find solutions to the challenges that arise in situations where economic and social demands conflict with sustainable use of natural resources. One of the components of the Bachelor is a minor program in "education and consulting", consisting of five modules. Because sustainability is at the core of the Bachelor program, it made sense to align the minor program with ESD competences. The overall educational objective of the five modules constituting the minor program aims at empowering students to contribute to a future-oriented and sustainable society by developing their own educational concepts and designing opportunities for sustainability learning in the field of environmental engineering.
6. Making Learning Processes ESD-Compatible: Insights and Recommendations
Competences for sustainable development are profoundly contextual and normative; moreover, they are action-oriented. These characteristics make it difficult to provide a meta-profile of SD competences and corresponding general guidelines for fostering competences in HE teaching. Since faculty staff usually lack pedagogic-didactic knowledge to develop courses and curricula in a systematic way, we have suggested two tools to support them in the difficult process of making coherent SD competence-orientation possible in their teaching. The tools are based on pedagogic-didactic expertise and on insights from the lively ESD debate; they will hopefully help educators overcome some of the challenges of contextualisation (Issue 1) and operationalisation (Issue 4) met when implementing competences for SD in teaching. We believe that these tools will also generally enhance the quality of ESD in higher education.
6.1. Moving Towards ESD Didactics
As our case studies show, fostering SD and ESD competences at tertiary education level certainly requires pedagogic and didactic expertise. However, specific didactics for SD and ESD in tertiary education hardly exist, except for a few individual cases such as Leuphana University, Schumacher College, and others. Despite the lively debate on ESD at tertiary level, there is a lack of guidelines within this debate about how higher education didactics, competence orientation, and aligned ESD teaching can be put into practice. Authors such as Sterling and Thomas [
6
], Tilbury [
35
], Barth [
9
], and Hoffmann [
36
] provide in-depth descriptions of typical teaching-and-learning environments and corresponding didactic principles and methods. But they do not provide guidance for faculty staff about how to implement competence orientation and operationalise SD competences at the level of teaching practice, according to appropriate didactic principles. We have shown that combining use of tree of science heuristics with constructive alignment helps to "walk the talk".
Both processes—tree of science heuristics and constructive alignment—require iteration between educational objectives, competences, and didactic practices, including assessment. This iteration will also proove how appropriate the operationalisation of competences is in each specific case. Working through the two processes in continuous cycles is demanding and requires that faculty staff use new approaches for developing curricula, for planning their teaching, and for organizing their learning environments. But this will not suffice: in addition, there is a need to strengthen professional development for ESD (see
Section 6.2
) and to rethink the institutional context of tertiary education [
80
], see also
Section 6.3
.
6.2. Professional Development of University Educators
Didactic expertise as well as an in-depth understanding of how to achieve competence orientation in teaching is needed at the level of university educators. Our case studies demonstrate the need for raising awareness of the benefits of coherence between the general educational objective of the study program (no longer focusing only on academic excellence), its institutional context, and new learning environments and activities as well as assessment methods. Achieving such coherence is challenging, in particular because assessment of performance is ambitious, as we need to sharpen our perception of the expected and visible outcomes [
3
] (p. 56).
Projects like the European "University Educators for Sustainable Development" project [
4
] acknowledge this need for professional development of university educators in the area of ESD, as well as for faculty training and development. Higher education institutions should actively develop and support continuous learning and qualification programs in the field of HE didactics [
81
], the aim of which should be to combine the content challenge (what is sustainable development and how can my discipline contribute to sustainable development?) and the challenge of a sound pedagogic-didactic foundation. More ESD research, subject knowledge, and methodological skills are needed as well; until now, only very few ESD chairs have been created. As a result, so far competences for SD have been fostered mostly ad hoc, rather than based on expertise provided by professional development. In the Swiss university context, with the exception of the universities of applied science, candidates for a chair normally do not need to show that they have had professional development in pedagogics. Promoting didactic expertise and collaboration with experts who come from the field of education would undoubtedly lead to added value for ESD. In addition, universities should develop a system of rewards and career acknowledgement for engaged teachers [
82
] (p. 337).
6.3. Institutional Context
Our case studies also show that the path towards competence orientation for sustainable development in teaching is a challenging one. Not only was it ambitious in both cases to want to better implement tertiary teaching-and-learning for sustainable development by choosing appropriate competences. Our experiences also reveal that the current curriculum design policies and teaching practices at HEIs make it difficult to adopt competence-oriented teaching-and-learning practices. Creating coherent and integrated learning opportunities as well as well as dialogue-oriented learning activities challenges the traditional understanding of education in Higher Education institutions [
31
,
41
,
82
]. In addition, learning and assessment settings require more resources because they are action-oriented and not just knowledge-oriented; in particular, formative assessments require more time. These settings also challenge teachers to unlearn their power as holders of knowledge and rethink their role as educators. Such changes are very much needed to ensure that students, teaching staff, and researchers are empowered as future problem solvers [
10
] (p. 72). After a decade devoted to ESD at the global level, this has been acknowledged worldwide: "ESD is about empowering and motivating learners to become active sustainability citizens who are capable of critical thinking and able to participate in shaping a sustainable future. Pedagogical approaches that are adequate to this aim are learner-centered, action-oriented and transformative." [
3
] (p. 54).
Despite successful examples of problem- and project-based learning opportunities [
83
] (p. 432) [
84
,
85
], so far, formal curricula at HEIs mainly focus on knowledge transmission, rather than on the facilitation of critical, innovative, and creative learning spaces where students can challenge their own models of thinking and practice, develop their own innovative and creative projects, or explore alternative ideas and choices [
7
,
86
]. However, sustainability is not just another issue to be added to an overcrowded curriculum; one can start with a "bolt-on" approach [
6
] to raise awareness among both students and teachers of sustainability issues. But awareness raising will not lead to change. To achieve change, what is needed is a "build-in" approach through which pockets of transformed curricula exist and offer students (and teachers) the possibility of experiencing the building of competences. Ultimately, what will be needed is "curriculum redesign", which implies institutional change [
81
] and a different form of assessment for institutions [
87
].
In our experience, higher education institutions have difficulties with two aspects linked with the constructivist understanding of education that is inherent in ESD: first, the focus of universities on science dedicated to objectivity and disciplinarity [
16
] makes it difficult for them to identify with a mission of tertiary education that includes accountability to society and thus goes beyond developing academic excellence based on analytical expertise. This leads us to the second challenge: ESD requires action orientation and value orientation, both of which can only be achieved if students are supported in developing competences for change agency, i.e. competences that go beyond analytical skills, as revealed in our comparison of competence models, and largely accepted in the ESD literature. We hope that HEIs will soon be willing to adopt the inclusion of competences in teaching as an essential part of their mission.
Author Contributions
S.W. and R.F. produced the original version of the paper, systematized the review of competences, developed the tables and suggested the two tools, and provided the pedagogic background for the paper. A.Z. helped to further sharpen its conceptual and argumentative logic and embed it in the ESD literature. S.W. and A.Z. delivered the case studies. All three authors contributed in equal proportions to the current version of the article.
Funding
Some funding for this research was provided by the Swiss Academic Society for Environmental Research and Ecology (saguf)—which organized the 2014 saguf Annual Conference, co-funded by swissuniversities. Additional funding was provided and by the University of Bern's "Project 7.9: Education for Sustainable Development", which supports the Vice-Rectorate Quality in its efforts to mainstream SD in teaching.
Acknowledgments
We are very grateful to our colleagues of the ESD Working Group of the Swiss Academic Society for Environmental Research and Ecology (saguf) for their support since 2013, in particular to: Regula Steiner and Claudia Zingerli, who contributed in a major way to a preliminary version of the article, and to Ueli Nagel, Clemens Mader, and Jörg Balsiger for their valuable feedback. The contributions of the following guests of the 2014 saguf Annual Conference on "Zukunft gestalten: Nachhaltigkeits-Kompetenzen in der Hochschulbildung" are also gratefully acknowledged: Gabriela Wülser, sd-universities programme; Arnim Wiek, Arjen Wals, and Regula Kyburz-Graber, critical friends; and the participants and presenters of case studies during the conference. Finally, we would also like to thank Leonie Schmid for her support with the literature, and we acknowledge support from the University of Bern's Project 7.9 "Bildung für Nachhaltige Entwicklung".
Conflicts of Interest
The authors declare no conflict of interest. The funders had no role in the design of the study; in the collection, analyses, or interpretation of data; in the writing of the manuscript, or in the decision to publish the results.
Appendix A

Table A1. Full overview of the selected competence models; the reference model chosen by the authors of the present article is in the 1st column.
Key Competences in Sustainability
Wiek et al., 2011, Wiek and Kay 2015 [27,88]
Shaping Competence for ESD ("Gestaltungskompetenz")
de Haan 2008a, de Haan 2008b [26,55]
Key Competences for Sustainable Development
Rieckmann 2011, 2012 [29,33]
Academic Competences
Meijers et al., 2005 [53]
Competences in ESD for Educators, Leaders, and Decision Makers
UNECE 2012 [8]
Key Competences for OECD Citizens
OECD 2005 [51]
Competences for Extraordinary Leaders
Zenger and Folkmann 2009 [58]
Application: tertiary education sector, university-level teaching committed to ESD (HESD) incl. training of faculty
Application: secondary education sector, ESD
Application: tertiary education sector, HESD
Application: tertiary education sector, bachelor and master, particularly in engineering
Application: at all levels of education incl. formal, non-formal, informal
Application: all citizens in OECD countries and beyond
Application: management and organizations that educate and evaluate leadership, including change agents
6 key competences for "collectively solving sustainability problems" [88] (p. 29).
(1) Systems-thinking competence: Ability to analyse complex systems across different domains and different scales.
(2) Anticipatory (or future-thinking) competence: Ability to collectively analyse, evaluate and craft rich "pictures" of the future related to sustainability issues and sustainability problem-solving frameworks.
(3) Normative (or value-thinking) competence: Ability to collectively map, specify, reconcile, and negotiate sustainability values, principles, goals, and targets.
(4) Strategic-thinking (or action-oriented) competence: Ability to design and implement interventions, transitions, and transformative governance strategies towards sustainability; "being able to get things done"
(5) Interpersonal competence: Ability to motivate, enable, and facilitate collaborative and participatory sustainability research and problem solving.
(6) Integrated problem-solving competence: a meta-competence that should integrate "the five key competencies for solving sustainability problems and fostering sustainable development"
Shaping competence: "

Gestaltungskompetenz

means the specific capacity to act and solve problems" and has the following 12 sub-competences (in bold font: translation into English by Rieckmann, p. 130 [29]; this is followed by our own translation of de Haan's 12 sub-competences)
(1) Competence in cosmopolitan perception and change of perspectives: Build up knowledge with an open mind, integrating new perspectives.
(2) Competence in anticipatory thinking: analyse and evaluate developments in an anticipatory way
(3) Competence in interdisciplinary work: Generate insights, and act in, an interdisciplinary way
(4) Competence in handling incomplete and complex information: be able to identify and evaluate risks, dangers, and uncertainties
(5) Competence in cooperation: be able to plan and act together with others
(6) Competence in dealing with individual decision dilemmas: be able to include trade-offs when reflecting on options for action
(7) Participatory competence: be able to participate in collective decision-making processes.
(8) Competence in self-motivation and motivating others: be able to motivate oneself and others to take action
(9) Competence in reflection on individual and cultural models: be able to reflect on own guiding principles and those of others
(10) Competence in ethical action: be able to apply perceptions of justice as a basis for decisions and action
(11) Competence in independent action: be able to plan and act independently.
(12) Capacity for empathy and solidarity: be able to show empathy
12 key competences:
The competence…
(1) for systemic thinking and handling complexity
(2) for anticipatory thinking
(3) for critical thinking
(4) for acting fairly and ecologically
(5) for cooperation in (heterogeneous) groups
(6) for participation
(7) for empathy and change of perspective
(8) in interdisciplinary work
(9) for communication and use of media
(10) for planning and realising innovative projects
(11) for evaluation
(12) for ambiguity and frustration tolerance
7 areas of competence
He or she

(1) is competent in one or more scientific disciplines
(2) is competent in doing research
(3) is competent in designing
(4) has a scientific approach
(5) possesses basic intellectual skills
(6) is competent in co-operating and communicating
(7) takes account of the temporal and the social context
These 7 areas are broken down into 50 competences, each with a differentiation of degree between Bachelor and Master level, and an indication about whether the competence relates mainly to knowledge, skills, or an attitude.
41 competences structured according to (A) areas of learning and (B) essential characteristics of ESD:
A1 Learning to know: refers to understanding the challenges facing society both locally and globally and the potential role of educators and learners (The educator understands....);
A2 Learning to do: refers to developing practical skills and action competence in relation to education for sustainable development (The educator is able to....);
A3 Learning to live together: contributes to the development of partnerships and an appreciation of interdependence, pluralism, mutual understanding and peace (The educator works with others in ways that....;)
A4 Learning to be: addresses the development of one's personal attributes and ability to act with greater autonomy, judgement and personal responsibility in relation to sustainable development (The educator is someone who...)" (UNECE 2012, p13-15)
B1 A holistic approach, which seeks integrative thinking and practice;
B2 Envisioning change, which explores alternative futures, learns from the past and inspires engagement in the present;
B3 Achieving transformation, which serves to change in the way people learn and in the systems that support learning." (UNECE 2012, p13-15)
9 key competences in three groups
(1) Using tools interactively
● Use language, symbols and texts interactively
● Use knowledge and information interactively
● Use technology interactively
(2) Interacting in heterogeneous groups
● Relate well to others
● Co-operate, work in teams
● Manage and resolve conflicts
(3) Acting autonomously
● Act within the big picture
● Form and conduct life plans and personal projects
● Defend and assert rights, interests, limits and needs
16 empirically derived competences ("capabilities"/"behaviours") grouped in 5 categories ("Tent model"):
(1) Character: displaying high integrity and honesty
(2) Personal Capability
● Technical and professional expertise
● Solving problems and analysing issues
● Innovation
● Practicing self-development
(3) Focus on Results
● Focus on results
● Establish Stretch Goals
● Take responsibility for outcomes and initiatives
(4) Interpersonal Skills
● Communicating powerfully and politically
● Inspiring and motivating others to high performance
● Building relationship
● Developing others
● Collaboration and teamwork
(5) Leading Organizational Change
● Developing strategic perspectives
● Championing change
● Connecting internal groups with outside world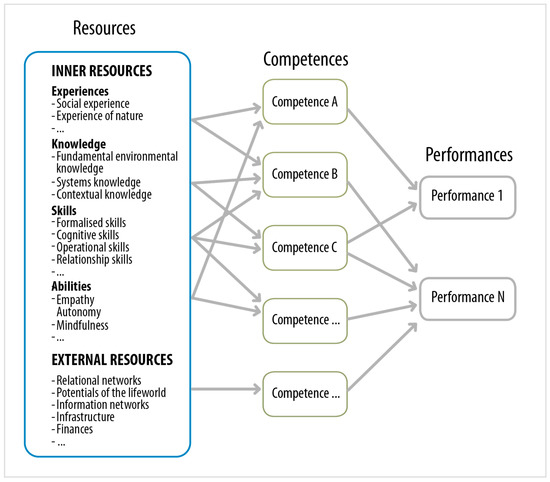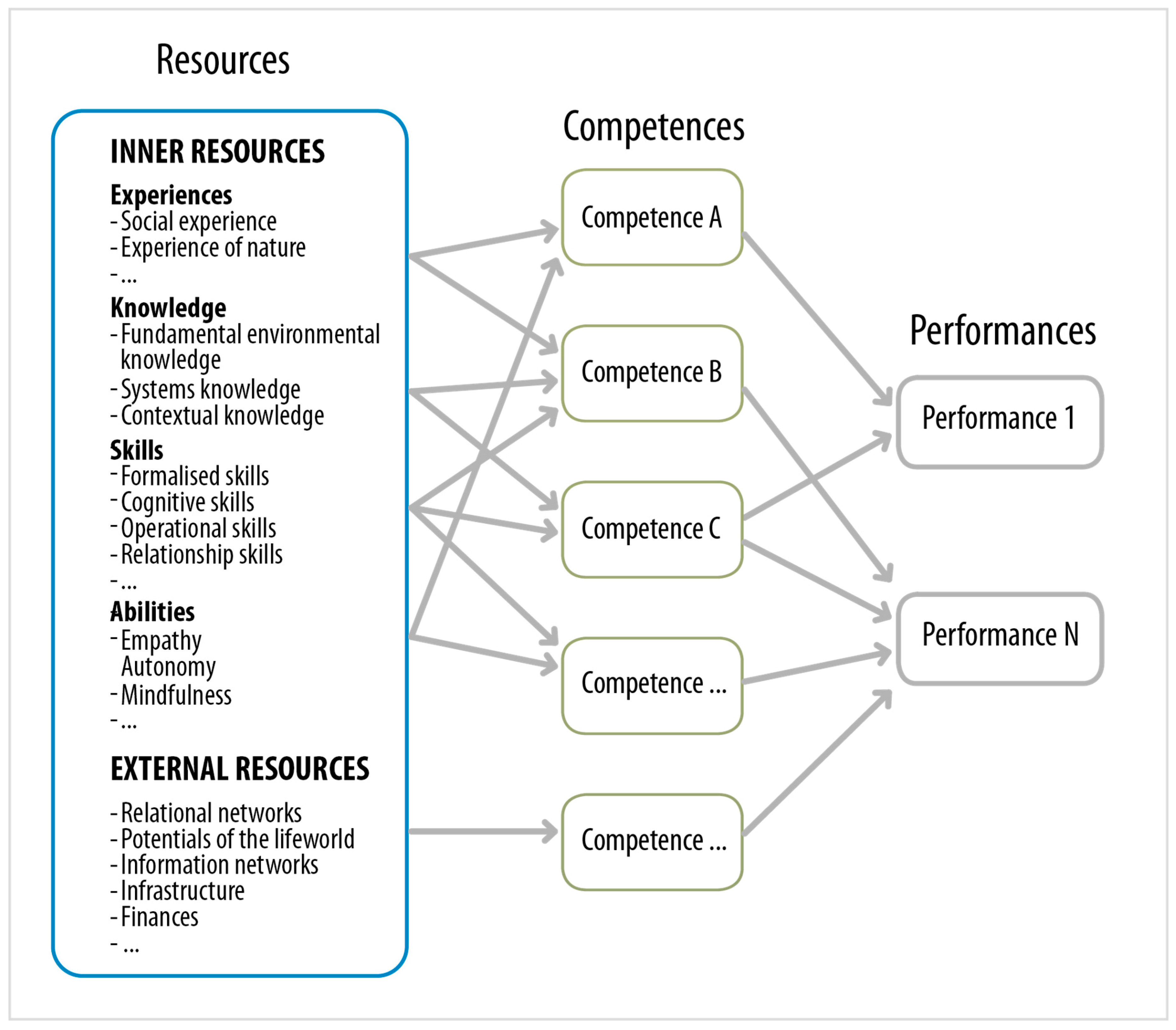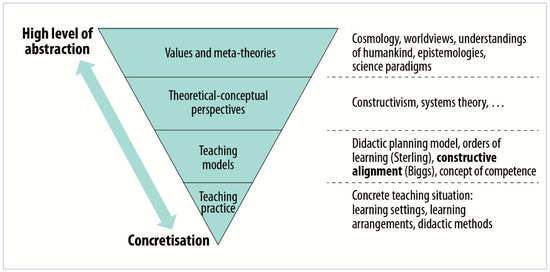 Figure 2.
Illustration of the tree of science for competence-oriented teaching [
46
,
69
,
70
]. Use of tree of science enables faculty staff to understand the relationship between the various levels of theoretical and practical reflection that guide operationalisation of ESD-coherent teaching-and-learning.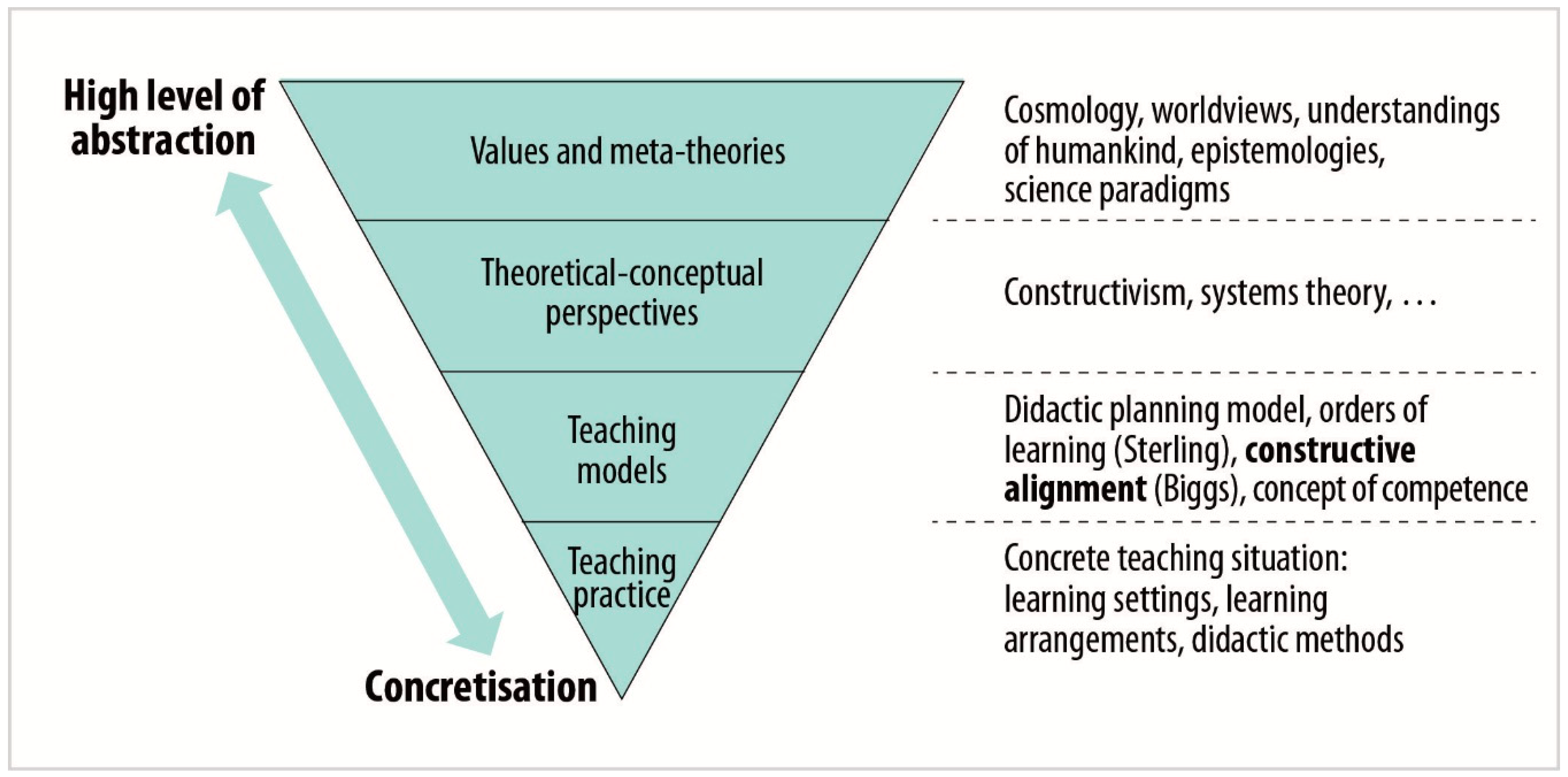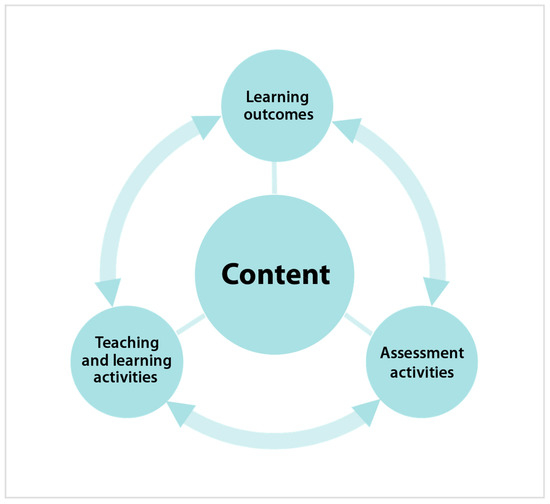 Figure 3.
Model for aligning all the elements of teaching, learning, and assessment [
71
]. Alignment takes places in several stages and leads to constant re-alignment.

Table 1. Overview of the selected competence models for education for sustainable development (ESD), structured according to fields of application and educational objectives.
References
Fields of Application
Educational Objectives
Wiek et al., 2016; Wiek et al., 2011a; Wiek et al., 2011b [27,28,54]
ESD in higher education (tertiary level)
Focus on systemic-problem solvers, change agents and transition managers [28] (p. 4) to take lead(ership) in change and transformation processes towards sustainable development.
Rieckmann 2011; Rieckmann 2012 [29,33]
ESD in higher education (tertiary level)
"Education for Sustainable Development (ESD) aims to develop (key) competences that enable individuals to participate in socio-political processes and hence to move their society towards sustainable development" [29] (p. 128)
de Haan 2006; de Haan 2008 [14,55]
ESD in primary education, though the model can be and has been transferred to higher education
"'Gestaltungskompetenz', or 'shaping competence', means the specific capacity to act and solve problems" [14] (p. 22); related to sustainable development challenges.
Folkmann and Zenger 2016; Zenger and Folkman 2009 [52,56]
Change agents and leadership in general; transferable to education for SD in higher education
Capacity to lead in an extraordinary way; aim to become an extraordinary leader for change who has real impact on customers, customer satisfaction, profitability; this includes change situations. Take lead(ership) in change and transformation processes.
OECD 2005 [51]
Key competences in general in society, assumption that ESD in higher education contributes to ESD in society in general
The educational objective is to enable citizens of OECD countries to develop key competences to master change in complex and rapidly changing environments and to cope with the main challenges of the 21st century, i.e.
(1) rapidly and continuously changing technology, requiring "not just one-off mastery of processes but also adaptability".
(2) "More diverse and compartmentalized society, with interpersonal relationships requiring more contact with those who are different from oneself".
(3) Globalization, which "is creating new forms of interdependence" (p. 7).
UNECE 2012 [8]
Key competences in teacher training; assumption that ESD in HE contributes to quality ESD in the education system; this competence model is meant as a basis to train educators in every field of ESD: formal, non-formal, and informal, with a special focus on formal education.
Focus on empowering educators to become agents of change within education systems that aim towards ESD. Effective educational transformation is dependent upon educators being motivated to bring about change, as well as their being capable of and supported in doing so (pp. 9–10).
Meijers et al., 2005 [53]
Higher education (basic academic competences), particularly in engineering sciences
Based on the higher education institutions (HEIs)'s mission statement, the educational objective is to enable students of universities to develop an academic profile particularly in the complex world of engineering sciences, where design and application play an important role in addition to the development of theories (pp. 2–3).

© 2019 by the authors. Licensee MDPI, Basel, Switzerland. This article is an open access article distributed under the terms and conditions of the Creative Commons Attribution (CC BY) license (http://creativecommons.org/licenses/by/4.0/).