The Sustainability Conundrum of Fishmeal Substitution by Plant Ingredients in Shrimp Feeds
1
MatureDevelopment B.V., World Trade Center, 2595 AM The Hague, The Netherlands
2
Institute of Aquaculture, University of Stirling, Stirling FK9 4LA, UK
3
Research Institute for Agriculture, Fisheries and Food (ILVO), Fisheries and Aquatic Production, 8400 Ostend, Belgium
4
Mexico Aquaculture Research Inc., Guadalajara 45110, Mexico
5
Association of International Seafood Professionals, Southbank, VIC 3006, Australia
6
Aquaculture without Frontiers, Oakland, CA 94610, USA
7
Universidad Tecnológica del Mar de Tamaulipas, Soto La Marina - La Pesca, Km. 46+400, S/N, La Pesca 87678, Municipio de Soto la Marina, Tamaulipas, México
8
IFFO, The Marine Ingredients Organisation, London SE17 3BZ, UK
9
Department of Innovation, Environmental and Energy Sciences, Copernicus Institute of Sustainable Development, Utrecht University, 3508 TC Utrecht, The Netherlands
10
University Research Priority Program in Global Change and Biodiversity and Department of Geography, University of Zürich, 8057 Zürich, Switzerland
11
Fish Nutrition and Aquaculture Group, Department of Animal Production, Welfare and Veterinary Sciences, Harper Adams University, Newport TF10 8NB, UK
*
Authors to whom correspondence should be addressed.
Received: 2 December 2018 / Revised: 13 February 2019 / Accepted: 15 February 2019 / Published: 25 February 2019
Abstract
Aquaculture is central in meeting expanding global demands for shrimp consumption. Consequently, increasing feed use is mainly responsible for the overall environmental impact of aquaculture production. Significant amounts of fishmeal are included in shrimp diets, causing dependency on finite marine resources. Driven by economic incentives, terrestrial plant ingredients are widely viewed as sustainable alternatives. Incremental fishmeal substitution by plant ingredients in shrimp feed was modeled and effects on marine and terrestrial resources such as fish, land, freshwater, nitrogen, and phosphorus were assessed. We find that complete substitution of 20–30% fishmeal totals could lead to increasing demand for freshwater (up to 63%), land (up to 81%), and phosphorus (up to 83%), while other substitution rates lead to proportionally lower impacts. These findings suggest additional pressures on essential agricultural resources with associated socio-economic and environmental effects as a trade-off to pressures on finite marine resources. Even though the production of shrimp feed (or aquafeed in general) utilizes only a small percentage of the global crop production, the findings indicate that the sustainability of substituting fishmeal by plant ingredients should not be taken for granted, especially since aquaculture has been one of the fastest growing food sectors. Therefore, the importance of utilizing by-products and novel ingredients such as microbial biomass, algae, and insect meals in mitigating the use of marine and terrestrial resources is discussed.
View Full-Text
►

▼

Figures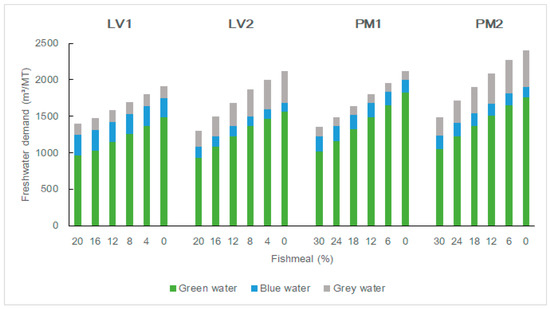 Figure 1
This is an open access article distributed under the
Creative Commons Attribution License
which permits unrestricted use, distribution, and reproduction in any medium, provided the original work is properly cited (CC BY 4.0).
Supplementary materials
Supplementary File 1:

ZIP-Document (ZIP, 135 KB)

Externally hosted supplementary file 1
Doi: n.a.
Link: http://n.a.
Description: n.a.
Externally hosted supplementary file 2
Doi: n.a.
Link: http://n.a.
Description: n.a.

Share & Cite This Article
MDPI and ACS Style
Malcorps, W.; Kok, B.; van't Land, M.; Fritz, M.; van Doren, D.; Servin, K.; van der Heijden, P.; Palmer, R.; Auchterlonie, N.A.; Rietkerk, M.; Santos, M.J.; Davies, S.J. The Sustainability Conundrum of Fishmeal Substitution by Plant Ingredients in Shrimp Feeds. Sustainability 2019, 11, 1212.
Note that from the first issue of 2016, MDPI journals use article numbers instead of page numbers. See further details here.
Related Articles
Comments
[Return to top]