You Can't See the Woods for the Trees: Invasive
Acer negundo

L. in Urban Riparian Forests Harms Biodiversity and Limits Recreation Activity

1

Institute of Civil Engineering, Warsaw Univeristy of Life Sciences—SGGW, ul. Nowoursynowska 159, 02-776 Warsaw, Poland

[email protected]

2

European Regional Centre for Ecohydrology of the Polish Academy of Sciences, ul. Tylna 3, 90-364 Łódź, Poland

3

Institute of Horticulture and Biotechnology, Warsaw University of Life Sciences—SGGW, ul. Nowoursynowska 159, 02-776 Warsaw, Poland

4

Natural Resources Institute, University of Greenwich, Chatham Maritime, Kent ME4 4TB, UK

*

Author to whom correspondence should be addressed.

Received: 10 August 2019 / Revised: 13 October 2019 / Accepted: 16 October 2019 / Published: 21 October 2019
Public access to high quality green environments has become a key issue for city managers and a matter of environmental justice. Urban pressures on ecosystem remnants may act to favor the expansion of some invasive species in cities. Whilst the negative impacts of invasive species on ecosystem function is well documented, little is known about how invasive species influence the use of green space by people. Here, we examined one of the few remnants of urban riparian forests in Europe, the Vistula river valley in Warsaw, which has recently become an attractive recreation site. Despite their high ecological value, the poplar and willow forests have been increasingly taken over by the invasive tree species
Acer negundo.
We examined the status of the invasion process and the relationship between recreational ecosystem services and the characteristics of the tree stands—tree species, tree density, and age and NDVI values. We found the willow forest to be more susceptible to invasion by
A. negundo
than the poplar forest, which was revealed in significantly higher share of the maple individuals and their greater volume per unit area. Ash-leaved maples also prevailed in numbers in younger stands (<10 years) than in older ones. The presence of
A. negundo
affected biodiversity, resulting in decreased undergrowth density and biodiversity expressed in number of species. The use intensity by the public, assessed on the basis of soil compaction of existing informal tracks, as revealed by GLM analysis, was related to volume of invasive maple and distance from the main track. This study highlights the need to integrate invasive species management into green infrastructure planning and management.
3. Results
3.1. Invasion Intensity into Different Forest Types
The forest stands in the investigated area were to a various extent invaded by
A. negundo
, and the intensity of invasion significantly differed between the two investigated forest stand types. Apart from the obvious difference in the share of indigenous species, the forests differed in terms of both volume and number of individuals of this invasive maple (
Table 1
). The ash-leaved maple was significantly more abundant in the willow forest than in the poplar, both in terms of number of individuals and the tree volume. In the willow forests (more frequently subject to flooding than the poplar) maples constituted nearly half of individuals (47.8%) and over one third in the poplar forests (33.5%), the difference in tree trunk number was however variable and no statistical difference was found (
p
= 0.09). The differences between the two forests and the invasive maple occurrence were also significant in terms of the volume of the trees expressed in their basal area. While the average basal area of ash-leaved maples per patch was approximately twice as big in the willow forests (245.9 cm
2
/ha) compared to poplar forests (157.1 cm
2
/ha;
p
= 0.01), it no longer prevailed in any of the stands in terms of volume, as its share in the total tree basal area was minimal and only accounted for 4.3% and 2% in willow and poplar forests, respectively, the differences were not significant. (
Table 1
). Those tree stands in which poplar was the dominant species and which were to a lesser extent invaded, were characterized by higher NDVI values, associated with larger biomass and vegetation fitness. NDVI also increased with the forest age, but the increase was found to be significant only in the willow forest (
Table 1
).
The structure of the forests stands strongly depends on their age. Young willow stands are more highly invaded (73.6%) than older stands (37.1%), the percentage of individuals being 14.5% and 3.1% in terms of volume, respectively. The youngest willow stands (<10 years) have significantly higher share of invasive maples when compared to older patches in terms both the number of trunks (
p
= 0.00) and their volume (
p
= 0.00). The native tree species showed both increased numbers and increased volume in older stands (
Table 1
). In both willow and poplar forest stands up to 20 years of age, the ash-leaved maple is always the dominating tree species, while the older stands from 20 to 40 years of age showed only a small fraction of this species in terms of the basal area of trunks, which is at least five times lower than of the native trees. In willow stands a significant increase in numbers of invasive maples is noted in older stands when compared to younger ones, while both poplar and willows increase in volume. In poplar forests, the increase in numbers is not significant, while the willows decrease in numbers, the increase in volume is not homogenous (
Table 1
).
3.2. The Effect of A. negundo on Biodiversity
We found that the presence of
A. negundo
strongly modifies the structure of the forest stand at many levels.
A. negundo
is a main component of the shrub layer (2–5 m height) along with
Sambucus nigra, Populus nigra
, and
Salix alba
seedlings, hence the high correlation obtained (r = 0.708;
Table 2
). The presence of
A. negundo
contributes to a lower density of the canopy (r = −0.338) and high density of
A. negundo
is associated with a decline of the plant density of the undergrowth (r = −0.495). The development of the species in the canopy is also followed by a continuous decline of total number of plant species in undergrowth (r = −0.439).
3.3. Effect of A. negundo on Recreation Ecosystem Services
By linking Recreational Ecosystem Services (RES) to indicators describing cumulated effects of visitor activity throughout in area off the main track (mainly soil compaction), we found that a relationship between the invasive maple density and off–trail activity can be observed. Throughout the whole area there are no restrictions for walking off the main track and free penetration of the forest is allowed, although the main gravel track is easily distinguished. Off-trail activity is not desired, but is not by any way penalized. Whilst strictly speaking visitors should stick to the prepared pathways, the informal tracks indicate that they clearly are not doing so. In the willow forest, the relationship between the ash-leaved maple coverage and visitor activity is statistically significant and invasive maple basal area explained the variation in soil compaction in 21.46% in the willow forest, and in the poplar forest in 19.37% (
Table 3
). The inverse relationships between soil compaction and density of
A. negundo
allows us to conclude that off-trail visitor activity is reduced in highly invaded patches. Other factors explaining the variation in the compaction of the trails include the distance to the main track, which explained 7.6% in the willow stand and 6.9% of variation in the poplar stand (
Table 3
). The factors used in GLM explain in total for forest willow forest 29.0%—r = 0.53;
p
= 0.00 and in poplar forest in 30.5%—r = 0.55;
p
= 0.00.
5. Conclusions
A. negundo

is a permanent and abundant component of the urban riparian forests in the Vistula river valley in Warsaw, and it was found to be more abundant in willow forests stands than in poplar forests.

The abundance of

A. negundo

was found to be significantly higher in younger stands than in older ones, the differences were manifested in both number of stems and their volume per plot.

Occurrence of

A. negundo

in riparian forests negatively affects biodiversity, shrub layer, and herbaceous vegetation, the more invaded stands were poorer in species diversity.

An increased share of

A. negundo

was found to be related to decreased activity of visitors in the forest, but the effect was slightly stronger in the willow forests. Presence of ash-leaved maple plays an important role in providing recreation possibilities for the city dwellers.

Factors explaining the recreational activity by users in the riparian forests, expressed in soil compaction of informal tracks, were the distance from the main track and the volume of

A. negundo

trunks.
Author Contributions
Conceptualization, D.S.; Formal analysis, J.C.; Investigation, D.S., P.S., P.A. and J.C.; Methodology, P.S.; Supervision, R.J.H.; Validation, J.C. and R.J.H.; Writing – original draft, D.S., P.S. and R.J.H.
Funding
This research was partially funded by the "National Science Centre, Poland" under the contract agreement UMO-2017/25/B/ST10/02967.
Acknowledgments
We would like to thank to Mateusz Rudowicz and Michał Szczucki for their help in field measurements.
Conflicts of Interest
The authors declare no conflict of interest.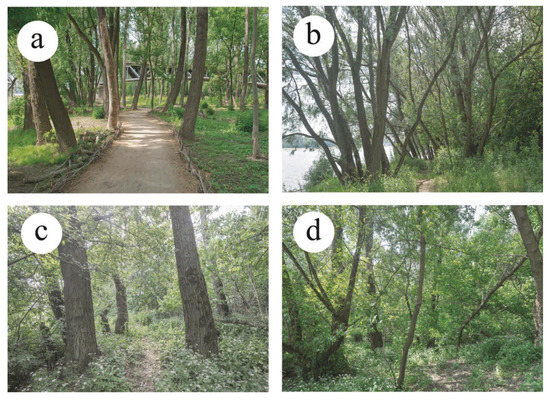 Figure 2.
Main formal route along the riparian forest (formal trail) (
a
), informal trails in poplar riparian forest
Populetum albae
(
b
), willow riparian forest with
Populus x canescens
, (
c
) and willow riparian forest heavily invaded by
A. negundo
(
d
).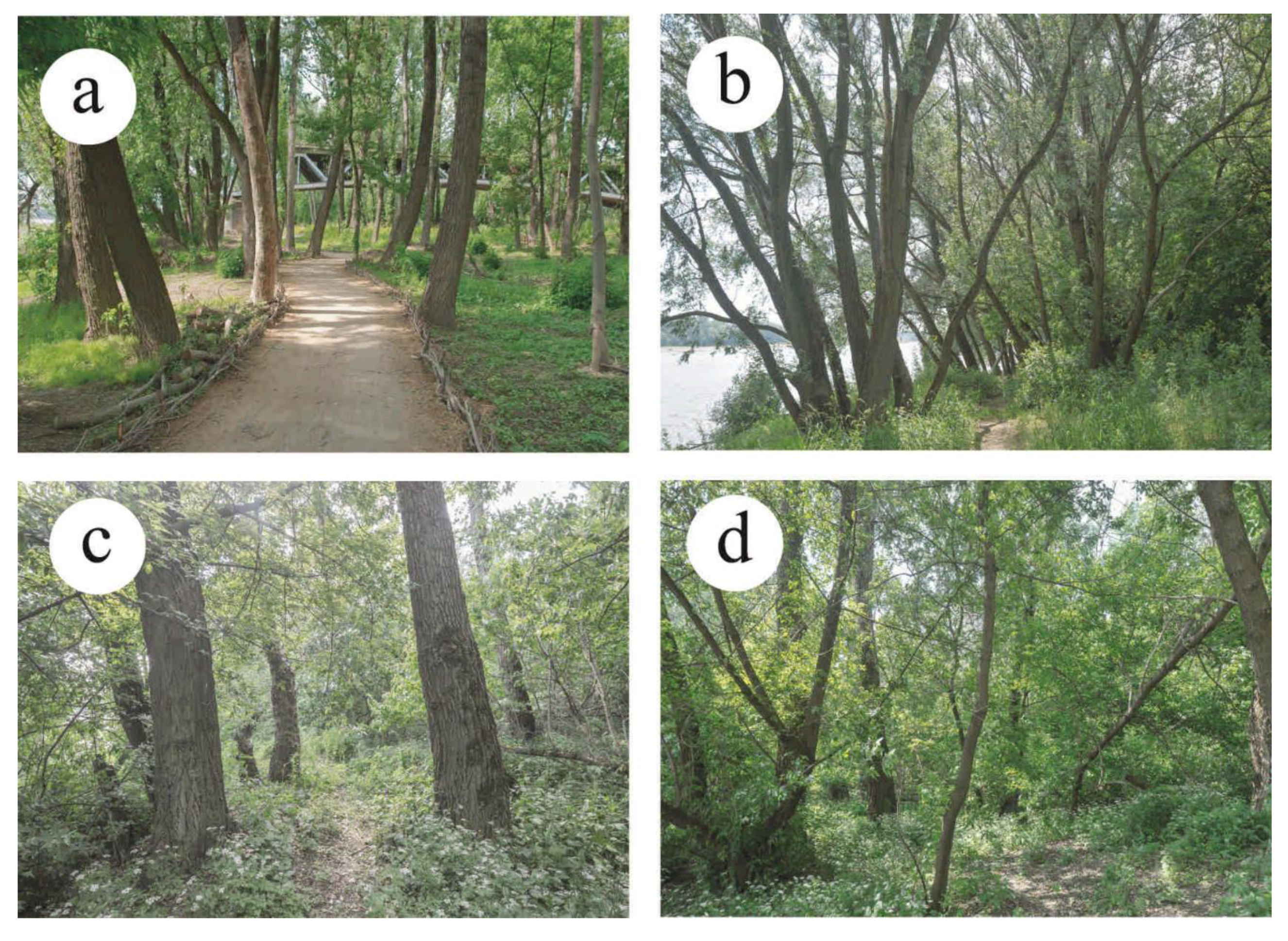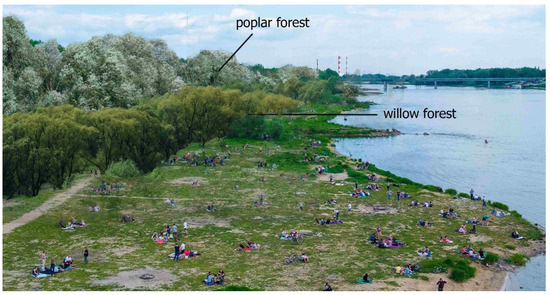 Figure 3. Photograph presenting the investigated riparian habitats—typical willow and poplar forests used for recreation in Warsaw.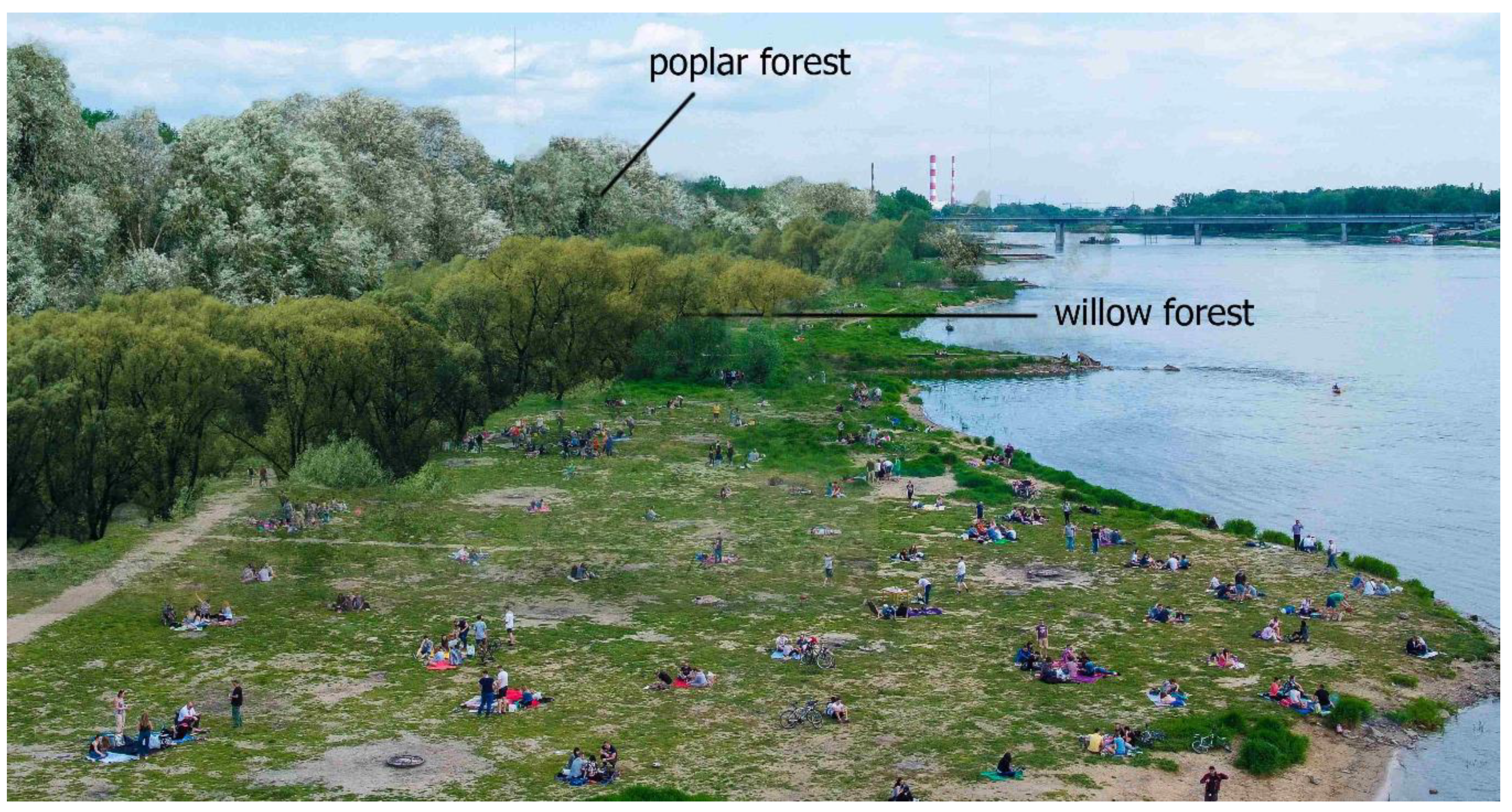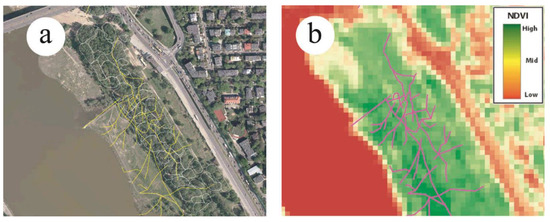 Figure 4. Example of the results of tree stand mapping—white lines represent distinguished homogenous tree patches (a), results of the informal tracks inventory, (b) and NDVI values calculated from SENTINEL.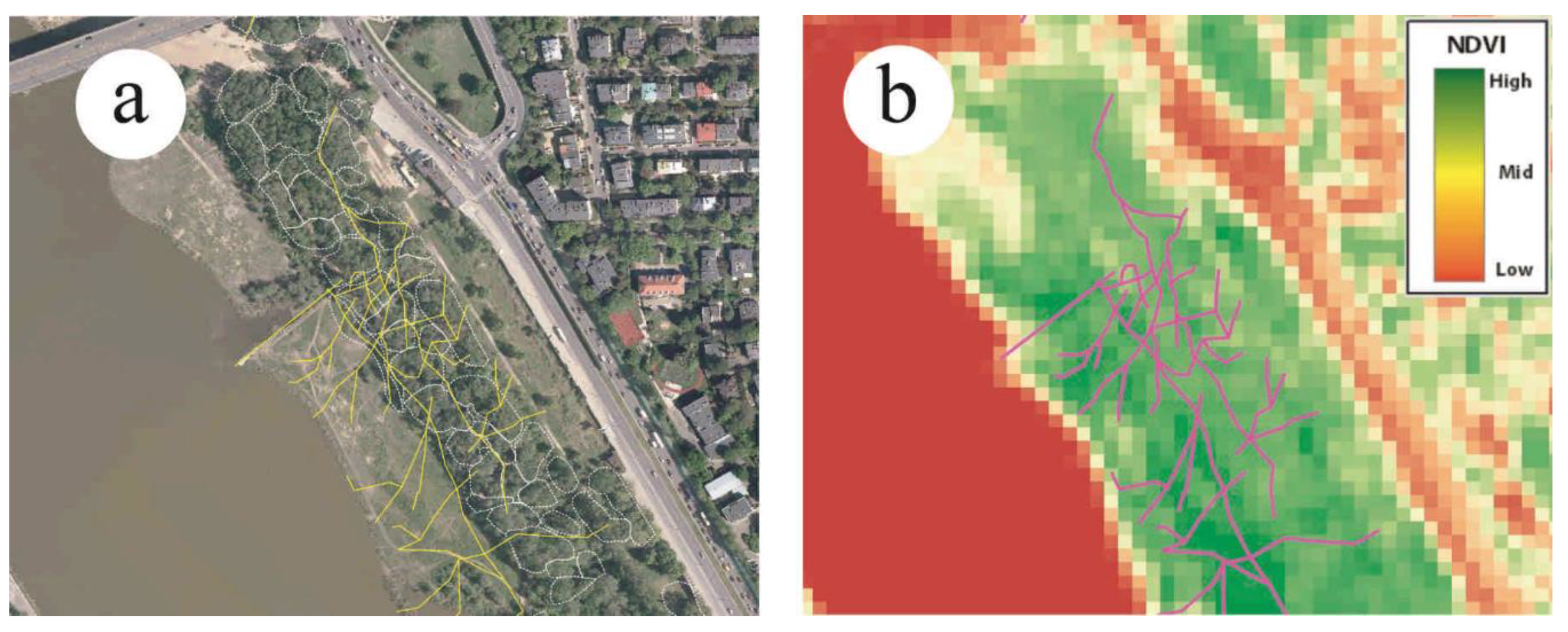 Table 1.
Differences in tree canopy structure, tree density and NDVI values between the willow and poplar forest stand and between the forests stands of different age, differences between the groups using ANOVA and post-hoc Tukey test at
p
< 0.05. Significant values are shown with asterisk, different groups shown using letters a and b.
Number of Trunks per Patch
Total Tree Basal Area [cm2/ha]
Type forest and average age of trees [years]
invasive maples
poplars
willows
invasive maple % in total number of trunks
invasive maples
poplars
willows
invasive maple % in total basal area
NDVI
willow forest
165.0
17.8
162.3
47.8
245.9
877.6
4649.8
4.3
0.55
poplar forest
96.8
163.9
28.3
33.5
157.1
6907.9
836.3
2.0
0.60

p

-value
0.09
<0.01 *
<0.01 *
0.01 *
<0.01 *
<0.01 *
<0.01 *
willow forest
<10
633.1a
3.9a
223.6
73.6
454.5a
79.0a
2606.3a
14.5
0.50a
10–20
150.1b
5.3ab
149.3
49.3
209.9b
164.7a
3898.6ab
4.9
0.52ab
20–30
77.4b
25.3b
160.2
29.4
194.9b
949.9ab
3838.0ab
3.9
0.55ab
>30
102.9b
22.1ab
152.7
37.1
239.4b
1361.6b
6082.1b
3.1
0.57b

p

-value
<0.01 *
0.01 *
0.71
<0.01 *
<0.01 *
0.01 *
0.01 *
poplar forest
<10
240.5a
59.2
30.1a
72.9
309.5a
3402.7
1030.4
6.5
0.59
10–20
200.4ab
125.1
25.1a
57.2
229.0ab
6341.2
524.5
3.2
0.58
20–30
81.4bc
175.3
50.5b
26.5
101.2b
7260.5
1247.7
1.2
0.60
>30
61.8c
177.2
15.7c
24.3
158.0ab
7132.9
664.4
2.0
0.61

p

-value
<0.01 *
0.31
<0.01 *
0.03 *
0.44
0.40
0.72

Table 2.
The relationship between the presence of
A. negundo
and the total vegetation cover at various heights and biodiversity levels, expressed as number of species. Spearman's correlation coefficients. Significant values shown with asterisk at
p
< 0.05.
Average
Standard Deviation
r

p

-Value
Tree layer [%]
53.74
21.99
−0.236
0.13
Shrubs [%]
48.93
23.32
0.708
<0.01 *
Undergrowth [%]
67.95
17.62
−0.495
<0.01 *
Number of species
11.44
3.87
−0.439
<0.01 *

Table 3.
The results of the General Linear Models (GLM) to assess the effect of factors contributing to recreational use of the riparian forests, soil compaction of trails used as a response variable, fixed effects in the models were factors contributing to the forest structure and location which might contribute to the recreational use of informal trails—stand age, average basal area of
A. negundo
, distance to the main path, stand age, NDVI, distance to nearest entrance, distance to the river, number of residents in a 500 m buffer, basal area of all trees, significant values shown with asterisk at
p
< 0.05.
Effect
Willow Forest
Poplar Forest
F

p

F

p

A. negundo

basal area
21.46
<0.01 *
19.37
<0.01 *
distance from the main path
7.59
0.01 *
6.91
0.01 *
stand age
1.46
0.23
0.91
0.34
NDVI
0.00
0.96
0.00
0.96
distance to the nearest entrance
1.99
0.16
0.02
0.31
distance to the river
2.55
0.11
2.70
0.10
number of residents in the 500 m buffer
0.08
0.78
1.12
0.27
all trees basal area
0.00
0.96
0.00
0.98

© 2019 by the authors. Licensee MDPI, Basel, Switzerland. This article is an open access article distributed under the terms and conditions of the Creative Commons Attribution (CC BY) license (http://creativecommons.org/licenses/by/4.0/).