Responses of Microbial Communities and Interaction Networks to Different Management Practices in Tea Plantation Soils
1
College of Plant Protection, Hunan Agricultural University, Changsha 410128, China
2
Horticulture and Landscape College, Hunan Agricultural University, Changsha 410128, China
3
Key Laboratory for Environmental Biotechnology, Research Center for Eco-Environmental Sciences, Chinese Academy of Sciences (CAS), Beijing 100085, China
*
Author to whom correspondence should be addressed.
Sustainability 2019, 11(16), 4428; https://doi.org/10.3390/su11164428 (registering DOI)
Received: 12 July 2019 / Revised: 14 August 2019 / Accepted: 14 August 2019 / Published: 16 August 2019
Abstract
Soil microorganisms play important roles in the plant health and agricultural production. However, little is known about the complex responses of microbial communities and interaction networks to different agricultural management practices in tea plantation soils. In the present study, Illumina Miseq high-throughput sequencing technology and molecular ecological network (MEN) analysis were used to investigate the soil microbial diversity, community structure and composition, interaction networks of organic tea plantation (OTP), non-polluted tea plantation (NPTP) and conventional tea plantation (CTP). Alpha-diversity indices, Chao1 and richness, of OTP soil were significantly higher than those of NPTP and CTP soils. The beta-diversity analysis showed there were significant differences among bacterial community structures of OTP, NPTP and CTP soils. Composition analysis showed that
Proteobacteria
,
Acidobacteria
and
Chloroflexi
were the most dominant bacteria in all tea plantation soil samples under different management practices, and the beneficial community compositions of OTP soil were significantly different from NPTP and CTP soils at the phylum and genus levels. Canonical correspondence analysis (CCA) and mantel test revealed that TOC and NO
3
-N contents as well as pH values were the key soil factors to affect the bacterial community structures of tea plantation soils. Furthermore, network analysis showed that the network of OTP soil possessed more functionally interrelated microbial modules than NPTP and CTP soils, indicating that OTP soil possessed the higher ecosystem multi-functionality. These results provided the theoretical basis and reference for improving soil microbial diversity and enhancing community multi-functionality in tea plantation soil ecosystems through effective agricultural management practices.
View Full-Text
►

▼

Figures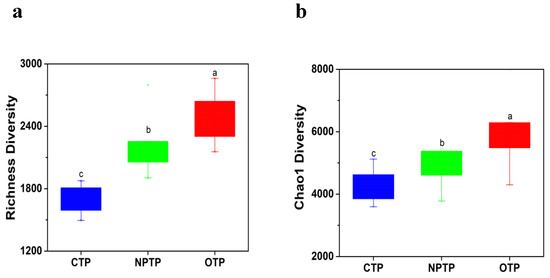 Figure 1
This is an open access article distributed under the
Creative Commons Attribution License
which permits unrestricted use, distribution, and reproduction in any medium, provided the original work is properly cited (CC BY 4.0).
Supplementary materials
Supplementary File 1:

PDF-Document (PDF, 243 KB)

Externally hosted supplementary file 1
Doi: 10.5281/zenodo.3333047
Link: https://zenodo.org/badge/DOI/10.5281/zenodo.3333047.svg
Description: Figure S1: Rarefaction curves of soil bacteria from different tea plantations, Table S1:Dissimilarity test of bacterial community structure in tea plantation soils under different management practices based on Bray-Curtis distance, Table.S2: Relative abundance of dominant phylum in tea plantation soil bacterial community under different management practices, Table S3: The topological properties of networks in microbial communities of tea plantation soils under different management practices.
Share & Cite This Article
MDPI and ACS Style
Tan, L.; Gu, S.; Li, S.; Ren, Z.; Deng, Y.; Liu, Z.; Gong, Z.; Xiao, W.; Hu, Q. Responses of Microbial Communities and Interaction Networks to Different Management Practices in Tea Plantation Soils. Sustainability 2019, 11, 4428.
Note that from the first issue of 2016, MDPI journals use article numbers instead of page numbers. See further details here.
Related Articles
Comments
[Return to top]