Open Access This article is
freely available
re-usable
Article
A Holistic Packaging Efficiency Evaluation Method for Loss Prevention in Fresh Vegetable Cold Chain
1
College of Engineering, China Agricultural University, Beijing 100083, China
2
National Engineering and Technology Research Centre for Preservation of Agricultural Products, Key Laboratory of Storage of Agricultural Products, Ministry of Agriculture and Rural Affairs, Tianjin 300384, China
3
The Doctoral School, "Dunărea de Jos" University of Galati, Domnească Street, 47, RO-800008 Galati, Romania
4
Beijing Laboratory of Food Quality and Safety, Beijing 100083, China
*
Authors to whom correspondence should be addressed.
Received: 23 May 2019 / Accepted: 2 July 2019 / Published: 16 July 2019
Abstract
:
With the continuous push for improving packaging efficiency of current packaging practices to prevent losses in a real cold chain, a holistic evaluation method with improved indicators and a conceptual assessment framework to improve packaging efficiency continuously in a fresh vegetable cold chain was proposed. Based on two fresh leafy vegetables with typical packaging practices in a real cold chain in China, the evaluation method was performed and tested from a macro perspective, and then the packaging efficiency constitution with loss prevention perspective was better visualized. The results show that the method can be used for improving the performance of specific packaging efficiency in the fresh vegetable cold chain and improving the suggestions' sustainability orientation, and systematically summarize their impacts on packaging efficiency; specifically as follows: (1) Since the correlation between the state of fresh vegetables and the environmental stress in the package, the performance of the micro-environment parameters should be given priority for packaging efficiency improvement in loss prevention. (2) Although the use of the packaging materials in current practices was relatively better, it still can improve in food safety and packaging sustainability of the packaging practices through the selection of packaging materials with better sustainability characteristics. (3) Via the visualization of targeted packaging efficiency in cold chain, the fluctuation of loss rates in the cold chain process are well perceived, and there are still room can be performed continuously to realize more efficient packaging for better loss prevention. (4) The method has drawbacks that the optimization of the weights to the given indicators and the indicators based on nutrition and quality of fresh produce was not considered in current research, and it should be strengthened in future research. (5) It is necessary that the perception of differences in targeted packaging efficiency and the consciousness to improve specific packaging efficiency in vegetable cold chain for sustainability.
Keywords:
fresh vegetables; cold chain; efficient packaging practice; loss prevention; sustainability; packaging efficiency evaluation
1. Introduction
The contribution of this article is to propose a comprehensive framework and method for the packaging efficiency evaluation in real cold chain, and test in assessing the packaging efficiency of a current packaging mode for fresh green produce. It also gives some recommendations on the packaging efficiency for vegetable cold chain in practice with respect to sustainability.
3. Results and Discussion
4. Conclusions
The holistic packaging efficiency evaluation method provides improved indicators for the evaluation of packaging efficiency for fresh vegetables in cold chain, and the analysis can continuously promote loss prevention and waste elimination. Besides, the differences between the packages were confirmed. The main factors affecting packaging efficiency are micro-environmental fluctuations, characteristics of packaging materials used, and actual loss prevention effects, which were interrelated in the case of vegetable packaging practice in cold chains in China. Thus, it is a feasible and sustainable evaluation approach to measure subtle packaging differences in refrigerated containers, and this approach can be used for continuous improvement of the fresh vegetables packaging practices.
For current packaging practice mentioned, these improved indicators indeed provide a path for better environmental performance and cleaner production. It is significant to re-examine the current packaging practices towards more efficient packaging from a more comprehensive and loss-prevention-oriented perspective for cleaner production. It also has proven to be a promising methodology with demonstrated advantages in visualization of the improved indicators. Taking the packaging method in practice, ongoing efficiency improvement is better for loss prevention in cold chains, especially in China. In addition, it also confirms that efficient packaging practices can effectively facilitate loss prevention in real cold chains.
The performance analysis of packaging efficiency evaluation showed that it can be used for guiding, further loss prevention and the extended awareness of related operators for efficient packaging practices. The targeted-awareness and continuous improvement for specific packaging efficiency has positive significance for continuous loss prevention in real cold chains. Besides, the nuances between different packaging efficiencies were underestimated, and differentiation management can further add to the value of fresh vegetables in cold chains. Therefore, insights into consciousness of improving specific packaging efficiencies are necessary. Variety-targeted packaging design and efficient packaging practices originating from different operational stages can facilitate the continuous improvement of loss prevention in fresh vegetable cold chains. Speaking differently, they will guarantee safety and green supply processes to achieve sustainable cold chain, with better perception among losses, costs, and environmental protection.
In line with the aim to facilitate statistical analysis and improve the effectiveness of the results, future research should be supported by more data. Therefore, the data acquisition method and the data quality for modeling should be enhanced. Although from a more comprehensive perspective, the selection and quantification of evaluation parameters are not well-designed. The instrument-measured quality index and nutritional indicators of fresh produce are not considered in the manuscript. Therefore, it should be enhanced in next research. Besides, the optimization of weights to given parameters should be conducted. After that, the analysis of the packaging efficiency evaluation and its relationships with real chain should be further enhanced. Last but not least, as an approximate calculation method for ongoing packaging efficiency improvement, recommendations for targeted packaging efficiency and visualization effect of packaging efficiency need to be revised and validated by more tests and used for other fresh produce.
Author Contributions
Conceptualization, J.W. and X.Z.; Methodology, J.W.; Validation, J.W., Z.Z. and J.H.; Investigation, J.W. and Z.Z.; Data curation, J.W.; Writing—original draft preparation, J.W.; Writing—review and editing, L.M., J.H. and X.Z.; Supervision, J.H. and X.Z.; Project administration, X.Z.; Funding acquisition, X.Z.
Funding
This research was funded by Key Laboratory of Storage of Agro-products, Ministry of Agriculture, grant number KF2018004; Tianjin Municipal Natural Science Foundation for Young Scholar, grant number 16JCQNJC14800; and Beijing Innovation Consortium of Agriculture Research System, grant number BAIC07-2017.
Acknowledgments
This research was supported by Key Laboratory of Storage of Agro-products, Ministry of Agriculture (KF2018004), Tianjin Municipal Natural Science Foundation for Young Scholar (16JCQNJC14800), and Beijing Innovation Consortium of Agriculture Research System (BAIC07-2017).
Conflicts of Interest
The authors declare that they have no conflicts of interest.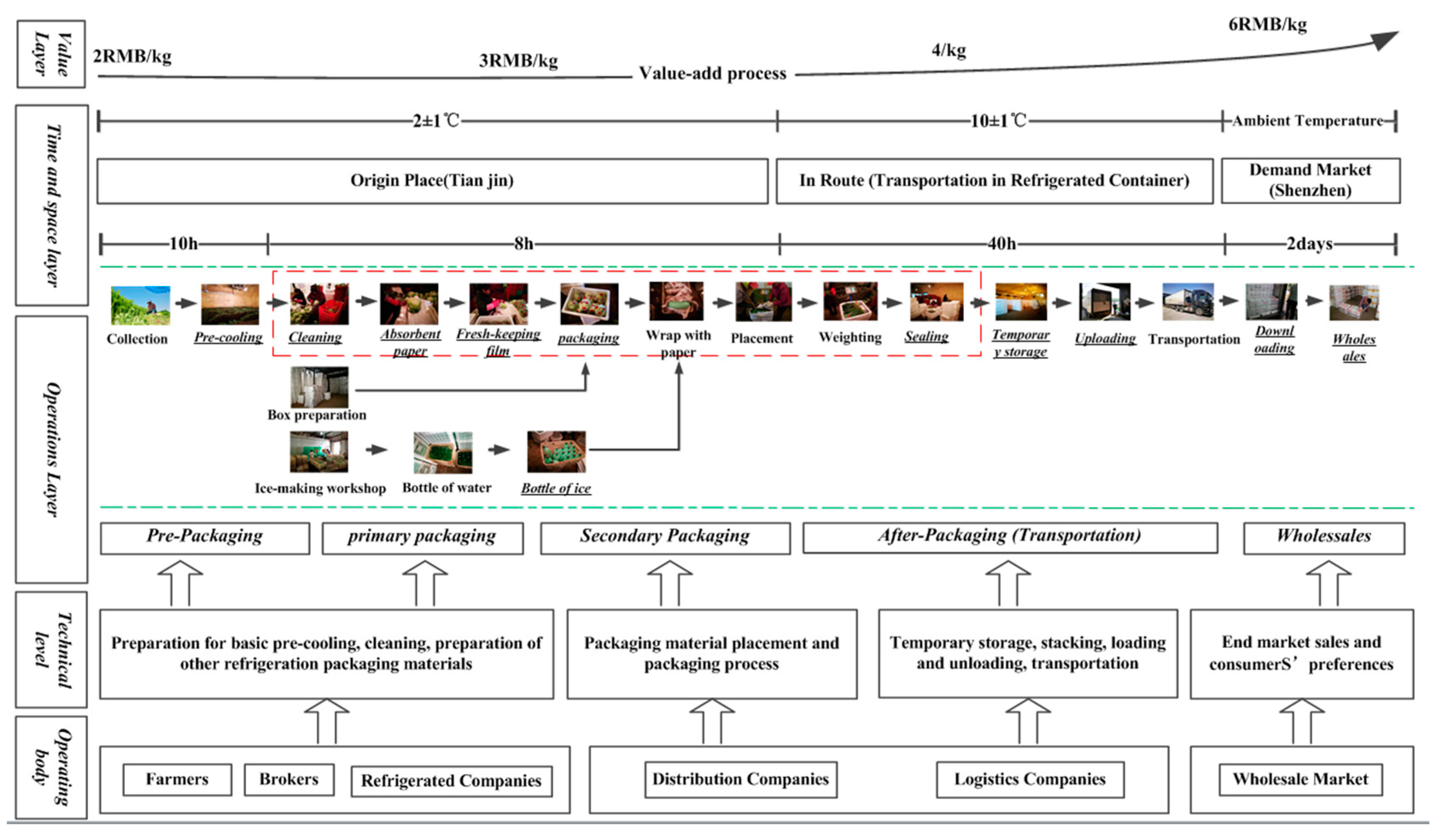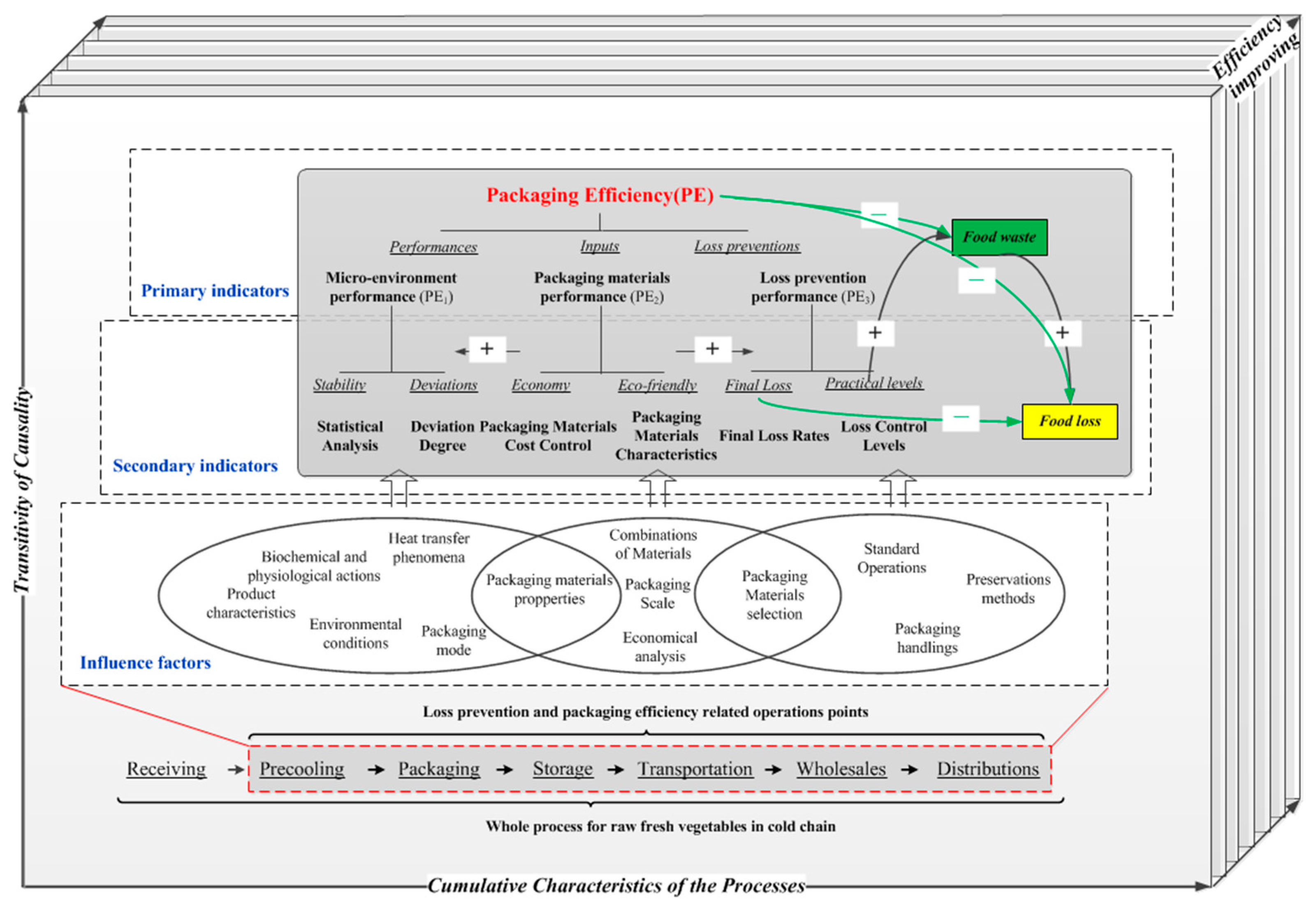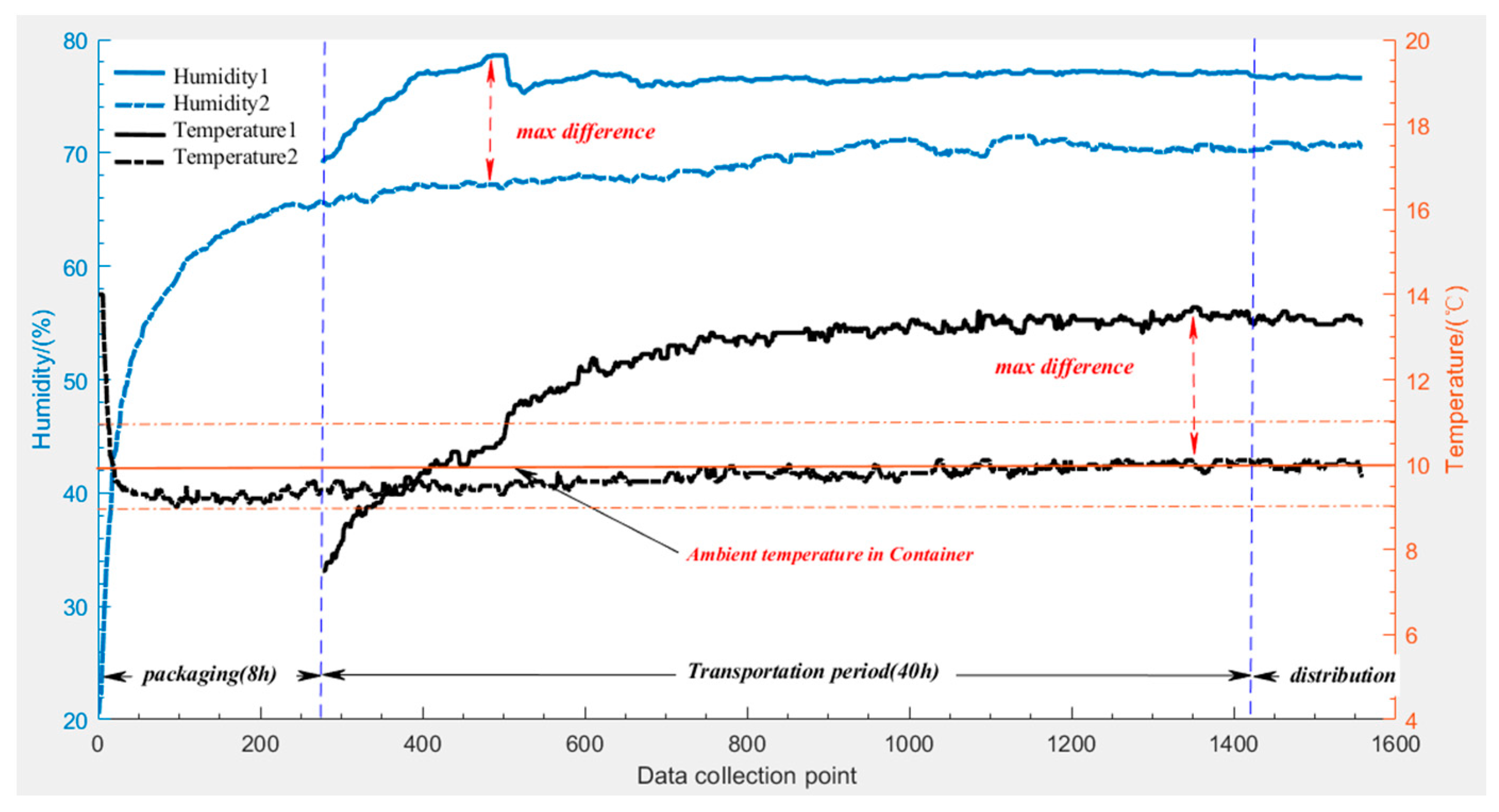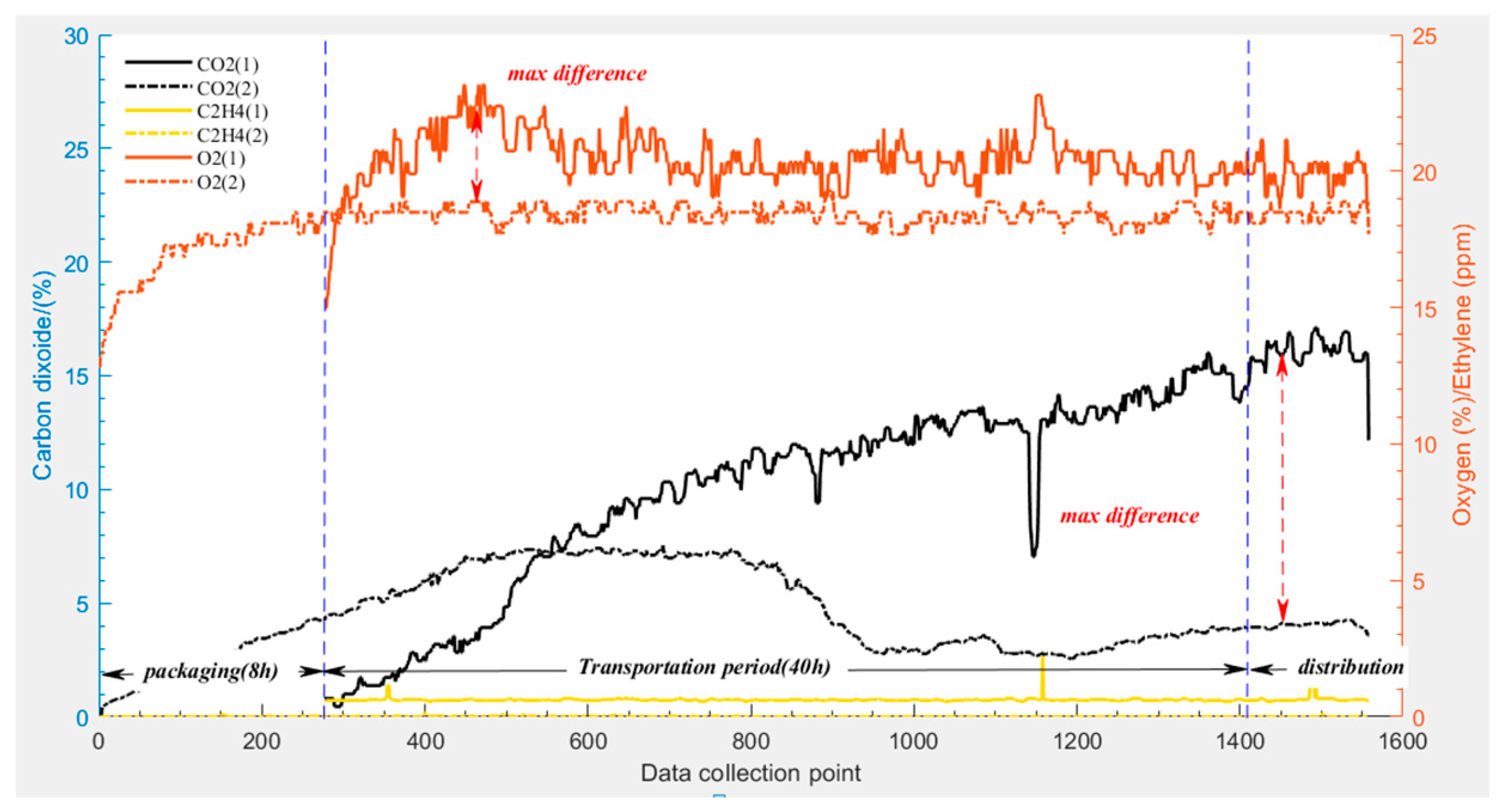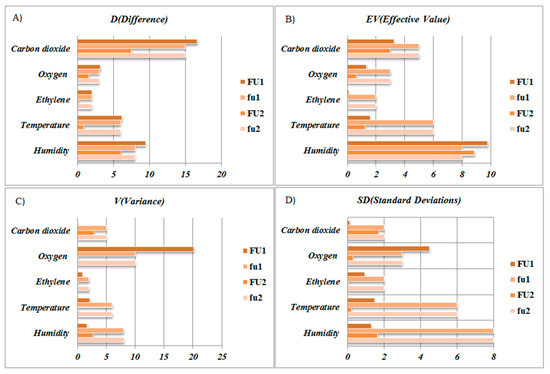 Figure 6. Evaluation of five monitored microenvironment parameters in packaging between two FUs: (A) Differences (D); (B) Effective value (EV); (C) Variances (V); (D) Standard deviations (SD). Among them, the values corresponding to fu1 and fu2 refer to the pre-set acceptable thresholds for the two packaged vegetables' performances. In order to align the differences, the same thresholds were chosen without considering the difference between vegetables varieties.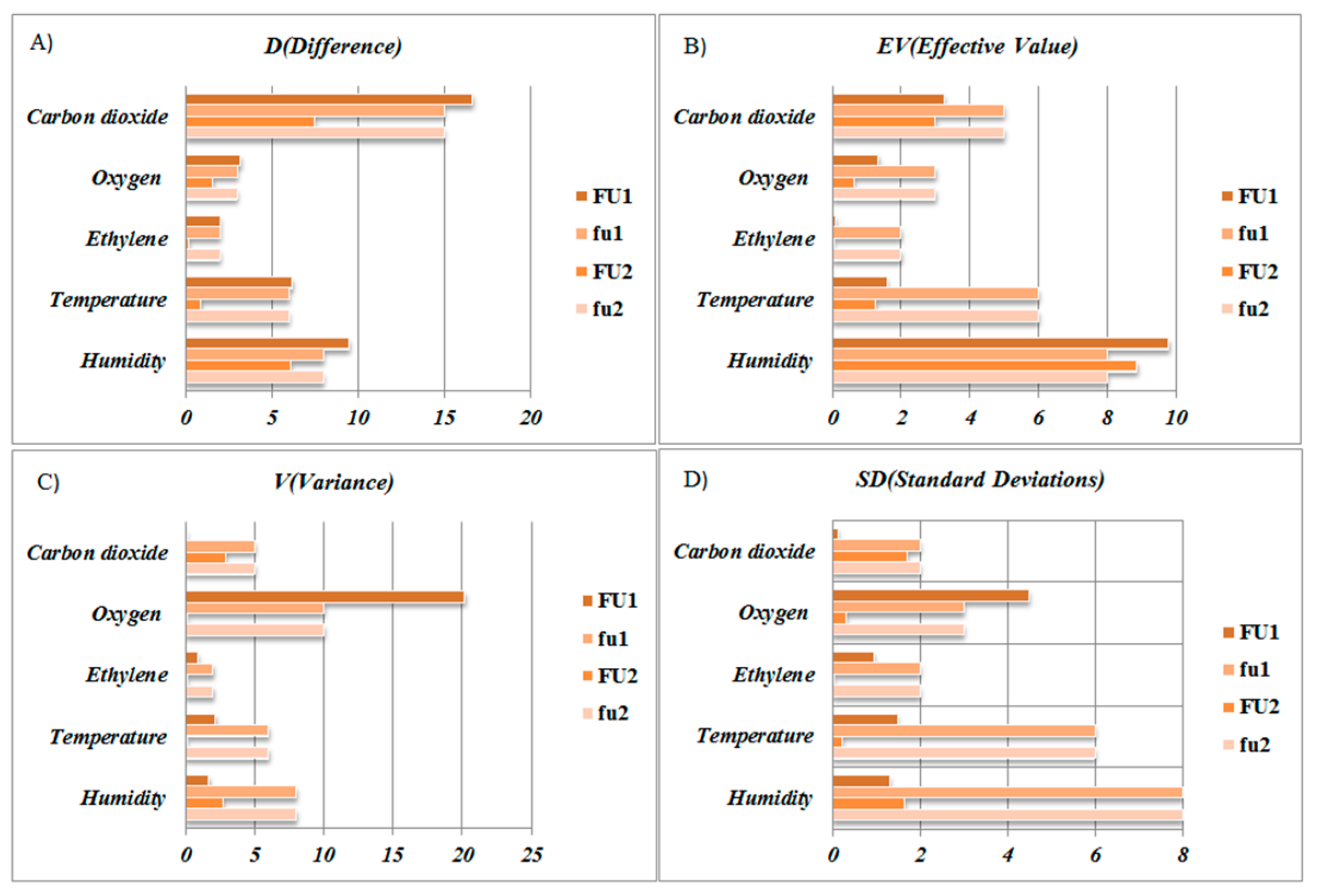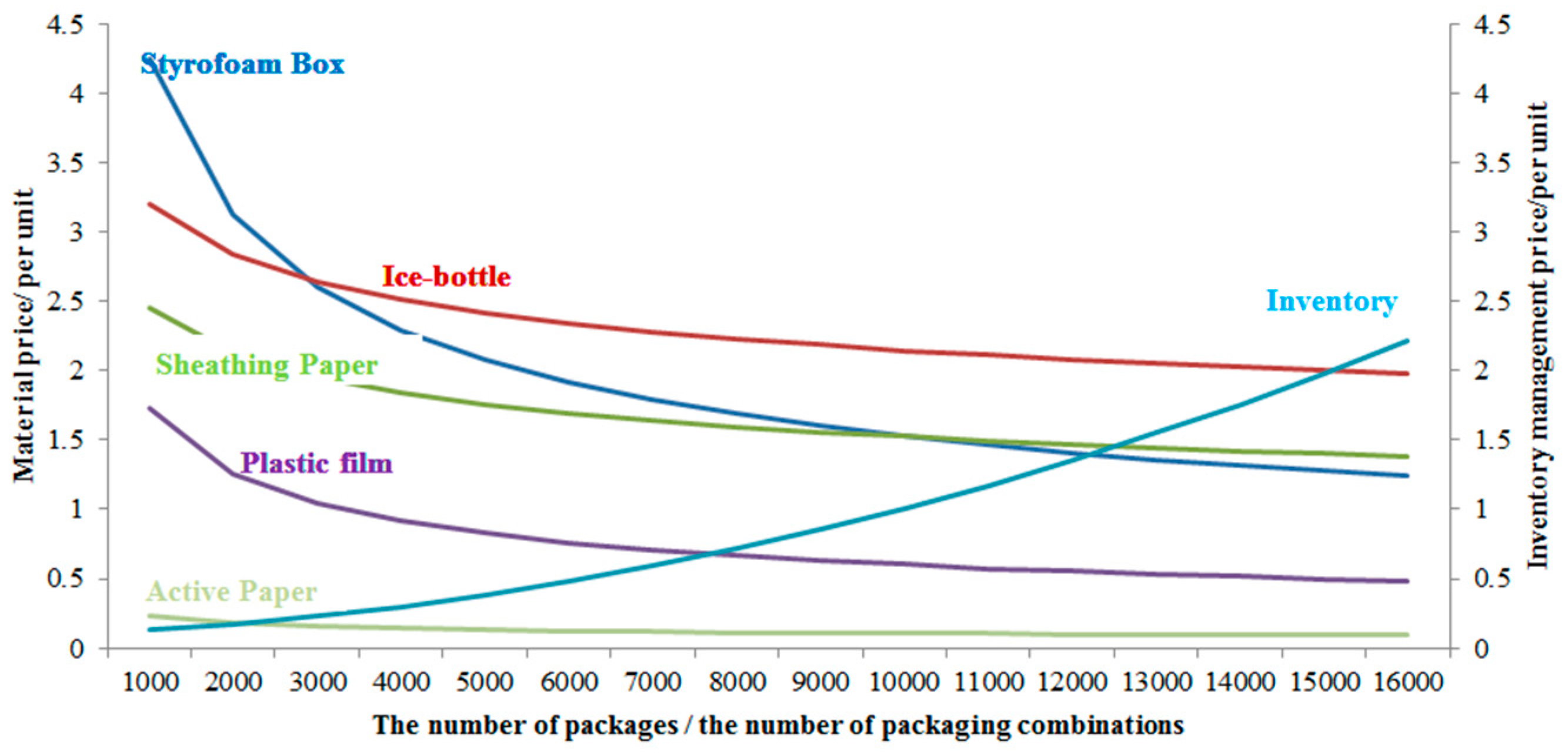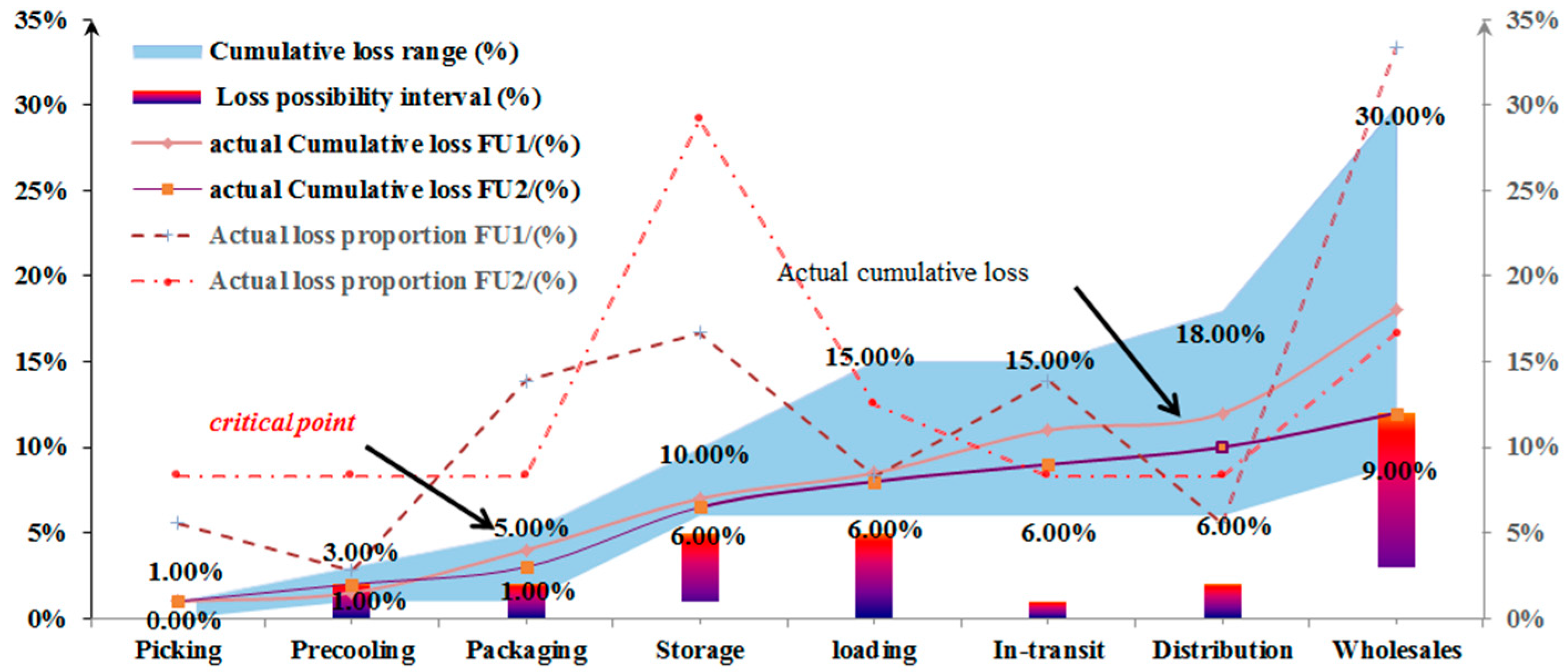 Varieties
Key Packaging Materials
Gross Weight
(kg/per unit)
Net Weight
(kg/per unit)
Experiment No.

Spinach

1 Styrofoam box, 2 ice bottles, papers a, 1 plastic film b
20.00
17.00
FU1

Chinese Parsley

1 Styrofoam box, 2 ice bottles, papers, 1 plastic film
19.00
16.00
FU2
Note: (a) Used as an active paper/hydroscopic paper (unused newspaper here for control costs); (b) Preservative film (PE, 50 µm, customized by the company).
| Parameter Characteristic | Sensor Type | Measure Range | Accuracy | Resolution | Response Time | Current |
| --- | --- | --- | --- | --- | --- | --- |
| Temperature | DHT22 | −20–100 °C | ±0.5 °C | 0.1 °C | <20 s | <2.5 mA |
| Humidity | DHT22 | 0–100% | 2% FS | 0.1% | <5 s | <2.5 mA |
| Oxygen | AJD-L-O2 | 15–25% vol | ±2% FS | 0.25% | <5 s | <15 mA |
| Carbon Dioxide | AJD-L-CO2 | 0–25% vol | ±2%FS | 0.01% vol | T90 < 15 s | <15 mA |
| Ethylene | AJD-L-C2H4 | 0–5 ppm | ±2% FS | 0.01 ppm | <5 s | <15 mA |

Table 3. Properties of key packaging materials used for practical packaging in the reference cold chain.
| Materials a | Original Price (CNY) | Material Life-Time | Recycling Feasibility | Recycling Cycles | Safety of Reuse | Difficulty for Reuse | Impact Degrees | Weights/δi |
| --- | --- | --- | --- | --- | --- | --- | --- | --- |
| Styrofoam Box | 5/per | Long | High | More | High | Easy | 1 | 0.3 |
| Ice-Bottle | 3/per | Long | High | More | High | Easy | 1 | 0.3 |
| Plastic Film | 5/kg | Middle | Low | Less | Low | Hard | 2 | 0.2 |
| Sheathing Paper | 2/kg | Short | Low | Less | Low | Middle | 3 | 0.1 |
| Active Paper | 4/kg | Short | Low | Less | Low | Hard | 3 | 0.1 |
a Reference to analytical dimensions of material properties by Geueke et al. (2018).
ID
Content
Before Implementation
After Implementation
Performance
Effects
Performance
Effects
1
Efficiency Evaluation Dimension
Unilateral
Limited
Comprehensive
Easy to control
2
Efficiency Integrity
Partly
Limited
Enhanced
Totality
3
Aim of Improved Advice
Poor pertinence
Ill-operational
Enhanced
Targeted
4
Visualization of Efficiency
Invisibility
Ill process control
Enhanced
Easy to comprehension
5
Microenvironment Efficiency
-
-
Holistic
Loss prevention
6
Packaging Material Efficiency
-
-
Holistic
Waste elimination
7
Loss Prevention Efficiency
-
-
Holistic
Loss prevention
"-" indicates there is no information.

Table 5. Causes of losses, packaging efficiency types involved, and suggestions for efficient packaging and loss prevention after evaluation.
| Operations | Descriptions | Related Packaging Practices | Main Causes for Losses | Involved Efficiency Types | Suggestions |
| --- | --- | --- | --- | --- | --- |
| Receiving | Picked and receiving when at commercial matured | In ambient environment | Mechanical damage, cross contamination | PE3 | Standardize operating procedures and disinfection work |
| Precooling | Release the heat by the metabolic and ambient condition in the cold storage | In cold storage at low temperature | Ill-temperature treatment, chilling injury | PE3 | Control of precooling process and critical temperature point |
| Packaging | Primary packaging and secondary packaging with cardboard and plastic trays | In open environment and continuous process | Cleaning, pruning, selection and classification | PE2, PE3 | Trade-offs of the packaging design for improving packaging efficiency |
| Storage | Storage in cold chamber | Stored at 2 °C and 90% or higher relative humidity | Accelerated biochemical and physiological actions caused by environmental compromise | PE1, PE2, PE3 | Strengthen the package and improve storage conditions |
| Loading | Loaded to the refrigerated container and unloaded for wholesales | About 2 h or less | Mechanical damage, vibration, temperature abuse | PE1, PE2, PE3 | Improve the packaging's resistance to mechanical damages |
| In transit | Transported to the end markets through the refrigeration container | Transported at 10 °C or so for about 40 h | Decay cause by biochemical and physiological actions, bacterial and diseases | PE1, PE2, PE3 | Reduce units' differences and enhance microenvironment stability |
| Distribution | Sales in the wholesale market | Wholesaled at ambient environment | Post-harvest and after-ripening loss | PE1, PE2, PE3 | Strengthened package, stockpile planning, and precautions |
| Wholesale | Process to the final consumers | Lasting for several day in ambient environment | Low purchase intention caused by short remaining life-time and bad sensory quality | PE1, PE2, PE3 | Increase acceptance by improving packaging and packaging efficiency |

© 2019 by the authors. Licensee MDPI, Basel, Switzerland. This article is an open access article distributed under the terms and conditions of the Creative Commons Attribution (CC BY) license (http://creativecommons.org/licenses/by/4.0/).