Open Access This article is
freely available
re-usable
Article
Toward Sustainable Virtualized Healthcare: Extracting Medical Entities from Chinese Online Health Consultations Using Deep Neural Networks
School of Management and Economics, Beijing Institute of Technology, Beijing 100081, China
*
Author to whom correspondence should be addressed.
Received: 29 August 2018 / Accepted: 12 September 2018 / Published: 14 September 2018
Abstract
:
Increasingly popular virtualized healthcare services such as online health consultations have significantly changed the way in which health information is sought, and can alleviate geographic barriers, time constraints, and medical resource shortage problems. These online patient–doctor communications have been generating abundant amounts of healthcare-related data. Medical entity extraction from these data is the foundation of medical knowledge discovery, including disease surveillance and adverse drug reaction detection, which can potentially enhance the sustainability of healthcare. Previous studies that focus on health-related entity extraction have certain limitations such as demanding tough handcrafted feature engineering, failing to extract out-of-vocabulary entities, and being unsuitable for the Chinese social media context. Motivated by these observations, this study proposes a novel model named CNMER (Chinese Medical Entity Recognition) using deep neural networks for medical entity recognition in Chinese online health consultations. The designed model utilizes Bidirectional Long Short-Term Memory and Conditional Random Fields as the basic architecture, and uses character embedding and context word embedding to automatically learn effective features to recognize and classify medical-related entities. Exploiting the consultation text collected from a prevalent online health community in China, the evaluation results indicate that the proposed method significantly outperforms the related state-of-the-art models that focus on the Chinese medical entity recognition task. We expect that our model can contribute to the sustainable development of the virtualized healthcare industry.
Keywords:
medical entity extraction; deep neural networks; online health consultations; conditional random fields; virtualized healthcare; long short-term memory
2. Method
This study proposes a novel DNN-based model named CNMER (Chinese Medical Entity Recognition) to extract medical entities from Chinese OHCs.
Figure 1
depicts an overview of our approach. After data collection, preprocessing was performed, and a subset of the processed data was randomly selected for data annotation. The remaining unlabeled dataset was utilized as the text corpus for unsupervised training on the domain word and character embeddings. With the part-of-speech (POS) feature and position feature, the trained embeddings were then used to formulate the character representation as the input for the BiLSTM-CRF.
As shown in
Figure 2
, the BiLSTM-CRF architecture consists of an embedding layer, a BiLSTM layer, and a CRF layer. The embedding layer maps each character in a sentence using the predefined numerical representation vector. The BiLSTM layer includes forward LSTM and backward LSTM, and takes the representation vectors of the character sequence as input and returns another sequence by considering both left and right context information. The CRF layer makes final tagging decisions based on the output of the BiLSTM layer using the CRF model.
2.1. Data Preprocessing and Annotation
The communications between physicians and patients in OHCs generate abundant health-related text. In this study, we exploited the online consultation text as the data resource. First, data preprocessing was performed to remove irrelevant contents such as private information, html tags, and other invalid characters. We also filtered out the consultations that were shorter than five characters. Unlike English text, words are not separated by blank spaces in Chinese sentences; thus, word segmentation was conducted to split each word in a sentence. We utilized Jieba, an open source NLP application in the Python language to segment sentences into words and perform POS tagging, for which a total of 40 types of POS tags were predefined. In this study, we employed Chinese Unified Medical Language System (CUMLS) [
37
], a repository of biomedical terminologies developed by Chinese Academy of Medical Sciences to help improve the performance of Chinese word segmentation for the health-related corpus. CUMLS integrates more than ten biomedical sources such as biomedical thesauri, classifications, and text words of biomedical literature. Specifically, CUMLS includes 100,000 medical terms. Using CUMLS as the supplementary dictionary, terms in consultations that are matched with the repository can be extracted and segmented as a single word automatically.
After data preprocessing, we randomly selected a small subset from the obtained corpus as the source of data annotation. An annotation protocol was developed before annotation. To obtain the annotation dataset, two expert annotators were recruited to independently label the entity boundaries and types in sentences. Another expert annotator was asked to check any disagreements and make the final judgement. In this study, we labeled entities using the "BIO" tagging formalism, where the "B" category represents the beginning of an entity, the "I" category represents the continuity of an entity, and "O" denotes all other characters. As an illustration, for a medical problem entity which consists of four characters in total, namely , the annotators are supposed to tag the character sequence as "B-prob, I-prob, I-prob, I-prob".
2.3. BiLSTM Layer
A typical neural network contains a set of input units, multiple hidden layers that contain hidden units, a set of output units that stands for tags, and the connections between those units [
43
]. The model is trained using an algorithm named "back-propagation" to adjust the weights of connections between units, so that any input tends to generate the corresponding output. The relationship between inputs and outputs that a neural network learns can be regarded as a mapping, and neural networks with multiple hidden layers are believed to be good at learning mappings.
Deep neural networks are neural networks with a large number of hidden layers. A deep neural network system is usually regarded as a classification system that decides what category (e.g., entity type) a given input (e.g., word) is mapped to. Theoretically, given infinite data, a deep learning system is capable of representing any deterministic mapping for any given inputs and corresponding outputs [
43
]. However, due to the finite amount of data available in real-world applications, deep learning systems have to generalize beyond the training data.
Compared with human beings, deep learning systems lack the ability to learn abstractions from explicit and verbal definitions. Instead, they rely on the large amount of training examples to learn these rules. In the context of entity recognition, given the definition of a medical entity, humans can easily tell whether a word is a medical entity and what type the entity is. However, deep learning models have to learn this "definition" through large numbers of annotated examples. In a DNN, the final tagging result of a given input character in terms of medical recognition depends on many features, such as the POS information, the positional information, and the context words. The hidden layers in a DNN are considered as complex feature transformations in the networks and produce the most abstract features for the final output layer; this is a critical process in learning the implicit rules embedded in the training set.
The RNN is an extension of the traditional feedforward neural network, and can handle variable-length input sequences. An RNN contains a recurrent hidden state, and the activation of the hidden state depends on that of the previous time. Nevertheless, RNNs fail to capture long-term dependencies as the gradient tends to either vanish or explode during training.
The LSTM is a special kind of RNN that is designed to avoid the long-term dependency issue by joining with a gated memory cell [
44
]. Typically, an LSTM unit consists of an input gate , an output gate , a forget gate , a memory cell , and a hidden state . The LSTM incorporates these structures called gates to optionally remove or add information; they contain a sigmoid neural net layer and a pointwise multiplication operation. The sigmoid layer outputs values between 0 and 1 to indicate how much of each component should be reserved, in which a value of 0 denotes "let nothing through" and 1 denotes "let everything through". The LSTM computes the output by iterating the following equations:
where means the sigmoid function; denotes pointwise multiplication; , , , and (with subscripts , , and ) are the weight matrices for input , hidden state , memory cell , and output , respectively; and , , , and denote the bias vectors. The BiLSTM is composed of a forward LSTM and a backward LSTM to capture both past and future information, which are two separated networks with different parameters.
The entity extraction task can be modeled by deep learning methods as a sequence labeling task. In OHCs, there are many long sentences in patient-contributed content, and the semantic meaning of a focused character can be shaped by the characters before and after it over a long distance. In the text sequence of online consultations, users report their health conditions in detail and the mentions of each medical entity could rely on long-distance information in the text. Based on these intuitions, we utilized BiLSTM to extract medical named entities, as BiLSTM can learn long-distance dependencies and the bidirectional information of a character at the same time.
2.4. CRF Layer
When it comes to the context of entity recognition in text, it is always beneficial to consider the correlations between the sequential labels as there are many tagging constraints in natural language sentences. However, the widely used Softmax method predicts the final labels independently, and using Softmax as the top inference layer to extract medical entities will probably break these constraints.
CRF is the most successful model that can control the structure prediction of tagging results. Therefore, CRF was employed to predict the final label sequence in the proposed model. CRF is a probabilistic framework and is usually adopted for sequential data including text [
45
]. The basic idea of CRF is to use a series of potential functions to estimate the conditional probability of the output label sequence given the input sequence. More specifically, CRF uses an undirected graphical model to calculate the conditional probability of a label sequence given an input sequence , where denotes the parameters in the model. denotes the feature vector and is the cumulative sum of over all the possible :
The model is trained over a given training set , by maximizing the conditional likelihood:
For the input sequence and the trained parameters , the final prediction of a trained CRF is the label sequence that maximizes the model:
CRF predicts the optimal sequence of labels using a Viterbi algorithm for the input sequence. In our model, the final output of the entity recognition task imposes several hard constraints; for example, "I-cure" cannot follow "B-prob". The CRF layer considers the interactions between successive labels and can automatically learn these constraints from training data to ensure the validity of the final entity tagging results.
3. Evaluation
3.1. Datasets
The dataset used in the experiment was collected from the Good Doctor website (
www.haodf.com
). Established in 2006, the Good Doctor website is one of the largest online patient–doctor communication platforms. The platform enables patients to consult physicians about their health-related concerns by providing personal healthcare information in the manner of online posts, by telephone, and even by teleconference. Currently there are over 180,000 certificated doctors registered on the platform providing professional medical consultation services, attracting around 10,000 online health consultations from patients or their caregivers every day. In online health consultations, patients provide their basic health conditions and ask questions to physicians. A sample of an online health consultation on the Good Doctor website is provided in
Figure 4
. In the section "condition description" of medical consultations, patients describe their medical information such as symptoms, medical testing, treatment, medicine, cause of disease, and family medical history, which contains abundant health-related concepts. Therefore, we select the "condition description" sector of medical consultations as our entity tagging target.
We collected the "condition description" section of consultations that were posted on the Good Doctor platform from 1 January 2014 to 30 April 2017 using a crawler programmed in Python. After data preprocessing, we finally obtained around 8.6 million unlabeled medical consultations across all departments from the Good Doctor website for embedding training. After training using word2vec based on the collected consultation text corpus, we finally obtained 852,497 unique words and 10,336 unique characters in the word embedding table and the character embedding table, respectively. We collected another medical consultation dataset from the oncology departments of the Good Doctor website of consultations that were posted in May 2017 for manual annotation. Each selected consultation contains at least one medical-related entity and should be longer than 20 characters. The consultations in the oncology department were selected for evaluation in this study as cancer is one of the leading causes of morbidity and mortality worldwide [
46
]. After data annotation, we obtained 536 labeled medical consultations as our final annotated dataset. The Cohen's kappa value for inter-annotator reliability is 0.96, which indicates a near-perfect agreement [
47
]. The statistics of the annotated dataset are shown in
Table 1
. The collected consultation datasets and trained word and character embeddings were deposited in Harvard's Dataverse [
48
].
3.2. Metrics
In this study, precision (P), recall (R), and F-measure (F) were adopted as the performance evaluation metrics. More specifically, precision represents the portion of entities that are correctly recognized, while recall denotes the portion of correctly recognized entities among all correct entities; indicating the overall performance of precision and recall, the F-measure is calculated as the harmonic average of precision and recall. The values of precision, recall, and F-measure are all real values between 0 and 1, with higher values indicating better performance.
3.3. Baseline Models
To evaluate the performance of our proposed approach on medical entity recognition in Chinese OHCs, we assessed our model against the following baseline systems: a CRF-based model that uses words as tag units [
49
], a CRF model that uses characters as tag units [
50
], and a DNN-based model using Character–Word Mixed Embedding (CWME) [
32
]. The reasons for selecting those three works as the baseline models in this study are as follows. First, the CRF-based methods have been widely adopted in sequence labeling problems such as POS and word segmentation, and have achieved promising performance in entity extraction tasks [
31
]. Second, the CWME method is also based on DNN and focuses on the Chinese social media context; it has been reported to perform well in entity extraction. Third, the first baseline model uses words as the basic tagging unit [
49
], while the second baseline model uses characters as the basic tagging unit [
50
]. We chose these two baseline models to evaluate the impact of recognition granularity on the performance of entity extraction, which has not been fully investigated in the context of Chinese health-related social media.
3.4. Model Settings
A 10-fold cross-validation procedure was utilized to run our proposed model and the baseline methods. The annotated dataset was split into three parts: six folds for training, two for validation, and the remaining two for testing. We tested the CRF baseline methods using the same additional features that were incorporated into our proposed model to establish fair comparisons. In this study, we utilized an open source tool named CRF++ to construct the CRF baseline models as it is fast and customizable [
51
]. TensorFlow was utilized to construct DNN-based models [
52
], and the adapted codes were uploaded and made available in an open repository [
53
]. We selected Adam, an optimization algorithm that can be used to update network weights iteratively based on training data, to update the parameters [
54
]. To avoid overfitting, the hidden layer size was set to 150 [
55
]. The initial learning rate was set to 0.001 and the dropout rate was set to 0.1. During model training, the predefined character embeddings were fine-tuned based on the training data [
35
]. To achieve better results, the hyperparameters were tuned based on the performance for different combinations of hyperparameter values using the validation dataset.
4. Results
4.1. Evaluation Results
Based on the results from the 10-fold cross-validation, a general performance comparison of the proposed model with the baseline models across different medical entity types is presented in
Table 2
. As shown in
Table 2
, based on our experimental data, we observe that our proposed method attained considerably higher recall and a better F-measure in general, while attaining relatively lower precision for most entity types compared with the CRF-based baseline models. In general, our model obtained 7.36% improvement over the word-based CRF model, and 2.31% improvement over the character-based CRF model in terms of overall F-measure. In general, our model attained better overall performance in terms of precision, recall, and F-measure over the CWME approach. For the two CRF baseline models, the character-based method generated a substantially better overall performance over the word-based method.
From the perspective of different entity types, the DNN-based models achieved moderately lower performance in terms of precision compared with the CRF-based models across almost all entity types. In contrast, the DNN-based models substantially outperformed the CRF-based models in terms of recall for all three entity types. We notice that CNMER obtained a relatively higher recall than CWME for the entity types of medical problems and treatment. The character-based CRF model extensively outperformed the word-based CRF model in terms of recall for all entity types. For the F-measure, we observe that CNMER achieved better performance over the other three baseline models for the entity types of medical problems and treatment.
For further explanation, a
t
-test was conducted on the 10 general results of the 10-fold cross-validation. Based on our experimental datasets, the evaluation results indicate that the recall of our model (mean = 68.96%) is significantly higher than those of CRF_W (mean = 55.42%) (t = −24.485,
p
< 0.01), CRF_C (mean = 62.43%) (t = −12.297,
p
< 0.01), and CWME (mean = 67.65%) (t = −2.745,
p
< 0.05). In terms of F-measure, our model (mean = 68.43%) statistically outperforms CRF_W (mean = 61.07%) (t = −16.241,
p
< 0.01), CRF_C (mean = 66.12%) (t = −6.369,
p
< 0.01), and CWME (mean = 67.31%) (t = −2.983,
p
< 0.05).
To further evaluate the contribution of the predefined character representation, we conducted a comparison of the proposed models over different character representations. As shown in
Table 3
, CNMER generally outperforms the models that use "Random" or "CW" as the character representation, where "CW" denotes the model that uses concatenated character and context word embedding as the character representation. The
t
-test results also indicate that CNMER substantially outperforms "Random" in terms of precision (t = −6.265,
p
< 0.01), recall (t = −9.352,
p
< 0.01), and F-measure (t = −9.821,
p
< 0.01). Meanwhile, CNMER outperforms "CW" in terms of precision (t = −2.596,
p
< 0.05) and F-measure (t = −4.720,
p
< 0.01).
4.2. Extracted Medical Entities
Our proposed model tags each single character instead of segmented words to recognize medical entities, and the representation of each character is designed according to the uniqueness of Chinese health-related social media. Using CNMER, we can effectively extract medical-related entities including medical problems, tests, and treatment from the informal text of Chinese social media.
Table 4
presents some examples of the extracted medical entities from the Good Doctor website. Some of those entities are colloquial such as "Face is itching" and "There is a malignant tumor in the left lung". There are even extracted entities that are misspellings in Chinese such as "Hilar mediastinal lymph node metastasis". However, these entities are rarely recognized and classified correctly by existing related models. The informal medical entities are quite common in Chinese social media, yet they are rare in medical dictionaries and it is tough to manually capture their unique features, making it challenging for most existing models.
5. Discussion
In spite of the comparatively weak performance in terms of precision, the experimental results reveal the substantial ability of our proposed model over existing approaches in medical entity extraction, indicating the advantage of our designed model. The further character representation evaluation implies that using pretrained embeddings based on the domain corpus can dramatically improve the performance of medical entity recognition over randomly initialized ones, and incorporating position and POS features can further improve the overall performance. The evaluation also suggests the advantage of character-based methods over word-based methods in the Chinese social media context. By the inclusion of context word embedding with character embedding as the representation of the text input, our model can effectively extract medical-related entities in Chinese OHCs without complex feature engineering.
The Bidirectional LSTM architecture is capable of learning long-term dependencies from both forward and backward directions to capture further context features, which results in better performance of the DNN model over traditional machine learning models in terms of overall recall and F-measure. The inclusion of context word embedding with the character embedding can partly capture the context information and avoid use of the same character embedding vector in varied contexts. Therefore, a character with the same location tag might be assigned a different representation vector, while a character in a different context would be represented with the same embedding in CWME; this could be the reason why CNMER generally outperforms the CWME approach. The overall higher recall over traditional machine learning approaches and better F-measure over the three baseline models demonstrates that our model is more appropriate for medical entity extraction in online medical consultations.
The utilization of DNN in our model achieved more promising performance over conventional machine learning methods. From the perspective of practical implementation, DNN systems are known for their lack of transparency, and the prediction results are tough to explain. Consequently, there are concerns regarding the safety issue of employing the system as DNN-based models remain mysterious to their users. However, as our system are designed for extracting medical entities to facilitate information processing rather than providing health-related professional suggestions, the transparency of our model and the explanation of results are actually dispensable in real-world applications.
6. Conclusions
Our study contributes to the literature mainly in terms of the following points. Firstly, this work designs an effective DNN model that can automatically learn context features of text to replace complex and time-consuming handcrafted feature engineering work. The evaluation results demonstrate that the proposed model considerably outperforms traditional machine learning approaches and a strong DNN baseline model. Second, this paper investigates the medical entity extraction task in the context of Chinese social media, while prior research primarily focused on the English language context. Considering the uniqueness of health-related Chinese social media text, this study proposes concatenating character embedding with context word embedding, together with position and a POS features vector, to enhance the feature representation of characters in Chinese online medical text. As far as we know, this research is among the first works to focus on medical-related entity recognition in Chinese social media. Third, based on a large domain text corpus collected from a well-known Chinese OHC, this work builds a word embedding dataset and a character embedding dataset in the context of Chinese medical-related social media, which are available to the public online [
48
]. The learned distributed representations of words and characters capture both syntactic and semantic features, and can facilitate learning algorithms to achieve more promising performance in many NLP-related tasks, including sentiment analysis [
70
], text classification [
71
], and recommendation [
72
].
Previous studies have certain limitations when applied to the context of Chinese health-related social media. This study designed a BiLSTM-CRF-based model named CNMER to extract medical-related entities from Chinese OHCs. The model utilizes character embedding, word embedding, position, and POS feature vectors as the character representation and avoids tough feature engineering work. Despite the relatively unsatisfying results in terms of precision compared with the CRF-based methods, the proposed CNMER approach attained statistically better performance in terms of recall and F-measure over all three baseline models including a strong DNN model, which indicates that our model is more effective in extracting health-related entities from Chinese OHCs. The advantages of using characters as the basic tag units are also validated in this study. The proposed medical entity extraction system contributes to the sustainable development of virtualized healthcare as it benefits many stakeholders including health consumers, health service providers, and online healthcare platforms.
Besides the above achievements, the designed model has certain limitations. First, we only considered the recognition of three main types of medical-related concepts; other entity types such as body part, medical department, and time which are also essential for medical decision support were not investigated in this study. Second, only the focal character and word were considered when constructing a representation vector, while further context characters and words could also contribute to additional performance improvement; this was not explored in our study. Lastly, although the evaluation results indicate that our model outperforms the baseline approaches, the performance is still not satisfying enough for real-world applications. Medical entity extraction in Chinese social media remains a challenging task and deserves further investigation.
Author Contributions
Conceptualization, H.Y.; Data curation, H.Y.; Funding acquisition, H.G.; Methodology, H.Y.; Supervision, H.G.; Validation, H.Y.; Writing—original draft, H.Y.; Writing—review & editing, H.G.
Funding
This research was funded by National Key Research & Development Plan of China (grant number: 2017YFB1400101), National Natural Science Foundation of China (grant number: 71572013).
Acknowledgments
The manuscript was approved by all authors for publication. We would like to thank all the anonymous reviewers for their valuable comments and suggestions which improved this paper. We would also thank the Editors and the Editorial Office for their professional work.
Conflicts of Interest
The authors declare no conflict of interest.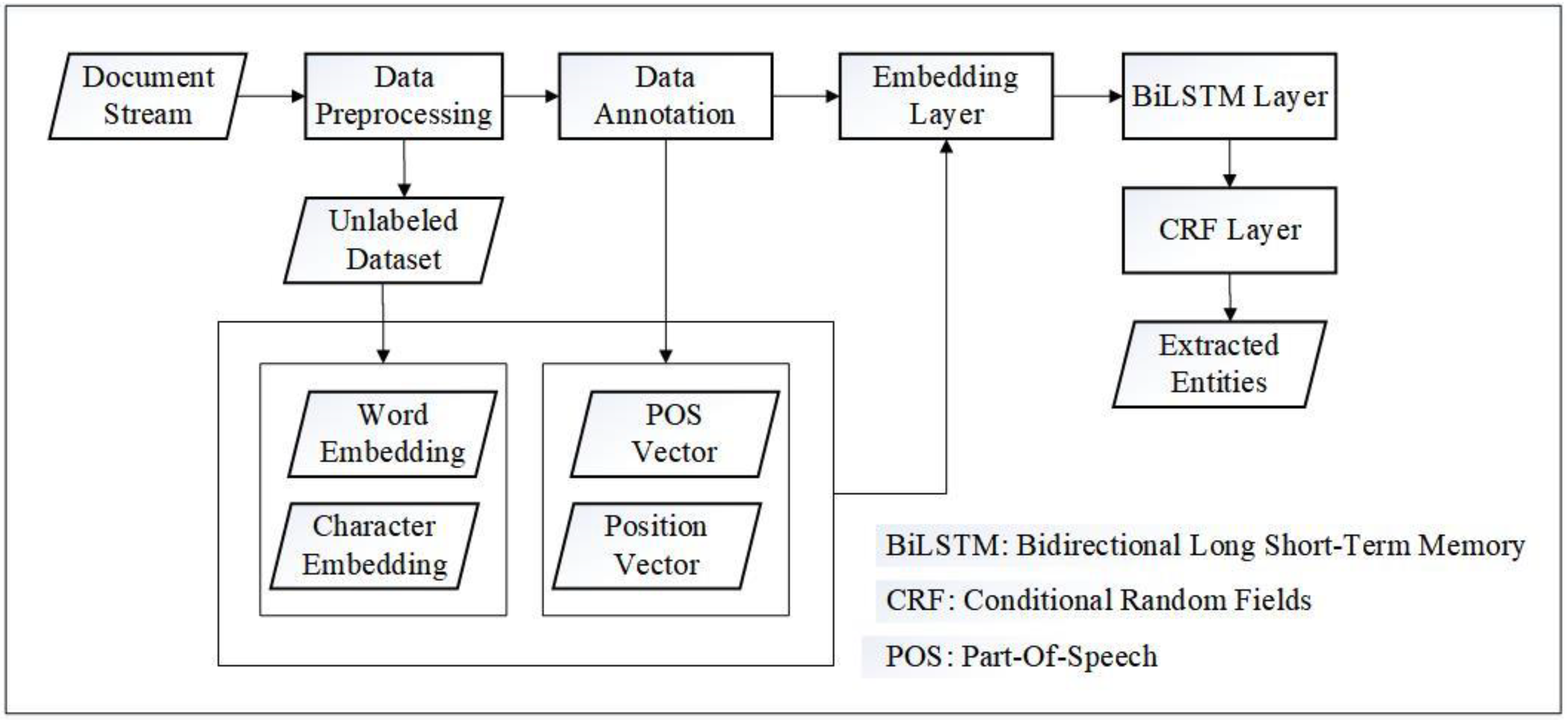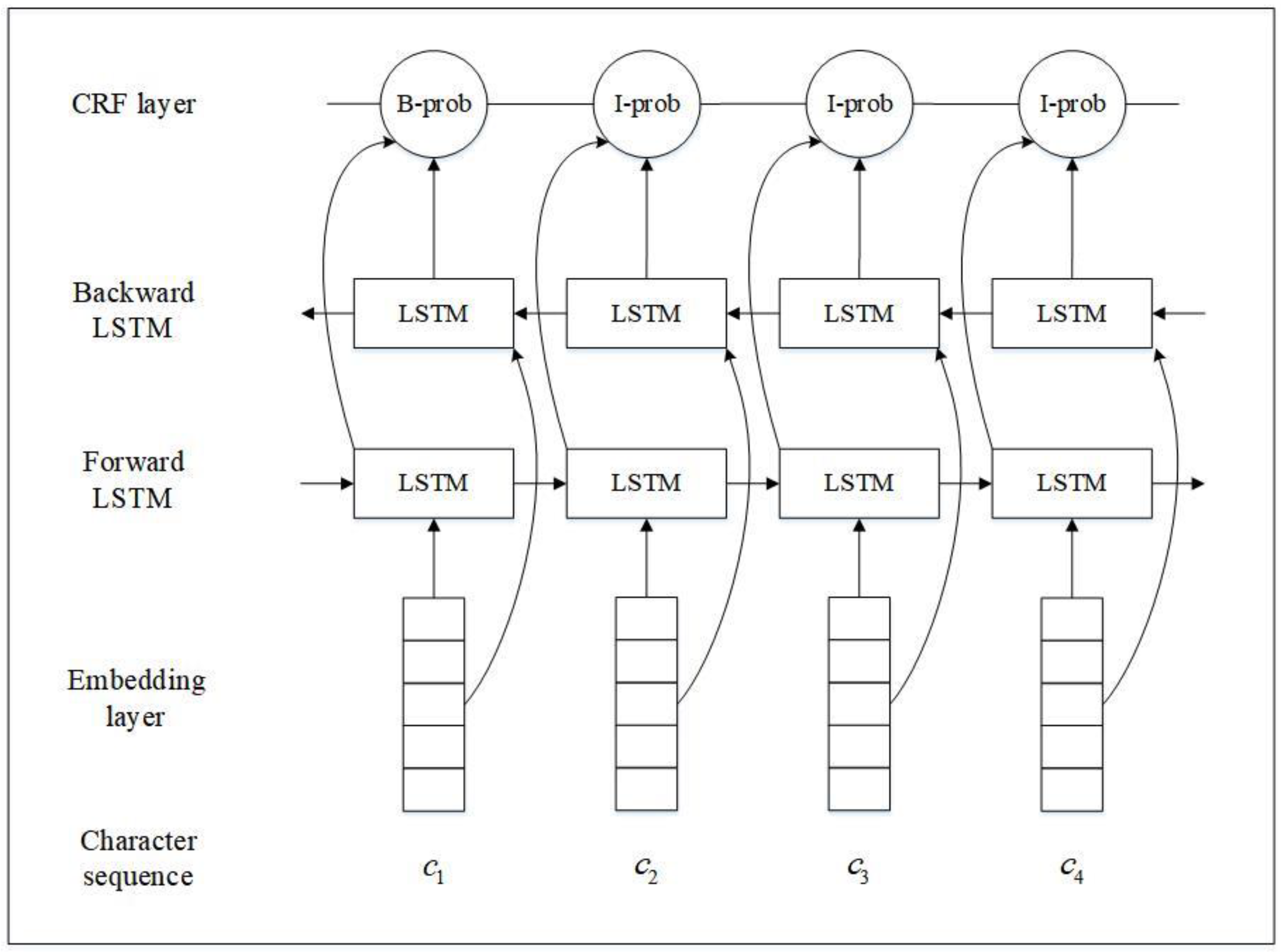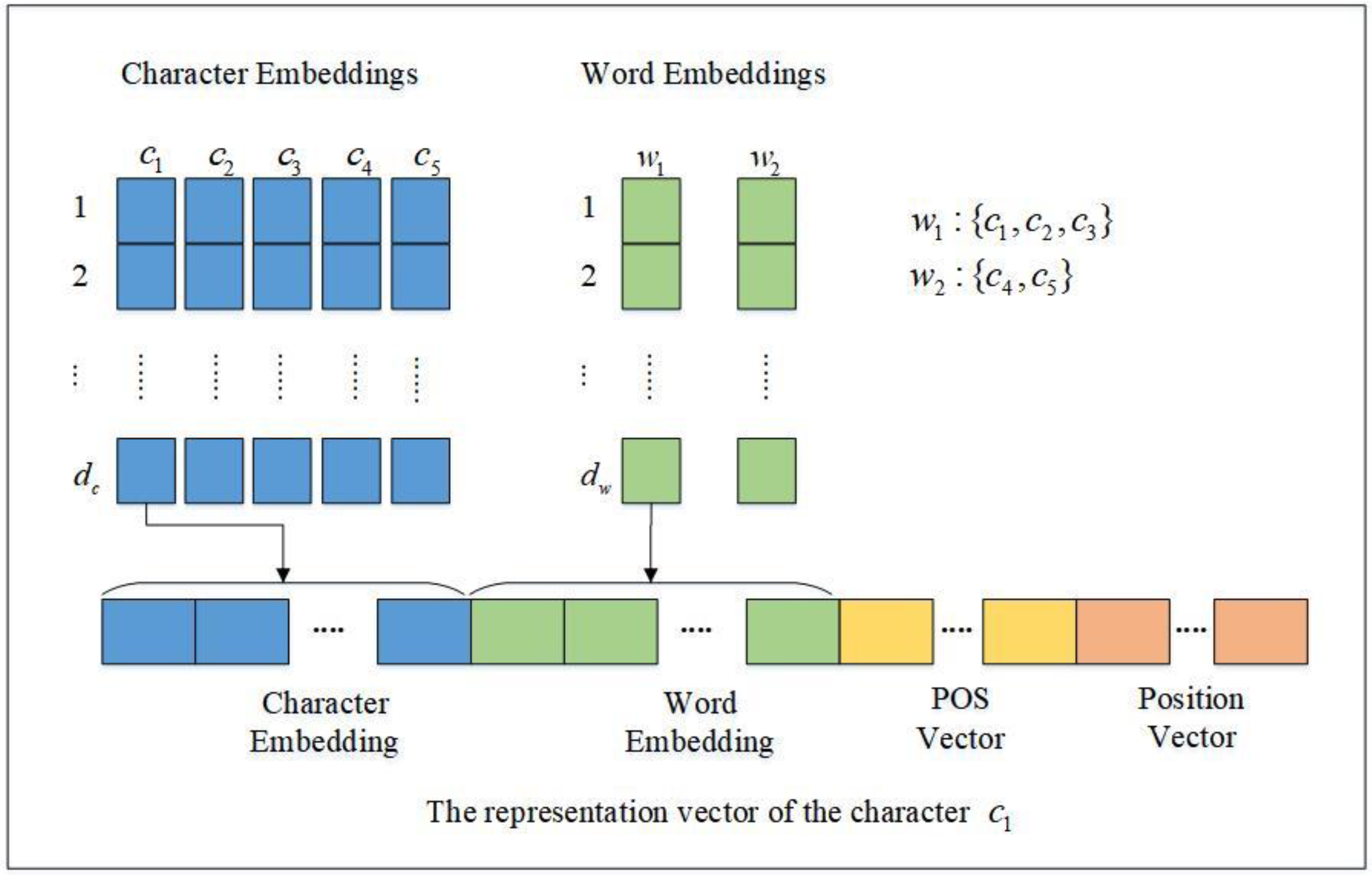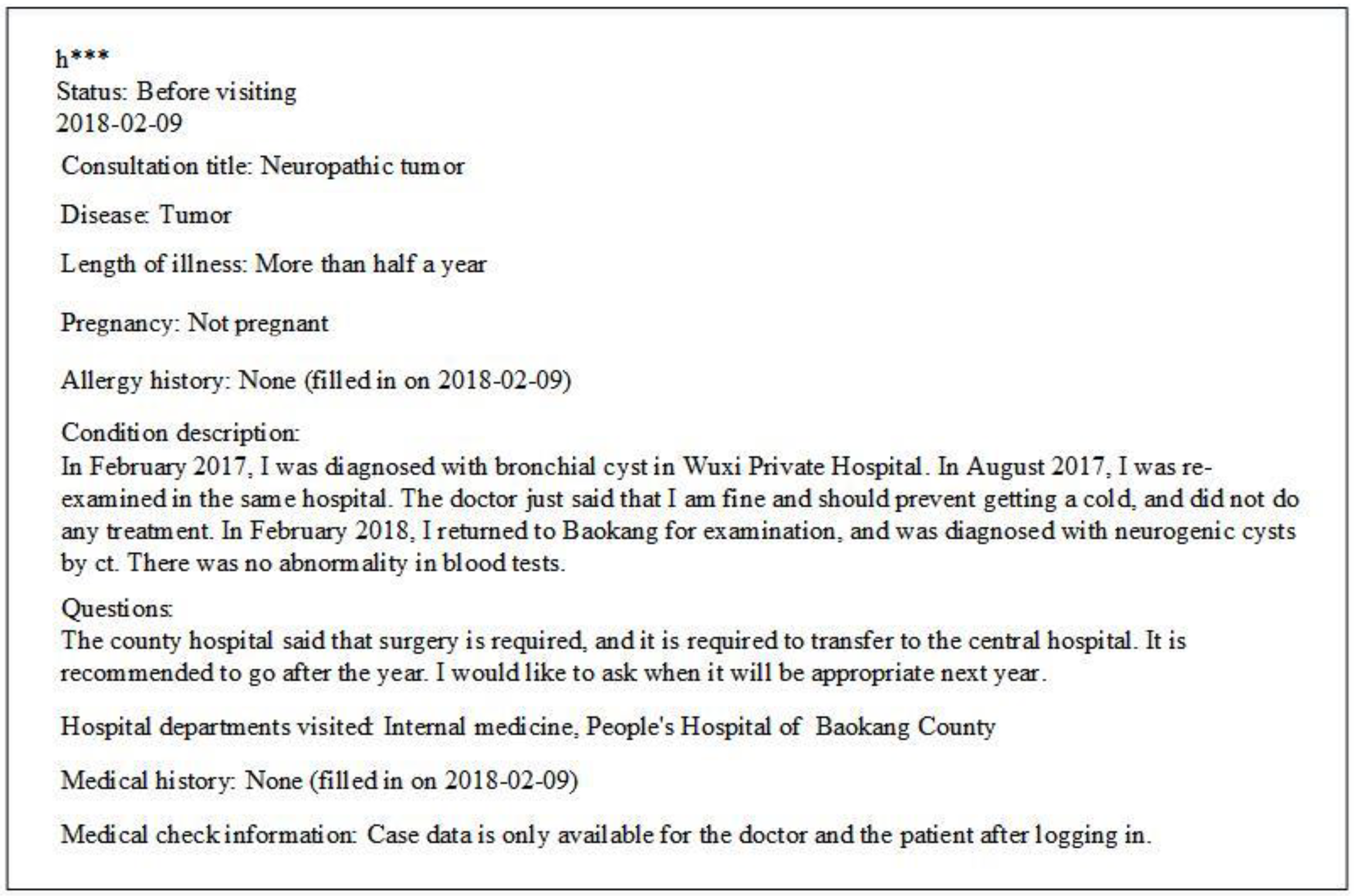 | Statistics | Numbers |
| --- | --- |
| Number of sentences | 536 |
| Average number of characters in each sentence | 163 |
| Number of mentioned problems | 3870 |
| Number of mentioned tests | 987 |
| Number of mentioned treatments | 1608 |
Models
Problem (%)
Test (%)
Treatment (%)
All (%)
P
R
F
P
R
F
P
R
F
P
R
F
CRF_W
66.30
55.17
60.22
70.05
56.18
62.33
71.23
55.57
62.41
68.02
55.42
61.07
CRF_C
69.75
63.30
66.36
71.61
63.10
67.08
70.84
60.05
64.98
70.28
62.43
66.12
CWME
67.25
67.72
67.46
68.17
68.70
68.40
65.83
66.95
66.35
67.00
67.65
67.31
CNMER
67.46
69.80
68.55
67.78
68.18
67.95
69.62
67.44
68.47
67.97
68.96
68.43
1 CRF_W, the word-based CRF baseline model; CRF_C, the character-based CRF baseline model; CWME, deep neural network (DNN) baseline model based on Character–Word Mixed Embedding; CNMER, the model proposed in this study.
Models
Problem (%)
Test (%)
Treatment (%)
All (%)
P
R
F
P
R
F
P
R
F
P
R
F
Random
62.92
65.06
63.94
65.77
65.48
65.54
63.41
61.33
62.33
63.42
64.16
63.76
CW
66.61
70.45
68.46
65.47
69.42
67.37
67.24
66.70
66.93
66.53
69.34
67.90
CNMER
67.46
69.80
68.55
67.78
68.18
67.95
69.62
67.44
68.47
67.97
68.96
68.43
1 Random, the model that uses random embedding as character representation; CW, the model that only uses concatenated character and context word embedding as the character representation; CNMER, the model proposed in this study.
Entity Types
Examples
Problem
Face is itching
Hilar mediastinal lymph node metastasis
The size of tumor is about two centimeters
There is a malignant tumor in the left lung
Central poorly differentiated lung adenocarcinoma
Test
Liver puncture
Enhanced CT scan
X-ray examination
DNA genetic testing
Enhanced nuclear magnetic resonance images of brain
Treatment
Erlotinib
Surgical removal of lesions
Six-cycle course of chemotherapy
Traditional Chinese medicine for blood circulation
Radiation therapy for brain and spinal cord tumors

© 2018 by the authors. Licensee MDPI, Basel, Switzerland. This article is an open access article distributed under the terms and conditions of the Creative Commons Attribution (CC BY) license (http://creativecommons.org/licenses/by/4.0/).