Forest Adaptation to Climate Change along Steep Ecological Gradients: The Case of the Mediterranean-Temperate Transition in South-Western Europe
1
Laboratoire Ecologie, Systématique Evolution, CNRS-AgroParisTech Université Paris-Sud-Paris Saclay Orsay, 91405 Paris, France
2
Forest Ecology and Restoration Group, Department of Life Sciences, Universidad de Alcalá, 28805 Alcalá de Henares, Spain
3
Instituto Pirenaico de Ecología, (IPE–CSIC), Avda. Montañana, 1005, 50192 Zaragoza, Spain
4
Institute for Dehesa Research, University of Extremadura, 10600 Plasencia, Spain
5
MARETEC/LARSYS, Instituto Superior Técnico, Universidade de Lisboa, 1049-001 Lisboa, Portugal
6
German Centre for Integrative Biodiversity Research (iDiv), Martin Luther University Halle-Wittenberg, Halle-Jena-Leipzig, Deutscher Platz 5e, 04103 Leipzig, Germany
7
Department of Forest Genetics, Dendrology and Botany, Faculty of Forestry, University of Zagreb, 10000 Zagreb, Croatia
8
Department of Ecology and Evolution, Le Biophore, University of Lausanne, 1015 Lausanne, Switzerland
9
LMD/IPSL, Ecole polytechnique, Université Paris-Saclay, ENS, PSL Research University, Sorbonne Université, CNRS, 91120 Palaiseau, France
10
BIOGECO, INRA, Univ. Bordeaux, 33615 Pessac, France
11
AGROCLIM-INRA, Domaine Saint Paul, Site Agroparc CS 40 509, CEDEX 9, 84914 Avignon, France
12
Université Panthéon-Sorbonne (Paris 1), LADYSS, 2 rue Valette, 75005 Paris, France
13
Laboratoire EGCE, Avenue de la Terrasse, Bâtiment 13, Boite Postale 1, 91198 Gif sur Yvette, France
14
CIRED, AgroParisTech, CIRAD, CNRS, EHESS, Ecole des Ponts ParisTech, Université de Paris-Saclay, Campus du Jardin Tropical, 45 bis, Avenue de la Belle Gabrielle, CEDEX, 94736 Nogent-sur-Marne, France
15
AGIR, INRA, Campus d'Auzeville, 24 Chemin de Borde Rouge, CEDEX, 31326 Castanet Tolosan, France
*
Author to whom correspondence should be addressed.
Received: 31 May 2018 / Revised: 6 August 2018 / Accepted: 23 August 2018 / Published: 28 August 2018
Abstract
Impacts of climate change are likely to be marked in areas with steep climatic transitions. Species turnover, spread of invasive species, altered productivity, and modified processes such as fire regimes can all spread rapidly along ecotones, which challenge the current paradigms of ecosystem management. We conducted a literature review at a continental-wide scale of South-Western European forests, where the drier and warmer conditions of the Mediterranean have been widely used as examples of what is expected in more temperate areas. Results from the literature point to: (a) an expansion of slow-growing evergreen hardwood trees; (b) increased dieback and mortality episodes in forests (both natural and planted) mostly related to competition and droughts, and mainly affecting conifers; and (c) an increase in emergent diseases and pests of keystone-trees used in agroforestry zones. There is no consensus in the literature that fire regimes are directly increasing due to climate change, but available satellite data of fire intensity in the last 17 years has been lower in zones where agroforestry practices are dominant compared to unmanaged forests. In contrast, there is agreement in the literature that the current spread of fire events is probably related to land abandonment patterns. The practice of agroforestry, common in all Mediterranean countries, emerges as a frequent recommendation in the literature to cope with drought, reduce fire risk, and maintain biodiverse landscapes and rural jobs. However, it is unknown the extent to which the open vegetation resulting from agroforestry is of interest to forest managers in temperate areas used to exploiting closed forest vegetation. Hence, many transitional areas surrounding the Mediterranean Basin may be left unmanaged with potentially higher climate-change risks, which require active monitoring in order to understand and help ongoing natural adaptation processes.
View Full-Text
►

▼

Figures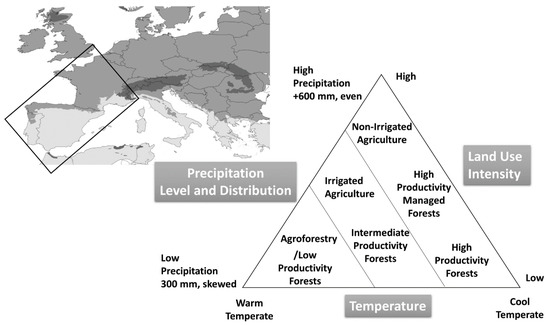 Figure 1
This is an open access article distributed under the
Creative Commons Attribution License
which permits unrestricted use, distribution, and reproduction in any medium, provided the original work is properly cited (CC BY 4.0).

Share & Cite This Article
MDPI and ACS Style
Fernández-Manjarrés, J.F.; Ruiz-Benito, P.; Zavala, M.A.; Camarero, J.J.; Pulido, F.; Proença, V.; Navarro, L.; Sansilvestri, R.; Granda, E.; Marqués, L.; Temunovič, M.; Bertelsmeier, C.; Drobinski, P.; Roturier, S.; Benito-Garzón, M.; Cortazar-Atauri, I.G.; Simon, L.; Dupas, S.; Levrel, H.; Sautier, M. Forest Adaptation to Climate Change along Steep Ecological Gradients: The Case of the Mediterranean-Temperate Transition in South-Western Europe. Sustainability 2018, 10, 3065.
Note that from the first issue of 2016, MDPI journals use article numbers instead of page numbers. See further details here.
Related Articles
Comments
[Return to top]