Behind the Scenarios: World View, Ideologies, Philosophies. An Analysis of Hidden Determinants and Acceptance Obstacles Illustrated by the ALARM Scenarios
1
Helmholtz Centre for Environment Research, Permoserstr 15, 04318 Leipzig, Germany
2
Sustainable Europe Research Institute SERI Germany, Vorsterstr 97-99, 51103 Cologne, Germany
Received: 21 May 2018 / Revised: 13 June 2018 / Accepted: 19 July 2018 / Published: 20 July 2018
In situations of uncertainty, scenarios serve as input for scientifically informed decision making. However, past experience shows that not all scenarios are treated equally and we hypothesise that only those based on a world view shared by scientists and decision makers are perceived as credible and receive full attention of the respective group of decision makers. While intuitively plausible, this hypothesis has not been analysed by quantitative correlation analyses, so instead of drawing on quantitative data the paper analyses the archetypical scenarios developed in the ALARM project to substantiate the plausibility by a comparative analysis of world views, value systems and policy orientations. Shock scenarios are identified as a means to explore the possibility space of future developments beyond the linear developments models and most scenario storylines suggest. The analysis shows that the typical scenarios are based on mutually exclusive assumptions. In conclusion, a comparison of storylines and empirical data can reveal misperceptions and the need to rethink world views as a necessary step to open up to new challenges. Deeply held beliefs will make this transition unlikely to happen without severe crises, if not dedicated efforts to explicate the role of world views for scenarios and policies are undertaken.
Funding
While this research on values and world views received no external funding, the ALARM project was funded by the European Commission under its Sixth Framework Programme, Grant No. GOCE-CT-2003-506675.
Acknowledgments
The author is indebted to the colleagues of the ALARM project for their contributions to the scenario work described, in particular Joan Martinez-Alier, Martin O'Connor and Josef Settele. The simulation results were produced by different modelling teams, the socio-economic (Joachim H. Spangenberg, Jill Jäger, Ines Omann, Andrea Stocker, Bernd Meyer), land use (Mark Rounsevell, Isabelle Reginster), climate change (Timothy Carter, Kirsti Jylha, Stefan Fronzek), N Deposition (Franz Badeck) and biodiversity teams (Thomas Hickler, Paul Miller, Benjamin Smith, Martin Sykes).
Conflicts of Interest
The author declares no conflict of interest.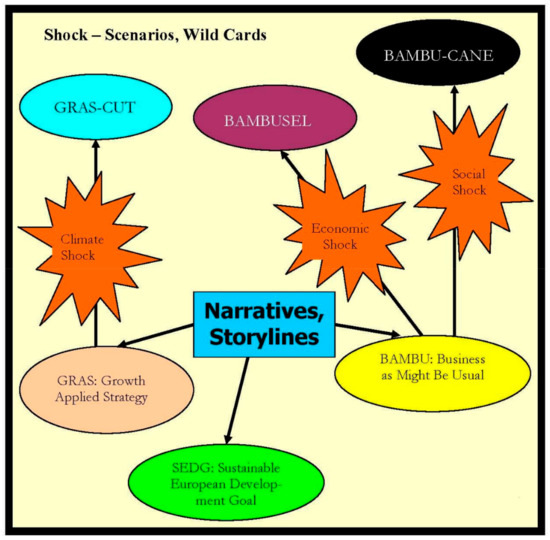 Figure 1. The ALARM core and shock scenarios. As SEDG is designed to avoid shocks, the analysis focusses on shocks under GRAS (as this is the high greenhouse gas emission scenario) and under BAMBU (shocks which are independent of scenario parameters).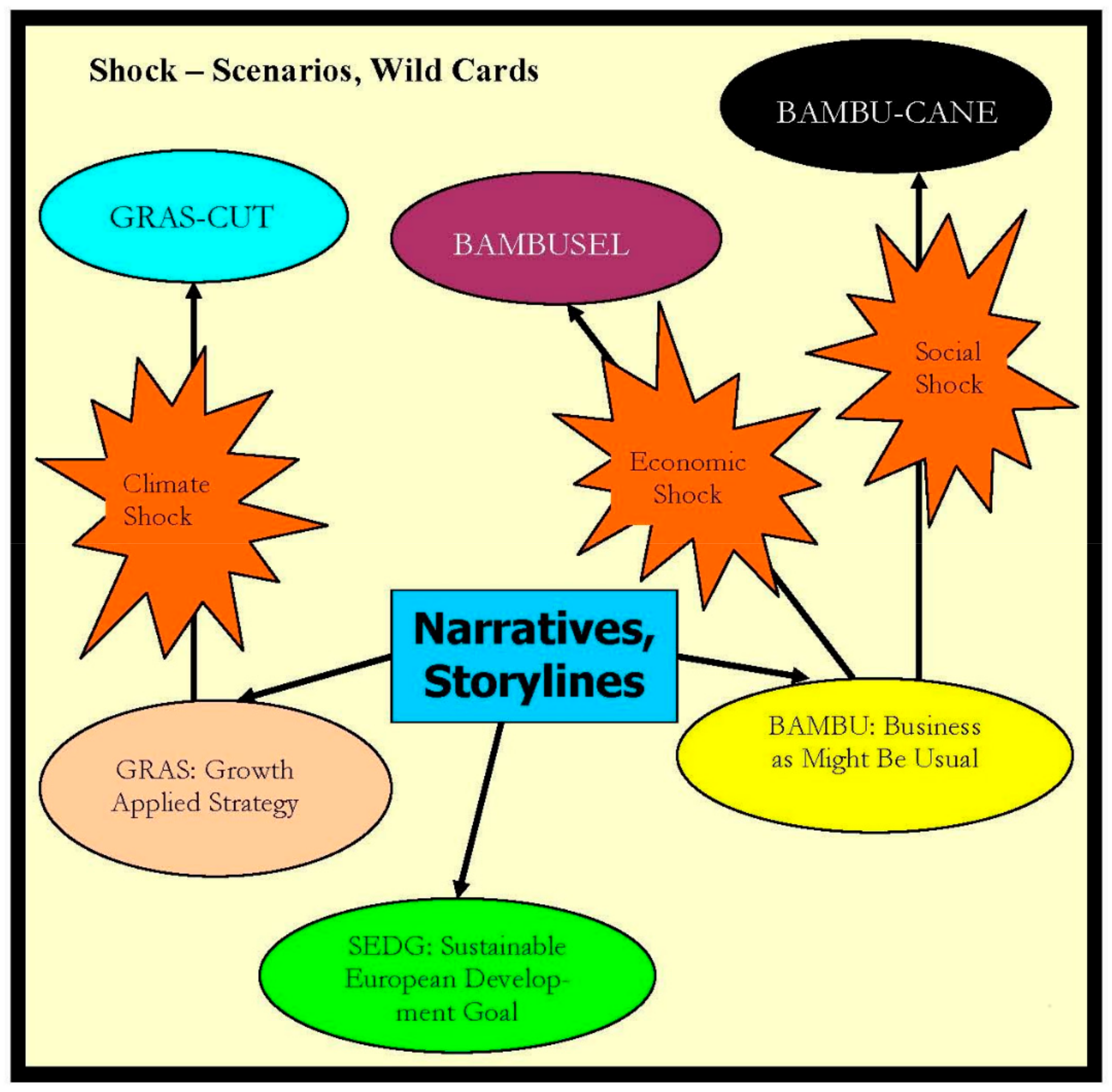 Table 1.
Selected policies in the ALARM core scenarios. Starting from the same status quo conditions, the diverging policy assumptions drive the results into diverging directions. Source: [
16
].
| Scenario | GRAS | BAMBU | SEDG |
| --- | --- | --- | --- |
| Climate envelope | fits to the IPCC SRES-A1FI storyline and its assumptions | SRES A2 (the best fitting available SRES scenario at the time of calculation) | SRES-B1 scenario (lowest SRES scenario available, 450 ppm not in SRES. B1 and SEDG story lines differ significantly) |
| CAP | Dismantling payments for production and for 2nd pillar (rural development & environment) | Shift 1st to 2nd pillar results in polarisation: intensification of high yielding locations, neglect of low yielding ones | Spatially explicit support structure to maintain (organic) agriculture throughout the landscape (only 2nd pillar transfers) |
| EU Funds | Phasing out, considered as subsidies | Focussed on infrastructure development and growth in poor regions | Focussed on local green development and opportunities, education and employment |
| Energy Policy | Efficiency, some renewables based on cost calculations | Efficiency, aiming at 20% reduction of GHG emissions by 2020 and 80% by 2080. Increase nuclear and renewables | Aiming at ¾ reduction of CO2-emissions by 2050 through savings, changing consumption patterns and renewables |
| Transport Policy | Increased efficiency due to market pressure, no policy to shift the mode of transport or reduce transport volumes | Technological improvements and changing the share of different modes of mobility (walking, biking, trains, cars, boats, planes: modal split) | Transport reduction priority, plus modal split change (through pricing and infrastructure supply), technical improvements |
| Chemicals Policy | Focus on innovation and competitiveness. REACH not consequently implemented | REACH implemented | REACH plus; filling gaps for example, for metals, nanomaterials, endocrine disruptors |
| Trade Policy | Strong support for WTO and free trade | Promoting free trade except in "strategic areas" | Global sourcing reduced due to cost reasons; phytosanitarian controls |

Table 2. Diverging concepts of sustainability in the three ALARM scenarios (own compilation). All scenarios are dedicated to reaching sustainability but with divergent definitions and tools, based on different world views, they follow significantly different, partly mutually exclusive trajectories.
GRAS
Three to four capital stocks, non-declining sum, mutually substitutable (weak sustainability), the economy considered as having primacy. Processes including overshoot are reversible. Assumption that once the economy works properly, all other parts of the puzzle will fall in place, that is, social and environmental problems will be solved automatically (the Kuznets- and Environmental Kuznets Curve hypotheses). Focus on adaptation (managing impact), optimal solutions by

maximisation

.
BAMBU
Three to four capital stocks, non-declining sum plus conservation of critical natural capital, mostly comparable and commensurable, attempts to go "beyond GDP," weak to reasonable protection standards. Precautionary principle, safe minimum standards, some ambitious protection standards set but not vigorously enforced, focus on innovation for the market to deliver the desired goods or fully equivalent substitutes. Focus on mitigation (reducing pressures) and restoration (stabilizing the state), optimal solutions by

optimisation

.
SEDG
Co-evolution of four sub-systems, with each having its own reproduction criteria and mechanisms, plus demands to the impacts of each other. Earth is a closed system with limited resources, permanent growth is not possible. Precautionary principle, addressing drivers of environmental and social crises, focus on prevention (redirecting drivers) and mitigation (overcoming pressures) limiting human impact, long term resilient/healthy ecosystems providing ecosystem services. Assessment is only possible by MCA/MCDS, (socially) optimal solutions by

legitimation

.

Table 3. Comparison of ALARM scenarios with other structurally similar global scenarios (adapted from an unpublished report for the Millennium Ecosystem Assessment). It illustrates that the typology chosen in ALARM (status quo policies, ambitious sustainability, radicalised neoliberal policies) is indeed archetypical for a wide range of scenario exercises.
ALARM
SRES
GEO-3
Millennium Ecosystem Assessment
Roads from Rio+20
2100
2100
2032
2100
2050
GRAS
A1FI
Markets First
Global Orchestration
Global Technology
BAMBU
A2
Security First
Order from Strength
SEDG
B1
Policy First
TechnoGarden
Decentralized Solutions
B2
Sustainability First
Adapting Mosaic
Consumption Change
Settele et al., 2005
IPCC et al., 2000
UNEP 2002
Millennium Ecosystem
Assessment 2003
Kok et al., 2018

| Content | GRAS | BAMBU | SEDG |
| --- | --- | --- | --- |
| Ideological orientation | business as usual, sustained growth (macro) and profits (micro), quantitative, monetary criteria (no qualities) | ecological modernisation, qualitative growth, changes of aspects but not system basics, flexible adaptations | precaution, multi-dimensional objectives, limited win-win options, priority for justice, health and environment over net growth |
| Economic paradigm | Neoclassical | incoherent, neoclassical plus etatism, welfare state, technology, green growth | sustainability economics: ecological, evolutionary, institutional and political economics |
| Institutional arrangements | Institutions facilitating 'corporate globalisation' like IMF, World Bank, WTO | Focus on regional integration. EU a strong player in international institutions, modifying but not altering rules | Subsidiarity principle. For example, strengthening the UN, evaluating where the EU needs more and where it could have less competences and similarly so on the members state level |

Table 5.
The economic orientations result from the values pursued and the ontologies (including praxeologies) prevailing in the respective world views as described in
Section 3.1
.
| Orientation | GRAS | SEDG |
| --- | --- | --- |
| Source of profit | Share value, speculation | Dividend, payment to owners |
| Ownership | Temporary, share-based | Permanent, individual |
| Level of profit | Fixed management objective, predetermined | Residual, after material, labour and finance costs |
| Perception of corporate success | Achievement of management and providers of finance (shareholders), at the expense of jobs and salaries | Achievement of partners, sharing of results |
| Salaries | Residual after material and finance costs, plus profit | Negotiated costs, based on productivity increase plus inflation compensation |
| Relation management/staff' salaries | Management increasing with profit or more, salaries stagnate or decline to generate profit | Increasing in line |
| Industrial relation | Exploitation | Partnership |
| Sustainability ethics | Utilitarism | Fairness, procedural justice |

Table 6.
Attitudes towards social justice in Europe. Data source: [
41
].
| | No. State Responsibility | Liberal | Welfare State | Etatistic | Unclassified |
| --- | --- | --- | --- | --- | --- |
| Average EU 15 member states | 0.5 | 8.9 | 29.8 | 56.5 | 4.4 |
| Sweden | 0.7 | 20.2 | 40.9 | 34.5 | 3.7 |
| UK | 0.2 | 15.1 | 32.5 | 46.7 | 5.6 |
| France | 1.9 | 8.5 | 23.9 | 56.0 | 9.7 |
| W.-Germany | 0.8 | 13.7 | 46.8 | 34.0 | 4.7 |
| Average CEE EU member states | 0.5 | 4.7 | 21.8 | 69.1 | 3.9 |
| E.-Germany | 0.0 | 2.8 | 13.9 | 80.7 | 2.6 |
| Czech Republic | 2.2 | 12.1 | 24.2 | 54.8 | 6.8 |
| Poland | 0.4 | 3.1 | 17.2 | 76.7 | 2.6 |
| Hungary | 0.1 | 5.1 | 30.8 | 61.0 | 2.9 |
| Bulgaria | 0.0 | 6.7 | 12.1 | 76.7 | 4.6 |

Table 7.
ALARM Concepts of social justice and its institutional implementation [
41
], modified.
ALARM
Scenario
Concept of Justice
(in Aristotelian Nicomachean Ethics)
Institutional Level Involved
Famous Representatives
Organisations
Mechanisms
Orientations
Steering System (Institutional Mechanism)
Social Relation, Typology of Reciprocity
Principle of Justice (Political)
GRAS
Equity based upon what people contribute (Iustitia Communitativa)
Market
Instrumental association, exchange
Performance
Robert Nozick
BAMBU
Equity of opportunity (no clear relation)
State (often serving business)
Citizenship
Equity
John Rawls
SEDG
Equity based on distribution, needs based (Iustitia Distributiva)
Community
Community Solidarity,
Communicative action
Need satisfaction, equality
Amitai Etzoni
Equity based on enabling participation (Iustitia Universalis)
Legitimation
Political culture, human rights, communication of values
Participation, access, inclusion (N. Luhmann), global justice
Amartya Sen

Variable
Indicators
Liberal = GRAS
Social = SEDG
BAMBU
Conservative
Decommodification: protection against market forces and income loss
Level of income substitution, % of previous income.
Weak
Strong
Medium
Medium
Share of individual financing
High
Low
Medium
Medium
Residualism
Share of basic support in total social expenditure
Strong
Limited
Medium to strong
Strong
Privatisation
Share of private expenditure for health and old age as share of total
High
Low to medium
Medium
Low to medium
Corporatism/Etatism
Number of social security systems for specific professions
Weak
Medium
Medium
Strong
Share of expenditures for life-long employed government staff
Minimised
Increasing
Medium
Medium
Redistribution
Progression in (income) tax structure
Weak
Strong
Medium
Weak
Equality of transfers received
Weak
Strong
Medium
Weak to medium
Full employment guaranty
Expenditures for active labour market policy
Low
Strong
Medium
Medium
Unemployment quota, weighted by labour force participation
Medium
Low
Medium
Medium
Role of market in social security provision
Shares of transfers and recipients
Central
Marginal
Medium
Strong
Role of state in social security provision
Shares of transfers and recipients
Minimised
Central
Subsidiary to medium
Subsidiary
Role of family/community in social security provision
Shares of transfers and recipients
Subsidiary
Subsidiary
Marginal to subsidiary
Central
Role of human rights
Beyond legal status, respect in social life and employment
Medium
High
Medium to high
Medium
Dominant form of welfare state solidarity
Entitlement basis
Individual
Work focussed (in SEDG incl. unpaid work)
Labour focusses, tax support
Communitarian, etatistic
Dominant means of steering social policy
Agency and organising principle
Market, economic optimisation
State, equity principles for citizens/inhabitants
Mixed market and state, mixed ideas
Moral and economic
Underlying concept of social justice
As realised by institutional mechanisms
Equality of opportunity
Distributional justice
Opportunity & distribution
Fair participation, basic need satisfaction
Archetypical countries
Switzerland
USA
Sweden
EU
Italy, Germany

| | GRAS | SEDG |
| --- | --- | --- |
| Future value | Exponential discounting, positive discount rates | Object dependent: no, hyperbolic, linear or exponential discounting |
| Dynamics | Equilibrium with reversible deviations, series of equilibria, largely predictable, high inherent resilience | Nature and society are processes of continuous irreversible change, path dependent but unpredictable, with medium to high vulnerability |
| Resonance group of policy recommendations | Economic and fiscal policy makers, business | Policy makers, civil society |

Table 10.
Science and science-society relationships in the scenarios. Mode 1 and mode 2 are terms from the sociology of science, coined by Gibbons et al., referring to the way (scientific) knowledge is produced [
59
]. Mode 1 is characterised by a co-operation between science and society without any change in working methods of either while mode 2 is defined as a partly descriptive and partly normative way to operationalise sustainability science. Funtowicz and Strand suggested a systematique of science-society relationship distinguishing five models [
40
]: 1. The initial 'modern' model (perfection/perfectibility), 2. The precautionary model (uncertain and inconclusive information), 3. The model of framing (arbitrariness of choice and possible misuse), 4. The model of science/policy demarcation (possibility of abuse of science), 5. The model of extended participation (working deliberatively within imperfections). Post-normal science is a discursive model developed by Funtowicz and Ravetz [
60
].
| | GRAS | BAMBU | SEDG |
| --- | --- | --- | --- |
| Theory of science, mode | Positivism Mode 1 | Eclectic mix, positivism dominates, Mode 1 dominates | Social constructivism, subjectivism, hermeneutics, contextualism, Mode 2 dominates |
| Models of science-society relationship | The initial 'modern' model: perfection/perfectibility | The precautionary model, the model of framing & the model of science/policy demarcation | The model of extended participation: working deliberatively within imperfections |
| Role of scientists | Outside, truth speaks to power | different attitudes, scepticism about truth and power | Citizen scientist, post-normal science, sustainability science, discourse based. Participatory, multi-criteria and multi-perspective assessments |

© 2018 by the author. Licensee MDPI, Basel, Switzerland. This article is an open access article distributed under the terms and conditions of the Creative Commons Attribution (CC BY) license (http://creativecommons.org/licenses/by/4.0/).