Bridging Gaps in the Agricultural Phosphorus Cycle from an Animal Husbandry Perspective—The Case of Pigs and Poultry
1
Institute of Genome Biology, Leibniz Institute for Farm Animal Biology (FBN), Wilhelm-Stahl-Allee 2, 18196 Dummerstorf, Germany
2
Agri-Food and Biosciences Institute, Large Park, Hillsborough, Co Down BT26 6DR, UK
3
Department of Animal Science, Aarhus University, Blichers Allé 20, 8830 Tjele, Denmark
4
Stockholm Environment Institute, Linnégatan 87D, 10451 Stockholm, Sweden
5
Dipartimento di Economia agro-alimentare, Università Cattolica del Sacro Cuore, Via Emilia Parmense 84, 29122 Piacenza, Italy
6
Faculty of Agricultural and Environmental Sciences, University Rostock, Justus-von-Liebig-Weg 8, 18059 Rostock, Germany
*
Author to whom correspondence should be addressed.
Received: 15 April 2018 / Revised: 29 May 2018 / Accepted: 29 May 2018 / Published: 1 June 2018
Abstract
Since phosphorus (P) is an essential element for life, its usage and application across agricultural production systems requires great attention. Monogastric species such as pigs and poultry can significantly contribute to global food security but these animals remain highly dependent on the supply of mineral inorganic P in their feeds. Pig and poultry, which represent 70% of the global meat production, are also major P excretors and thus represent important sources of environmental P inputs. Balancing the P cycle within farming systems is crucial to achieve P sustainable and resilient livestock production. Therefore, the interconnection of animal feed, livestock farming, manure, and soil/aquatic ecosystems requires multidisciplinary approaches to improve P management. With regard to a sustainable agricultural P cycle, this study addresses aspects of feeding strategies and animal physiology (e.g., phase feeding, P conditioning, liquid feeding, phytase supplementation, genetics), soil agroecosystems (e.g., P cycling, P losses, P gains), reuse and recycling (e.g., manure, slaughter waste), measures of farmers' economic performance (e.g., bio-economic models), and P governance/policy instruments (e.g., P quota, P tax). To reconcile the economic and ecological sustainability of animal husbandry, the strategic objective of future research will be to provide solutions for a sufficient supply of high-quality animal products from resource-efficient and economically competitive agro-systems which are valued by society and preserve soil and aquatic ecosystems.
View Full-Text
►

▼

Figures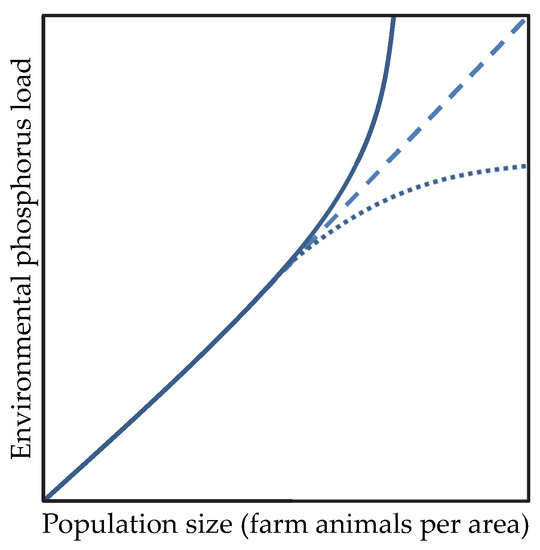 Figure 1
This is an open access article distributed under the
Creative Commons Attribution License
which permits unrestricted use, distribution, and reproduction in any medium, provided the original work is properly cited (CC BY 4.0).

Share & Cite This Article
MDPI and ACS Style
Oster, M.; Reyer, H.; Ball, E.; Fornara, D.; McKillen, J.; Sørensen, K.U.; Poulsen, H.D.; Andersson, K.; Ddiba, D.; Rosemarin, A.; Arata, L.; Sckokai, P.; Magowan, E.; Wimmers, K. Bridging Gaps in the Agricultural Phosphorus Cycle from an Animal Husbandry Perspective—The Case of Pigs and Poultry. Sustainability 2018, 10, 1825.
Note that from the first issue of 2016, MDPI journals use article numbers instead of page numbers. See further details here.
Related Articles
Comments
[Return to top]