Research into the Eutrophication of an Artificial Playground Lake near the Yangtze River
1
College of Engineering, Cornell University, Ithaca, NY 14850, USA
2
College of Environment, Hohai University, Nanjing 210098, China
3
College of Hydrology and Water Resources, Hohai University, Nanjing 210098, China
4
Key Laboratory of Integrated Regulation and Resources Development on Shallow Lakes, Ministry of Education, Hohai University, Nanjing 210098, China
5
School of Hydrology and Water Resources, Nanjing University of Information Science and Technology, 219 Ninliu Rd., Nanjing 210044, China
6
School of Hydraulic Energy and Power Engineering, Yangzhou University, Yangzhou 225009, China
*
Authors to whom correspondence should be addressed.
Received: 5 January 2018 / Revised: 15 March 2018 / Accepted: 16 March 2018 / Published: 19 March 2018
Abstract
Water pollution in urban rivers is serious in China. Eutrophication and other issues are prominent. Taking the artificial Playground Lake in Zhenjiang as an example, a numerical model combining particle tracing, hydrodynamics, water quality and eutrophication was constructed to simulate the water quality improvement in Playground Lake with or without water diversion by pump and sluice. Simulation results using particle tracking showed that the water residence time depended on wind direction: east wind, 125 h; southeast wind, 115 h; south wind, 95 h. With no water diversion, the lower the flow velocity of Playground Lake under three wind fields, the more serious the eutrophication. Under pump diversion, the water body in Playground Lake can be entirely replaced by water diversion for 30 h. When the temperature is lower than 15 °C, from 15 °C to 25 °C and higher than 25 °C, the water quality can be maintained for 15 d, 10 d and 7 d, respectively. During high tide periods of spring tides in the Yangtze River from June to August, the water can be diverted into the lake through sluices. The greater the Δh (the water head between the Yangtze River and Playground Lake), the more the water quality will improve. Overall, the good-to-bad order of water quality improvements for Playground Lake is as follows: pumping 30 h > sluice diversion > no water diversion. This article is relevant for the environmental management of the artificial Playground Lake, and similar lakes elsewhere.
View Full-Text
►

▼

Figures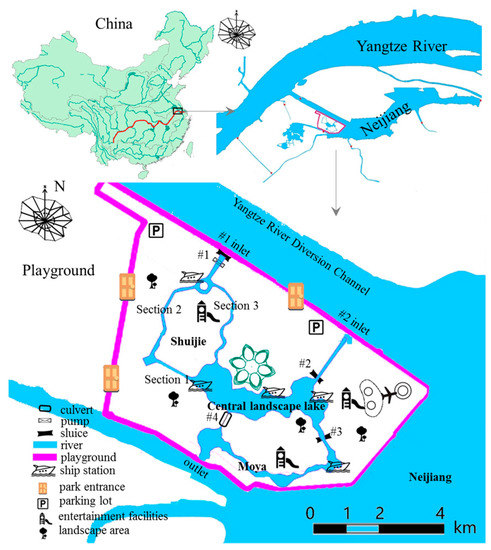 Figure 1
This is an open access article distributed under the
Creative Commons Attribution License
which permits unrestricted use, distribution, and reproduction in any medium, provided the original work is properly cited (CC BY 4.0).

Share & Cite This Article
MDPI and ACS Style
Pang, M.; Song, W.; Zhang, P.; Shao, Y.; Li, L.; Pang, Y.; Wang, J.; Xu, Q. Research into the Eutrophication of an Artificial Playground Lake near the Yangtze River. Sustainability 2018, 10, 867.
Note that from the first issue of 2016, MDPI journals use article numbers instead of page numbers. See further details here.
Related Articles
Comments
[Return to top]