Open Access This article is
freely available
re-usable
Article
Photovoltaic and Hydrogen Plant Integrated with a Gas Heat Pump for Greenhouse Heating: A Mathematical Study
1
Department of Agricultural and Environmental Science, University of Bari Aldo Moro, 70126 Bari, Italy
2
Department of Agriculture and Forestry Science, Tuscia University, 01100 Viterbo, Italy
*
Author to whom correspondence should be addressed.
Received: 11 January 2018 / Accepted: 30 January 2018 / Published: 1 February 2018
Abstract
:
Nowadays, the traditional energy sources used for greenhouse heating are fossil fuels such as LPG, diesel and natural gas. The global energy demand will continue to grow and alternative technologies need to be developed in order to improve the sustainability of crop production in protected environments. Innovative solutions are represented by renewable energy plants such as photovoltaic, wind and geothermal integrated systems, however, these technologies need to be connected to the power grid in order to store the energy produced. On agricultural land, power grids are not widespread and stand-alone renewable energy systems should be investigated especially for greenhouse applications. The aim of this research is to analyze, by means of a mathematical model, the energy efficiency of a photovoltaic (8.2 kW), hydrogen (2.5 kW) and ground source gas heat pump (2.2 kW) integrated in a stand-alone system used for heating an experimental greenhouse tunnel (48 m2) during the winter season. A yearlong energy performance analysis was conducted for three different types of greenhouse cover materials, a single layer polyethylene film, an air inflated-double layer polyethylene film, and a double acrylic or polycarbonate. The results of one year showed that the integrated system had a total energy efficiency of 14.6%. Starting from the electric energy supplied by the photovoltaic array, the total efficiency of the hydrogen and ground source gas heat pump system was 112% if the coefficient of the performance of the heat pump is equal to 5. The heating system increased the greenhouse air temperatures by 3–9 °C with respect to the external air temperatures, depending on the greenhouse cover material used.
Keywords:
gas heat pump; stand-alone plant; greenhouse heating; hydrogen systems
Acknowledgments
Funding source: Fondo di Sviluppo e Coesione 2007–2013—APQ Ricerca Regione Puglia "Programma regionale a sostegno della specializzazione intelligente e della sostenibilità sociale ed ambientale-FutureInResearch". We thank Costantinos Anifantis, Franco Ferrulli, Flavio Castellano, Domenico Tarantino and Davide Sfregola for their technical assistance.
Author Contributions
Alexandros Sotirios Anifantis and Simone Pascuzzi conceived and designed the experiments; Andrea Colantoni performed the experiments; Alexandros Sotirios Anifantis and Francesco Santoro analyzed the data; Alexandros Sotirios Anifantis wrote the paper.
Conflicts of Interest
The authors declare no conflict of interest.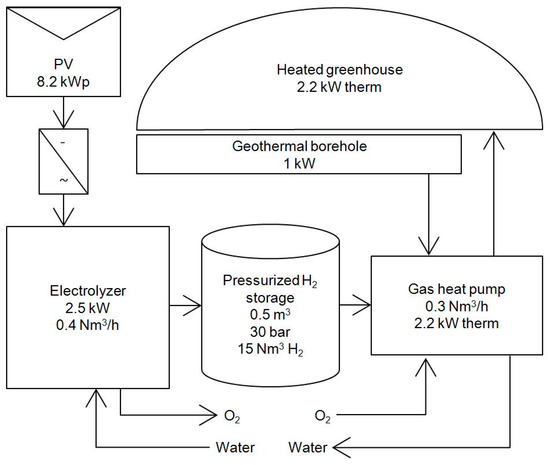 Figure 1. Photovoltaic (PV), hydrogen system and ground source gas heat pump (GSGHP) in a stand-alone application for greenhouse heating.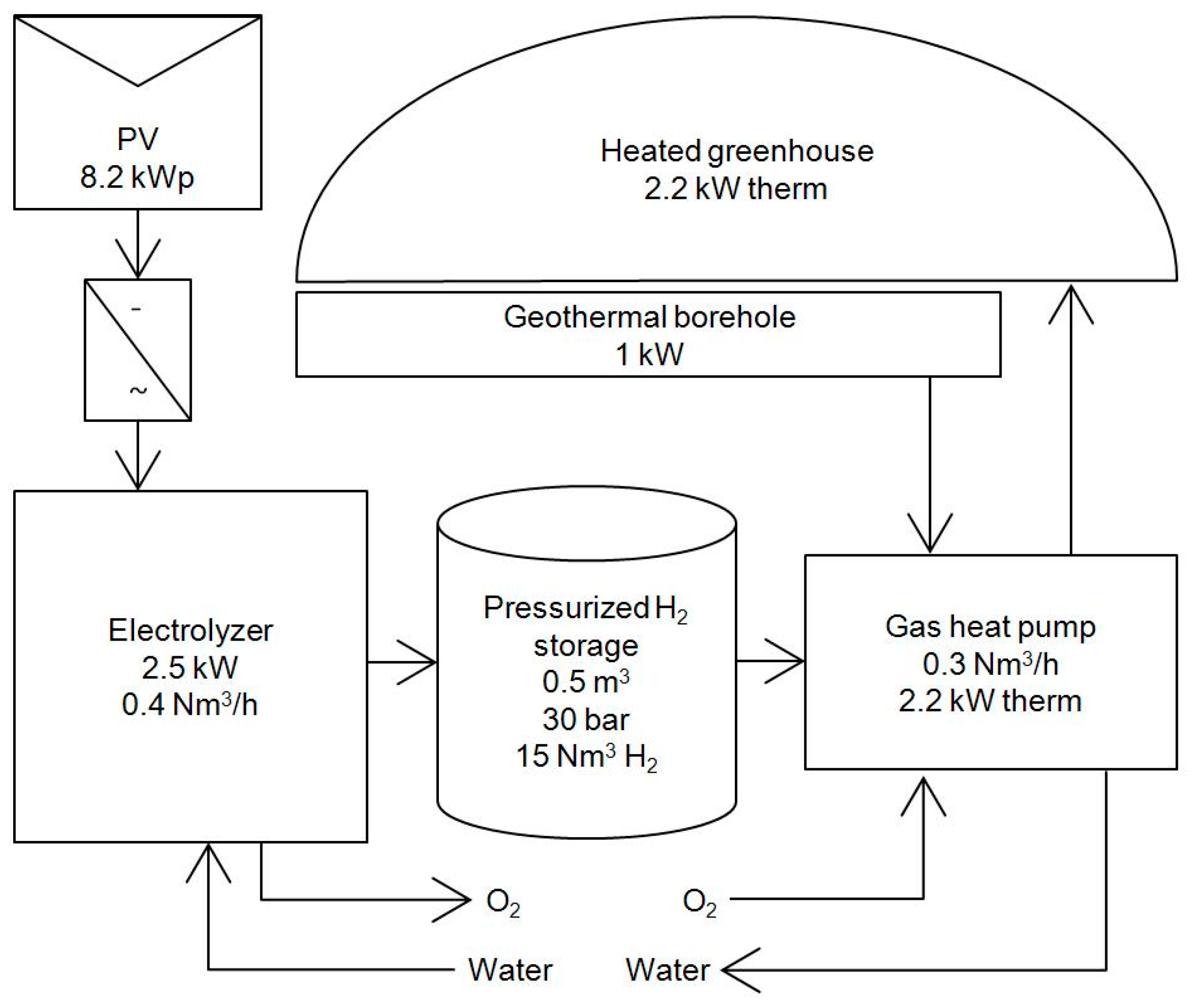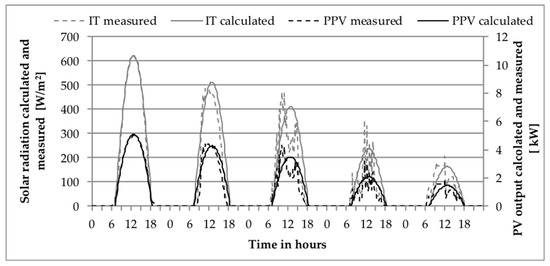 Figure 2. Solar radiation and PV electric power output calculated and measured during five representative winter days.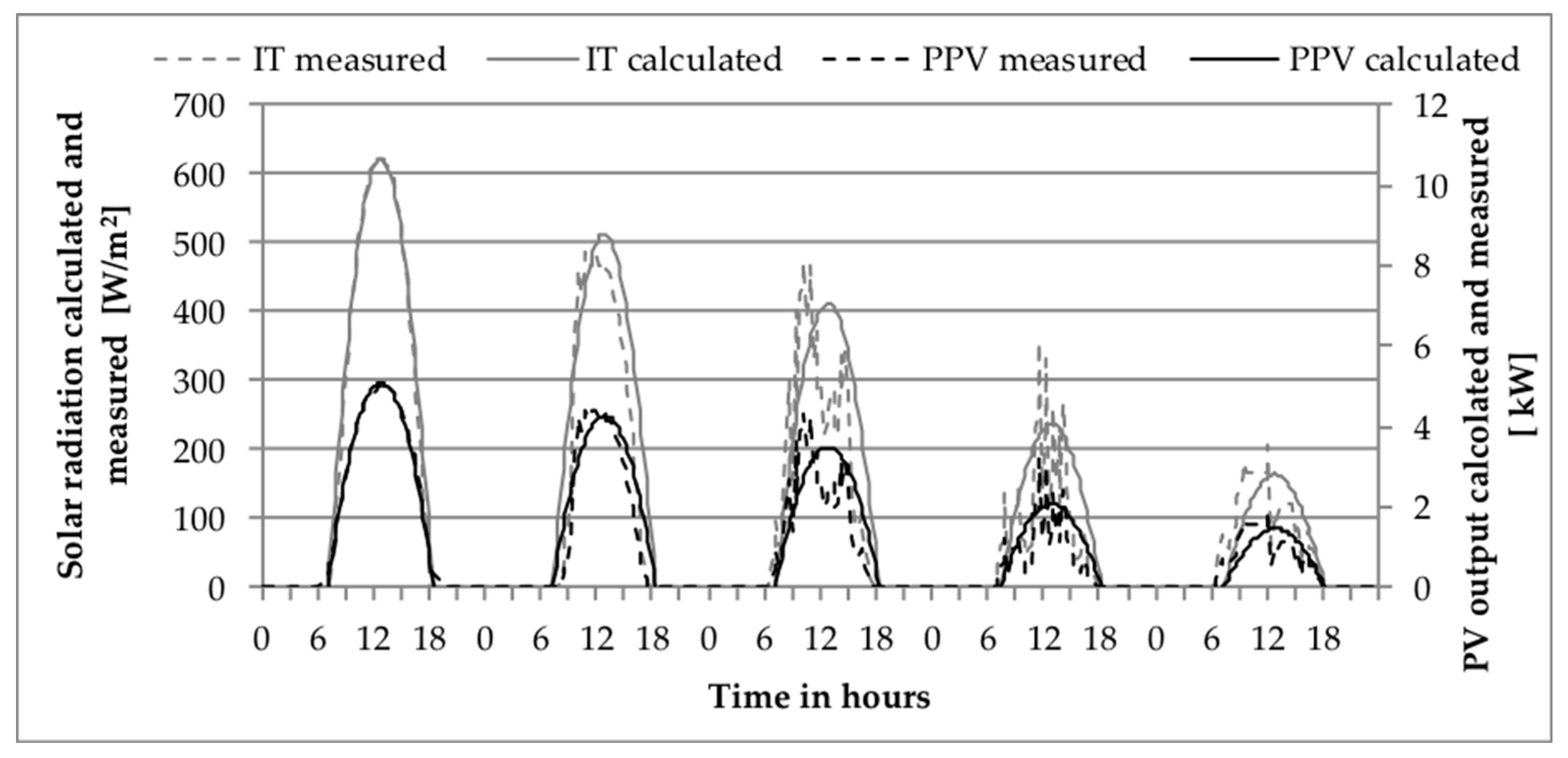 Figure 3. Heating power supplies by the ground source gas heat pump (Q1_GSGHP) and heat power extracted from the ground (Q2) during five representative winter days.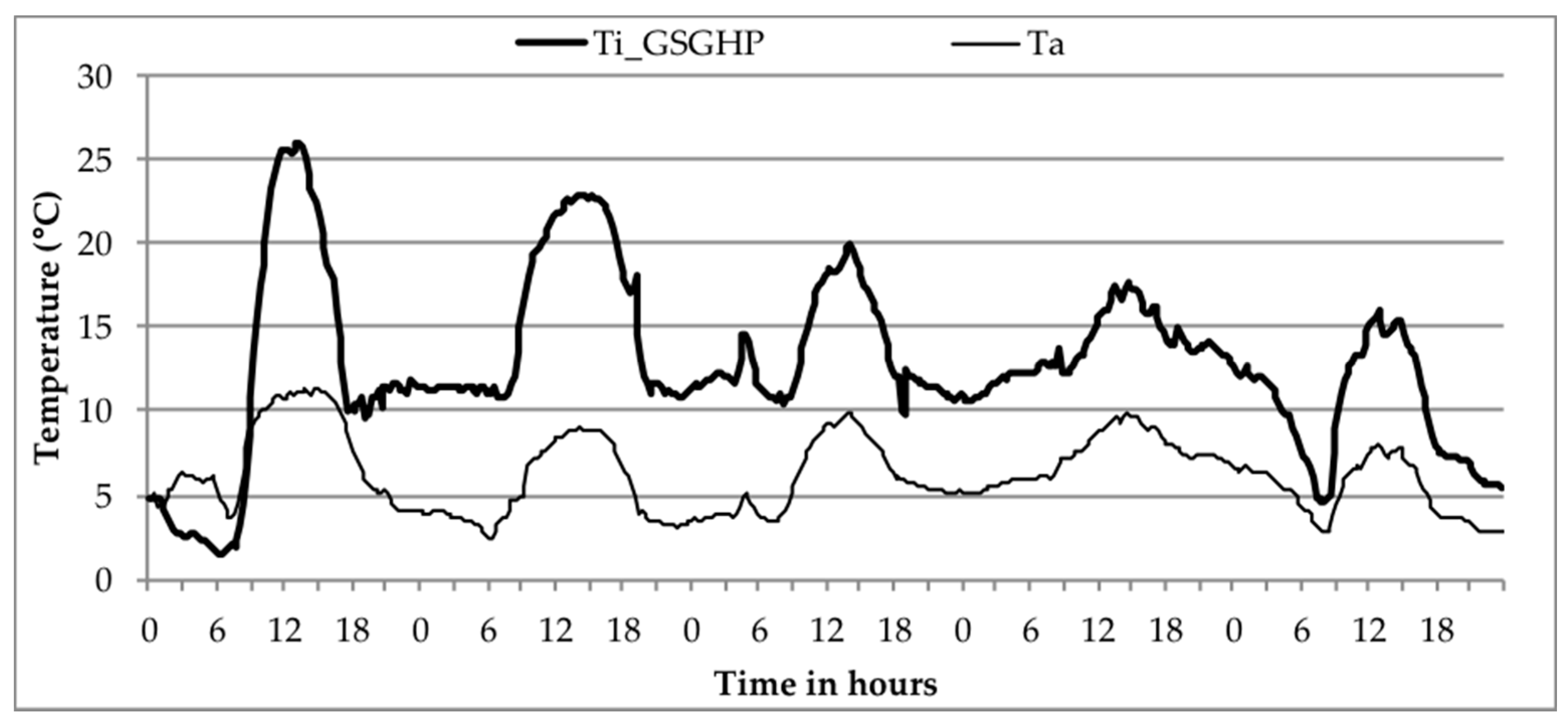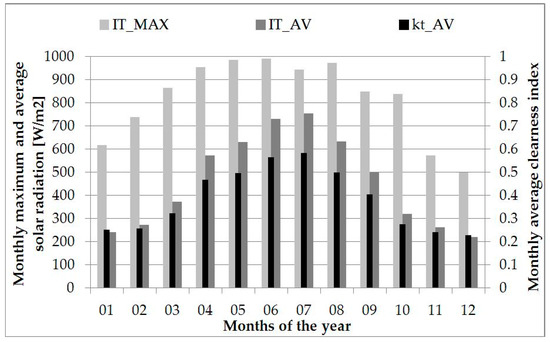 Figure 5. Monthly maximum (IT_MAX) and average (IT_AV) solar radiation and clearness index (kt) in 2015.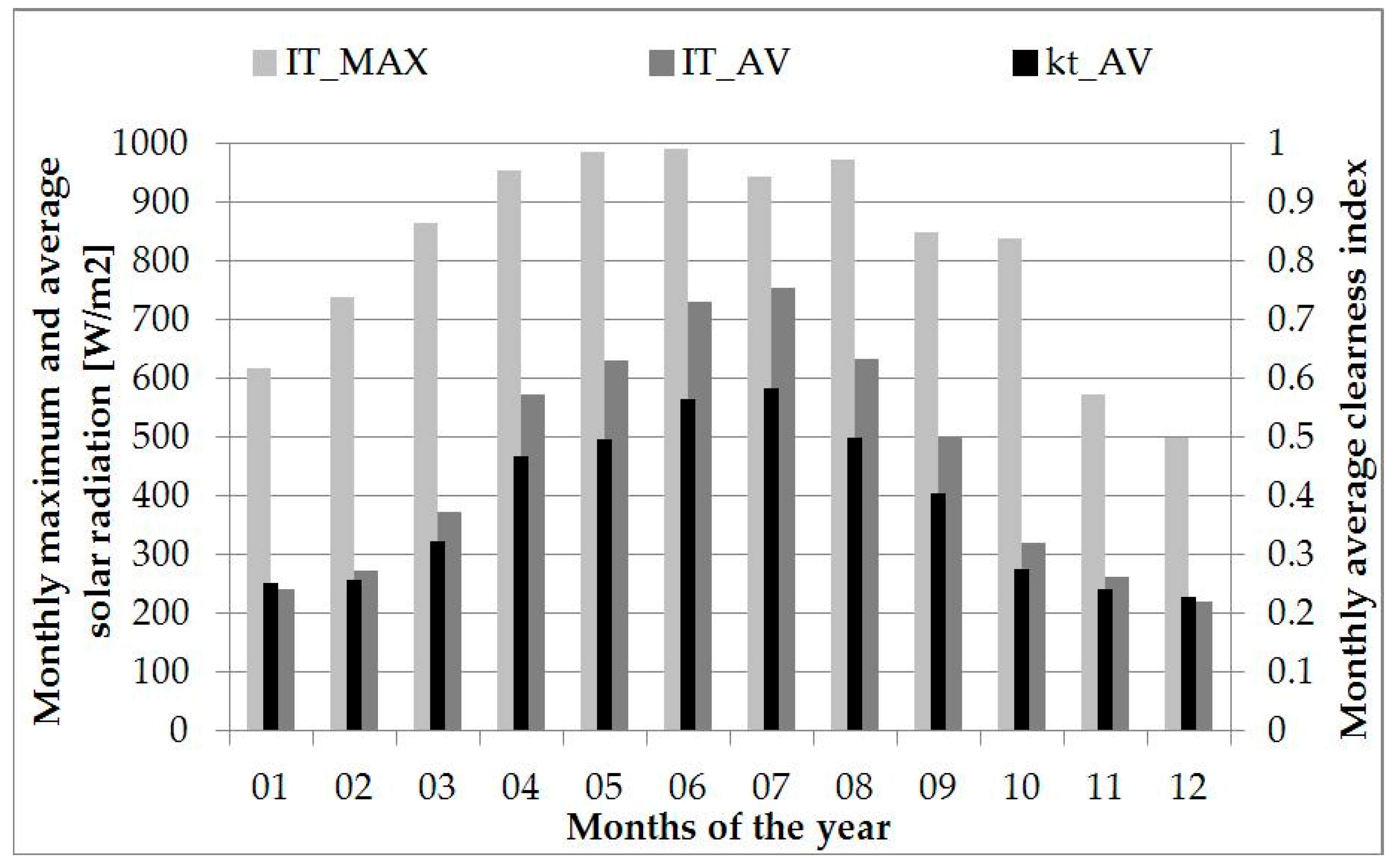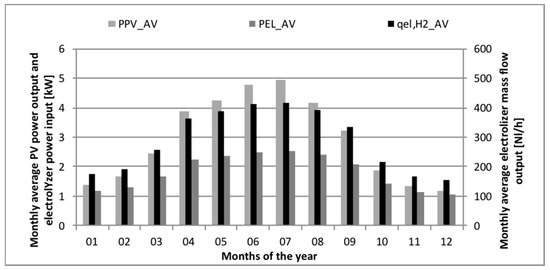 Figure 6. Monthly average photovoltaic power output (PPV_AV), electrolyzer power input (PEL_AV) and electrolyzer mass flow output (qel,H2_AV) in 2015.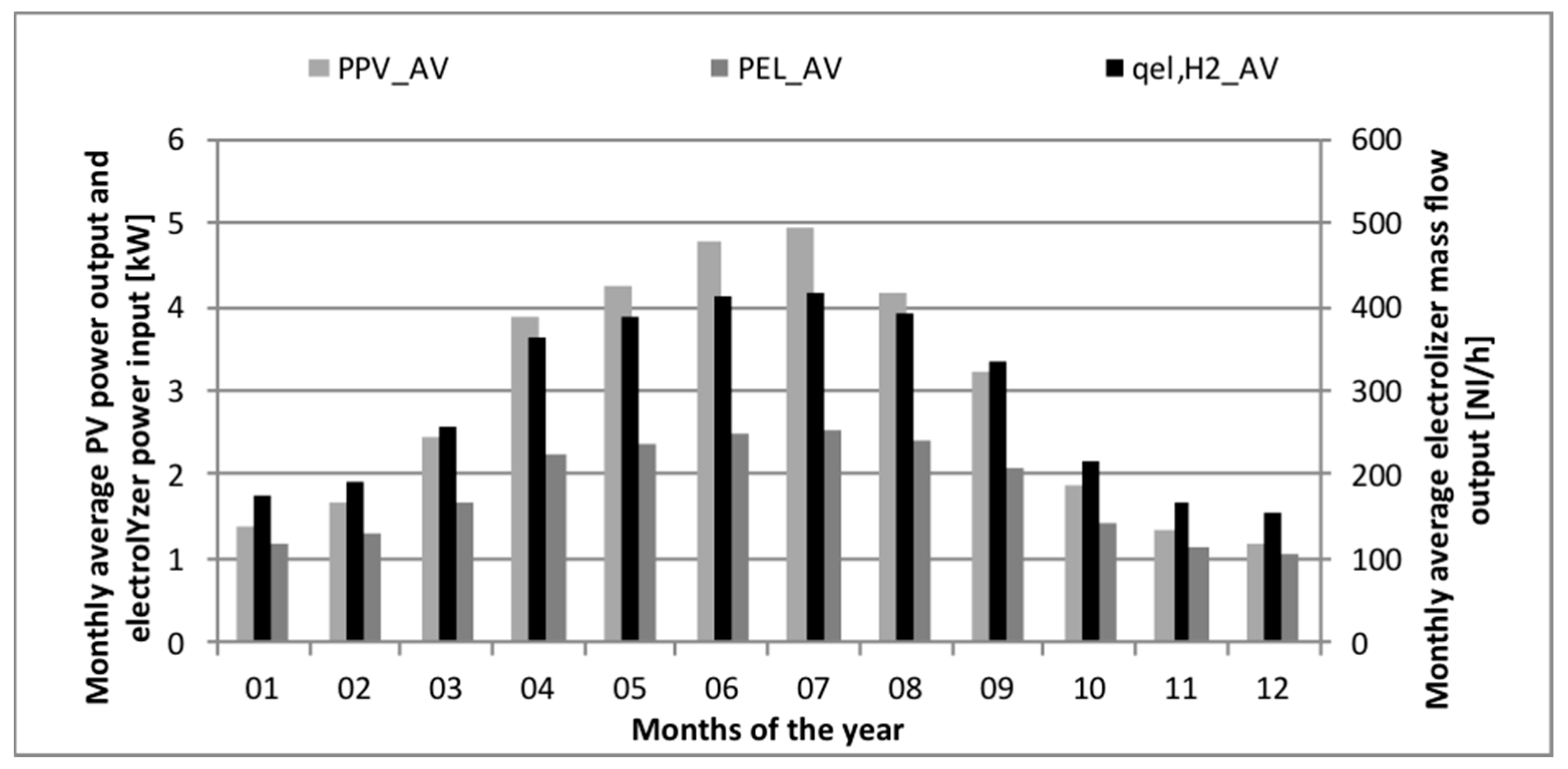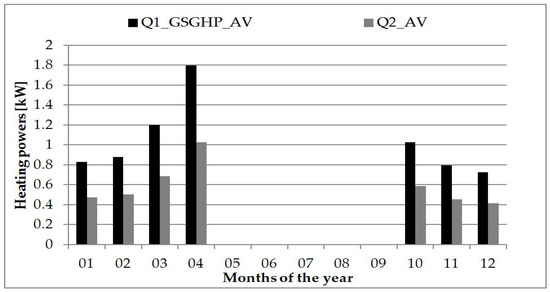 Figure 7. Monthly average heating power supplied by the ground source gas heat pump (Q1_GSGHP_AV) and heat power extracted from the ground (Q2_AV) in 2015.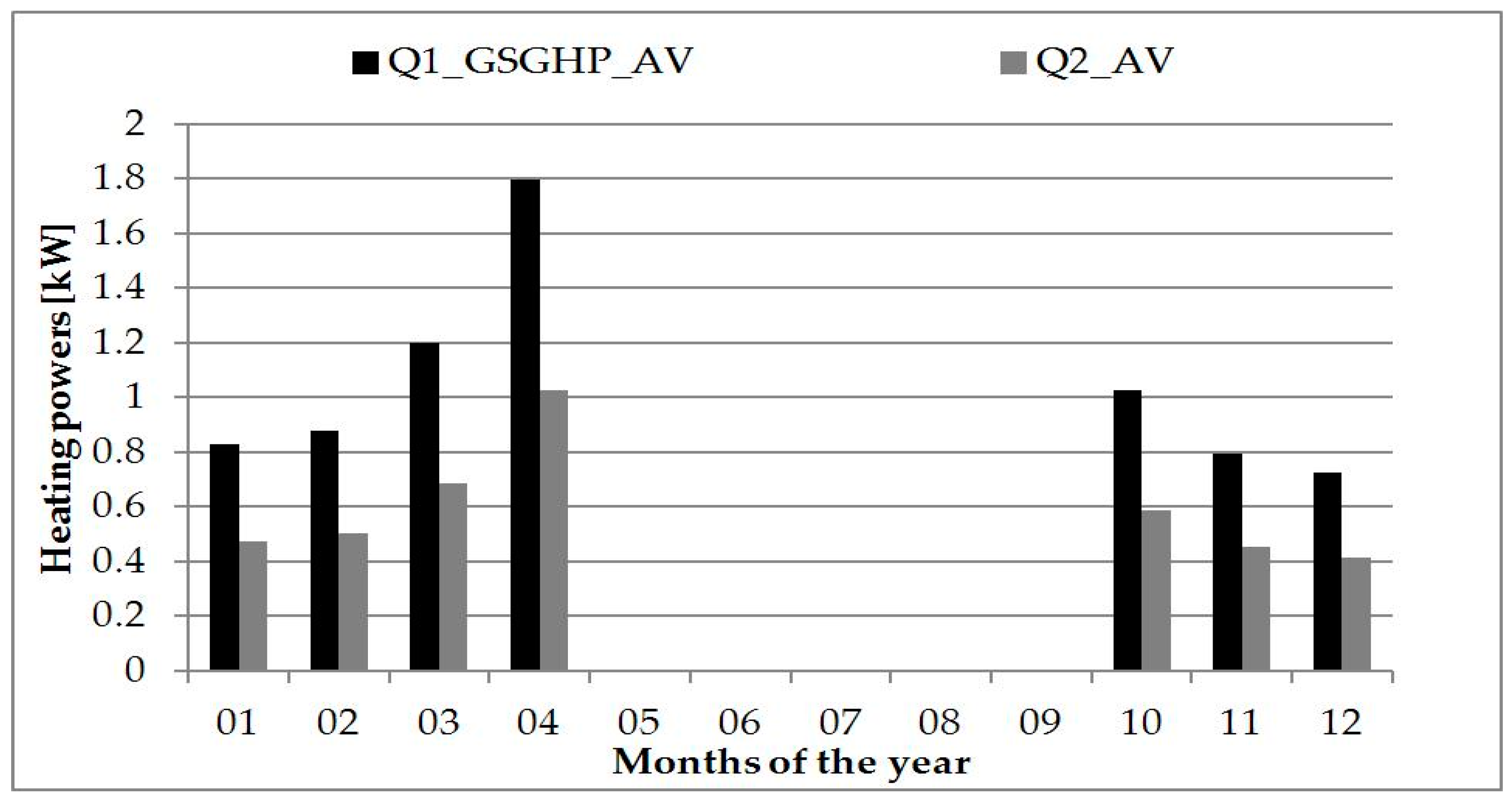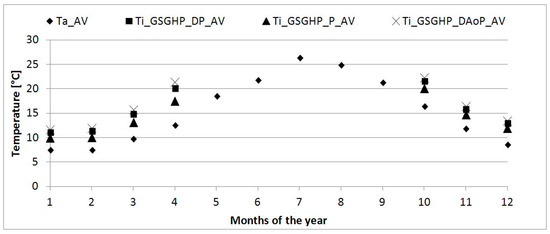 Figure 8. Average monthly internal and external greenhouse air temperatures for three different cover materials in 2015.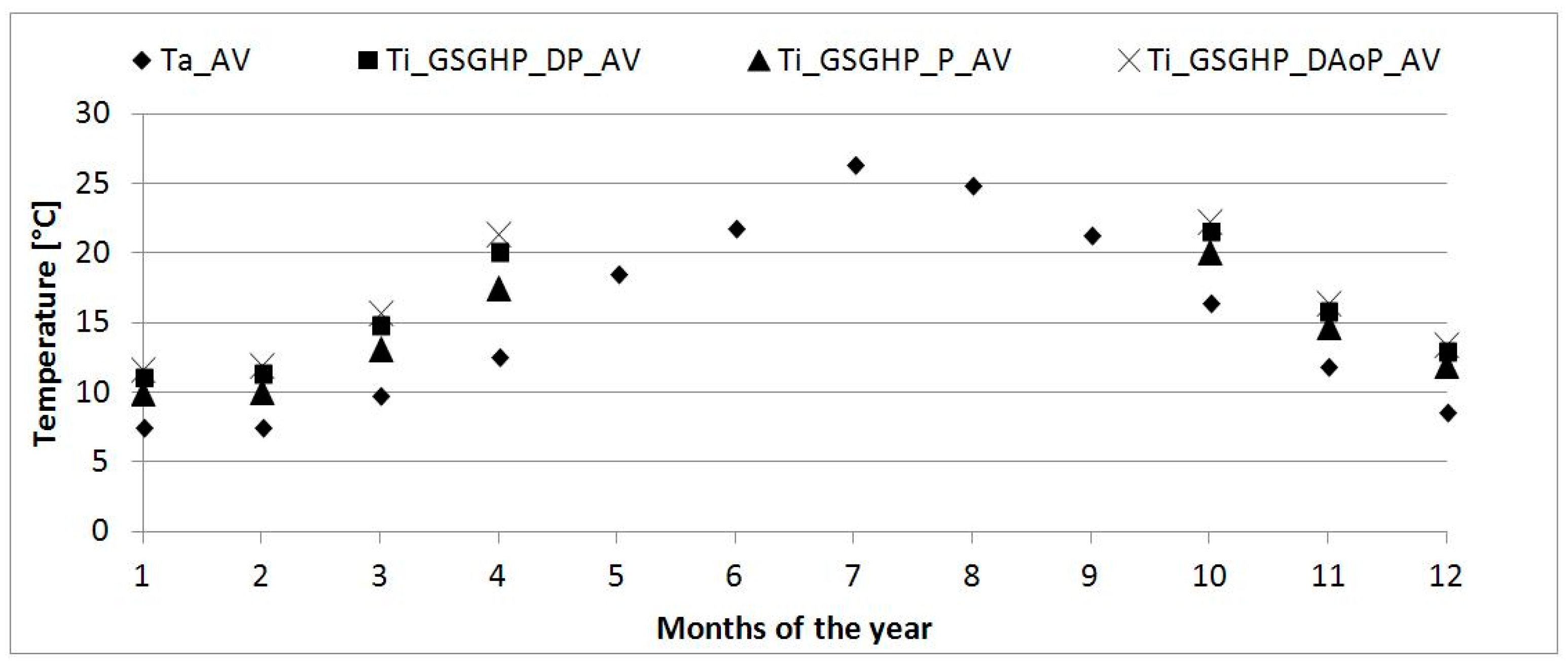 | Components | Specifications |
| --- | --- |
| Photovoltaic array | BYD 240P6-30, 34 modules, 8.2 kW peak |
| Electrolyser | Monopolar alkaline electrolyzer 2.5 kW, 0.4 Nm3/h—H2Nitidor S.r.l. |
| H2 storage | 30 bars, 0.5 m3 |
| Gas heat pump | Model AXGP224E1 8HP, Aisin (TOYOTA) |
| Geothermal borehole | 120 m vertical double U-bend ground heat exchanger |
| Fan-coil unit | Carisma CRC53MV, Heating capacities: 3.59 kW; air flow rate 495 m3/h |
| Greenhouse | Air inflated, double layer polyethylene film greenhouse tunnel |

© 2018 by the authors. Licensee MDPI, Basel, Switzerland. This article is an open access article distributed under the terms and conditions of the Creative Commons Attribution (CC BY) license (http://creativecommons.org/licenses/by/4.0/).