Open Access This article is
freely available
re-usable
Article
Transition to Sustainability in Macro-Universities: The Experience of the National Autonomous University of Mexico (UNAM)
1
Escuela Nacional de Estudios Superiores (ENES)-Morelia, UNAM, Morelia 58190, Mexico
2
Secretaría de Desarrollo Institucional, UNAM, Mexico City 04510, Mexico
*
Author to whom correspondence should be addressed.
Received: 25 October 2018 / Accepted: 15 December 2018 / Published: 18 December 2018
Abstract
:
In this paper, we assess the challenges of macro-universities to incorporate sustainability as an integral dimension of their activities and institutional development, and as a public higher education institutions that have an important role in sustainable development in the Global South. To this end, we analyzed the efforts oriented towards incorporating sustainability into research and teaching agendas, as well as the campus management activities of the Universidad Nacional Autónoma de México (UNAM), a university with national presence and a community of more than 420,000 people comprising students, academics and administrative staff. UNAM has historically been one of the most important research and teaching institutions in Latin America. The analysis incorporates quantitative and qualitative data, relying on information sources such as the databases of the University regarding research and teaching, institutional documents and interviews with key actors. This study argues that inter-institutional articulation is a key factor to integrate the increasing sustainable initiatives promoted in the last decade but also one of the main challenges in the consolidation of macro-universities as sustainable universities.
Keywords:
sustainable university; public university; macro-universities; institutional design; global south; Mexico; UNAM
1. Introduction
The importance and potential contributions of higher education institutions (HEIs) to sustainable development were formally recognized since the early 1970s in the Club of Rome report (1972) [
1
] and the Stockholm Declaration (1972) [
2
]. However, it was not until the 1990s that universities began to formally commit themselves to the development of a sustainable world. One of the first and most important initiatives in this regard was the Talloires Declaration (1990) [
3
], a ten-point action plan for incorporating sustainability and environmental literacy in teaching, research, and campus management that has been ratified by more than 500 colleges and universities around the world. This first initiative was followed by many meetings, statements and reports, as well as the founding of international associations focused on promoting sustainability in universities. More recently, these efforts have been endorsed within the framework of the 2030 Agenda [
4
], composed by 17 goals and 169 targets through which the United Nations seek to promote sustainable development worldwide. This Agenda identifies universities as key actors for the generation of knowledge and the education of future leaders, decision makers, entrepreneurs and citizens and proposes that the incorporation of sustainability in the governance, management and culture of universities is valuable in itself and has potential value for the implementation of sustainable trans-sectorial initiatives.
Over the last two decades, HEIs have progressively introduced sustainability into research, academic plans and campus management [
5
,
6
]. Some of them have achieved substantial progress in this process; in general terms, however, the progress has been uneven if we consider the different topics included in the idea of a sustainable university or the realities of HEIs in the world, and there are still many challenges to overcome [
7
], especially for HEIs in the Global South, a subject that to date has received little attention.
This paper analyzes the challenges faced by macro-universities for integrating sustainability into their substantive tasks through the case of the Universidad Nacional Autónoma de México (UNAM). The preliminary results of this research were presented at the 2018 International Sustainable Campus Network Conference. We consider macro-universities as those universities that: Have the highest enrolment rates nationwide; cover different areas of knowledge in the natural and social sciences, technology, humanities, arts and culture; conduct research and postgraduate teaching tasks in national and international arenas; receive a significant percentage of the national budget of the higher education system; and are in charge of the custody and development of important national historical and cultural heritage [
8
].
For the development of our case study we propose the following research questions:
What progress has the UNAM made in the incorporation of sustainability in its substantive tasks (teaching, research and extension of culture) and the management of its campuses in the last 10 years?

How have these initiatives contributed to the transformation of UNAM into a sustainable university?

What are the main challenges that this institution faces in order to consolidate itself as a sustainable university in the future?
3. Case Study Description
As stated above, this paper reports a case study focused on the process of incorporating sustainability into the substantive tasks of UNAM, the main university in Mexico and one of the most important research and teaching institutions in Latin America. UNAM was formally constituted as a public university in 1910, although its history dates back to 1551 [
36
]. Its central campus is located in Mexico City, a large and complex urban area with important social and environmental challenges [
37
,
38
]. This campus, known as Ciudad Universitaria (CU), was inaugurated in 1952 and has an extension of 730 hectares, 32% of which is occupied by an ecological reserve. In 2007, the central area of CU was acknowledged by the United Nations Educational, Scientific and Cultural Organization (UNESCO) as a world heritage site, describing it as:
"[...] an exemplary monumental set of twentieth century modernity that integrates urbanism, architecture, engineering, landscaping and arts, associating these elements with references to local traditions and to the pre-Hispanic past of Mexico. The set embodies social and cultural values of universal significance and has become one of the most important symbols of modernity in Latin America."
CU is home of an important part of the activities of UNAM, but the University also has other eight higher education campuses and 14 high schools in the metropolitan area of Mexico City, aside from six campuses for regional development and multiple research units in other states in the country, with a comprehensive community of more than 420,000 people comprising students, academics and administrative staff [
40
]. Given its public nature and its human, physical and financial resources, UNAM has a great potential to influence the sustainable development of the country through its activities of research, teaching and extension of culture.
Our analysis shows that UNAM has been a fruitful space for initiatives linked to sustainability in research, teaching and campus management over the last 10 years. However, it also suggests that until now the University has not succeeded in transforming the multiplicity of existing initiatives in the field of sustainability into a sustainable university project. Based on this case study, we suggest as a research hypothesis that the large size and organizational complexity of macro-universities scale up the organizational obstacles faced by universities to consolidate themselves as sustainable universities, and therefore, that inter-institutional coordination for sustainability it is a particularly important factor to consolidate sustainable university projects in this kind of higher education institutions.
Understanding the challenges and opportunities faced by macro-universities when integrating sustainability in their tasks is relevant for different reasons. Given the extent of their enrolment and resources, these institutions have an important potential to spread the principles of sustainable development, contribute to a better understanding of complex socio-environmental problems, develop innovative technological and organizational responses to address sustainability challenges, and train high-level professionals in this field. Moreover, given their social prestige, these universities can also have an important leadership for the promotion of sustainable practices in the cities where they are located [
41
,
42
,
43
]. In Latin America, we have identified 37 higher education institutions with these characteristics. There are, no doubt, similar institutions in other regions of the world, although, we do not have enough information to date to identify them. Taking into account only the number of students, there are at least 20 universities with an enrolment similar or superior to that of the UNAM worldwide, these are mostly located in Asia, it should be noted that an important part of the enrolment of some of these universities corresponds to distance education schemes.
4. Materials and Methods
The term 'sustainability' has been widely used in several fields, and different definitions have been developed over the past decades. Our analysis uses a broad definition of this concept that takes into account two of the elements around which there is greater consensus in the literature: (1) The reference to a scheme of use and management of ecosystems and natural resources that does not compromise their future survival persistence and (2) the integration of environmental, social and economic dimensions in academic analysis and problem-solving proposals. The operative definition of the areas and actions that can be categorized as 'sustainable' in a university implies methodological decisions that are reflected in the monitoring of their performance and the definition of priorities for their management. The present study considers in this field research, teaching and campus management activities linked to natural resource knowledge and management, environmental impacts of human activities and explicit references to the term 'sustainability.' The data for this research and its treatment are described below:
(1)

We identified databases that contained information about the activities of research, teaching, culture and operation of university campuses in the last decade. To analyze these databases:

We defined over 100 keywords (in Spanish and English) from the analysis of the main international treaties linked to sustainable development.

We first undertook a categorization exercise based on an automated word search.

We conducted a qualitative review of the first classification to ensure that the selected records were associated with sustainability.

We graphed the databases resulting from this last step to infer the behavior of the number of initiatives linked to sustainability in the areas analyzed (teaching, research, extension of culture and campus management).
The databases analyzed with this procedure are listed below:
The plans, study programs and courses were consulted in the database of the UNAM General Directorate of School Administration (DGAE).

The theses were consulted in TesiUNAM, a database that digitally registers all the theses of the University.

Research projects carried out by the UNAM researchers was consulted in the database provided to us by the UNAM General Directorate of Institutional Evaluation (DGEI).

Publications of UNAM academics were consulted in the Web of Science database.

The continuing education activities were consulted in the UNAM Coordination of Open University and Distance Education (CUAED) database.
To complete the information obtained through the analysis procedure previously described we consulted various qualitative sources that we analyzed through a content analysis approach:
(2)

The institutional pages of all the academic dependencies of the UNAM, to know their research lines, programs and departments.

(3)

The last 10 annual reports of all the academics and administrative entities of the University, to identify infrastructure initiatives related to sustainability, to know if they were documented as part of a larger project and whether they were followed up in the years after their first appearance.

(4)

Meetings with data managers about campus operations and with different actors who have promoted or have been responsible for sustainability initiatives over the past few years.
The data collected in our research have different limitations, especially those that concern the operation of the campus. It should be noted that at the UNAM there are still no institutional practices concerning the reporting of initiatives linked to sustainability and, as result, information, when available, is scattered and fragmented. This situation imposed certain limits to the methodological design of our study, which is mainly an exploratory study that sought to make a diagnosis of the initiatives linked to sustainability that were carried out at the University over the last decade. For this same reason, we do not have the elements to thoroughly investigate our hypothesis and develop a strategy to accept or reject it. However, the information obtained allows us to better understand the analyzed process and provide valuable elements to improve the institutional design of the UNAM and other macro-universities to consolidate themselves as sustainable universities.
5. Results
According to the latest data, UNAM has 349,515 enrolled students, 40,578 academics and 30,024 administrative employees. The teaching and research activities of the University are articulated through 15 faculties, five multidisciplinary units and eight national schools, 14 high schools, 34 research institutes, 14 research centers and 10 research programs. UNAM also has 135 libraries, 26 museums and 18 historical precincts under its charge. This section describes the main initiatives linked to sustainability developed at the UNAM in the last 10 years. The presentation of this data is organized in five sections: Specialised Research and Teaching Centers, Teaching, Research, Continuing education and communication of science and Campus management; through this exercise our first research question was, namely: What progress has UNAM made in the incorporation of sustainability in its substantive tasks and the management of its campus over the past 10 years? The following section discusses some of the most important implications of the size and organizational complexity of the University in relation to efforts to foster processes of institutional innovation towards sustainability; addressing the other two questions that we initially raised: How do these initiatives contribute to the transformation of UNAM into a sustainable university? Finally: What are the main challenges facing the consolidation of these initiatives in the future?
6. Discussion
The previous section shows that, over the last decade, multiple initiatives related to the environment and sustainability have been initiated at UNAM. Some of these have had a short-term nature, but many others are the result of institutional efforts to include sustainability as a priority of the University. This is the case with the formation of several research centers and study programs specializing in sustainability issues reported in the first two sections of our results. Another example is the formulation and implementation of strategies to reduce the environmental impacts of University activities in the design of some of the new UNAM campuses in the country, such as ENES Morelia and ENES Leon. However, until now, many of these initiatives have remained isolated and this has made it difficult to consolidate them in the long term. Besides, the existing initiatives respond, to a large extent, to the projects and interests of particular actors within the University and are not based on a general diagnosis of the advances and pending of the University in this field. The lack of an overall vision of the advances, priorities and challenges of the University to become a sustainable university makes it difficult for the University to address, in a systematic way, the pending tasks and overcome the obstacles for its consolidation as a sustainable university. Among the areas that the University needs to strengthen for this purpose, the present study suggests: To extend the academic offer in subjects related to sustainability at the undergraduate level and include subjects on sustainability in those programs that do not yet consider the subject, for example: Administration, Arts, Computer Science, Philosophy, History, Mathematics, Medicine and Pedagogy; to promote interdisciplinary research agendas around contemporary socio-ecological challenges; reformulate the campus management schemes to give priority to sustainable strategies in all university campuses and define indicators to monitor the performance sustainable management strategies implemented; to include students and the university community at large as key actors in the sustainability strategies of the University; and to enhance collaboration with public and social actors in order to address the sustainability problems of the cities and regions where the university campuses are located.
The obstacles and opportunities that UNAM have faced and still faces in its efforts to incorporate sustainability into its substantive tasks and campus management are multi-faceted problems. From this case, we highlight the importance of a university joint project that guides the transition towards sustainability in universities [
49
,
50
,
51
,
52
] as part of the construction of a "whole institutional approach," as outlined by the UNESCO's Global Action Programme on Education for Sustainable Development [
53
]. Amongst the institutional challenges for the development of sustainable universities, researchers have identified the divergence between academics, students and administration staff members as a potential source of power struggles and divisions [
54
]. This discussion is relevant for all universities but is particularly important for macro-universities, such as UNAM, where visions and subgroups multiply, making the articulation of a sustainable university initiatives not only more complex but also more important. UNAM consists of more than 130 entities and dependencies with their own histories and contrasting visions about the priorities of the University and the role of and importance given to sustainability. The size and complexity of its organizational structure, the diversity of institutional actors and the institutional inertias that have developed over more than a century have hindered both the construction of a unitary sustainable university project and the implementation of a transversal program of sustainable campus management. At the same time, it is important to consider that the initiatives carried out in this field often receive positive responses from many members of the academic community and have a broad social demand, showing that there is a field of opportunity for the growth of these initiatives that the University has not yet fully responded to.
7. Conclusions
To better understand the process of incorporating sustainability into the substantial tasks of UNAM, one should begin by considering the common perception of sustainability in Mexico as an issue secondary to other social problems, such as poverty, lack of security and lack of democracy. This perception is present both in political areas and in multiple social spheres. It permeates the definition of research agenda and the teaching priorities within universities, underestimating the impacts of environmental degradation on quality of life and social welfare, as well as the fact that investments on sustainability are crucial for the present and for the future.
To contribute to the development of increasingly sustainable societies is one of universities' essential tasks in order to comply with their social responsibility, especially for public universities of the Global South. The UNAM Institutional Development Plan 2015–2019 acknowledges environmental crises amongst the main contemporary challenges faced by the University and commits to incorporate sustainability perspectives in teaching, research, communication and culture, as well as in the structural and operational aspects of its campus management. However, the lack of articulation of existing sustainable initiatives and the multiplicity of missing areas, discussed in the previous sections, suggest that the University faces institutional challenges in translating this political will and the broad set of initiatives implemented to date in a systematic and sustained process of transition towards sustainability.
This research confirms what has been exposed in other works that point out that to incorporate sustainability as a core dimension of academic activities and decision making in universities these institutions need to make important changes in their governance schemes [
55
] and identify organizational development as a key factor to strengthen transformational processes towards sustainability [
23
,
24
], institutionalize it and ensure the continuity and consolidation of the sustainability projects over time. From the meetings we had with actors who have promoted or have been responsible for sustainability initiatives at UNAM, it seems clear that this demands not only clear leadership and will from university authorities but also the support of key actors at all organizational levels of the universities, processes of dialogue and construction of agreements to articulate existing initiatives, and an inclusive and participative strategy that involves students, academics and administrative staff members and that encourages collaboration within university communities.
Among the topics of future research regarding the incorporation of sustainability in the substantive areas of the UNAM we consider important to highlight: A meta-analysis of research projects and publications to identify the most studied topics and those that still need to be promoted; a network analysis of the academics involved in these works and the extent to which they are incorporating inter- and trans-disciplinary methodologies; and the spaces and strategies used by researchers to link and influence local contexts.
Author Contributions
Conceptualization, K.O. and A.G.P.; Data curation, E.M.; Formal analysis, A.G.P. and E.M.; Funding acquisition, K.O.; Investigation, A.G.P.; Methodology, A.G.P.; Project administration, K.O.; Resources, E.M.; Supervision, K.O.; Validation, A.G.P.; Visualization, A.G.P., Writing—original draft, A.G.P.; Writing—review & editing, K.O. and A.G.P.
Funding
This research received no external funding.
Conflicts of Interest
The authors declare no conflict of interest.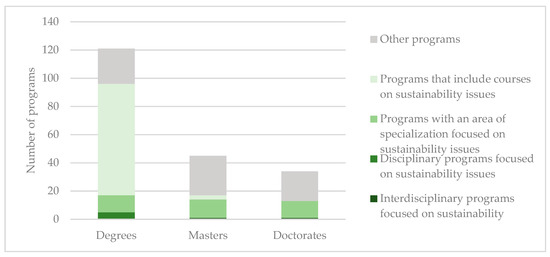 Figure 1.
Study programs by their link with the environment and sustainability, Universidad Nacional Autónoma de México (UNAM) 2018. Note: PhD programs do not include obligatory courses. Elaboration based on
http://www.posgrado.unam.mx
.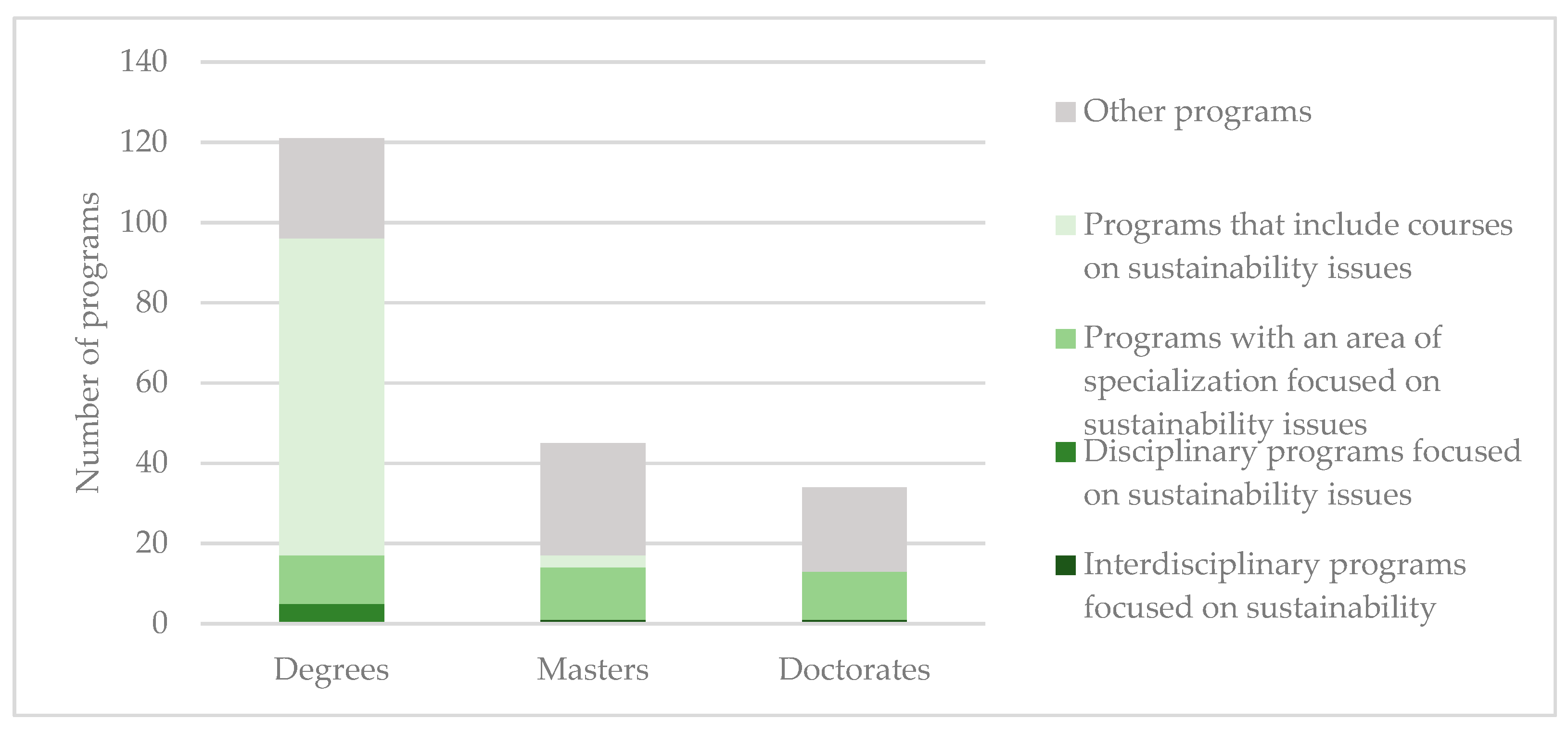 Figure 2. Research projects linked to sustainability by year and area of study, UNAM 2008–2016. Note: Elaboration based on the databases on research projects of SIIA, UNAM.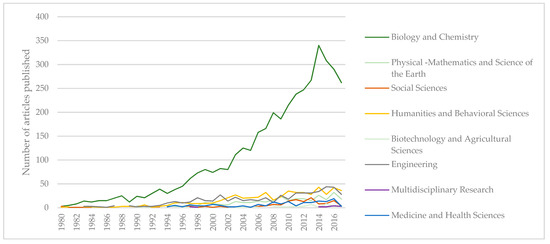 Figure 3. Publications related to the environment and sustainability written by UNAM academics by field of knowledge for the period 1980–2017 based on the Web of Science database. Note: Elaboration based on WOS, 2018.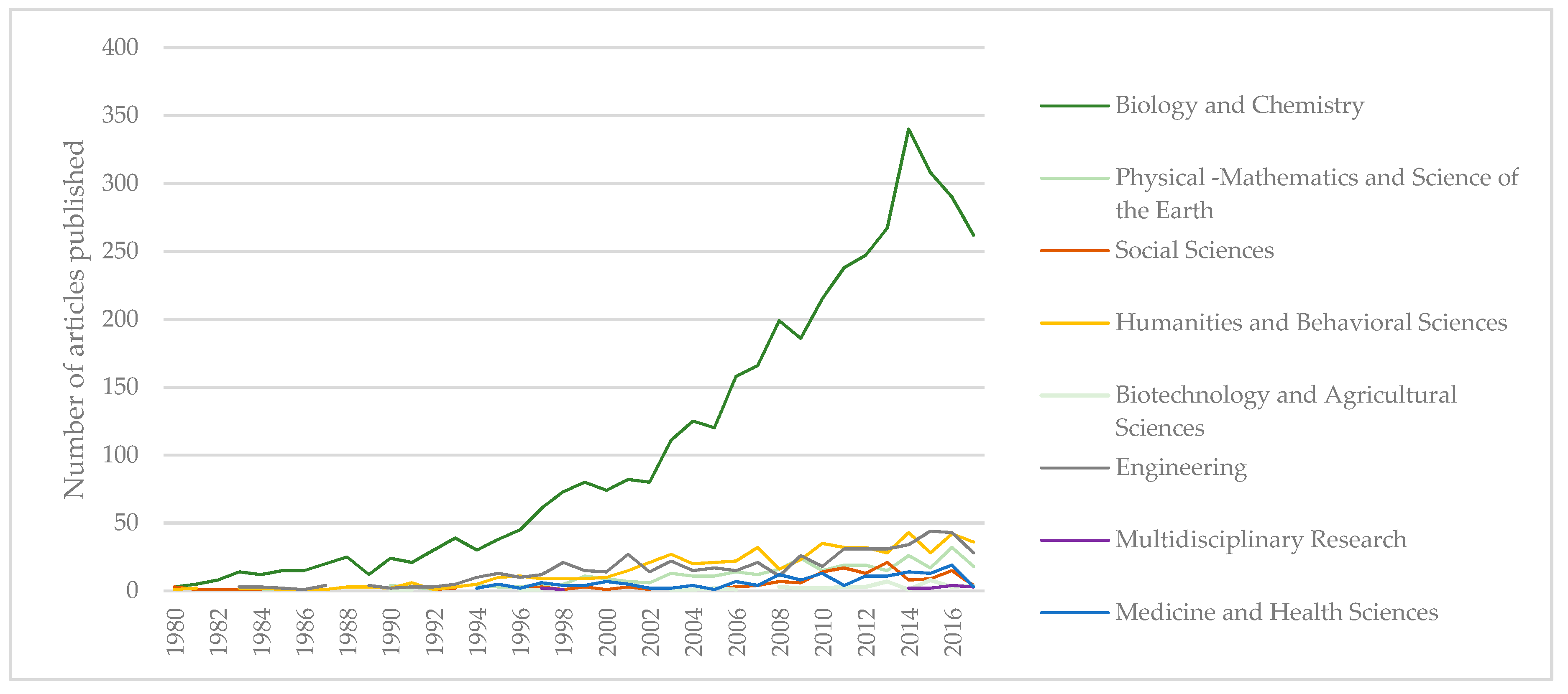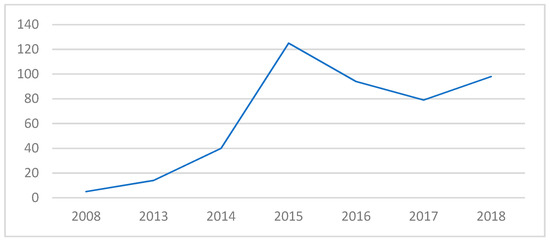 Figure 4. Continuing education and communication of science activities at UNAM by year. Note: Elaboration based on the databases on research continuing education of CUAED, UNAM.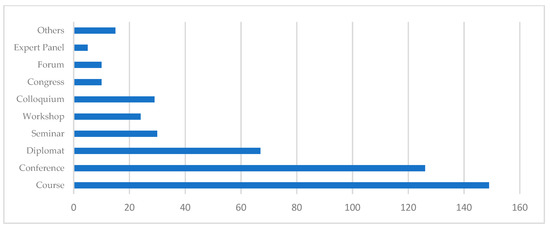 Figure 5. Continuing education and communication of science activities at UNAM by type. Note: Elaboration based on the databases on research continuing education of CUAED, UNAM.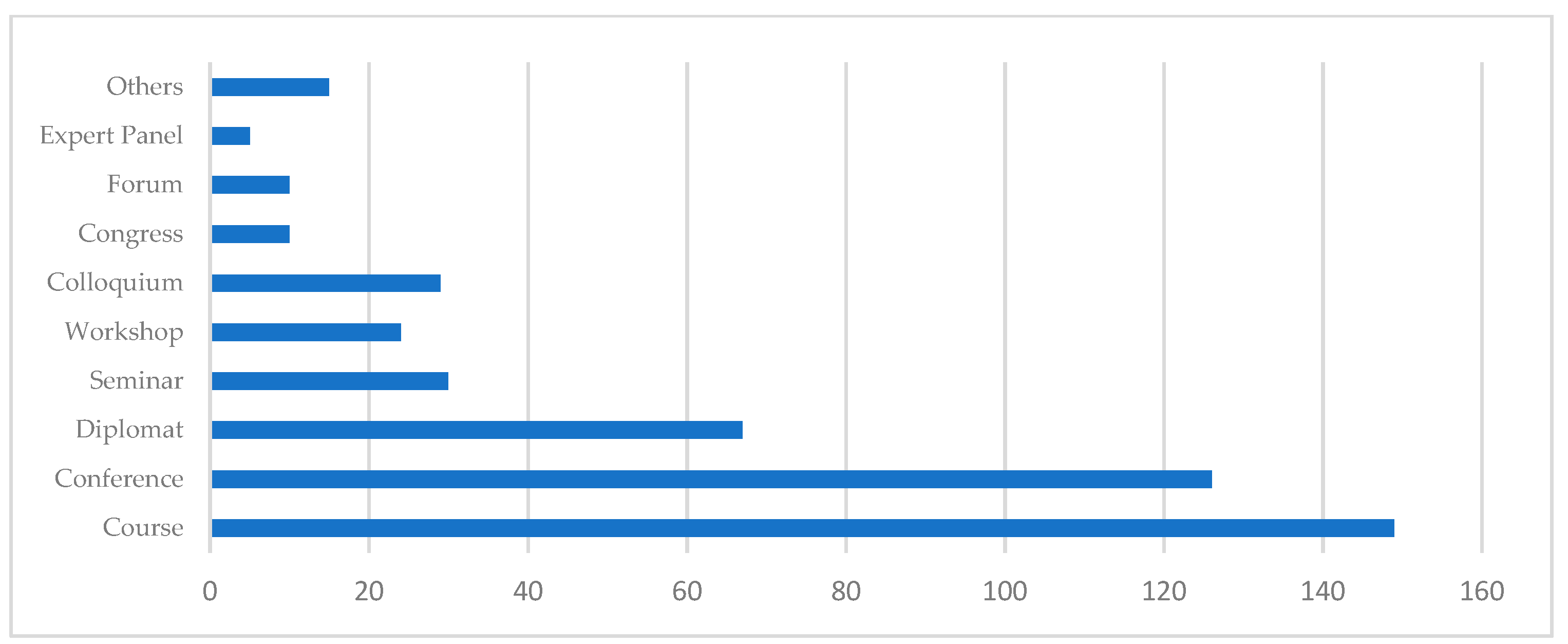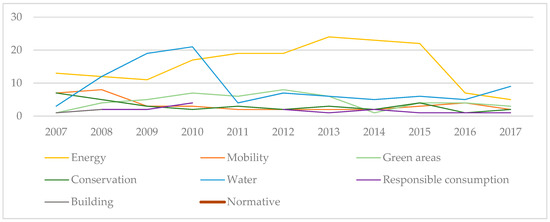 Figure 6.
Reports of sustainable management of university spaces. Note: Elaboration based on the in the analysis of the annual reports of the entities and dependencies present in the "University Reports" published online (
http://www.planeacion.unam.mx/Memoria/
).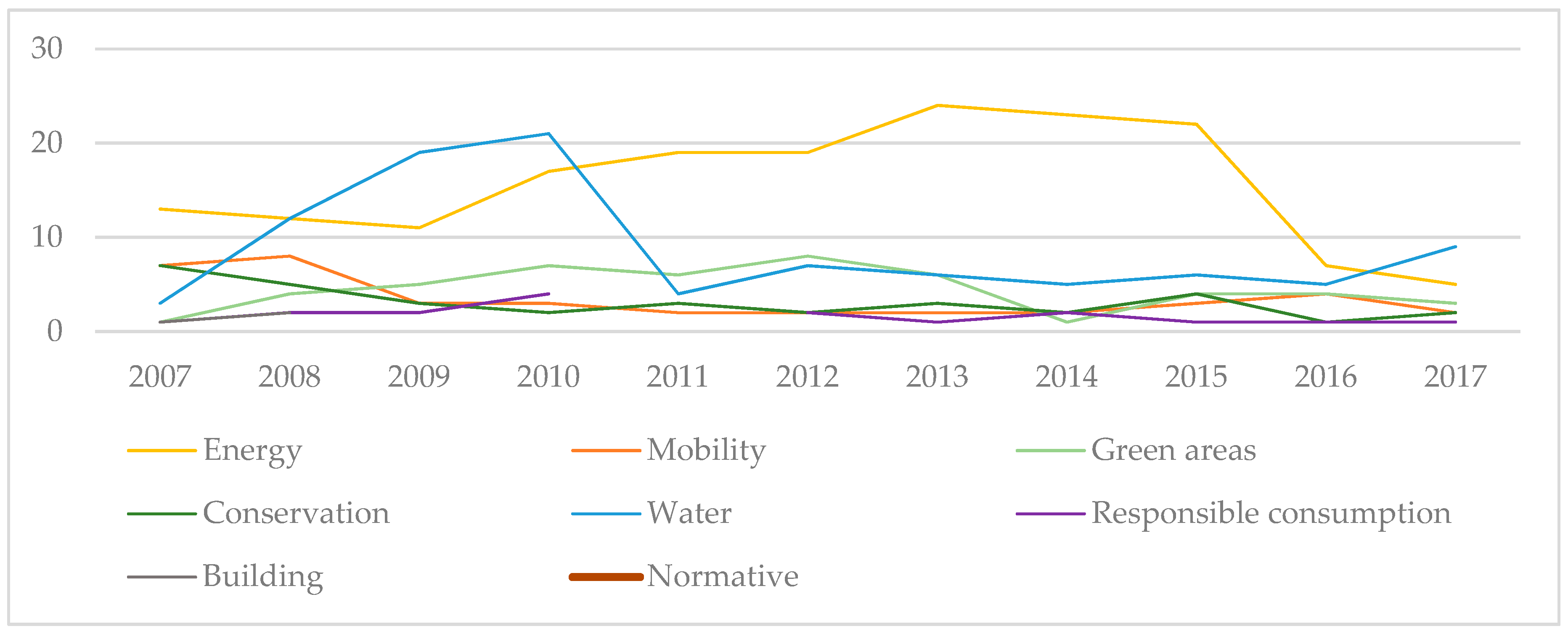 | Name | Institutional Background | Foundation Year | Location |
| --- | --- | --- | --- |
| Ecosystems and Sustainability Research Institute | 1996 | 2003 | Morelia, Michoacán |
| Environmental Geography Research Center | 2003 | 2007 | Morelia, Michoacán |
| Climate Change Research Program | --- | 2009 | CU, Mexico City |
| Renewable Energies Institute | 1985 | 2013 | Temixco, Morelos |
| National Laboratory of Sustainability Sciences 1 | --- | 2014 | CU, Mexico City |
1 A part of the Institute of Ecology.

Table 2. Specialised study programs and programs with an area of expertise in the environment and/or sustainability.
Interdisciplinary programs focused on sustainability
Postgraduate programs
Sustainability Sciences
Specialised study programs on the environment and/or sustainability
Undergraduate programs
Sustainable Management of Coastal Zones, Engineering in Renewable Energies, Environmental Sciences, Sustainable Materials Sciences, and Environmental Engineering.
Specializations
Savings and Efficient Use of Energy, Environmental Law and Environmental and Ecological Economics.
Study programs with an area of expertise in the environment and/or sustainability
Undergraduate programs
Biology, Ecology, Earth Sciences, Geophysical Engineering, Technologies for Information in Sciences, Agricultural Engineering, Chemistry, Industrial Chemistry, Agricultural Administration, Law, Territorial Development, Geohistory and Architecture.
Postgraduate programs
Earth Sciences, Engineering, Physical Sciences, Biomedical Sciences, Teaching for Higher Secondary Education, Biochemical Sciences, Biological Sciences, Marine Sciences and Limnology, Chemical Sciences, Law, Economics, Geography, Architecture and Urbanism.

© 2018 by the authors. Licensee MDPI, Basel, Switzerland. This article is an open access article distributed under the terms and conditions of the Creative Commons Attribution (CC BY) license (http://creativecommons.org/licenses/by/4.0/).