Population Matters: Identifying Metropolitan Sub-Centers from Diachronic Density-Distance Curves, 1960–2010
1
Università Politecnica delle Marche, Department of Social and Economic Sciences, Piazzale Martelli 8, I-60121 Ancona, Italy
2
Department of Agricultural and Forestry Sciences (DAFNE), Tuscia University, Via San Camillo de Lellis, I-01100 Viterbo, Italy
3
Council for Agricultural Research and Economics (CREA), Viale S. Margherita 80, I-52100 Arezzo, Italy
4
Global Change Research Institute of the Czech Academy of Sciences, Lipová 9, CZ-37005 České Budějovice, Czech Republic
*
Author to whom correspondence should be addressed.
Received: 26 November 2018 / Revised: 5 December 2018 / Accepted: 5 December 2018 / Published: 6 December 2018
Abstract
The present study illustrates a simplified procedure identifying population sub-centers over 50 years in three Southern European cities (Barcelona, Rome, Athens) with the aim to define and characterize progressive shifts from mono-centric structures towards a polycentric spatial configuration of (growing) metropolitan regions. This procedure is based on a spatially-explicit, local-scale analysis of the standardized residuals from a log-linear model assessing the relationship between population concentration and the distance from a central place in each metropolitan region, under the hypotheses that (i) a mono-centric spatial structure is characterized by a linear relationship between the two variables and that (ii) population sub-centers—considered early signals of a more polycentric regional structure—are characterized by high and positive regression residuals. Results of this study indicate that the three cities have experienced distinctive urbanization waves influencing the overall metropolitan configuration, with variable impact on the original mono-centric structure. Population sub-centers include (i) peri-urban municipalities around the central city and more remote towns situated in rural districts (Barcelona); (ii) scattered towns at variable distances (20–30 km) from the central city (Rome); (iii) fringe municipalities and peri-urban locations in flat districts, 10–20 km away from the central city (Athens). These results may indicate a distinctive evolution path toward polycentric development in the three cities, more evident in Barcelona and Rome and less evident in Athens. The proposed methodology can be generalized and adapted to discriminate population from employment sub-centers in metropolitan regions all over Europe.
View Full-Text
►

▼

Figures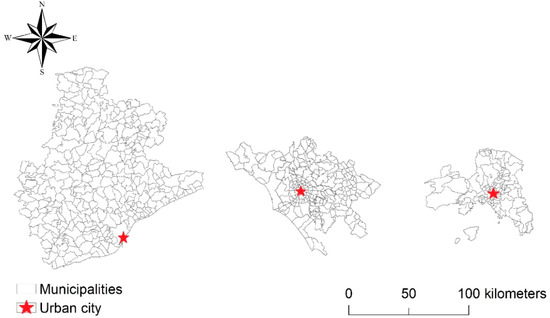 Figure 1
This is an open access article distributed under the
Creative Commons Attribution License
which permits unrestricted use, distribution, and reproduction in any medium, provided the original work is properly cited (CC BY 4.0).

Share & Cite This Article
MDPI and ACS Style
Mariani, F.; Zambon, I.; Salvati, L. Population Matters: Identifying Metropolitan Sub-Centers from Diachronic Density-Distance Curves, 1960–2010. Sustainability 2018, 10, 4653.
Note that from the first issue of 2016, MDPI journals use article numbers instead of page numbers. See further details here.
Related Articles
Comments
[Return to top]