Open Access This article is
freely available
re-usable
Article
Designing a Data Visualization Dashboard for Managing the Sustainability Communication of Healthcare Organizations on Facebook
Department of Social, Political and Communication Sciences, University of Salerno, Via Giovanni Paolo II, 84084 Fisciano, Italy
*
Author to whom correspondence should be addressed.
Received: 29 October 2018 / Accepted: 24 November 2018 / Published: 27 November 2018
Abstract
:
Healthcare organizations are being increasingly requested to publicize their sustainability efforts on digital environments and social media, in part because previously passive patients are now becoming active customers. This paper investigates how leading healthcare organizations are using Facebook to communicate their sustainability, in terms of their focus on different components of the 3Ps (people, profit, planet) and interactive communication strategies used on social media. A content analysis was made of the Facebook posts (
n
= 6145) of healthcare organizations in the Forbes Global 2000 (2017 annual ranking) from 2015 to mid-2018. Our findings show that the social component of sustainability prevails over environmental and economic issues, although it does not seem to generate increased consumer engagement (in terms of users' likes, comments, reactions, etc.). A data visualization dashboard was developed to help managers in benchmarking competitors and assessing how they can increase response rates and public engagement on social media, thus encouraging the active participation of users. The study also provides useful insights for communication managers in identifying how to use deliberative tools to develop consumer relationships on social media and aligning companies and consumers regarding shared sustainability themes.
Keywords:
sustainability communication management; data visualization dashboard; healthcare organizations; social media; user engagement; managerial dashboard
2. Literature Review
2.1. Sustainability Communication in the Healthcare Sector
2.2. Sustainability Communication of Healthcare Organizations on Social Media
Despite the growing attention on sustainability communication on social media, there are few empirical studies that highlight how effectively healthcare organizations communicate on social media, in particular Facebook. The main question of this exploratory research explores the communicative initiatives of large healthcare companies. It can be used to have an initial but comprehensive representation of Facebook usage in the sustainability domain. Our research also provides insights to support managerial decisions on communicating sustainability efforts on social media in a complex and rapidly changing scenario.
3. Materials and Methods
Content analysis enabled us to investigate the role played by social media in sustainability communication of healthcare organizations and to identify how the three different components of sustainability (economic, environmental and social) have different effects in terms of social media engagement (measured through the interactions, comments and sharing behaviors showed by social media users).
Our unit of analysis was the official Facebook pages of the healthcare organizations included in Forbes Global 2000 in the annual ranking of 2017. The Forbes Global 2000 is a ranking, issued annually since 2003, which includes the top 2000 public companies in the world by Forbes magazine. The metrics considered for being included in the ranking are sales, profit, assets and market value.
We collected data from 1 January 2015 to 31 May 2018 in order to analyze the context in a longitudinal way.
Once the companies had been selected, by querying the Facebook Public API we collected a total of 6145 Facebook posts. For each one of these we obtained the following data: textual caption, if any; type of post (photo, status, video, link, live); date and time; and link name (i.e., the meta-title of the link attached in the caption, if any). We also collected the number of responses to each post in terms of comments, shares, likes and any other of reactions possible on Facebook (i.e., the five emojis that Facebook added in February 2016—Love, Haha, Wow, Sad and Angry).
4. Results
Table 2
shows the distribution of the posts for each company. The last column shows that the content related to the three sustainability dimensions is over 50% for all the companies, ranging from 59% (Ramsey Health Care) to 91% (Universal Health Services).
We then developed a full interactive dashboard, a tool generally acknowledged as an effective support in assisting decision making in business contexts [
70
]. The goal of this interface is to quickly identify trends and patterns [
71
] and to improve the information flow mechanisms, with the option to update results without intermediate phases of data refinement [
72
]. In this dashboard, data can be explored and filtered, and the sustainability strategies, and content strategies can be compared.
To highlight the functions of the tool, we show the views in separate figures. The heatmap [
73
] in
Figure 1
shows the density of the sustainable contents throughout the year for each company and for each type of sustainability dimension examined.
This dashboard can be read in several ways: top down to compare the companies in each year for the various fields, and from left to right to observe the trends and evolution of the companies' behaviors. In addition, it is possible to have an overall perspective of the sustainability content for each dimension or for each company. For instance, from left to right it is possible to view:
DSM in the last two years has shown an increasing rate of sustainable content in the economic and environmental fields, while it remains stable in the social field;

Universal Health Services has the highest level of social sustainability.
Each kind of sustainability is represented with a different color: social is blue, economic is red and environmental is green. Horizontally, for each company, the dashboard shows the level of coverage of sustainability content for each year on a graduated scale; for example, content related to the social dimension ranges from light blue (minimum value—0%) to deep blue (maximum value—100%) (see legend at the bottom of
Figure 1
).
An overall perspective highlights that the most "covered" sustainability field is social. Environmental issues have a good level only for a few companies, such as DSM. A top down reading reveals that the results are not stable and that there is an important turnover between the companies in the top 3.
Figure 2
focuses on strategies using a grouped stacked bar, which divides a strategy in four colors: photo, link, status and video.
The upper filter enables viewers to explore the different parts of each typology when the contents are "sustainable" or not. This kind of view reveals different communication approaches, probably more institutional for the companies with a large proportion of "links", and a smarter approach for most companies that prefer to use visual contents (photo and videos). Textual contents only (i.e., status) have a minimal frequency.
Focusing on the coverage of the three different kinds of sustainable content reveals that the social content has the greatest coverage (91%), followed by environmental (26%) and economic (12%). Note that some posts relate to more than dimension. The Venn diagram shows the overlap between the three types of sustainability content (see
Figure 3
).
The data on users' responses mean that the effects of posts can be assessed with a different focus on sustainable content. Our measurement regarding the engagement of content, as the mean number of interactions (interaction mean has been calculated as the mean number of comments, number of shares, number of likes and number of reactions), shows that the posts in the environmental field are the most engaging (mean 223) followed by economic (mean 179) and social (mean 139).
Table 3
shows the top engagement posts distinguished by type of sustainability topic. Posts related to the social dimension refer to the organizations' efforts to improve people's quality of life.
Content concerning environmental issues focuses on activities related to climate change and pollution reduction, while posts with economic intent refer to the growth of corporate business and the fair and efficient allocation of resources.
In this other view of the dashboard, each company is represented by its logo, and is located in hierarchical order top down and left-right in terms of interaction mean. At the top there is a filter for exploring the data year by year. In 2016 the best company in terms of interaction mean was Cerner. From 1 January 2018 to 30 May 2018, instead, DaVita Kidney Care reached the greatest mean number of interactions. We generally assume users' interactions as positive, mainly because negative emoji (e.g., sad and angry reactions) are very limited in number, and other reactions (likes, comments and shares) are generally interpreted as favorable interactions.
Figure 4
shows the overall ranking plus additional information, such as number of posts, by hovering over the logo.
5. Discussion
The results show that the organizations within the healthcare industry appear to make a conscious effort to share CSR-related content on Facebook, covering most of their online communications. This is particularly evident in large hospitals—in terms of the total number of employees—which appear to be significantly committed to sustainable disclosure (Universal Health Services and HCA Holdings).
6. Implications and Conclusions
The study has both theoretical and practical implications. First, the paper contributes to the ongoing debate on CSR in the healthcare sector, extending the knowledge on communication practices. Despite its critical importance worldwide [
29
], this industry has not received systematic attention with regard to CSR, above all in the use of social media for CSR issues. For these reasons, we believe that this paper is the first to empirically analyze the phenomenon as a whole, setting a framework of healthcare firms' strategies, actions and behavior in CSR online disclosure.
From a managerial point of view, our findings demonstrate that healthcare organizations exploit Facebook above all to talk about sustainability issues. Thus, the healthcare industry needs to improve the disclosure about efforts and activities undertaken in the field of CSR and develop effective CSR stakeholder dialogue strategies. A major task for managers working within the healthcare sector is to be proactive in using social media, giving relevant attention not only to social causes, but also to environmental disclosure, which emerged from our study as being the greatest driver for user engagement. Developing this CSR communication strategy could allow hospitals to attract and retain more customers who, through word of mouth, could be promoters and ambassadors of companies' CSR actions.
Healthcare firms constitute a complex system featured by fast-paced changes [
85
] and strong competition between companies. Thus, in this industry, CSR communication represents a means of competition and a key asset for innovation [
17
,
86
] which allows firms to differentiate and increase their marketing performance and reputation.
In the light of these considerations, healthcare organizations need to adopt effective tools to better manage this type of communication. Therefore, our data visualization dashboard could enable managers to monitor competitors in real time and come up with strategies to increase the response and public engagement on social media. Our dashboard could also help the decision-makers of private hospitals to develop a digital communication plan for CSR policies, programs and strategies.
Bearing in mind that one of the limits of this study is the analysis of a single social network platform (Facebook), it would be useful to investigate in further research the behavior of companies, and how they are perceived on other social networks.
Lastly, this paper can be considered as a starting point for cross-country comparisons in order to assess if the same pattern holds true in different conditions, also considering differences in national health systems and different sizes of the firms. It would also be equally interesting to further unravel stakeholder reactions to companies' sustainability communication on social media. The exploration of different types of stakeholder feedback by analyzing the main CSR topic and issues of user comments on Facebook, could have positive effects in crafting strategies aimed at encouraging the active participation of users and patients.
Author Contributions
Conceptualization, F.C.; Methodology, P.V.; Software, A.V.; Validation, F.C.; Formal Analysis, F.C.; Investigation, P.V.; Resources, A.V.; Data Curation, A.V.; Visualization, P.V.; Supervision, A.S.
Funding
This research received no external funding.
Conflicts of Interest
The authors declare no conflict of interest.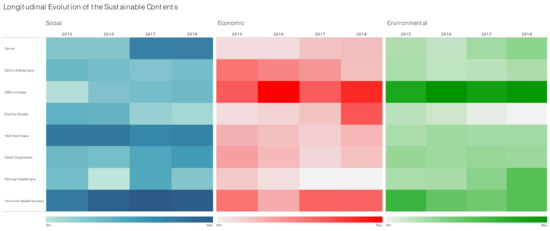 Figure 1. Heatmap: frequency of publication for each sustainability dimension year by year for each company.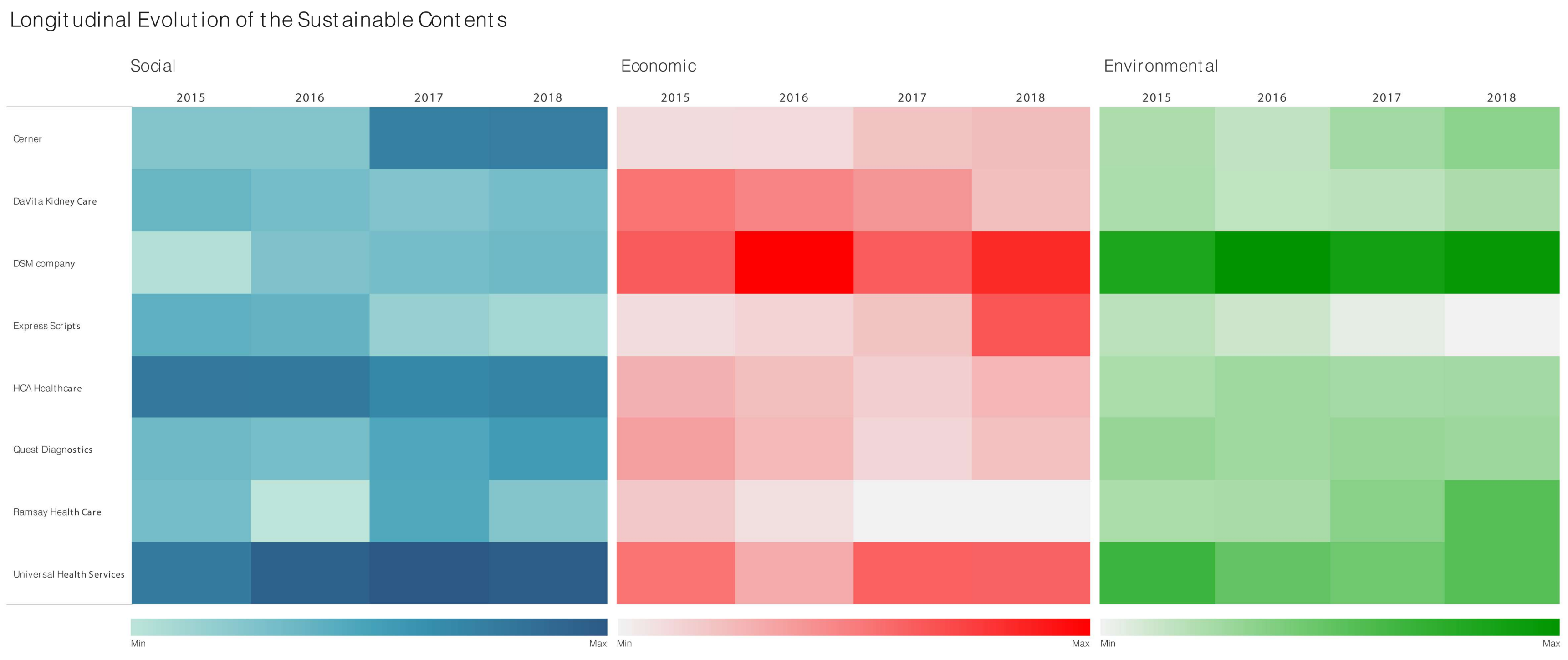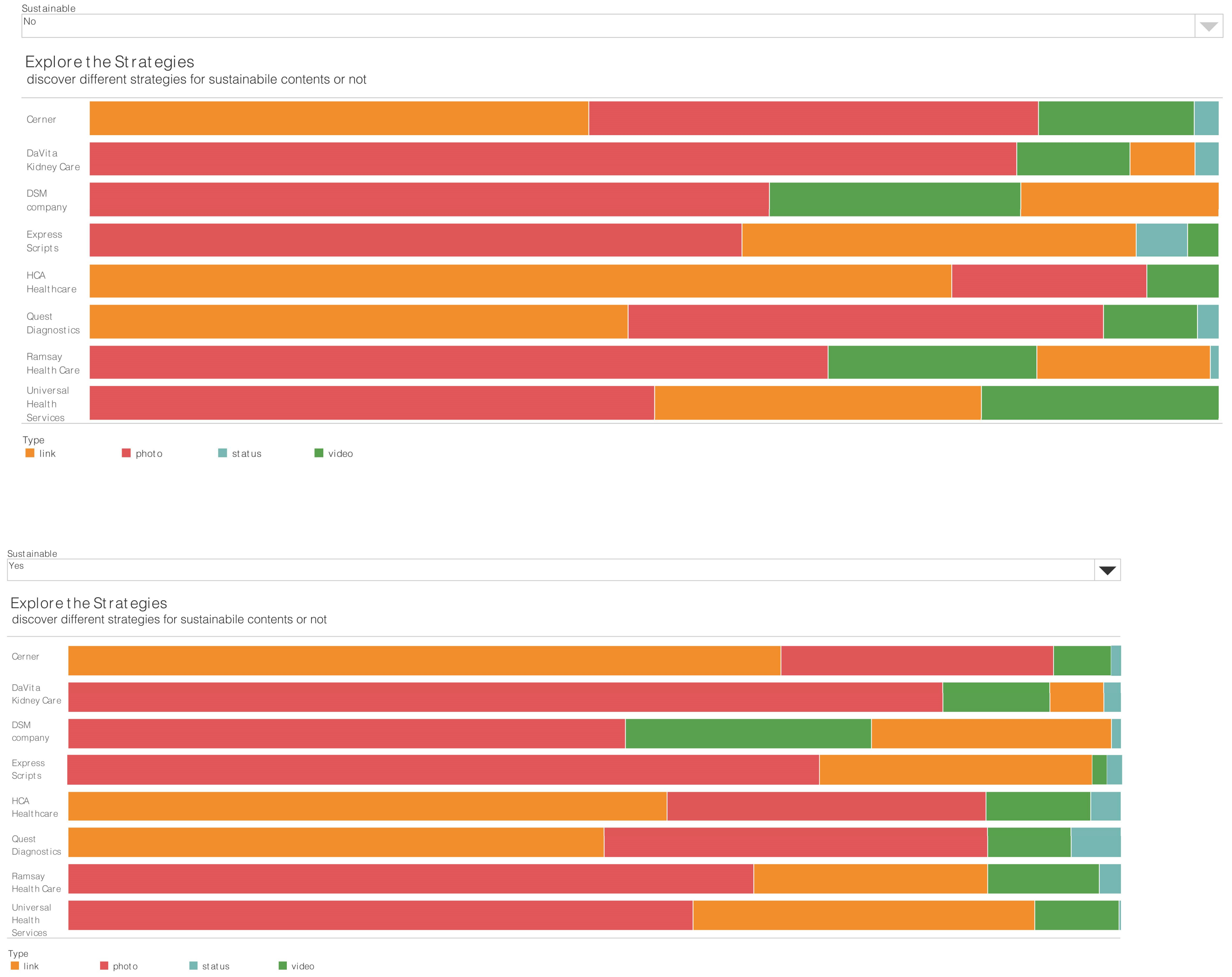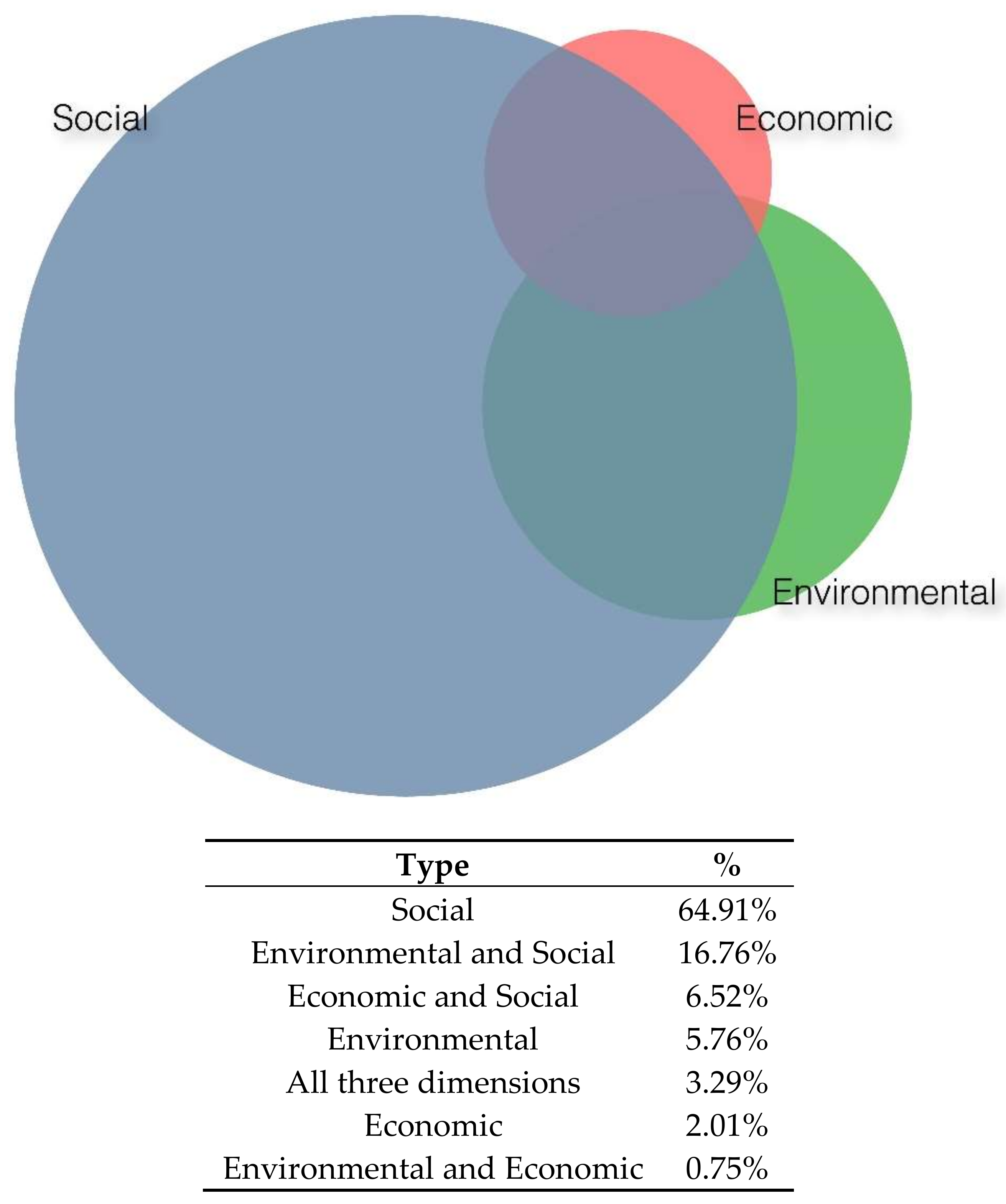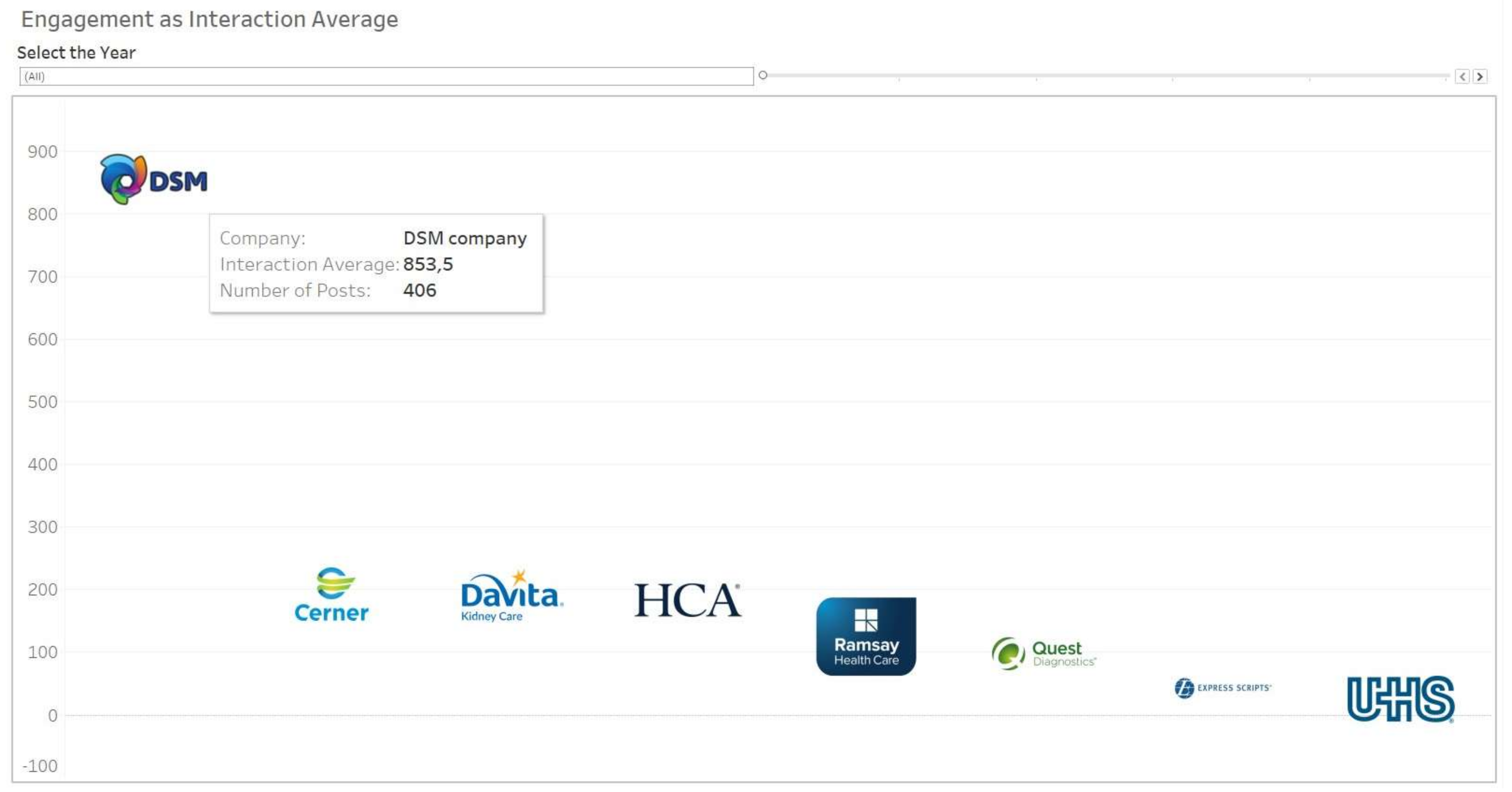 Company
Foundation
Country
Sales
(

$

B)
Number of Employees
Type of Activity/Services
Cerner
1979
USA
5.2
26,000
Health care information technology
DaVita
1994
USA
13.4
74,500
Medical care services
(dialysis services)
DSM
1902
The Netherlands
10.4
21,054
Nutrition, health devices
Express Scripts
1986
USA
100.2
26,600
Integrated pharmacy management services
HCA Holdings
2010
USA
44.4
253,000
Hospitals
Quest Diagnostics
1996
USA
7.7
45,000
Diagnostic testing, information and services
Ramsay Health Care
1964
Australia
6.8
60,000
Hospitals
Universal Health Services
1978
USA
10.5
76,600
Hospitals
Company
2015
2016
2017
2018
(January–May)
Total
"Sustainable" Content
Davita (Kidney Care)
528
538
565
179
1810
66%
Quest Diagnostics
353
405
343
113
1214
66%
DSM
149
150
326
94
719
76%
Cerner
119
114
322
156
711
75%
HCA Holdings (HCA Care)
129
196
213
94
632
83%
Universal Health Services
66
78
180
117
441
91%
Ramsay Health Care
135
97
71
16
319
59%
Express Scripts
132
120
40
6
298
63%
Post
Sustainability
Dimensions
Fortune Magazine: 'DSM is in the business of improving the planet and the lives of people on it'. Read now the article & interview with our CEO Feike Sijbesma about our transformation, activities and why we were named #2 on the fortune #changetheworld list.
SOC + ENV + ECO
Eating healthy foods and talking to a dietitian is important for people with kidney disease. Check out these top 15 healthy foods that also happen to be kidney-friendly
SOC
A few inspirational people prove science changes the world for the better
SOC
Urgent action on #climatechange & plastic pollution in the oceans is necessary. Learn more about how we support the ocean cleanup with our innovative material dyneema. Watch the video…
ENV
Climate change is one of the biggest social and economic risks the world faces today, and companies and investors are already being affected by the transition to a low carbon economy…
ECO + ENV
(…) Africa improved foods is a new multi-sectoral, public-private partnership that is feeding the people of Rwanda and feeding economic growth at the same time.
SOC + ECO

© 2018 by the authors. Licensee MDPI, Basel, Switzerland. This article is an open access article distributed under the terms and conditions of the Creative Commons Attribution (CC BY) license (http://creativecommons.org/licenses/by/4.0/).