Experimental Investigation of the Impact of Coal Fines Migration on Coal Core Water Flooding
1
Institute of Mechanics, Chinese Academy of Sciences, Beijing 100190, China
2
University of Chinese Academy of Sciences, Beijing 100049, China
3
CNPC Beijing Oilfield Machinery Co., LTD., Beijing 102206, China
4
Beijing International Center for Gas Hydrate, Peking University, Beijing 100871, China
*
Authors to whom correspondence should be addressed.
Received: 19 October 2018 / Revised: 30 October 2018 / Accepted: 5 November 2018 / Published: 8 November 2018
Abstract
Coalbed Methane (CBM) has become an important gas resource in recent decades. The brittle property of coal matrix and overactive operation make the migration of coal fines inevitable. Blockage by coal fines that plugs flow paths is a non-negligible issue that results in a significant decline in gas production. By setting different experimental conditions with the following factors—coal fines concentration of the mixture displacing fluids, constant flow pump rate, inlet pressure, outlet pressure and confining pressure—six experimental schemes were designed to investigate the two-phase water and coal fines flow in natural core samples. When the differential pressure and flooding flow reach a pseudo-steady status, the equivalent permeability of coal samples can be approximately calculated considering coal fines migration. Furthermore, the influences of coal fines migration on the cleat opening and permeability variation are analyzed in the porous coal medium. The study will benefit CBM development and save pump maintenance costs. In this work, we found that maintaining the differential pressure for a longer period may result in new cleat openings and severe coal rock damage during the single-phase water flooding process. While coal fines may plug some natural cleats and pores, especially in the core samples with micro-cleats during the two-phase flooding stage, coal fines migration significantly reduces the equivalent permeability and dewatering ability of the coal rock in the earlier flooding. While enlarging the differential pressure in two-phase water and fines flooding, breakthrough of coal fines from the samples contributes to widened cleats. While coal fines are difficult to flood into the core pores for low-permeability core samples, coal fines gather in the inlet, and it is also difficult to reach the pseudo-steady status even under higher differential pressure. The damage to permeability mainly occurs in the early stage of coal fines migration, and an abrupt increase in the flow velocity can damage reservoirs and induce substantial coal fines generation. Thus, maintaining a stable effective strength and a controlled depressurization rate during drainage can effectively constrain coal fines output and decrease permeability damage within coal reservoirs.
View Full-Text
►

▼

Figures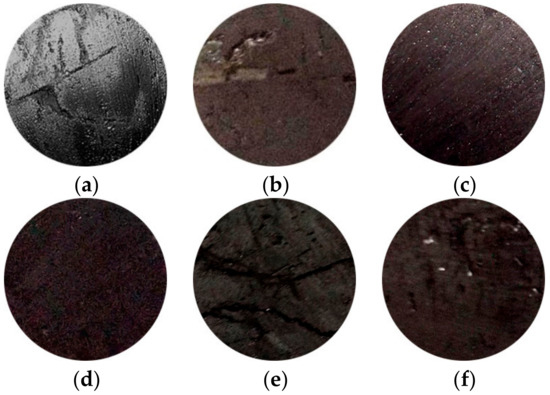 Figure 1
This is an open access article distributed under the
Creative Commons Attribution License
which permits unrestricted use, distribution, and reproduction in any medium, provided the original work is properly cited (CC BY 4.0).

Share & Cite This Article
MDPI and ACS Style
Gao, D.; Liu, Y.; Wang, T.; Wang, D. Experimental Investigation of the Impact of Coal Fines Migration on Coal Core Water Flooding. Sustainability 2018, 10, 4102.
Note that from the first issue of 2016, MDPI journals use article numbers instead of page numbers. See further details here.
Related Articles
Comments
[Return to top]