Spatio-Temporal Patterns and Impacts of Sediment Variations in Downstream of the Three Gorges Dam on the Yangtze River, China
1
Chongqing Institute of Green and Intelligent Technology, Chongqing 401122, China
2
Key Laboratory on Water Environment of Reservoir Watershed, Chinese Academy of Sciences, Chongqing 401122, China
3
Key Laboratory of Petroleum Resources of Gansu Province and Key Laboratory of Petroleum Resources Research, Institute of Geology and Geophysics, Lanzhou 730099, China
4
Graduate School "Human Development in Landscapes", Christian-Albrechts-Universität zu Kiel, Kiel 24118, Germany
5
Key Laboratory of Mountain Hazards and Earth Surface Processes, Chinese Academy of Sciences, Chengdu 610041, China
*
Author to whom correspondence should be addressed.
Received: 27 September 2018 / Revised: 31 October 2018 / Accepted: 1 November 2018 / Published: 8 November 2018
Abstract
Spanning the Yangtze River of China, the Three Gorges Dam (TGD) has received considerable concern worldwide with its potential impacts on the downstream side of the dam. This work investigated the spatio-temporal variations of suspended sediment concentration (SSC) at the downstream section of Yichang-to-Chenglingji from 2002 to 2015. A random forest model was developed to estimate SSC using MODIS ground reflectance products, and the spatio-temporal distributions of SSC were retrieved with this model to investigate the characteristics of water-silt variation. Our results revealed that, relatively, SSC before 2003 was evenly distributed in the downstream Yangtze River, while this spatial distribution pattern changed ce 2003 when the dam started storing water. Temporally, the SSC demonstrated a W-shaped curve of seasonal variation as one peak occurred in September and two troughs in March and November, and showed a significantly decreasing trend after three-stage impoundment. After official operation of the TGD in 2009, the SSC was reduced by over 40% than before 2003. Spatially, the most significant changes occurred in the upper Jingjiang section, where the SSC dropped by 45%. During all stages of impoundment, the water impoundment to 135 m in 2003 had the most significant impact on suspended sediment. The decreased SSC has led to emerging risks of bank failure, aggravated erosion of water front and aggressive down-cutting erosion along the downstream of the dam, as well as other ecological and environmental issues that require urgent attention by the government.
View Full-Text
►

▼

Figures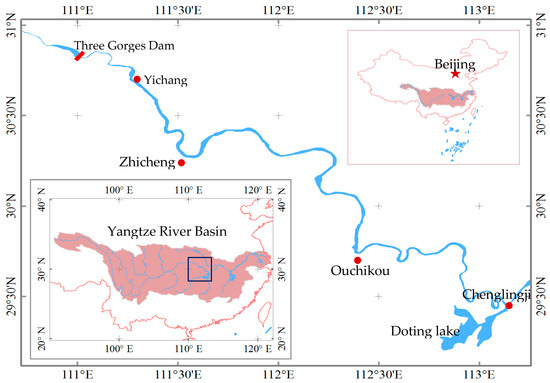 Figure 1
This is an open access article distributed under the
Creative Commons Attribution License
which permits unrestricted use, distribution, and reproduction in any medium, provided the original work is properly cited (CC BY 4.0).

Share & Cite This Article
MDPI and ACS Style
Chen, J.; Fang, X.; Wen, Z.; Chen, Q.; Ma, M.; Huang, Y.; Wu, S.; Yang, L.E. Spatio-Temporal Patterns and Impacts of Sediment Variations in Downstream of the Three Gorges Dam on the Yangtze River, China. Sustainability 2018, 10, 4093.
Note that from the first issue of 2016, MDPI journals use article numbers instead of page numbers. See further details here.
Related Articles
Comments
[Return to top]