Open Access This article is
freely available
re-usable
Article
Identifying Risk Indicators of Building Damage Due to Typhoons: Focusing on Cases of South Korea
1
Department of Architectural Engineering, Mokpo National University, Mokpo 58554, Korea
2
School of Architectural Engineering, University of Ulsan, Ulsan 44610, Korea
3
Department of Social Welfare, Pusan National University, Busan 46241, Korea
4
Department of Architectural Engineering, Hanbat National University, Daejeon 34158, Korea
5
Department of Architectural Engineering, Pusan National University, Busan 46241, Korea
*
Author to whom correspondence should be addressed.
Received: 23 September 2018 / Accepted: 25 October 2018 / Published: 30 October 2018
Abstract
:
This study identifies the risk indicators of building damage from typhoons and determines the correlations among this damage, typhoon information, geographic vulnerability, construction environment, and socioeconomic vulnerability. This fundamental research aids the development of a typhoon loss prediction model for building construction projects in South Korea. Extreme weather events have become increasingly prevalent around the world, with subsequent increases in related damages. Early attempts to meet the growing demands for a loss prediction model have been insufficiently comprehensive, and specifically in South Korea, research on risk indicators is needed that considers the geographic, building, and socioeconomic features. This research used the regional typhoon loss records from the annual report of the Ministry of Public Safety and Security (MPSS) to define the dependent variable of building damage. The results and findings of this study will inform the development of a typhoon loss prediction model in South Korea.
Keywords:
typhoon; risk assessment; regression analysis; building loss
1. Introduction
This study derives the indicators of regional building damages caused by typhoon and uses multiple regression analysis to define their relationships with influencing indicators. This study adopts various influencing indicators from previous studies, which are classified into four categories: meteorological concerns, built environment vulnerability, geographic vulnerability, and socioeconomic vulnerability. The results and findings will inform the development of a typhoon damage prediction model for use in South Korea. Moreover, at the provincial level, this model would be helpful to government emergency planners and insurance companies. For example, the government emergency planners can assign the budget to correspond with extreme events by regions. The primary insurance companies can also assess the amount of damages by each catastrophe zone to manage their accumulated risk.
2. Research Method and Design
To identify the risk indicators and the relationships among the damage and the indicators, first, this study collected typhoon damage records and classified them by regions. Second, the spatial distribution of the losses was examined to define the areas prone to typhoons. Third, risk indicators, such as typhoon information, geographic vulnerability, built environment, and socioeconomic vulnerability, were broken up into four categories and the data by region was classified. Fifth, a multiple regression analysis was employed to identify the indicators and the relationships.
2.1. Dependent Variable
This study used the typhoon loss records from annual reports of the Ministry of Public Safety and Security (MPSS) for ten years from 2003 to 2015 to define the dependent variable. The damage records are adjusted using the inflation rates to compare equivalent damages. The MPSS has published reports annually since 1979 to record the damages, including victims, causalities, and losses from natural disasters, such as floods, typhoons, heavy snow, and storm surges. The loss used in this study includes building damages caused by typhoons, covering all sectors of the public and private sectors. As shown in
Figure 1
, 15 typhoons have hit the Korean peninsula and caused critical damage. The western and southern coastal regions are the most frequently struck by typhoons.
Figure 2
depicts the spatial distribution of typhoon damages.
Table 1
shows the summary of typhoon damages by regions. The damage has occurred throughout all provinces. In particular, the southern part of South Korea has incurred deadly losses in terms of the dollar amount of damage in areas such as Gyongsangnam-do, Jeollanam-do, Gyongsangbuk-do, and Busan. The area most prone to typhoons is Gyongsangnam-do.
2.2. Independent Variable
3. Data Collection and Analysis
The purpose of this research is to determine the relationships among the vulnerability indicators, hazard indicators, and financial losses. As data, typhoon damage records at the provincial level were from the MPSS. Statistical data and spatial information for each province were collected to estimate the vulnerabilities of each province. Each meteorological indicator was collected based on the time of the invasion of the affected area through the Korean Meteorological Society (KMA) record. The total coastal length of each region was extracted by the Geographic Information System using the coastal length of each region provided to the Korea Hydrographic and Oceanographic Agency (KHOA). As shown in
Table 2
, the data were obtained from the websites of government organizations.
Table 3
shows the descriptive statistics of the data.
3.1. Multiple Regression Analysis and Results
The beta coefficients, also known as the standardized coefficients, provide the rank of the indicators; they represent the influence on the damage and can range from 0 to 1. Their order of influence was (1) radius of maximum wind speed, (2) precipitation, (3) cutting slope, (4) coastline, (5) wind speed, (6) crime, (7) forward movement speed, and (8) high rise building.
3.2. Investigation of the Model
The Kolmogorov–Smirnov test and the Shapiro–Wilk test were adopted to examine the normality of the residuals. These tests are based on verifying the observations against the predicted values converted to z-scores and the actual normal distribution. For instance, if the
p
-value of the test is not significant, the distribution of the observations means that the actual normal distribution is not different. On the other hand, if the
p
-value of the test is significant, it represents that the distribution of the observations is different from the actual normal distribution. As shown in
Table 6
, the
p
-value of 0.200 and 0.027 prove that the distribution is normal, since the
p
-value was higher than 0.05. The Q-Q plots and the standardized residuals histogram in
Figure 3
also show that the model's residuals were normally distributed. As shown in
Figure 4
, the residual plots for homoscedasticity were examined. The residuals are arbitrarily spread with unsystematic patterns. This indicates that the variance of the residuals is constant.
4. Discussion
The model developed in this study shows the relationships between the dependent and independent variables. The adjusted R-square of 0.431 indicates that the model explains 43.1% of the variability of the dependent variable using the selected indicators of forward movement speed, wind speed, radius of maximum wind speed, precipitation, coastline, cutting slope, high-rise building, and crime rate. In other words, this research neglects the remainder of the variability of 56.9%. The rest could be described by some undisclosed indicators. For instance, it is possible to extrapolate into this model the factors of climate change such as temperature of sea, which are related to climate change that have a lot of influence on recent extreme weather events. This will increase the explanatory power of this model.
As shown in the analysis results, there were no significant differences between the results of this study (South Korea) and other studies (other regions). However, due to the combined effects of various factors such as geographical characteristics, severity, and frequency of natural disasters, building codes, engineering practices, and construction type, the coefficients of indicators are different from each other. To reflect this, Catastrophe model vendors (such as AIR, RMS, and EQECAT) have created relative vulnerability metrics to reflect these various factors by investing large amounts of time and budget in each country or region, such as the United States and China [
45
,
46
].
Consequently, the model and result stated in this research is also of use as a reference for various tasks by the management worker and the disaster management director. For example, administrative staff can mitigate typhoon damage by predicting financial losses with the model and by establishing a hurricane damage prevention strategy based on expected losses. Because the model established in this research includes damage data from landslides and storms, the government would be able to improve land use plans along the expected storm path based on the estimated damages from landslides and storm surges. In addition, financial losses from typhoons can also estimate utilizing the metrics developed in this research. For example, reinsurance and insurance companies are able to use this metric to modify their business plan or in-house catastrophe model. They also set up the business strategies and estimate insurance premiums by estimating the maximum possible losses and event limits. This quantification process would reduce the retro excess of loss cost and lead to maximum profit. The metric can be also used to optimize portfolio and accumulation management. The construction industry is able to design storm-resistant buildings and improve design standards by assessing the degree of building damage based on building materials, building height, and other characteristics of the building.
Furthermore, the indicators and structure of this research can be adopted to related studies in other emerging countries where loss data due to natural catastrophes and building characteristics are not plentiful in order to predict extreme meteorological events. These countries can predict the typhoon damages using the indicators and structures utilized in this study. However, the indicators need to be reproduced by the weight of each province, and the coefficients are required to be adjusted to reflect the local building vulnerability in order to be of use to other areas. Therefore, in future research, it is necessary to verify or calibrate the results of the research through actual damage data in other centuries. It is also necessary to compare with other regional existing models.
From a data perspective, developing countries such as South Korea lack detailed damage data and building inventory information. This is due to the lack a awareness of the importance of data, and as a result it is necessary to construct data at the private and national level. This is because it is difficult to guarantee the accuracy of the model without constructing such detailed data. Once this data is built, the results of this model will also be validated and calibrated.
5. Conclusions
As extreme weather events have become much more frequent, with higher associated damage, some developed countries have established prediction models in order to prepare for and mitigate the damage to buildings from tropical cyclones. However, South Korea does not have such prediction models, and it is hard to apply the developed models due to the many differences in the size and severity of the disasters and the vulnerability of domestic properties. Although some prediction models have been developed, research that is more comprehensive is needed that reveals the connections among natural hazard characteristics, vulnerability, and building damage.
This study identifies vulnerability and risk indicators for typhoons as a first step toward developing a typhoon damage estimation system for South Korea. Regional typhoon loss records from the annual report of the Ministry of Public Safety and Security (MPSS) were used to define the dependent variable of building damage, and to define the magnitude and significance of the typhoon damage indicators. Typhoon information, geographical vulnerability, built environment vulnerability, and socioeconomic vulnerability indicators were designated as the independent variables. This study found that the radius of maximum wind speed, precipitation, cutting slope, coastline, wind speed, crime, forward movement speed, and high rise building have statistically significant relationships with building damage caused by typhoons, which is consistent with previous studies.
The findings of this study can inform government officials, insurance companies, and catastrophe model developers for predicting the loss caused by typhoons in South Korea or developing countries with low-quality data. For instance, this model is beneficial at the spatial scale because government officials can allocate the budget to correspond with extreme events by region. Primary insurance companies will be able to estimate the amount of damages by each catastrophe zone to manage the accumulated risk. This study supports the analysis of damage in order to reduce economic damages. Furthermore, this research identifies the distribution of typhoon damage and typhoon-prone regions, which can be used to reduce the risk of inhabitants who reside in typhoon vulnerable regions.
Nevertheless, this study covered only the damage to buildings in South Korea. As a result, these results may not apply directly to other countries. Future studies should deal with other national buildings using the same indicators. Moreover, the value of the adjusted R2 is 0.431, which indicates that the rest of the variability in the data is described by unknown predictors. Therefore, determining other potential predictors and adding them to the model will strengthen the model.
Author Contributions
J.-M.K., K.S., and D.L. conceived the idea for the analysis, contributed to typhoon information and building environmental data collection, and drafted the manuscript. Y.Y., and D.Y.K. checked the dataset, recoded the study variables, ran the regression models, and wrote the manuscript. All authors have read, provided feedback, and approved the final manuscript.
Acknowledgments
This work was supported by Basic Science Research Program through the National Research Foundation of Korea (NRF) funded by the Ministry of Education (NRF-2018R1C1B6008243).
Conflicts of Interest
The authors declare no conflict of interest.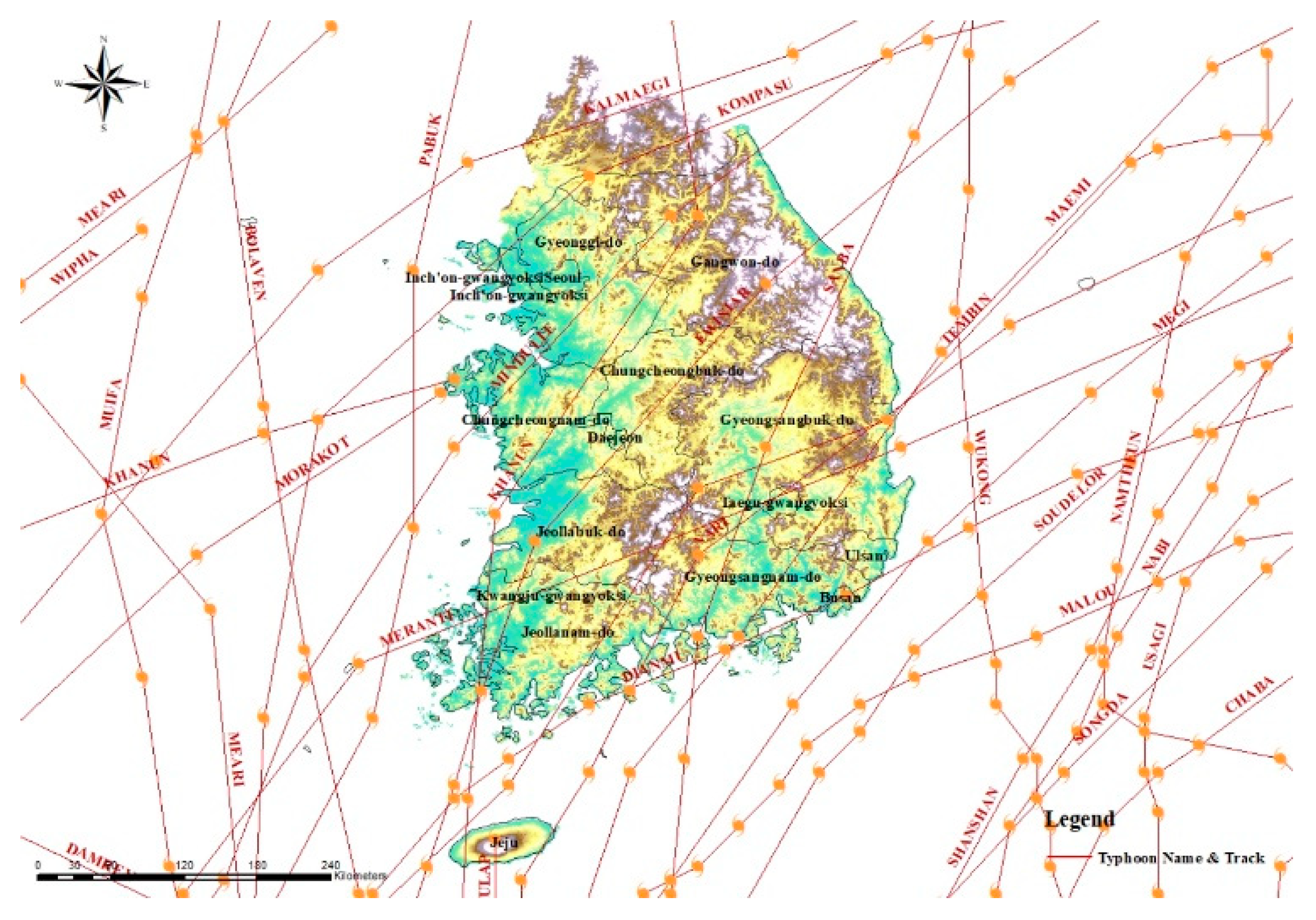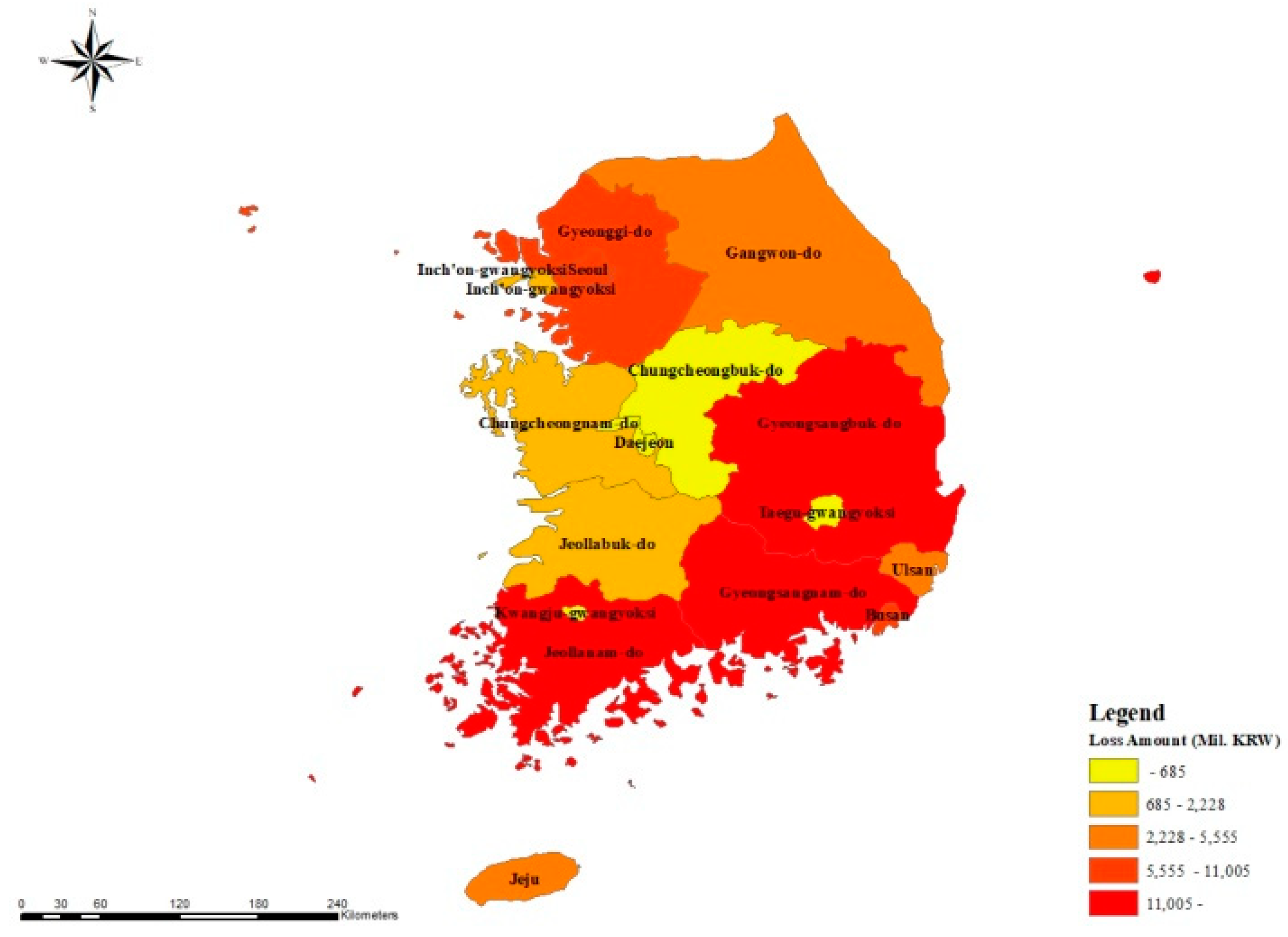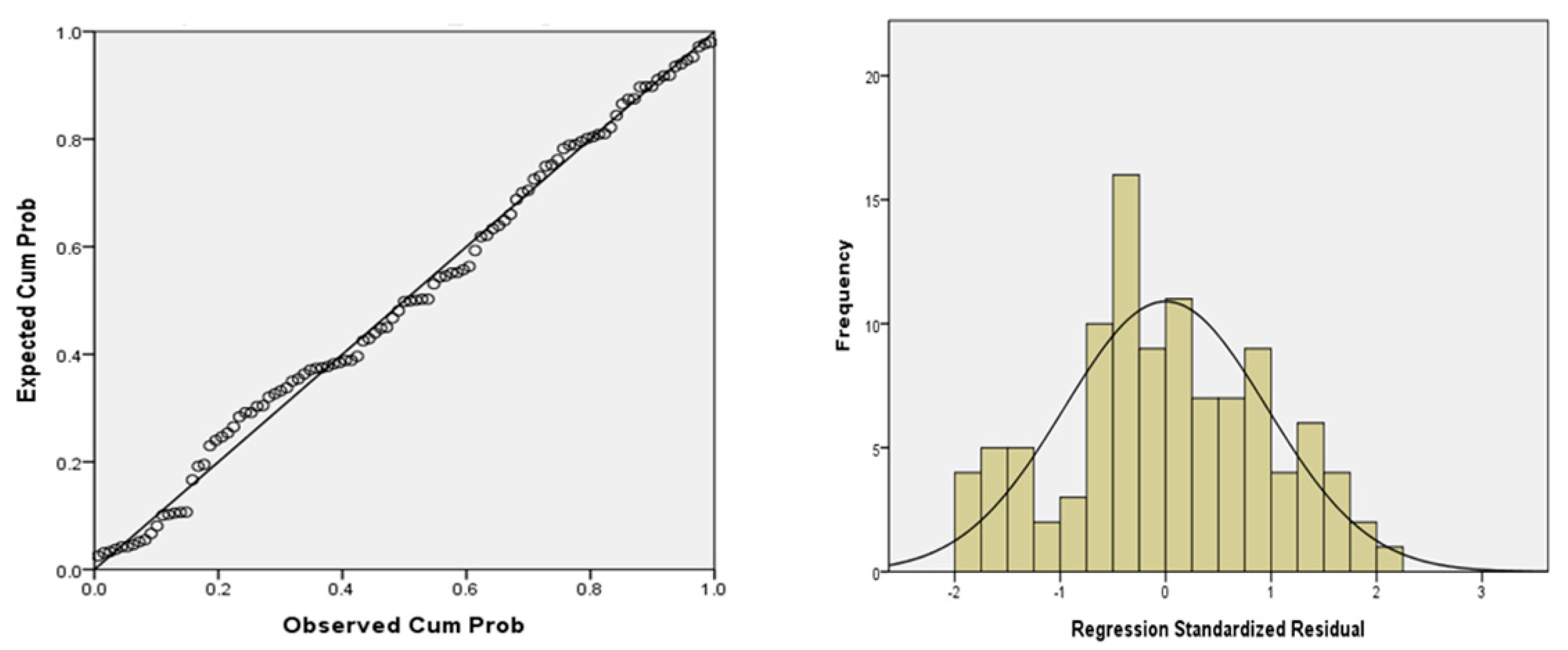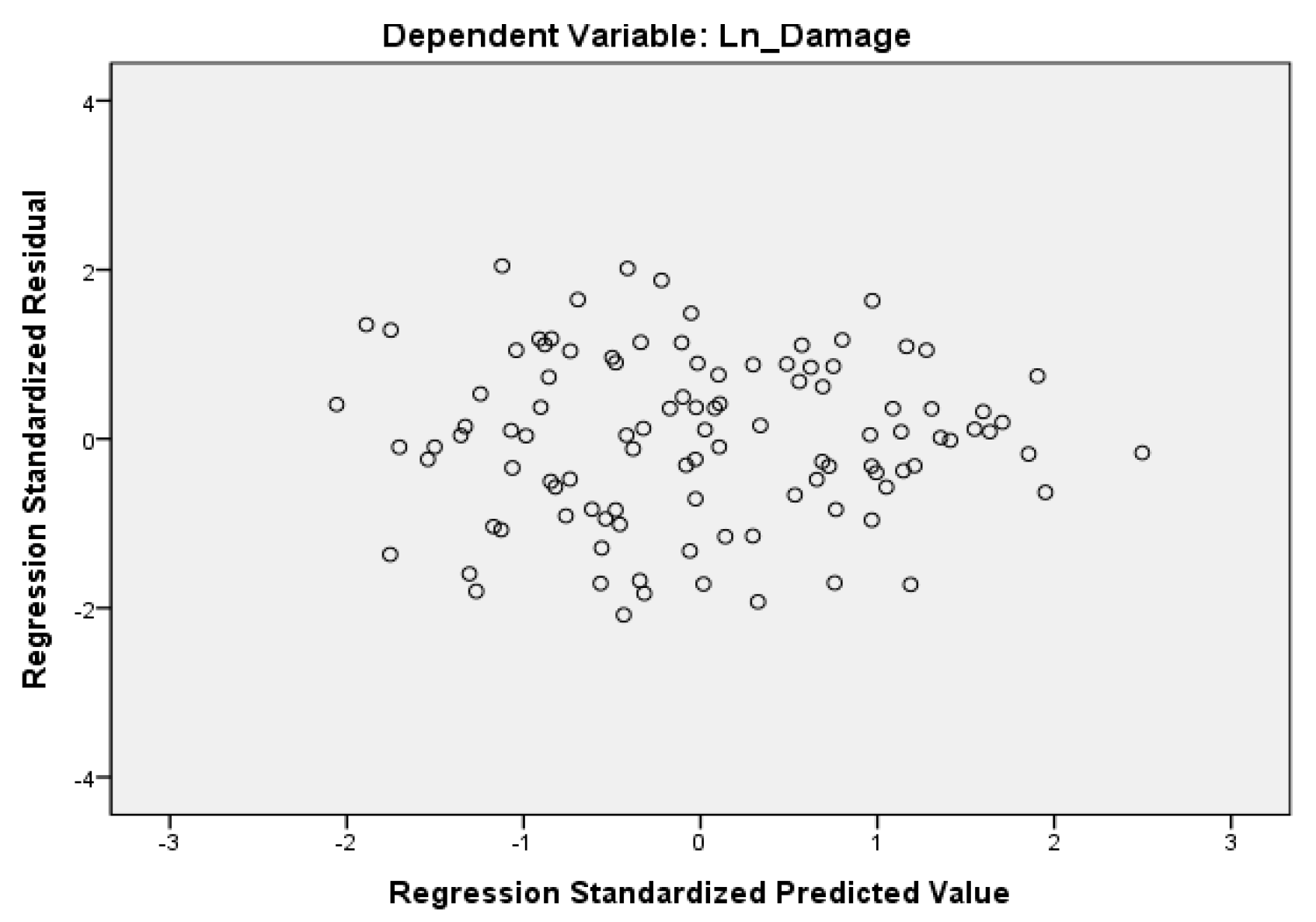 | Region | Total Damages (Mil.KRW) | Typhoon Name (Amount of Damage) |
| --- | --- | --- |
| Gyongsangnam-do | 47,556 | Maemi (46,218), Sanba (931), Nari (150), Bolaven (136), Diamu (75), Muifa (44) |
| Jeollanam-do | 35,635 | Bolaven (20,841), Maemi (11,003), Nari (1,875), Sanba (964), Khanun (606), Meari (150), Kompasu (135), Diamu (45), Malou (15) |
| Gyongsangbuk-do | 18,548 | Maemi (13,767), Nari (3,015), Sanba (1506), Meari (78), Shanshan (75), Bolaven (46), Kompasu (30), Malou (15), Usagi (15) |
| Gyeonggi-do | 11,005 | Muifa (9099), Kompasu (1200), Bolaven (301), Meari (255), Kalmaegi (105), Sanba (18), Diamu (15), Khanun (9), Usagi (0.1) |
| Busan | 10,950 | Maemi (10,374), Muifa (420), Sanba (121), Nari (18), Diamu (15) |
| Seoul | 9328 | Muifa (9236), Malou (45), Meari (44), Khanun (1) |
| Gangweon-do | 5555 | Maemi (5346), Muifa (87), Nari (45), Bolaven (30), Kompasu (15), Usagi (15), Sanba (11.4), Meari (5) |
| Jeju | 3740 | Nari (1740), Maemi (1492), Bolaven (359), Sanba (72), Diamu (45), Kompasu (15), Malou (15) |
| Ulsan | 2229 | Maemi (1538), Nari (625), Sanba (64), Meari (0.6) |
| Jeollabuk-do | 2228 | Bolaven (2008), Nari (60), Sanba (60), Maemi (54), Kalmaegi (15), Khanun (15), Kompasu (15) |
| Incheon | 1665 | Muifa (1261), Kompasu (120), Meari (103), Kalmaegi (90), Bolaven (75), Khanun (13) |
| Chungcheongnam-do | 1556 | Bolaven (1382), Nari (75), Kalmaegi (60), Sanba (16), Muifa (15), Kompasu (7), Meari (0.6) |
| Gwangju | 685 | Bolaven (654), Khanun (15), Kompasu (15) |
| Daegu | 629 | Maemi (552), Nari (75), Daejun (15), Khanun (15), Sanba (1.2) |
| Chungcheongbuk-do | 469 | Bolaven (211), Nari (60), Meari (46), Kompasu (45), Maemi (30), Usagi (30), Sanba (15), Kalmaegi (15), Muifa (15) |
Category
Variables
Previous Studies
Description
Unit
Source
Meteorological
Forward motion speed
Burton (2010) [12]
Vickery et al. (2006) [16]
Huang et al. (2001) [17]
Watson and Johnson (2004) [18]
Rego and Li (2009) [19]
Typhoon's forward motion speed
km/h
Korea Meteorological Association [41]
Maximum wind speed
10 min sustained maximum wind speed
m/s
Radius of maximum wind speed
Radius of maximum wind speed (over 15 m/s)
km
Precipitation
Brody et al. (2008) [20]
Choi and Fisher (2003) [21]
Total amount of precipitation
mm/day
Geographical
Length of coastline
Highfield et al. (2010) [20]
Total length of coastline
km
Korea Hydrographic and Oceanographic Agency [42]
Built environment
Cutting slope
Ayalew and Yamagishi (2005) [28]
Total number of cutting slope
Number per [1000 m2]
Korean Statistical Information Service [43]
High rise building
Khanduri and Morrow (2003) [23]
De Silva et al. (2008) [31]
Total number of high rise building (over 20 m)
Number
Socio-economic
Violent crime
De Sherbinin et al. (2007) [39] Zahran et al. (2009) [40]
Total number of violent crime (murder, rob, rape, and arson)
Number
Korean National Police Agency [44]
Variables
Minimum
Maximum
Mean
Std. Deviation

Dependent

Building Damage (Mil.KRW)
0.06
46218.72
1517.89
5495.65

Independent

Forward Movement Speed
20
52
32.06
9.7
Wind Speed
17
44
32.13
7.19
Radius of Wind Speed
150
600
357.05
118.76
Precipitation
0
420
85.24
78.62
Length of coastline
0
2104
515.16
618.57
Cutting Slope
0
69
25.03
24.86
High rise building
370
33,462
5339.48
6888.31
Crime
3376
5090
3900.69
458.01
| Model | Sum of Squares | Mean Square | F | Sig. | R2 | Adj-R2 |
| --- | --- | --- | --- | --- | --- | --- |
| Regression | 480.531 | 60.066 | 10.835 | 0.000 | 0.474 | 0.431 |
| Residual | 532.199 | 5.544 | | | | |
| Total | 1012.730 | | | | | |
Variables
Β
Std. Error
Beta
Sig.
VIF
Constant
2.552
2.862
0.000

Meteorological Indicators

Forward movement speed
0.062
0.025
0.193
0.014
1.087
(Wind Speed)2
0.001
0.001
0.201
0.016
1.225
Radius of max. wind speed
0.011
0.002
0.411
0.000
1.425
Precipitation
0.014
0.003
0.349
0.000
1.113

Geographical Indicator

Coastline
0.001
0.000
0.230
0.005
1.164

Built environment Indicator

Cutting slope
0.029
0.010
0.233
0.005
1.206
High rise building
−8.231 × 10−5
0.000
0.182
0.062
1.690

Socio-economic Indicator

Crime
0.001
0.001
0.196
0.052
1.806
Dependent Variable
Kolmogorov–Smirnov
Shapiro–Wilk
Statistic
Sig.
Statistic
Sig.
Ln (Building Damage)
0.026
0.200
0.974
0.027

© 2018 by the authors. Licensee MDPI, Basel, Switzerland. This article is an open access article distributed under the terms and conditions of the Creative Commons Attribution (CC BY) license (http://creativecommons.org/licenses/by/4.0/).