Open Access This article is
freely available
re-usable
Article
Governance Challenges in an Eastern Indonesian Forest Landscape
1
Centre for Tropical Environmental and Sustainability Science, College of Science and Engineering, James Cook University, Cairns, QLD 4870, Australia
2
Tanah Air Beta, Batu Karu, Tabanan, Bali 82152, Indonesia
3
Faculty of Mathematics and Natural Sciences, University of Indonesia, Campus UI Depok, Java Barat 16424, Indonesia
4
Faculty of Forestry, Department of Forest & Conservation Sciences, University of British Columbia, 2329 West Mall, Vancouver, BC V6T 1Z4, Canada
5
The Supreme Audit Board of Indonesia, Jln Jend. Gatot Subroto No. 31, Jakarta Pusat 10210, Indonesia
*
Author to whom correspondence should be addressed.
Received: 24 October 2017 / Accepted: 7 January 2018 / Published: 11 January 2018
Abstract
:
Integrated approaches to natural resource management are often undermined by fundamental governance weaknesses. We studied governance of a forest landscape in East Lombok, Indonesia. Forest Management Units (Kesatuan Pengelolaan Hutan or KPH) are an institutional mechanism used in Indonesia for coordinating the management of competing sectors in forest landscapes, balancing the interests of government, business, and civil society. Previous reviews of KPHs indicate they are not delivering their potential benefits due to an uncertain legal mandate and inadequate resources. We utilized participatory methods with a broad range of stakeholders in East Lombok to examine how KPHs might improve institutional arrangements to better meet forest landscape goals. We find that KPHs are primarily limited by insufficient integration with other actors in the landscape. Thus, strengthened engagement with other institutions, as well as civil society, is required. Although new governance arrangements that allow for institutional collaboration and community engagement are needed in the long term, there are steps that the East Lombok KPH can take now. Coordinating institutional commitments and engaging civil society to reconcile power asymmetries and build consensus can help promote sustainable outcomes. Our study concludes that improved multi-level, polycentric governance arrangements between government, NGOs, the private sector, and civil society are required to achieve sustainable landscapes in Lombok. The lessons from Lombok can inform forest landscape governance improvements throughout Indonesia and the tropics.
Keywords:
integrated natural resource management; polycentric landscape governance; Indonesia; theory of change
Acknowledgments
We thank our colleagues and students at University of Mataram for continually hosting our visits to Lombok with especial thanks to Imam Bachtiar and Suwardji. We are grateful to numerous organisations and institutions that informed our research, especially the East Rinjani Forest Management Unit. Thank you to Aminuddin Munir, Mashlahatul Umami, Bisrul Khofi and Hesty Martiova Artatia for your support and sharing. Special thanks to Zainal Arifin, Suhirman, Jumaher, Abdurrahman Sembahulun, Dinas Kelautan dan Perikanan Kab. Lombok Timur and numerous NGO colleagues Farabisina, LMNLU, WWF, WCS, LPSDM, CDC Sembalun, KKLD, ADBMI, Samanta and Santiri. We thank our workshop participants and the communities who hosted us in Sembalun, Sugian, Sambelia, Dara Kunci and Dadap of East Lombok for sharing their knowledge and experiences.
Author Contributions
Y.S., H.S.L. and A.K.B. facilitated field workshops; C.M., D.A.S., J.S., R.A.R. and J.D.L. analyzed the data; R.A.R. and J.D.L. wrote the paper. H.S.L., A.K.B., C.M., D.A.S. and J.S. contributed edits and comments to subsequent drafts.
Conflicts of Interest
The authors declare no conflict of interest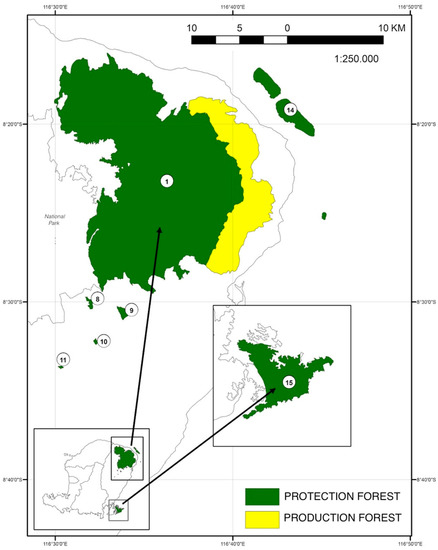 Figure 1.
East Rinjani Forest Management Units (Kesatuan Pengelolaan Hutan or KPH). It is centered on the large forest block at Mt. Rinjani (1). But there are outlying fragments at Gong (8) Petandakan (9) Kedatu (10) and Rebanbela (11) and officially includes the islands of Gili Lawang, Gili Sulat, and Gili Petagan (14), and a large outlier on the south-east coast, Sekaroh (15). Adapted from [
44
].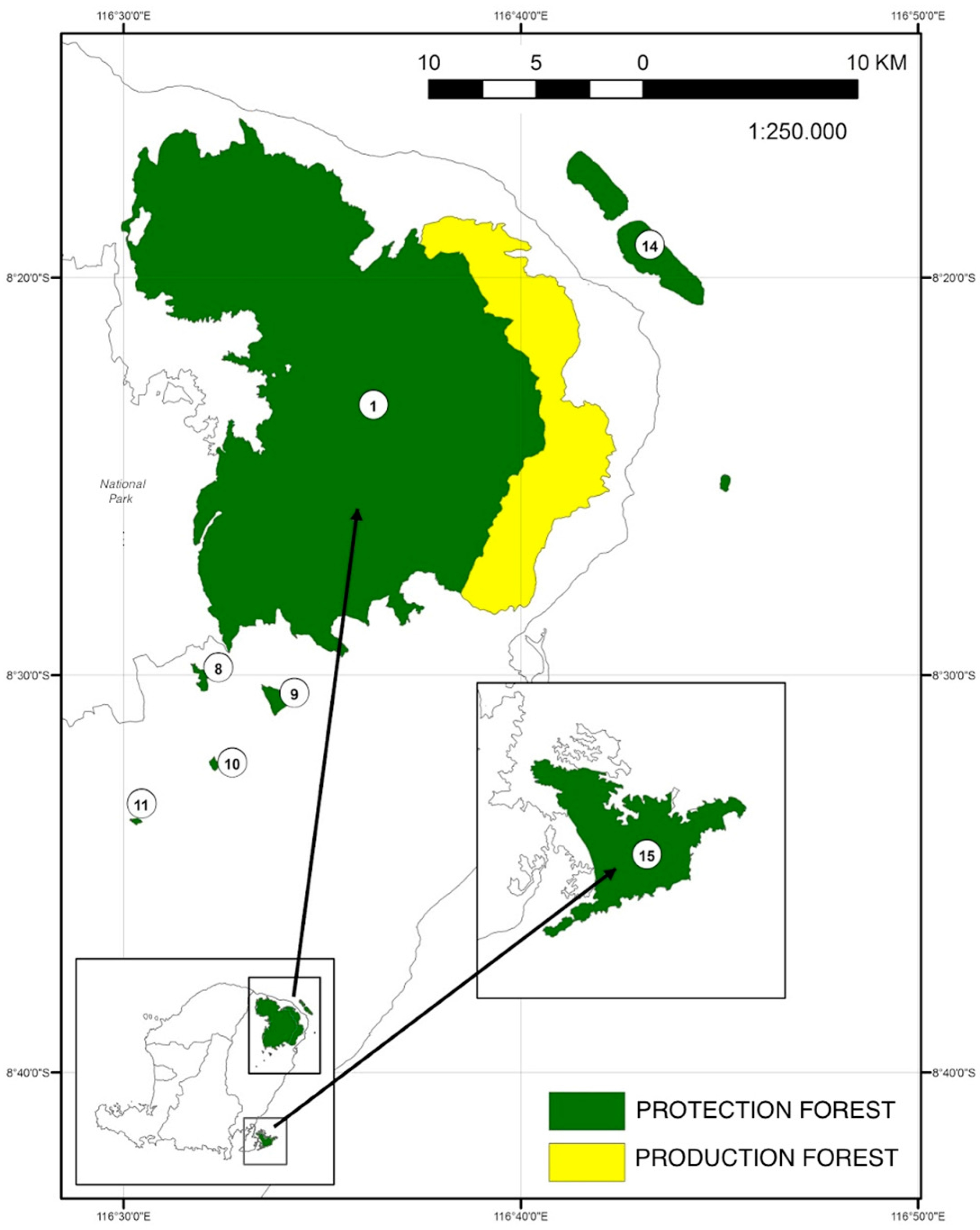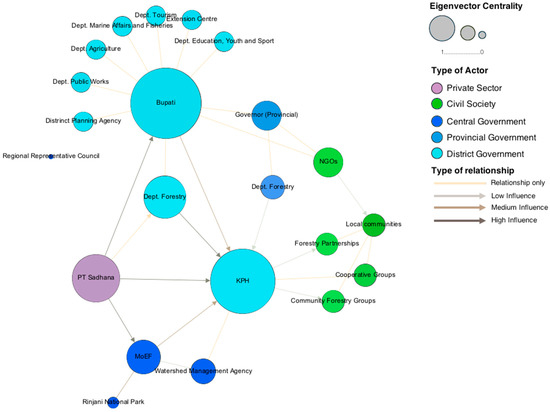 Figure 2. Actor Network. Showing the lack of connectivity between civil society organizations and government actors, apart from KPH, or with the main private sector actor.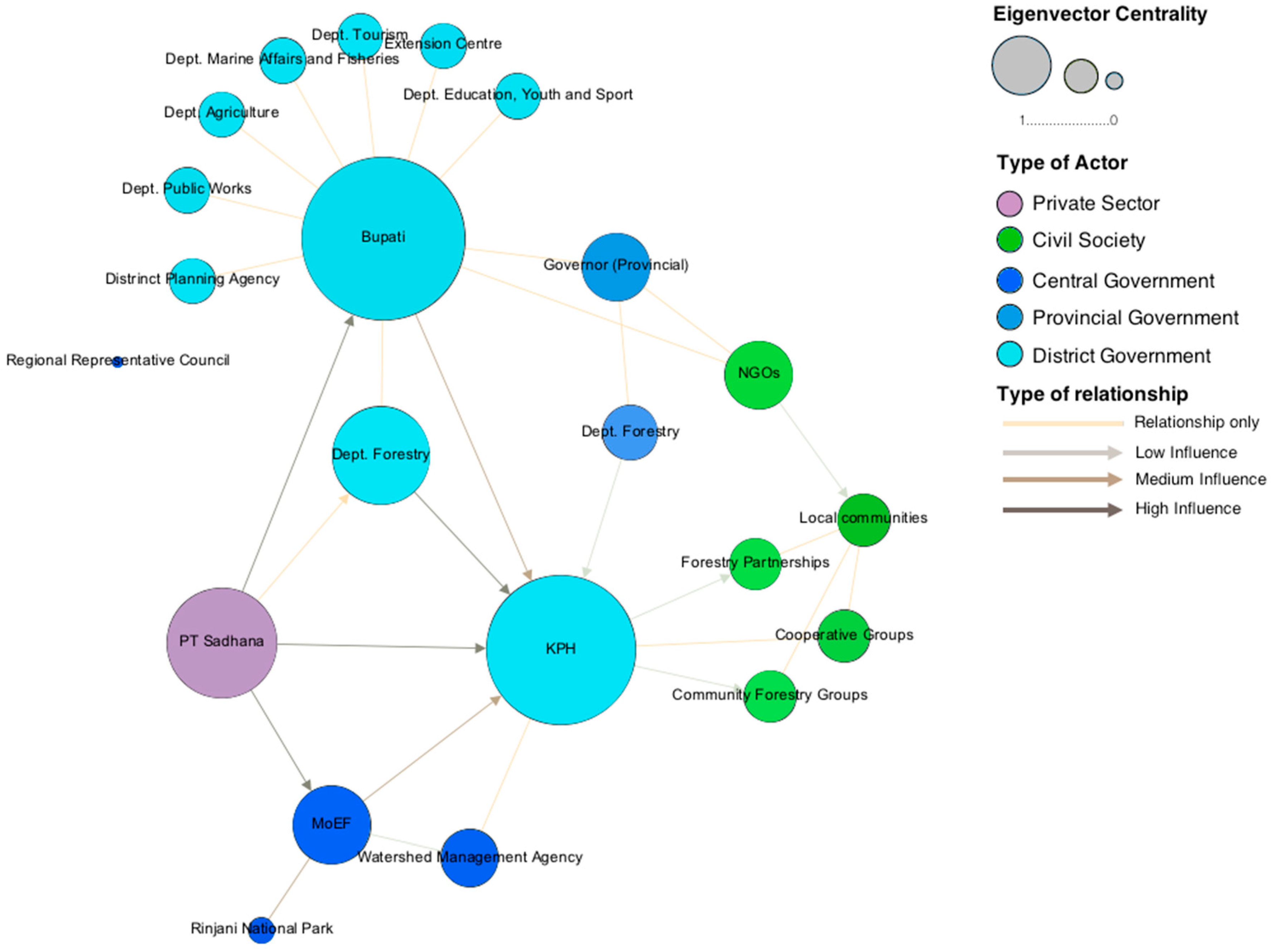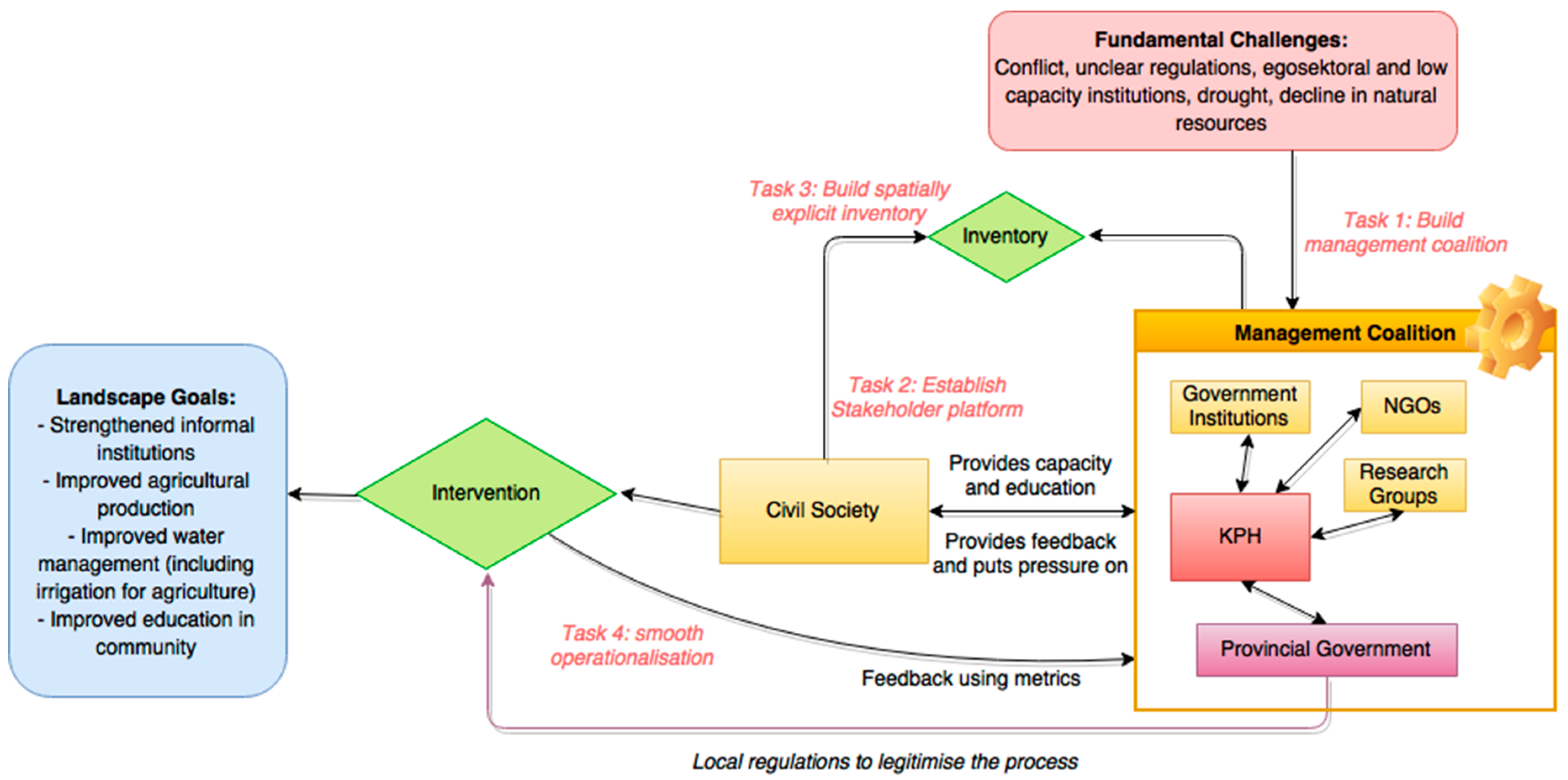 Forest Function
Hectares
Conservation (Rinjani National Park)
27,445.00
KPHL Total Forest
37,589
Protected (ha)

-

Kemitraan for non-timber forest products

-

Kemitraan for tourism

31,987
320
50
Limited production (ha)
0
Production (ha)

-

Community forest (

Hutan Kemasyarakatan

, HKm)

-

Kemitraan

-

Timber concession (

Hutan tanaman industry

, HTI)

5602
420
285
2000
Total forest Area (ha)
64,508.67
Percentage of Lombok total forest
39.5%
Approach
Method
Outcome
Collaborative problem framing
Preliminary stakeholder consultation: facilitated discussions with University of Mataram, East Rinjani KPH, West Rinjani KPH community forestry leaders, East Lombok Planning Agency, local government institutions and NGOs. Actor network scoping exercise performed
Preliminary diagnosis of forest landscape governance challenges
Participatory Rural Appraisal
SWOT Analysis: Analysis of community perceived strengths, weakness, opportunities, threats of forest-partnership scheme implemented by East Rinjani KPH
Local perspectives on forest management and incentives for engagement
Historical Timeline: Built in the villages of Sugian and Sembalun with two village Adat (customary) elders
Understand drivers of change, key events
Knowledge cogeneration
Participatory systems modelling: Exploration of scenarios using Vensim software (Ventana Systems Vensim Profession 6.4b)
Facilitate discussion on synergies and trade-offs in forest management
Actor Network Analysis: Mapping of actors and power relations, processed in Gephi 0.9.1
Understand existing governance arrangements
Theory of Change: Identification of landscape challenges, goals, key actors and process for change
Identify the potential contribution of East Rinjani KPH to forest landscape governance

Table 3. Historical Events in East Lombok (based on key informant interviews in Sambelia and Sembalun sub-districts).
Year
Event
1257
Mt. Rinjani volcanic eruption (Samalas volcano), destroying forests in significant parts of Lombok, Bali and western Sumbawa
1815
Mt. Tambora volcanic eruption, taking the lives of over 80,000 people (located on Sumbawa)
1929–1945
Delineation of forest boundaries under Dutch colonial rule
1945
Coffee cultivation in Sembalun began, mainly for local consumption
1960s
Village elder recalls much more tree cover on slopes around Sembalun
1972
Transmigration program brought people to Sambelia for timber exploitation in State forest area
1975
Road network expansion throughout East Lombok
1977
Transmigration program relocated farmers from Central Lombok to Sambelia, providing each household with 2 ha of land
1979
Rinjani Nature Reserve established. Local villagers drained lake near Sembalun for agriculture
1982
Road to Sambelia district built
1985
Garlic cultivation replaced coffee plantations around Mt. Rinjani, President Suharto visited Sembalun to encourage garlic as the icon product of the region
1986
Department of Tourism established
1988
PT Sembalun Kusuma Emas (SKE) establish garlic plantation in Sembalun (active until 1998)
1989
Timber concession in Sambelia
1990
Mt. Rinjani National Park established
Interviewees observed natural spring depletion and increase in illegal logging and fires
1992
MoF defined forest boundaries (KPH Interview)
Timber concession owners begin forest rehabilitation program in Sambelia to curb deforestation
1995
Farmers diversify into potatoes, onions, carrots, chili, and other vegetables in Sembalun
1997
El Nino drought affecting agricultural yields and environmental degradation provoking fires
The Ministry of Agriculture establishes agroforestry program in Sambelia district (within State forest)
1999
Decentralisation—The Regency Forest Department (Dinas Kehutanan Kabupaten) gained jurisdiction over production and protected forests, while conservation forests remained under the authority of the national government
Water management institution Balai Wilayah Sungai (BWS) began working on water issues in Sambelia
2000
Community forestry (HKM) established in Sambelia, 520 people and 420 ha
2002
PT Sampoerna Agro established greenhouse system in Sembalun for tomatoes, peppers, lettuce, broccoli, strawberries, and grapes for export.
2006
Landslide caused flash flooding in Sembalun and Sambelia. Large areas containing houses and crops were severely damaged. Floods raised environmental awareness among communities and were attributed to illegal logging
2008
Community forestry (HKM) established in Sapit village, 715 households and 450 ha
2010/2012
Severe floods on Eastern slopes of Mt. Rinjani affecting Sambelia
2012
East Lombok establish KPHL Rinjani Timur under the district forestry department
2013
KPH commences rehabilitation program in protection forest, planting cinnamon, candlenut, timber trees
2014
KPH redefined State forest boundaries, reducing the area where settlement existed (KPH interviewee)
2015
KPH engages local community in forest rehabilitation and commences Kemitraan program
Protection Forest
Production Forest
Village
Mekar Sari
Sugian
Year commenced
2013
2015
Current size (2016) (ha)
320
285
Number of people involved
Approx. 470
Approx. 200
Land status
Degraded rainforest (approx. 40% planted with agroforestry crops)
Degraded dry deciduous forest with minimal tree cover (approx. 75% rice paddy/maize)
Cropping arrangement
Divided into blocks, each member has one block, no more than 2 ha.
Main crops planted in rehabilitation program
Avocado
Durian
Jackfruit
Candlenut
Cinnamon
Tamarind
Ginger
Mahogany (timber tree)
Rajumas (timber tree)
Pulai (timber tree)
Sengon (timber tree)
Gmelina (timber tree)
Profit sharing arrangement
40% earnings to KPH
60% earnings to members
Members pay 1,500,000 annually to village
*39% earnings to KPH
60% earnings to members
1% earnings to village office
Future expansion
<9616.77 ha
<2991 ha

© 2018 by the authors. Licensee MDPI, Basel, Switzerland. This article is an open access article distributed under the terms and conditions of the Creative Commons Attribution (CC BY) license (http://creativecommons.org/licenses/by/4.0/).