Electrical Characterization and Micro X-ray Computed Tomography Analysis of Next-Generation Silicon Alloy Lithium-Ion Cells
1
MOBI Research Group, core-lab Flanders Make, Department of Electric Engineering and Energy Technology (ETEC), Vrije Universiteit Brussel, Pleinlaan 2, 1050 Brussels, Belgium
2
European Commission, Joint Research Centre (JRC), Directorate for Energy, Transport and Climate, Energy Storage Unit, PO Box 2, 1755 ZG Petten, The Netherlands
3
ZSW, Zentrum für Sonnenenergie- und Wasserstoff-Forschung BW, Helmholtzstraße 8, 89081 Ulm, Germany
*
Author to whom correspondence should be addressed.
Received: 30 August 2018 / Revised: 9 October 2018 / Accepted: 17 October 2018 / Published: 19 October 2018
Abstract
This study analyzed a prototype of a pouch cell containing silicon alloy anodes with the potential to significantly increase the energy density, resulting in improved autonomy for electric vehicles. An electrical characterization campaign was performed, resulting in three main observations. Firstly, measurements showed a high energy density, although a high lower cutoff voltage (3.0 V) was used due to the prototypical nature of the cells. Further optimization would allow a decrease of the lower cutoff voltage, resulting in an even higher energy density. Secondly, a large open-circuit voltage hysteresis was observed, increasing the complexity for equivalent circuit models. Thirdly, ballooning of the pouch cell was observed, most likely caused by gas formation. This leads to a loss of active surface area, significantly reducing the cell's capacity. This third observation was more thoroughly investigated by 3D computed tomography, which showed mechanical deformation of the layers. An extensive literature review revealed that the addition of fluoroethylene carbonate (FEC) to the electrolyte enhances the cycling stability of silicon alloy batteries but leads to the production of CO
as a side reaction. Furthermore, the usage of external pressure was proposed and validated as a methodology to reduce the production of CO
while improving the cells' performance.
View Full-Text
►

▼

Figures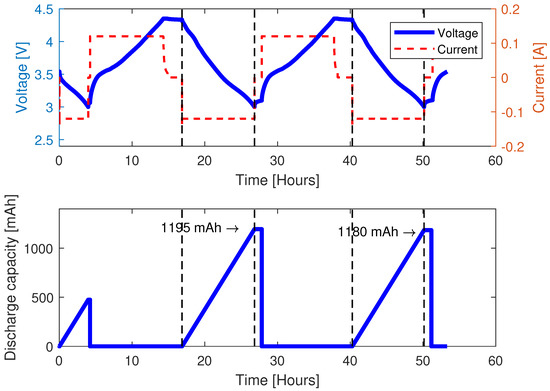 Figure 1
This is an open access article distributed under the
Creative Commons Attribution License
which permits unrestricted use, distribution, and reproduction in any medium, provided the original work is properly cited (CC BY 4.0).

Share & Cite This Article
MDPI and ACS Style
Berckmans, G.; De Sutter, L.; Kersys, A.; Kriston, A.; Marinaro, M.; Kasper, M.; Axmann, P.; Smekens, J.; Wohlfahrt-Mehrens, M.; Pfrang, A.; Jaguemont, J.; Van Mierlo, J.; Omar, N. Electrical Characterization and Micro X-ray Computed Tomography Analysis of Next-Generation Silicon Alloy Lithium-Ion Cells. World Electr. Veh. J. 2018, 9, 43.
Note that from the first issue of 2016, MDPI journals use article numbers instead of page numbers. See further details here.
Comments
[Return to top]