Open Access This article is
freely available
re-usable
Article
Capacity Recovery Effect in Lithium Sulfur Batteries for Electric Vehicles
1
Hochschule Ulm (HS Ulm), Prittwitzstr. 10, 89075 Ulm, Germany
2
Daimler AG, HPC G012, Hanns-Klemm-Str. 45, 71034 Böblingen, Germany
3
Institute for Electrical Energy Storage Technology, Technische Universität München (TUM), Arcisstr. 21, 80333 Munich, Germany
*
Author to whom correspondence should be addressed.
Received: 16 May 2018 / Accepted: 10 August 2018 / Published: 17 August 2018
Abstract
:
Lithium sulfur batteries have a promisingly high theoretical specific energy density of about 2600 Wh/kg and an expected practical specific energy density of about 500–600 Wh/kg. Therefore, it is a highly promising future energy storage technology for electric vehicles. Beside these advantages, this technology shows a low cell capacity at high discharge currents. Due to the capacity recovery effect, up to of the total cell capacity becomes available again with some rest time. This study shows a newly-developed capacity recovery model for lithium sulfur batteries. Due to the long rest periods of electric vehicles, this effect has an important influence on the usable cell capacity and depth of discharge in lithium sulfur batteries.
Keywords:
battery; discharge rate; capacity recovery; lithium sulfur; modeling
1. Introduction
However, very little is known about the influence of DOD with a variety of discharge currents on the recovered capacity. This study investigates the DOD-dependent capacity recovery effect.
2. Capacity Recovery Effect
This section reflects the dynamic capacity recovery effect. A basic necessity for vehicular evaluations of LiS technology are dynamical and utilizable models. In [
11
], a dynamical RC-model was published. A first mathematical model of LiS cells was published in [
12
]. In addition, Marinescu et al. invented a simplified chemical model to describe the discharge and charge reaction mechanisms [
13
]. So far, the recovery effect of a single DOD as an additional result of a self-discharge experiment was published in [
10
]. Furthermore, a remarkable recovery effect at a DOD level was published in [
9
]. The purpose of this work is the quantification of the recovering capacity of the cell and subsequently its veritable usage capacity. Additionally, a dynamical capacity recovery model for LiS cells from a vehicular application point of view is developed. In vehicular applications, rest times are not connected to specific DODs. In other words, the occurrence of recovery break times () for the recovery effect are DOD independent. In addition, the recovered capacity is quite important to estimate the true usable cell capacity in LiS cells used in electric vehicles.
As described before, the recovered capacity depends on sulfur utilization. We hypothesize that the final product of the reaction mechanism blocks sulfur and reaction products in the carbon pores. These blocked products are one reason for the poor sulfur utilization and the huge difference between theoretical and practical cell capacity. The sulfur utilization and therefore the blocked products also depend on the carbon pore size [
1
], which are not known for the used cells. Further, it is believed that the diffusion of dissolved polysulfides away from electrochemical active surfaces leads to low sulfur utilization [
14
]. Therefore, we assume that this product diffuses with the time and unblocks active materials in some of the carbon matrix pores, and we assume that dissolved polysulfides diffuse back to the active surface. This unblocking process is influenced by six parameters. First, the diffusion is bound to the initial diffusion rate of the cell. Second, the temperature influences the diffusion rate of the blocking and the diffusion of polysulfides. Third, the current history influences the precipitated structure of . Fourth, defines the amount of diffused and diffused polysulfides. Fifth, the DOD determines the concentration of . Sixth, the cell degradation determines the usable and available active material. To clarify, these parameters cannot be regarded solely. Moreover, there exist dependencies between these parameters. It is clear that this effect is relevant in vehicular applications.
The published time constants for the recovered capacity differ highly. On the one hand, a capacity recovery time constant between 18 and 24 min was published in [
9
]. In their study, an Oxis 3.4 Ah pouch cell was measured at a constant temperature of 30 C, and the cell was discharged at 1 C. The recovered capacity was measured after recovery break times up to 4 h at 100% DOD. On the other hand, in [
10
], a capacity recovery time constant of 50 h was published. There, a single 2.8-Ah Sion Power pouch cell was used in a self-discharge experiment at 60% DOD and a constant temperature of 20 C. The cell was discharged at C/9 and, afterwards, charged to 60% DOD. The recovered capacity after 24 h of this cell was used to estimate the capacity recovery time constant. Despite the different temperatures and different currents, these findings differ highly. Therefore, a separate first investigation is performed.
3. Experimental Capacity Recovery Study
In this section, the experimental design of the capacity recovery study is described. We intend to examine the capacity recovery effect with respect to discharge current, DOD and recovery break time.
4. Results
4.1. Constant Current Condition
The results of all at 40%, 60% and 80% DOD showed an increasing amount of recovered capacity for all discharged current rates. The recoverable capacity increased with higher DOD levels due to the increase of the concentration and the diffusion of polysulfides to the active surface. Therefore, the recovered capacity dominated the contrary mechanism between the recovered capacity during the and decreasing inner cell temperature during . The recovered capacity due to the unblocked active material increased the discharged capacity more than the discharged capacity was reduced by lower inner cell temperature. As expected, the recovered capacity highly increased with higher DOD, with higher discharge current and with higher . Up to 20% of the cell capacity was recovered due to the concentration of and the amount of blocked active material.
4.2. Drive Cycle Condition
In this section, time-variant currents are investigated based on a drive cycle. Due to the fact that the recovered capacity is interesting for vehicular applications, a drive cycle with a LiS traction battery was investigated. This LiS traction battery was downsized on the cell level and measured in our lab.
Today, 68% of the daily travel of light-duty vehicles is about 40 miles per day [
16
]. The electric vehicle journey time is short compared to rest time periods. In vehicular applications, these rest time periods have an important influence on the usable cell capacity and DOD in LiS batteries due to the recovery effect. Therefore, the basic recovery model was tested at separate cells with two different time-variant current profiles based on the US06 drive cycle. This drive cycle was already used in [
17
] because of the high amount of recuperation parts. It showed a maximum possible real condition opposite to a recovery effect based on constant current discharge. The drive cycle and the used current profile are shown in
Figure 7
. This US06 drive cycle was used to calculate current profiles for commercial LiS cells. The current profile as shown in
Figure 7
was separately scaled to a maximum discharge current of 0.5 C and 1 C by a light-duty vehicle.
Each cell was discharged with repetitions of one of the two scaled current profiles of the US06 drive cycle. These repeated current profiles discharged the cell to the same DOD levels as described in
Section 3.3
. At these DOD levels, a of 120 min was included in order to check the maximum recovered capacity. Afterwards, the cell was further discharged at repeated current profiles of the scaled US06 current profile. The results presented in
Figure 8
show the expected negative recovered capacity at 20% DOD. Beside this, the results for the 1 C US06 at 60% and 80% DOD were unexpectedly high. At 80% DOD, it showed a recovered capacity of 8%. The results of the scaled 0.5 C US06 drive cycle fit the 0.5 C US06 mean current of the current profile (), whereas the recovered capacities of the scaled 1 C US06 drive cycle highly differed from the modeled recovered capacity by the 1 C US06 mean current (). The modeled recovered capacity at a constant discharge current of 0.27 C, which equivalents to at 80% DOD and of 120 min is 3.2%. This is lower than the measured one (see
Figure 5
and
Figure 8
). The calculated mean currents of the drive cycle considered each current by the same weight.
4.3. Discussion
Our additional results at drive cycle conditions offer evidence that the provided model cannot estimate recovered capacity of time-variant currents due to current averaging before . The assumption of equally-weighted current on the recovery effect is not feasible. The 1 C US06 drive cycle provided a remarkably higher recovered capacity than estimated by current averaging. The difference between the actual recovered capacity and the estimated recovered capacity due to current averaging is probably due to the nonlinearity of the blocking process by time-variant currents. The constant current investigation provides little information about this blocking process due to time-variant currents. It seems that 0.5 C US06 does not heavily influence the recovery effect due to time-variant currents.
We readily acknowledge that this model is limited to constant current discharge profiles. We therefore recommend further investigations towards dynamic current discharge profiles. An alternative to the averaged current as the input parameter for the recovery model might be the grade of blocked active material.
However, the present study offers clear evidence that the recovery effect is an important mechanism to be considered in vehicular applications.
5. Conclusions
In our capacity recovery study, we have provided valuable results on the impact of recovery break time on usable capacity in LiS batteries at different DODs. We have shown that it is possible to build an applicable capacity recovery model with respect to DOD, discharge current and recovery break time. Moreover, the recovered capacity highly increases with the increasing of every single one of these parameters.
Our study has shown that the highly current-dependent LiS capacity can be recovered by a maximum amount of 20% of the nominal cell capacity at 0.8 C and 80% DOD. However, the aging of cells seems to influence the recovered capacity. Therefore, this aging influence and this current rate are in the focus of our current researches.
The investigation showed negative recovered capacities at 20% DOD for every recovery break time and discharge current due to a low concentration of precipitated and a reduction of inner cell temperature during the recovery break time. At this DOD, more capacity is useable by reducing recovery break times. A positive capacity is recovered for 40% DOD and higher. This recovered capacity is increasing with DOD and discharge current until a maximum recovery break time of 120 min. The recovered capacity was modeled by a first order differential equation.
Although this investigation provides a basic recovery model, there are still open questions for further research on the recovery effect in LiS cells. The model calculated at constant current discharges could not estimate a drive cycle properly with time-variant currents. The recovered capacity from the drive cycle and consequently from time-variant currents was remarkably high. We therefore recommend that weighted time-variant currents be used to properly estimate the capacity recovery in future research.
Nevertheless, the investigation shows that the capacity recovery effect is an important effect to estimate the true usable capacity properly in LiS batteries for vehicular and other applications.
Author Contributions
C.M. and W.C. conceptualized the study. C.M. developed the methodology, performed the investigation, validated the measurements and wrote the original draft. W.C. and A.J. supervised the study. W.C., A.H. and A.J. edited and reviewed the paper. W.C. and A.H. provided resources.
Funding
This research received no external funding.
Conflicts of Interest
The authors declare no conflict of interest.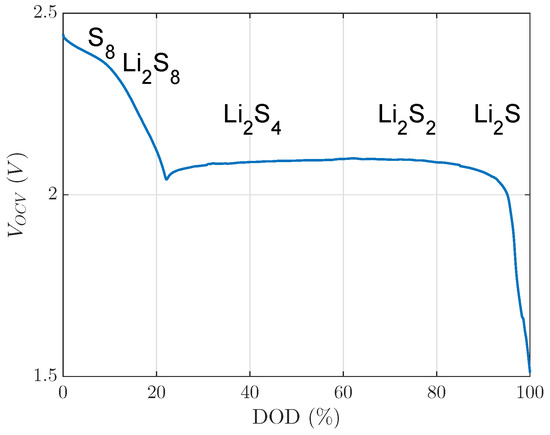 Figure 1.
Open circuit voltage of a lithium sulfur cell with reaction products of the multiple reaction stages described in [
5
]. DOD, depth of discharge.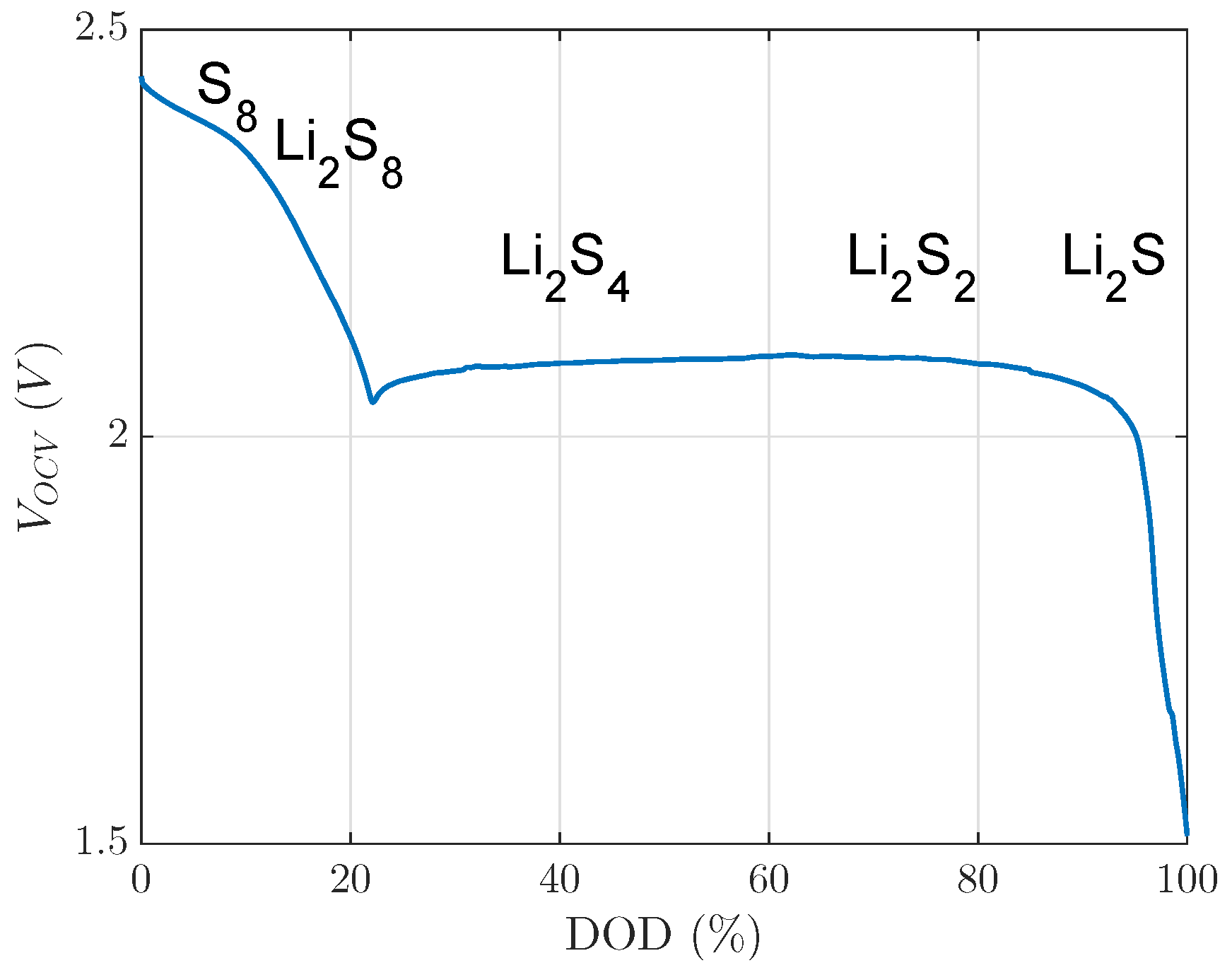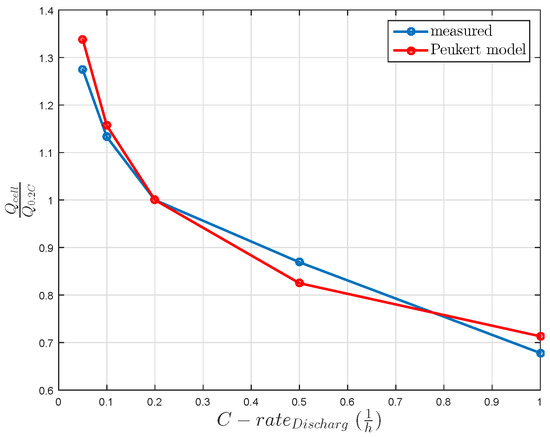 Figure 2. Relative cell capacity influenced by constant discharge current without rest time. The Peukert coefficient of the model is 1.2.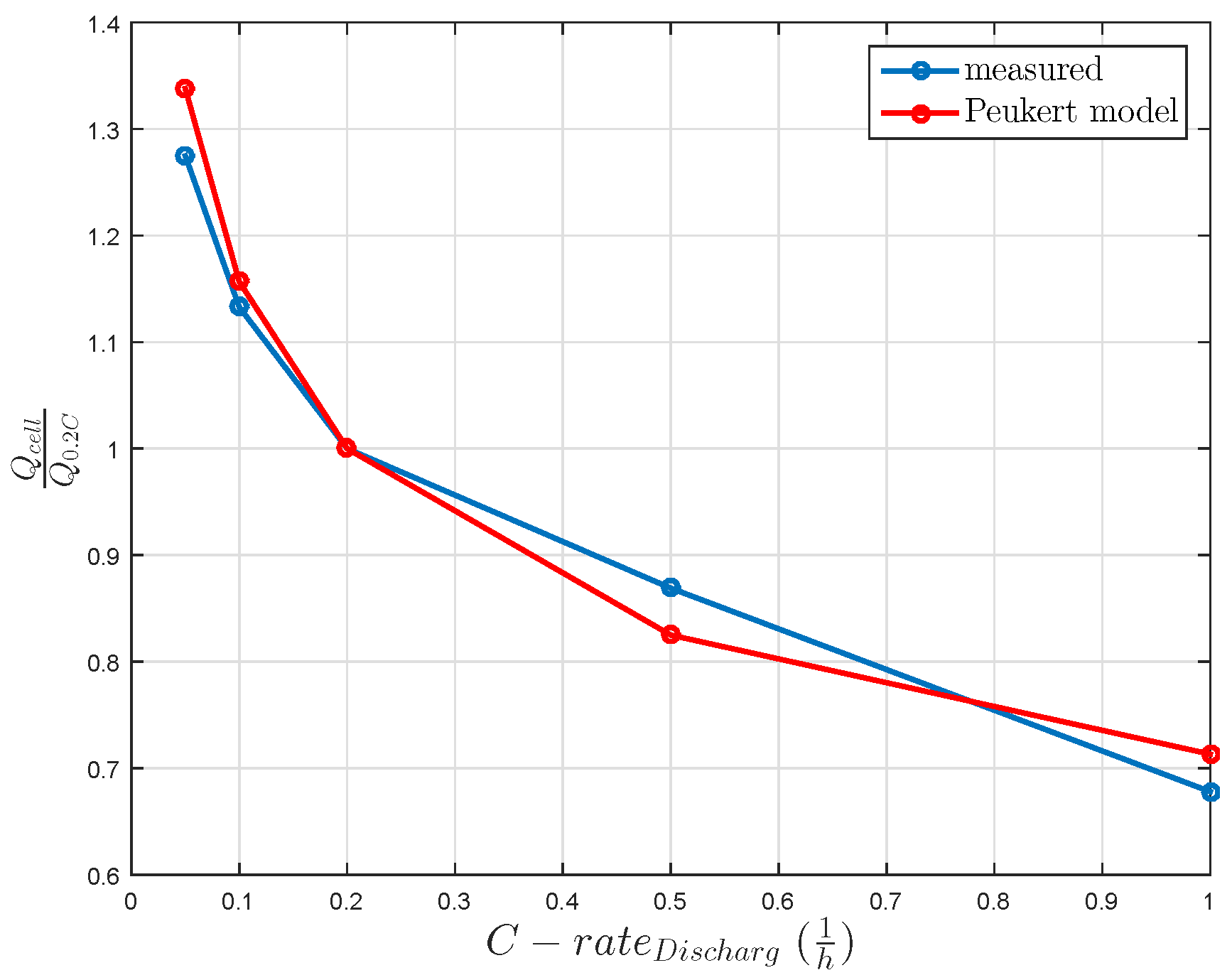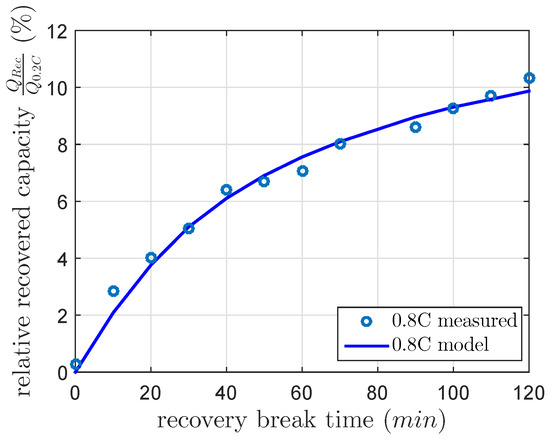 Figure 3. Measured and modeled recovered capacity after a 0.8 C constant current discharge at 100% DOD and a recovery break time between zero and 120 min at a constant temperature of 25 C.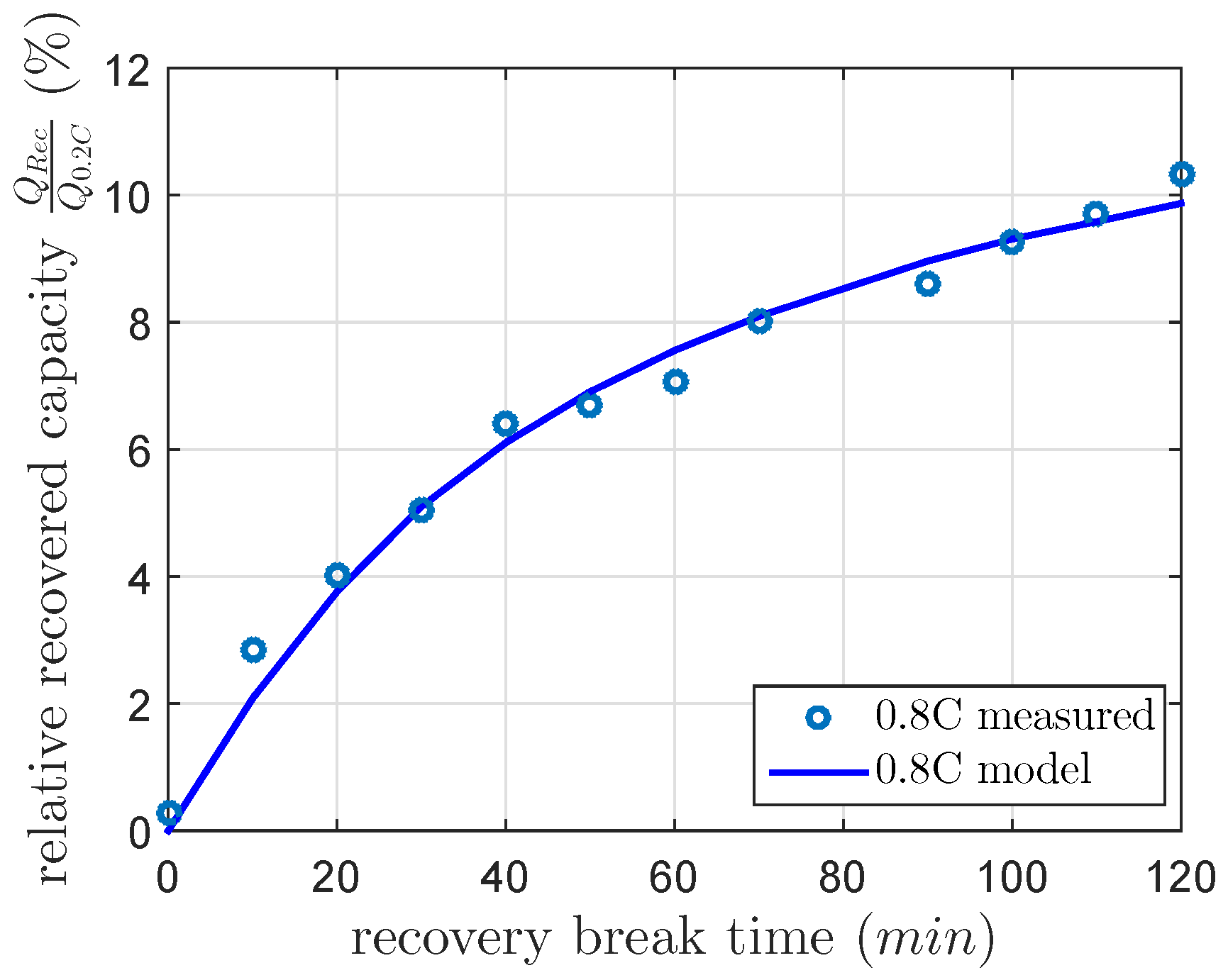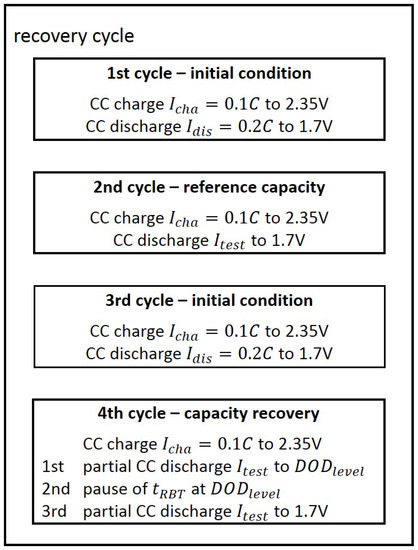 Figure 4. Sequence of the recovery cycle, which consists of four single cycles with constant current (CC) discharges and charges. The test parameters are constant within one recovery cycle. These test parameters are (0.2, 0.4 or 0.8 C), (20%, 40%, 60% or 80%) and (15 min, 30 min, 60 min or 120 min).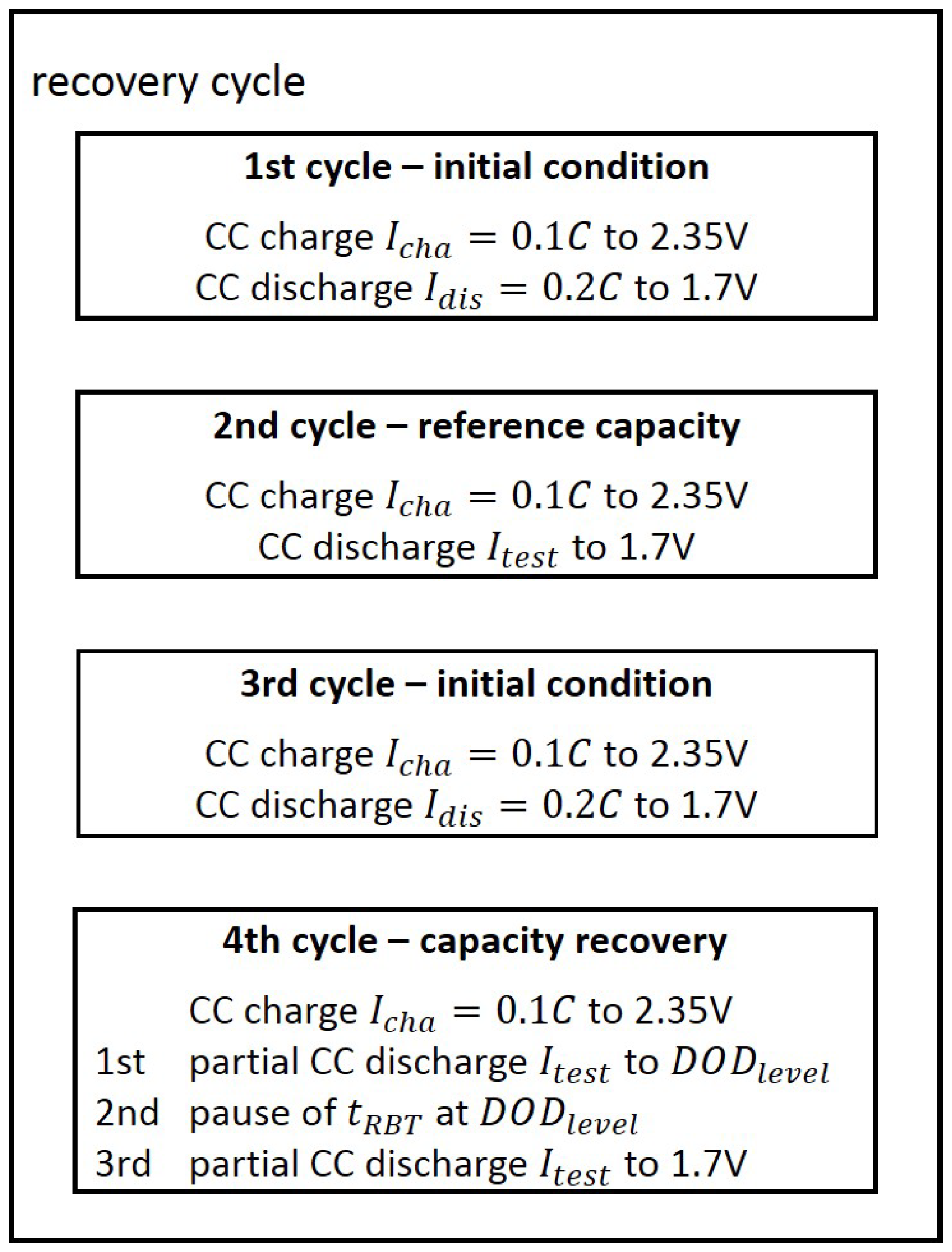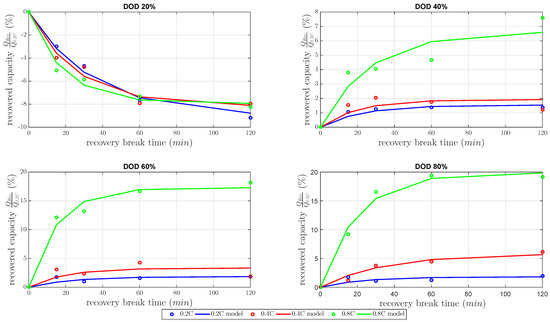 Figure 5. Model of the relative recovered cell capacities at 20%, 40%, 60%, 80% DOD level and discharge currents of 0.2 C, 0.4 C, 0.8 C measured at a constant temperature of 25 C.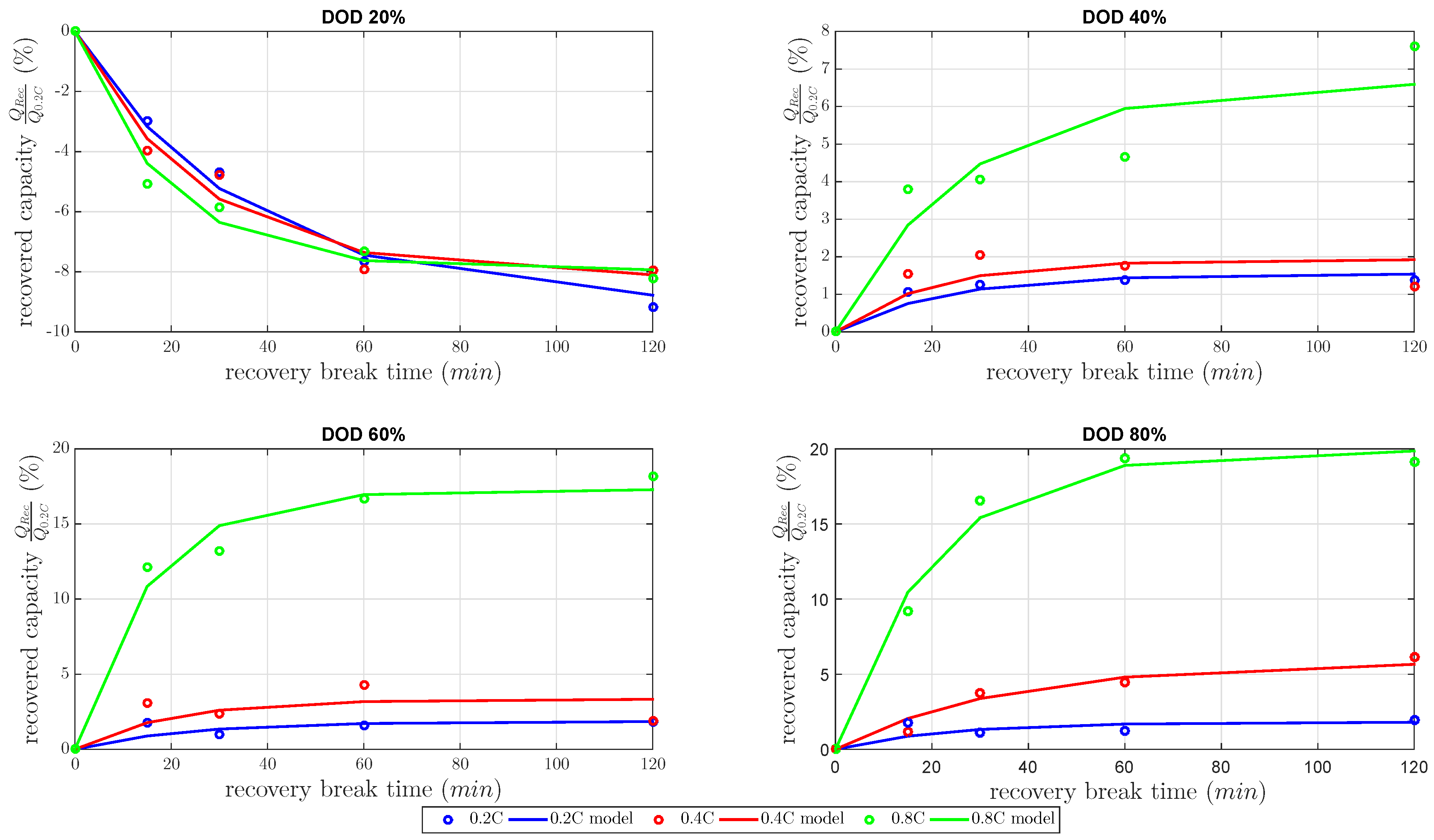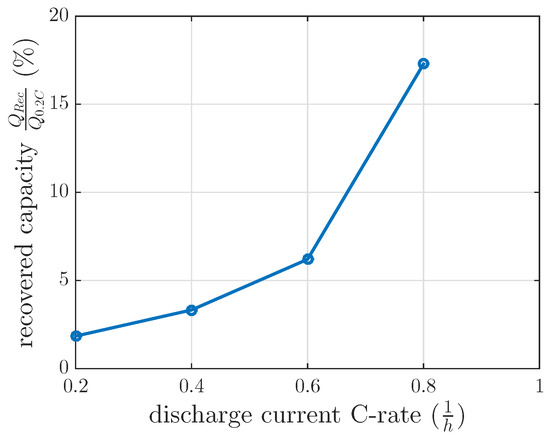 Figure 6. Measured recovered capacity for 120 min at DOD 60% at 0.2 C, 0.4 C, 0.6 C and 0.8 C and at a constant temperature of 25 C.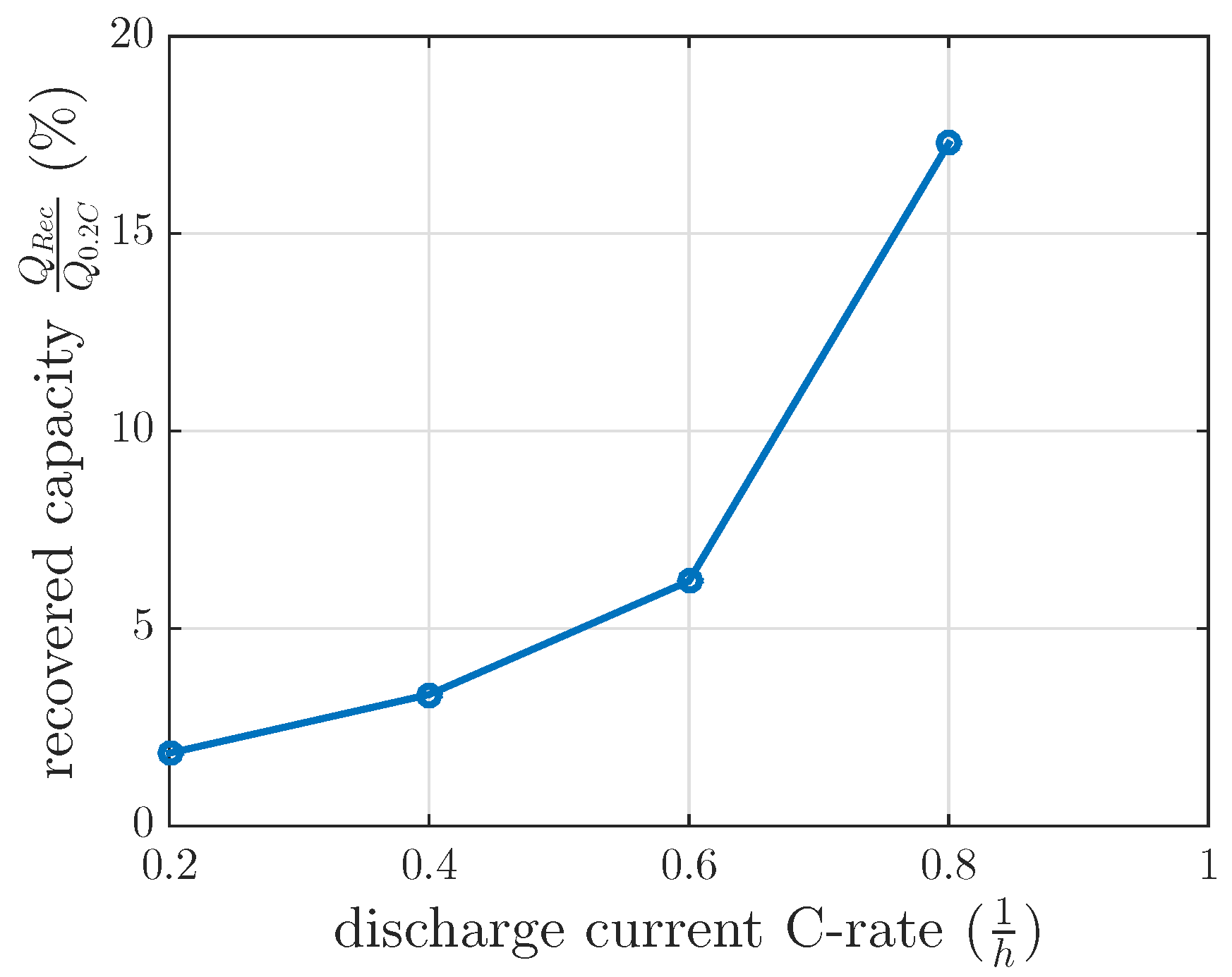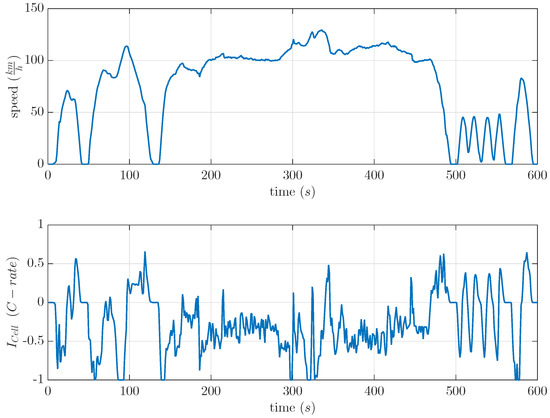 Figure 7. Velocity and calculated current profile of the US06 drive cycle. Discharged current is negative.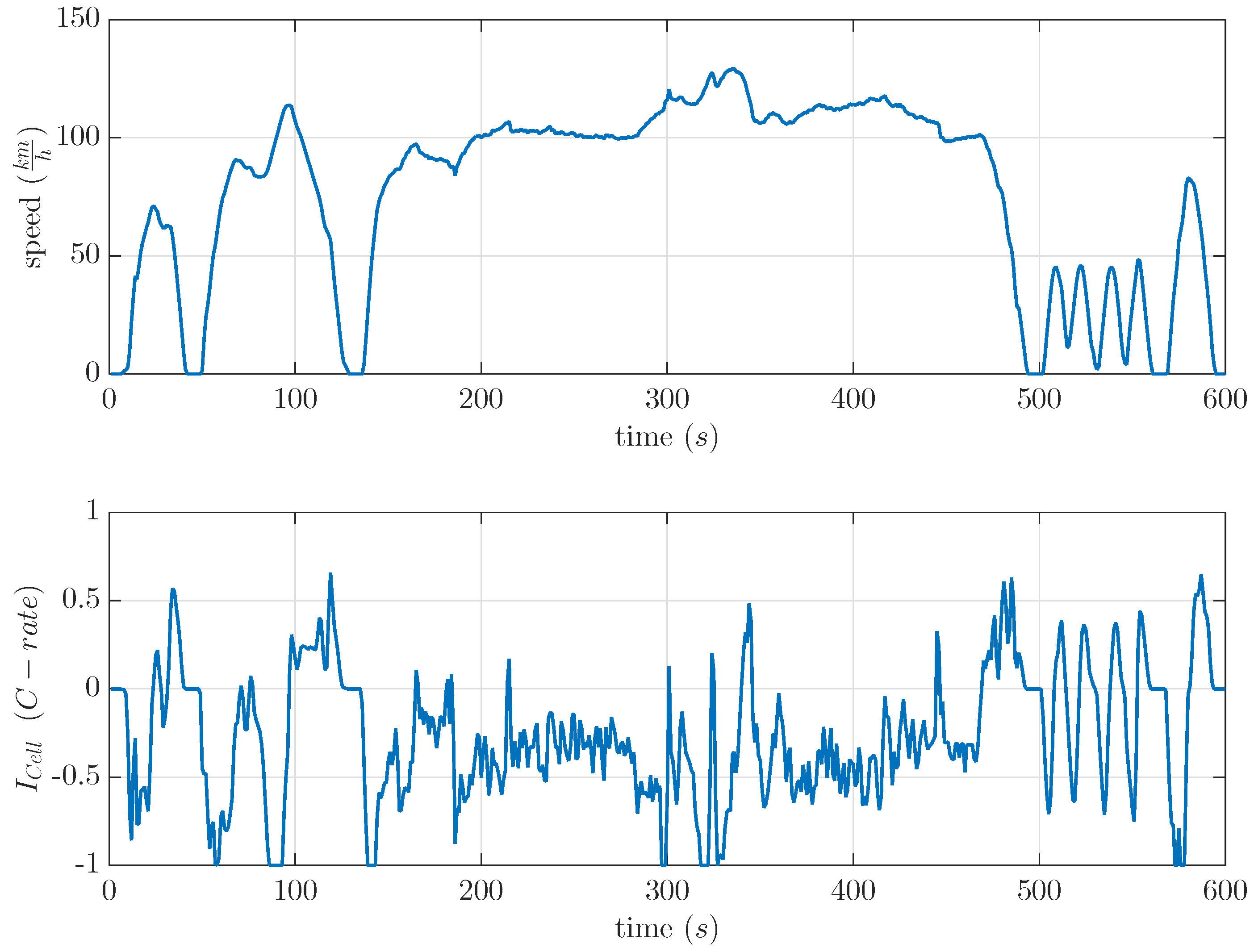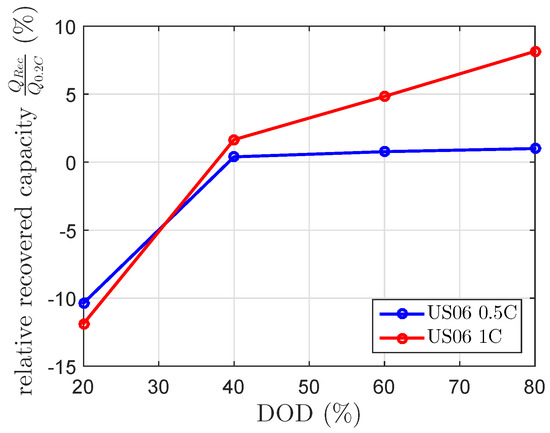 Figure 8. Relative recovered cell capacity by the US06 drive cycle for a maximum discharge current of 0.5 C and 1 C, measured at a constant temperature of 25 C.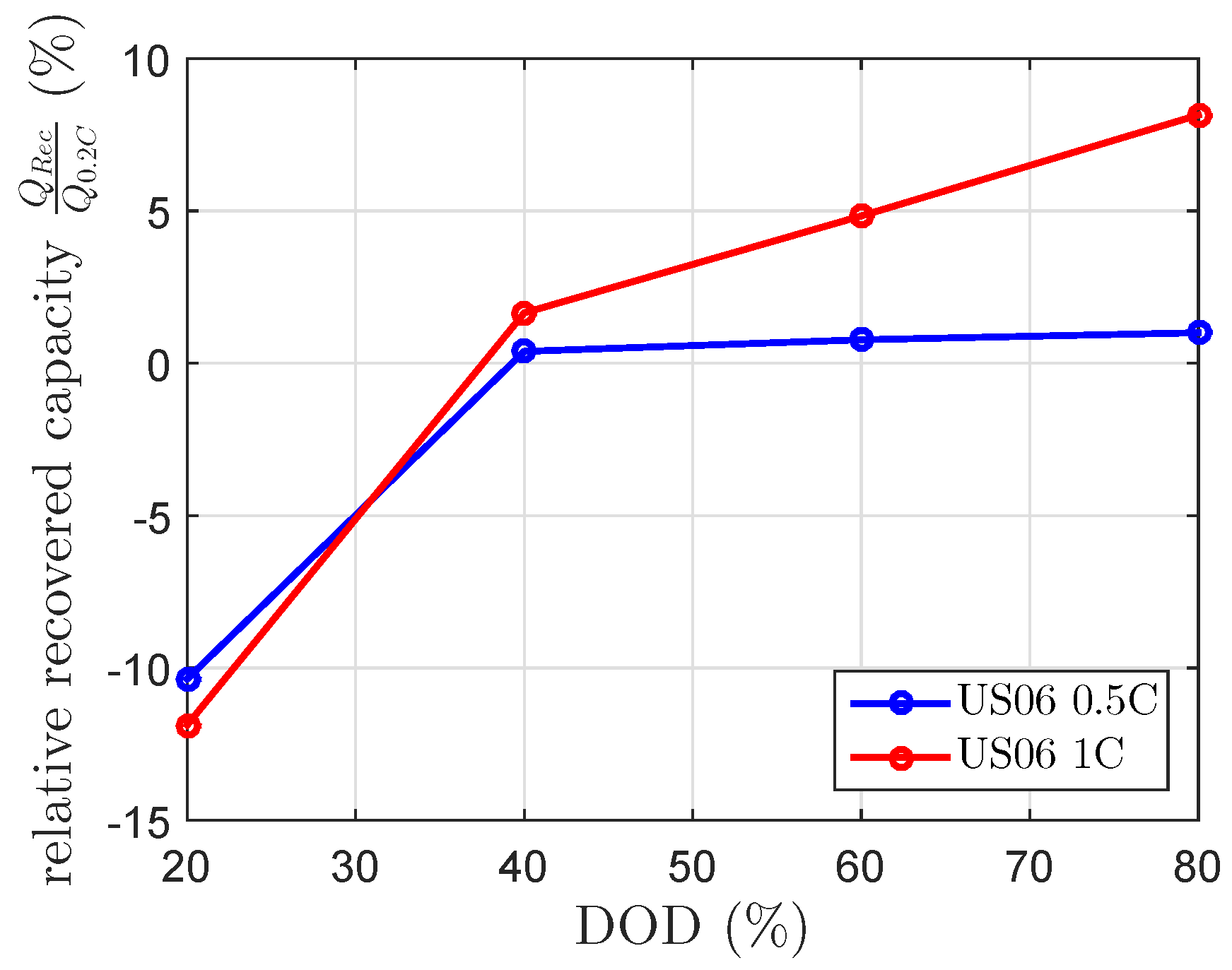 Table 1.
Discharge current-dependent mean time constant of Equation (
5
) measured at a constant temperature of 25 C.

Table 2. Root mean square error between measured and modeled recovered capacity, normalized by the nominal discharge capacity at 0.2 C and measured at a constant temperature of 25 C.
| Discharge Current | 20% DOD | 40% DOD | 60% DOD | 80% DOD |
| --- | --- | --- | --- | --- |
| 0.2 C | 0.04% | 0.01% | 0.07% | 0.08% |
| 0.4 C | 0.09% | 0.10% | 0.42% | 0.1% |
| 0.8 C | 0.08% | 0.35% | 0.48% | 0.28% |

© 2018 by the authors. Licensee MDPI, Basel, Switzerland. This article is an open access article distributed under the terms and conditions of the Creative Commons Attribution (CC BY) license (http://creativecommons.org/licenses/by/4.0/).