An Accelerated Release Study to Evaluate Long-Acting Contraceptive Levonorgestrel-Containing in Situ Forming Depot Systems
Department of Pharmaceutical Sciences, University of Tennessee Health Sciences Center, Memphis, TN 38163, USA
*
Author to whom correspondence should be addressed.
Academic Editor: Afzal R. Mohammed
Received: 18 May 2016 / Revised: 19 August 2016 / Accepted: 23 August 2016 / Published: 1 September 2016
Abstract
Biodegradable polymer-based injectable in situ forming depot (ISD) systems that solidify in the body to form a solid or semisolid reservoir are becoming increasingly attractive as an injectable dosage form for sustained (months to years) parenteral drug delivery. Evaluation of long-term drug release from the ISD systems during the formulation development is laborious and costly. An accelerated release method that can effectively correlate the months to years of long-term release in a short time such as days or weeks is economically needed. However, no such accelerated ISD system release method has been reported in the literature to date. The objective of the current study was to develop a short-term accelerated in vitro release method for contraceptive levonorgestrel (LNG)-containing ISD systems to screen formulations for more than 3-month contraception after a single subcutaneous injection. The LNG-containing ISD formulations were prepared by using biodegradable poly(lactide-
co
-glycolide) and polylactic acid polymer and solvent mixtures containing
N
-methyl-2-pyrrolidone and benzyl benzoate or triethyl citrate. Drug release studies were performed under real-time (long-term) conditions (PBS, pH 7.4, 37 °C) and four accelerated (short-term) conditions: (A) PBS, pH 7.4, 50 °C; (B) 25% ethanol in PBS, pH 7.4, 50 °C; (C) 25% ethanol in PBS, 2% Tween 20, pH 7.4, 50 °C; and (D) 25% ethanol in PBS, 2% Tween 20, pH 9, 50 °C. The LNG release profile, including the release mechanism under the accelerated condition D within two weeks, correlated (
r
2
≥ 0.98) well with that under real-time conditions at four months.
View Full-Text
►

▼

Figures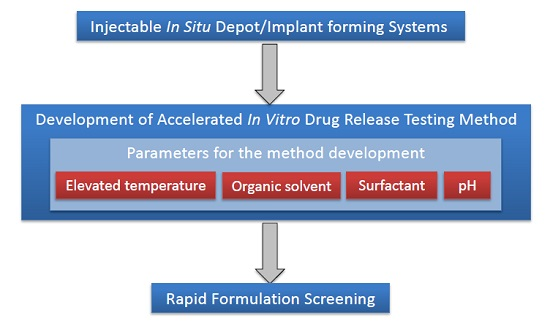 Graphical abstract
This is an open access article distributed under the
Creative Commons Attribution License
which permits unrestricted use, distribution, and reproduction in any medium, provided the original work is properly cited (CC BY 4.0).

Share & Cite This Article
MDPI and ACS Style
Janagam, D.R.; Wang, L.; Ananthula, S.; Johnson, J.R.; Lowe, T.L. An Accelerated Release Study to Evaluate Long-Acting Contraceptive Levonorgestrel-Containing in Situ Forming Depot Systems. Pharmaceutics 2016, 8, 28.
Note that from the first issue of 2016, MDPI journals use article numbers instead of page numbers. See further details here.
Related Articles
Comments
[Return to top]