In Vitro Cytotoxicity of Oleanolic/Ursolic Acids-Loaded in PLGA Nanoparticles in Different Cell Lines
1
Centre for Research and Technology of Agro-Environmental and Biological Sciences (CITAB), University of Trás-os Montes e Alto Douro (UTAD), Quinta de Prados, 5001-801 Vila Real, Portugal
2
Department of Biology and Environment, UTAD, Quinta de Prados, 5001-801 Vila Real, Portugal
3
Department of Pharmacy and Pharmaceutical Technology and Physical Chemistry, Faculty of Pharmacy, University of Barcelona, Ave. Joan XXIII s/n, 08028 Barcelona, Spain
4
Department of Chemical and Instrumental Analysis, Faculty of Chemistry and Pharmacy, University of El Salvador, Final 25 Ave. Norte, 3026 San Salvador, El Salvador
5
Centro de Investigaciones Químicas, Universidad Autónoma del Estado de Morelos, Av. Universidad No. 1001, Col Chamilpa, 62209 Cuernavaca, Mexico
6
Department of Pharmaceutical Technology, Faculty of Pharmacy, University of Coimbra (FFUC), Pólo das Ciências da Saúde, 3000-548 Coimbra, Portugal
7
CEB—Centre of Biological Engineering, University of Minho, Campus de Gualtar, 4710-057 Braga, Portugal
*
Authors to whom correspondence should be addressed.
Received: 10 June 2019 / Revised: 19 July 2019 / Accepted: 22 July 2019 / Published: 24 July 2019
Abstract
Oleanolic (OA) and ursolic (UA) acids are recognized triterpenoids with anti-cancer properties, showing cell-specific activity that can be enhanced when loaded into polymeric nanoparticles. The cytotoxic activity of OA and UA was assessed by Alamar Blue assay in three different cell lines, i.e., HepG2 (Human hepatoma cell line), Caco-2 (Human epithelial colorectal adenocarcinoma cell line) and Y-79 (Human retinoblastoma cell line). The natural and synthetic mixtures of these compounds were tested as free and loaded in polymeric nanoparticles in a concentration range from 2 to 32 µmol/L. The highest tested concentrations of the free triterpene mixtures produced statistically significant cell viability reduction in HepG2 and Caco-2 cells, compared to the control (untreated cells). When loaded in the developed PLGA nanoparticles, no differences were recorded for the tested concentrations in the same cell lines. However, in the Y-79 cell line, a decrease on cell viability was observed when testing the lowest concentration of both free triterpene mixtures, and after their loading into PLGA nanoparticles.
View Full-Text
►

▼

Figures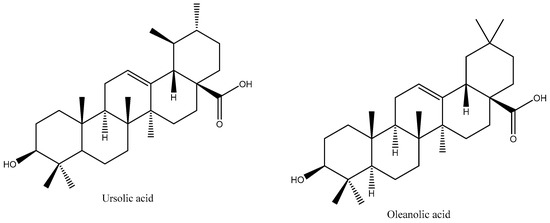 Figure 1
This is an open access article distributed under the
Creative Commons Attribution License
which permits unrestricted use, distribution, and reproduction in any medium, provided the original work is properly cited (CC BY 4.0).

Share & Cite This Article
MDPI and ACS Style
Silva, A.M.; Alvarado, H.L.; Abrego, G.; Martins-Gomes, C.; Garduño-Ramirez, M.L.; García, M.L.; Calpena, A.C.; Souto, E.B. In Vitro Cytotoxicity of Oleanolic/Ursolic Acids-Loaded in PLGA Nanoparticles in Different Cell Lines. Pharmaceutics 2019, 11, 362.
Note that from the first issue of 2016, MDPI journals use article numbers instead of page numbers. See further details here.
Related Articles
Comments
[Return to top]