pH-Sensitive Chitosan–Heparin Nanoparticles for Effective Delivery of Genetic Drugs into Epithelial Cells
1
Institute of Chemistry, Saint Petersburg State University, Peterhoff, Universitetskii pr. 26, 198504 St. Petersburg, Russia
2
Institute of Pharmacy (Pharmacology and Toxicology), Freie Universität Berlin, Königin-Luise-Straße 2+4, 14195 Berlin, Germany
3
Institute of Chemistry and Biochemistry (Physical Chemistry), Freie Universität Berlin, Arnimallee 22, 14195 Berlin, Germany
*
Author to whom correspondence should be addressed.
Received: 29 May 2019 / Revised: 2 July 2019 / Accepted: 3 July 2019 / Published: 5 July 2019
Abstract
Chitosan has been extensively studied as a genetic drug delivery platform. However, its efficiency is limited by the strength of DNA and RNA binding. Expecting a reduced binding strength of cargo with chitosan, we proposed including heparin as a competing polyanion in the polyplexes. We developed chitosan–heparin nanoparticles by a one-step process for the local delivery of oligonucleotides. The size of the polyplexes was dependent on the mass ratio of polycation to polyanion. The mechanism of oligonucleotide release was pH-dependent and associated with polyplex swelling and collapse of the polysaccharide network. Inclusion of heparin enhanced the oligonucleotide release from the chitosan-based polyplexes. Furthermore, heparin reduced the toxicity of polyplexes in the cultured cells. The cell uptake of chitosan–heparin polyplexes was equal to that of chitosan polyplexes, but heparin increased the transfection efficiency of the polyplexes two-fold. The application of chitosan–heparin small interfering RNA (siRNA) targeted to vascular endothelial growth factor (VEGF) silencing of ARPE-19 cells was 25% higher. Overall, chitosan–heparin polyplexes showed a significant improvement of gene release inside the cells, transfection, and gene silencing efficiency in vitro, suggesting that this fundamental strategy can further improve the transfection efficiency with application of non-viral vectors.
View Full-Text
►

▼

Figures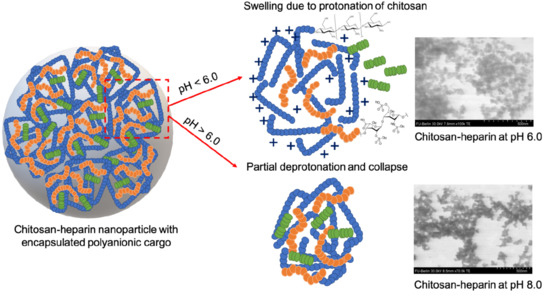 Graphical abstract
This is an open access article distributed under the
Creative Commons Attribution License
which permits unrestricted use, distribution, and reproduction in any medium, provided the original work is properly cited (CC BY 4.0).

Share & Cite This Article
MDPI and ACS Style
Pilipenko, I.; Korzhikov-Vlakh, V.; Sharoyko, V.; Zhang, N.; Schäfer-Korting, M.; Rühl, E.; Zoschke, C.; Tennikova, T. pH-Sensitive Chitosan–Heparin Nanoparticles for Effective Delivery of Genetic Drugs into Epithelial Cells. Pharmaceutics 2019, 11, 317.
Note that from the first issue of 2016, MDPI journals use article numbers instead of page numbers. See further details here.
Related Articles
Comments
[Return to top]