Influence of Solvent Composition on the Performance of Spray-Dried Co-Amorphous Formulations
1
Department of Pharmacy, University of Copenhagen, Universitetsparken 2, 2100 Copenhagen, Denmark
2
Department of Pharmacy, Faculty of Science and Engineering, Abo Akademi University, 20521 Turku, Finland
*
Author to whom correspondence should be addressed.
Received: 9 March 2018 / Revised: 6 April 2018 / Accepted: 10 April 2018 / Published: 12 April 2018
Abstract
Ball-milling is usually used to prepare co-amorphous drug–amino acid (AA) mixtures. In this study, co-amorphous drug–AA mixtures were produced using spray-drying, a scalable industrially preferred preparation method. The influence of the solvent type and solvent composition was investigated. Mixtures of indomethacin (IND) and each of the three AAs arginine, histidine, and lysine were ball-milled and spray-dried at a 1:1 molar ratio, respectively. Spray-drying was performed at different solvent ratios in (a) ethanol and water mixtures and (b) acetone and water mixtures. Different ratios of these solvents were chosen to study the effect of solvent mixtures on co-amorphous formulation. Residual crystallinity, thermal properties, salt/partial salt formation, and powder dissolution profiles of the IND–AA mixtures were investigated and compared to pure crystalline and amorphous IND. It was found that using spray-drying as a preparation method, all IND–AA mixtures could be successfully converted into the respective co-amorphous forms, irrespective of the type of solvent used, but depending on the solvent mixture ratios. Both ball-milled and spray-dried co-amorphous samples showed an enhanced dissolution rate and maintained supersaturation compared to the crystalline and amorphous IND itself. The spray-dried samples resulting in co-amorphous samples were stable for at least seven months of storage.
View Full-Text
►

▼

Figures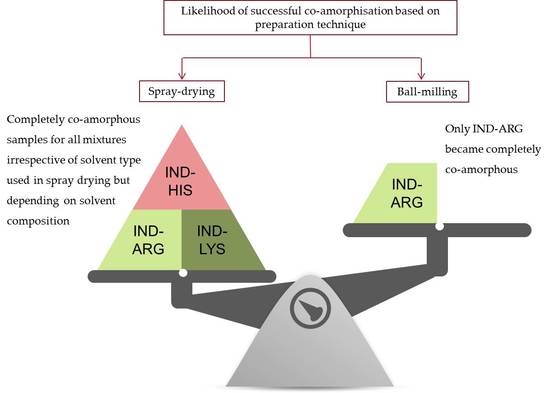 Graphical abstract
This is an open access article distributed under the
Creative Commons Attribution License
which permits unrestricted use, distribution, and reproduction in any medium, provided the original work is properly cited (CC BY 4.0).

Share & Cite This Article
MDPI and ACS Style
Mishra, J.; Rades, T.; Löbmann, K.; Grohganz, H. Influence of Solvent Composition on the Performance of Spray-Dried Co-Amorphous Formulations. Pharmaceutics 2018, 10, 47.
Note that from the first issue of 2016, MDPI journals use article numbers instead of page numbers. See further details here.
Related Articles
Comments
[Return to top]