Open Access This article is
freely available
re-usable
Review
Roles of APOBEC3A and APOBEC3B in Human Papillomavirus Infection and Disease Progression
1
Department of Immunology and Microbiology, University of Colorado School of Medicine, Aurora, CO 80045, USA
2
BIO5 Institute, School of Animal and Comparative Biomedical Sciences, University of Arizona, Tucson, AZ 85721, USA
3
Department of Medicine, University of Colorado School of Medicine, Aurora, CO 80045, USA
*
Author to whom correspondence should be addressed.
†
Current address: BioFrontiers Institute, University of Colorado Boulder, Boulder, CO 80303, USA.
Academic Editors: Alison A. McBride and Karl Munger
Received: 26 July 2017 / Accepted: 16 August 2017 / Published: 21 August 2017
Abstract
:
The apolipoprotein B messenger RNA-editing, enzyme-catalytic, polypeptide-like 3 (APOBEC3) family of cytidine deaminases plays an important role in the innate immune response to viral infections by editing viral genomes. However, the cytidine deaminase activity of APOBEC3 enzymes also induces somatic mutations in host genomes, which may drive cancer progression. Recent studies of human papillomavirus (HPV) infection and disease outcome highlight this duality. HPV infection is potently inhibited by one family member, APOBEC3A. Expression of APOBEC3A and APOBEC3B is highly elevated by the HPV oncoproteins E6 and E7 during persistent virus infection and disease progression. Furthermore, there is a high prevalence of APOBEC3A and APOBEC3B mutation signatures in HPV-associated cancers. These findings suggest that induction of an APOBEC3-mediated antiviral response during HPV infection may inadvertently contribute to cancer mutagenesis and virus evolution. Here, we discuss current understanding of APOBEC3A and APOBEC3B biology in HPV restriction, evolution, and associated cancer mutagenesis.
Keywords:
papillomavirus; human papillomavirus (HPV); apolipoprotein B messenger RNA-editing, enzyme-catalytic, polypeptide-like 3 (APOBEC3); innate immunity; virus restriction; cancer mutagenesis; cancer progression; somatic mutation; virus evolution
Acknowledgments
This work was supported in part by the National Institutes of Health (R01 AI091968 and R01 DE026125 to D.P., and T32 AI052066 to J.A.W.). K.V.D. is supported by the Technology Research Initiative Fund of Arizona and an award from the US Department of Agriculture—National Institute of Food and Agriculture (Hatch 1012632).
Author Contributions
C.J.W. and D.P. reviewed the literature, wrote the manuscript, and generated the figures. J.A.W. and K.V.D. provided edits and approved the final version.
Conflicts of Interest
The authors declare no conflict of interest.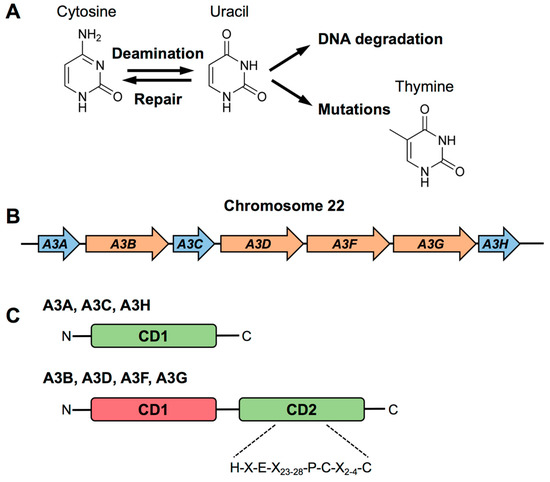 Figure 1.
Structural features of the human apolipoprotein B messenger RNA-editing, enzyme-catalytic, polypeptide-like 3 (APOBEC3s). (
A
) APOBEC3 family members convert cytosine to uracil and induce DNA degradation or mutations if the APOBEC3-mediated conversion of cytosine to uracil is not repaired; (
B
) All
APOBEC3
family members are arrayed in tandem on chromosome 22; (
C
) Schematic of APOBEC3 family members containing one or two cytidine deaminase (CD) domains. The catalytically active (green) and inactive (red) cytidine deaminase domains are pictured. The conserved zinc-coordinating motif is pictured between dashed lines.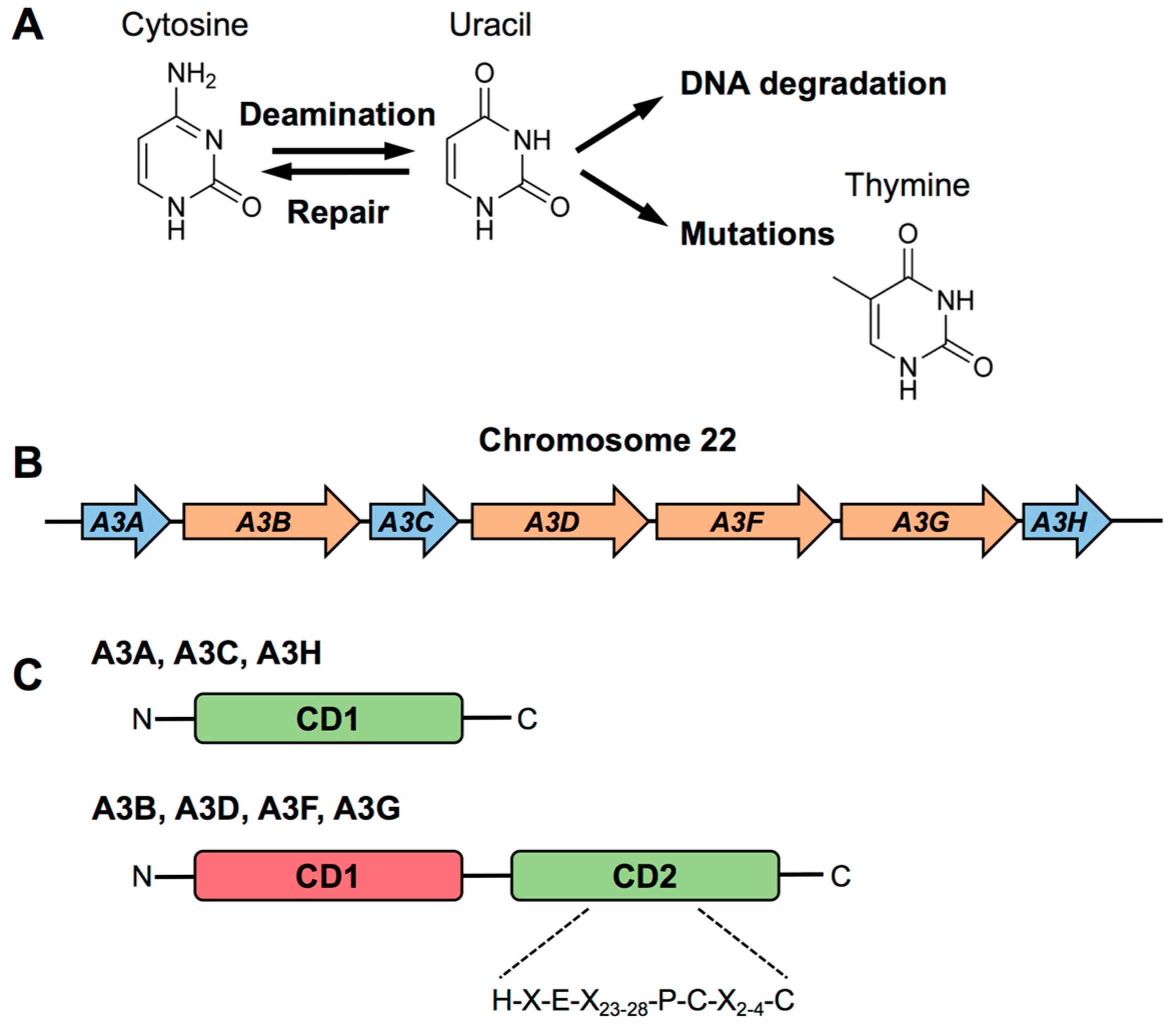 Figure 2.
Copy number variation in mammalian
APOBEC3s
. Placental mammals are taxonomically split into four diverse groups (superorders), which include
Afrotheria
,
Xenarthra
,
Euarchontoglires
, and
Larasiatheria
.
APOBEC3s
have been described in the groups belonging to
Euarchontoglires
and
Laurasiatheria
. During mammalian speciation,
A3s
have evolved through a series of gene duplications, fusions, and losses. This has resulted in the copy number variability of mammalian
A3s
during speciation.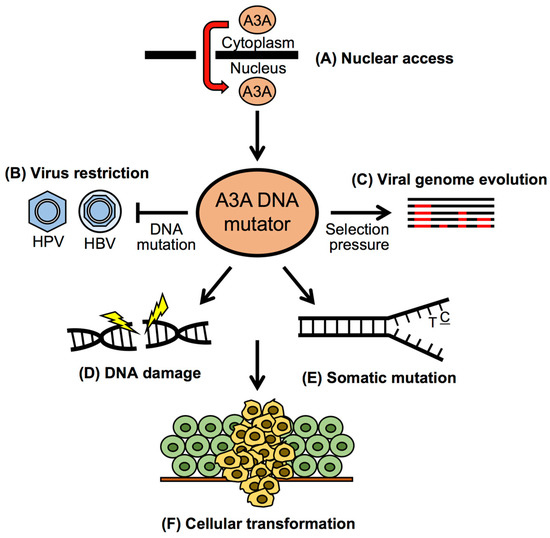 Figure 3.
A3A is arguably the most important A3 family member in HPV restriction, evolution, and cancer mutagenesis. (
A
) A3A localizes to both the cytoplasm and nuclear compartments. Nuclear access broadens the substrates targeting by A3A; (
B
) In addition to restricting lentiviruses during reverse transcription in the cytoplasm, A3A also restricts DNA viruses that replicate in the nucleus, such as human papillomavirus (HPV) and hepatitis B virus (HBV); (
C
) Selection pressures imposed by A3A may lead to viral genome evolution (pictured in red) and partial escape from A3A restriction, as has been proposed for HPV [
103
]; (
D
,
E
) A3A activity enhanced by virus persistence and/or chronic inflammation may promote DNA damage and induce somatic mutations in host DNA; (
F
) Somatic mutagenesis and DNA damage further enables cancer cell evolution and drives disease progression.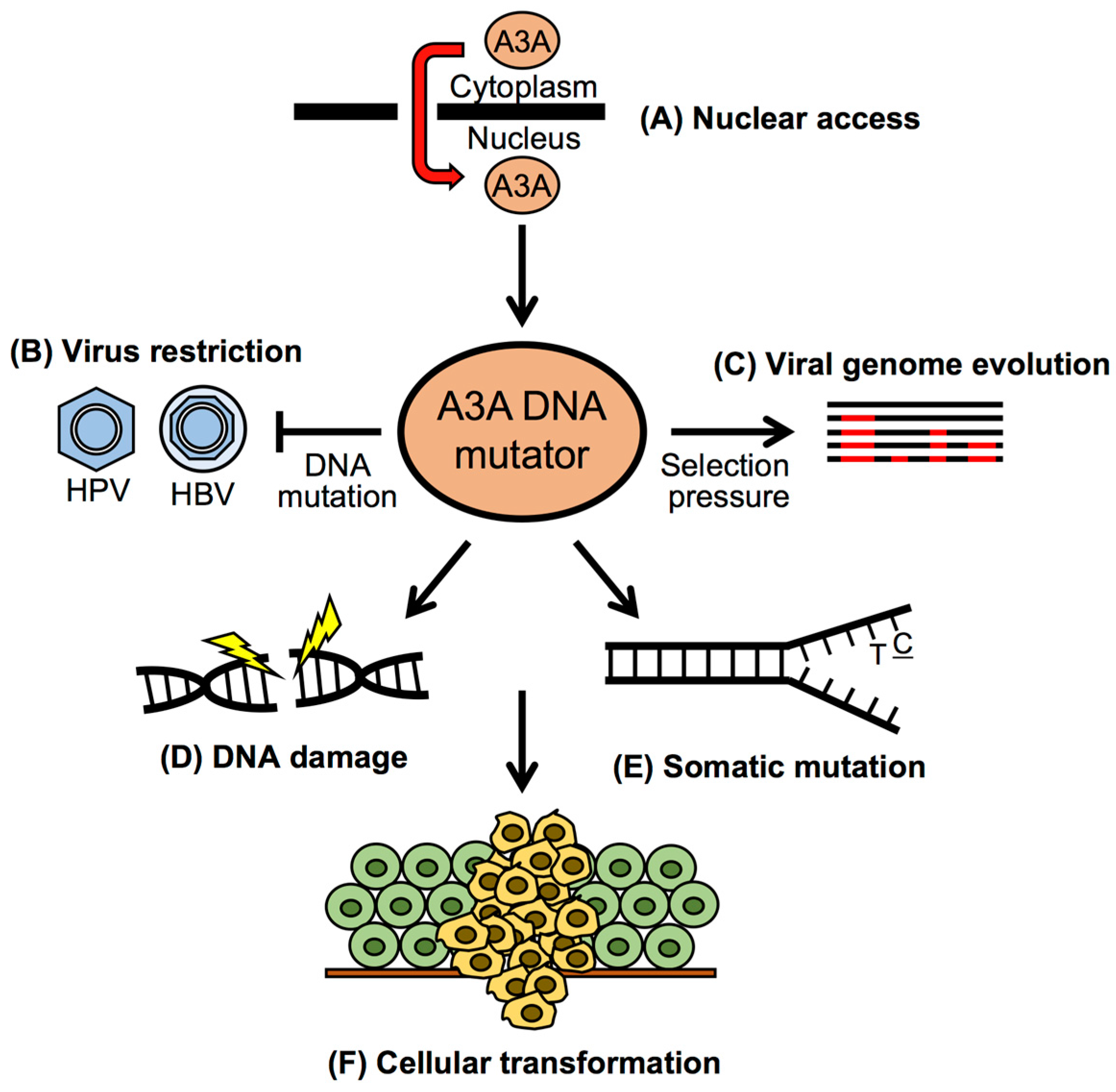 Figure 4.
High levels of TC/GA mutations in the phosphatidylinositol-4,5-bisphosphate 3-kinase catalytic subunit alpha (
PIK3CA
) open reading frame in HPV-positive head and neck cancers (HNCs) compared to HPV-negative HNCs. Amino acid mutation data of PIK3CA in HNC patients was obtained from The Cancer Genome Atlas through cBioPortal (cbioportal.org) [
149
]: HPV-positive HNC (HPV+ HNC),
n
= 36; HPV-negative HNC (HPV- HNC),
n
= 243. Amino acid changes by TC/GA mutations are indicated as red (E542K and E545K) and orange (M1043V, R88Q, G1007R, G451R, R335G), and amino acid changes by non-TC/GA mutations are indicated as blue (H1047L, H1047R) and green (C604R, C901F, C971R, E110del, E365V, G363A, K111E, K111N, Q75E, R975S, V344G, W328S). Shown are the percentage of patients containing each mutation signature.

Table 1. Restriction of DNA viruses by APOBEC3 family members.

| Virus | APOBEC3 Family Members | Functions on Viral Genome | References |
| --- | --- | --- | --- |
| Parvovirus | A3A | Unknown | [11,12,13,35] |
| Herpesvirus | A3A, A3G | DNA editing, unknown | [14,15] |
| Papillomavirus | A3A, A3C (?) | DNA editing, unknown | [18,20,36] |
| Hepadnavirus | A3A, A3B, A3C, A3F, A3G, A3H | DNA editing, deamination, and degradation | [16,17,37,38,39,40] |
© 2017 by the authors. Licensee MDPI, Basel, Switzerland. This article is an open access article distributed under the terms and conditions of the Creative Commons Attribution (CC BY) license (http://creativecommons.org/licenses/by/4.0/).