Open Access This article is
freely available
re-usable
Review
Herpesvirus and Autophagy: "All Right, Everybody Be Cool,
This Is a Robbery
!"
Institute for Integrative Biology of the Cell (I2BC), CEA, CNRS, University of Paris-Sud, Université Paris-Saclay, 91198 Gif-sur-Yvette CEDEX, France
*
Author to whom correspondence should be addressed.
Received: 18 October 2017 / Accepted: 27 November 2017 / Published: 4 December 2017
Abstract
:
Autophagy is an essential vacuolar process of the cell, leading to lysosomal degradation and recycling of proteins and organelles, which is extremely important in maintaining homeostasis. Multiple roles have been now associated with autophagy, in particular a pro-survival role in nutrient starvation or in stressful environments, a role in life span extension, in development, or in innate and adaptive immunity. This cellular process can also take over microorganisms or viral proteins inside autophagosomes and degrade them directly in autolysosomes and is then called xenophagy and virophagy, respectively. Several Herpesviruses have developed strategies to escape this degradation, by expression of specific anti-autophagic proteins. However, we are increasingly discovering that Herpesviruses hijack autophagy, rather than just fight it. This beneficial effect is obvious since inhibition of autophagy will lead to decreased viral titers for human cytomegalovirus (HCMV), Epstein-Barr virus (EBV) or Varicella-Zoster virus (VZV), for example. Conversely, autophagy stimulation will improve viral multiplication. The autophagic machinery can be used in whole or in part, and can optimize viral propagation or persistence. Some viruses block maturation of autophagosomes to avoid the degradation step, then autophagosomal membranes are used to contribute to the envelopment and/or the egress of viral particles. On the other hand, VZV stimulates the whole process of autophagy to subvert it in order to use vesicles containing ATG (autophagy-related) proteins and resembling amphisomes for their transport in the cytoplasm. During latency, autophagy can also be activated by latent proteins encoded by different oncogenic Herpesviruses to promote cell survival and achieve long term viral persistence in vivo. Finally, reactivation of gammaherpesvirus Murid Herpesvirus 68 (MHV68) in mice appears to be positively modulated by autophagy, in order to control the level of inflammation. Therefore, Herpesviruses appear to behave more like thieves than fugitives.
Keywords:
autophagy; subversion; herpesvirus; autophagosomes; amphisome; envelopment; egress; latency; reactivation; innate immunity
Acknowledgments
Authors are supported by institutional funding from the Centre National de la Recherche Scientifique (CNRS), from Univ. Paris-Sud, and from Agence Nationale de la Recherche (ANR-14-CE14-0022-01).
Conflicts of Interest
The authors declare no conflict of interest.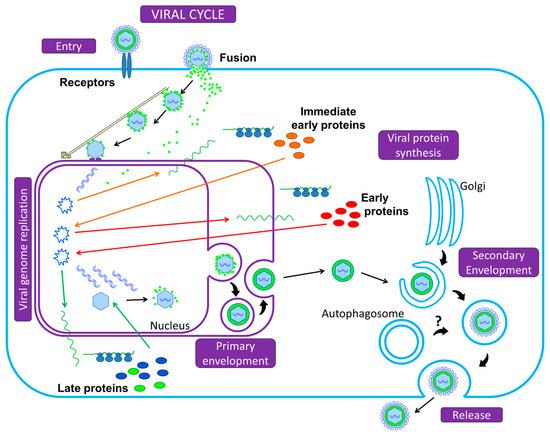 Figure 1. Summary of the Herpesvirus replication cycle. Initiation of infection begins with the adsorption of the viral particle to cell surface receptors and the virus enters the cell either by fusion of its envelope with the plasma membrane or by endocytosis, releasing the capsid and the tegument into the cytoplasm. Using the microtubule network, the nucleocapsid is transported to the nuclear pore, where the viral genome is released into the nucleus and circularizes. The viral DNA serves as a template for Pol II and leads to the production of mRNAs, expressed in three successive and coordinated phases. mRNAs are translated in the cytoplasm into viral proteins (α, or immediate-early; β, or early; and γ, or late proteins). Most of the late gene products contribute to the formation of the viral particle. DNA packaging into pre-assembled capsids takes place in the nucleus. This is followed by a primary envelopment of the nucleocapsids by budding through the inner nuclear membrane. The envelope of perinuclear virions then fuses with the outer nuclear membrane to release naked nucleocapsids into the cytoplasm (de-envelopment). Tegumented capsids acquire a "second" final envelope to become virions from post-Golgi membrane compartments. A role for autophagic membranes in envelopment and release of virions has been proposed for some herpesviruses. Once formed, virions are translocated to the cell surface within small vesicles using exocytosis machinery and released from the cells.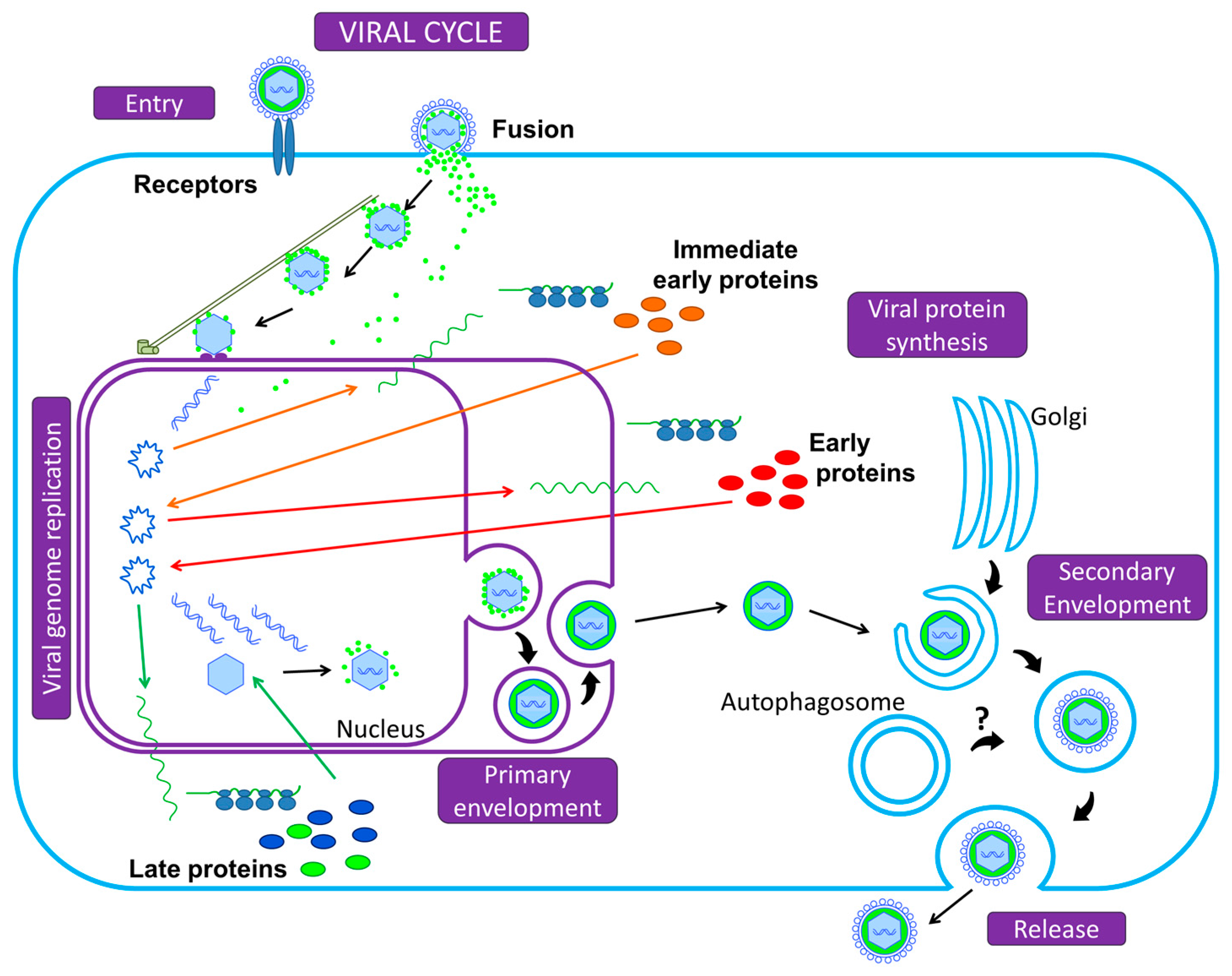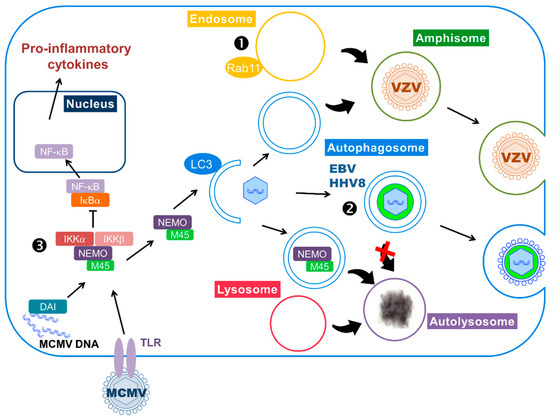 Figure 2. Subversion of autophagy during the lytic cycle. ➊,➋ Herpesviruses can use autophagy-derived vesicles for their transport within the cytoplasm and their release. ➊ VZV particles are incorporated in amphisome, a vacuole resulting from the fusion of autophagosome and endosome. ➋ Autophagosomes transport HHV8 and EBV particles to the cell surface. The viruses block autophagosome fusion with the lysosome to avoid degradation (red×). Moreover, EBV uses autophagosomal membrane for secondary envelopment and LC3 can be found in the virion. ➌ MCMV infection triggers the inflammatory cascade, via activation of TLRs and DAI (DNA-dependent activator of interferon regulatory factors), leading to nuclear translocation of NF-κB and transcription of pro-inflammatory cytokines. The viral protein M45 targets NEMO (NF-κB Essential Modulator), a protein involved in the activation of NF-κB, and redirects it to autophagosomes, where it will be degraded after fusion with the lysosome.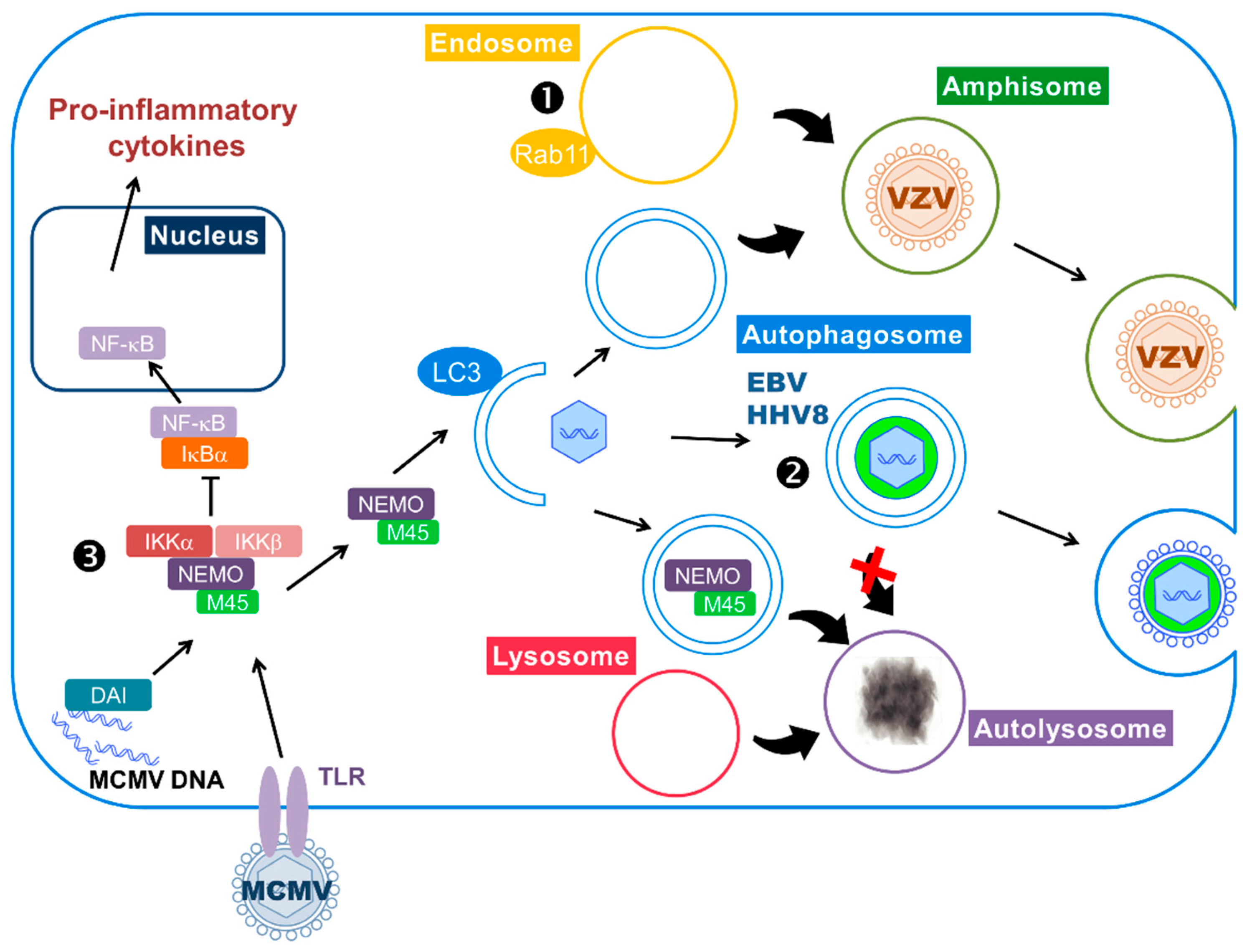 Figure 3. Subversion of autophagy during latency. (A) Herpesviruses can benefit from autophagy during latency. ➊ LMP1 encoded by EBV during latency III ➋ LMP2A during latency II, similarly to ➌ vFLIP encoded by RRV protect cell against death by stimulating autophagy (blue T bars), contributing to viral persistence and tumorigenesis. LMP1 induces autophagy either via PERK or via NF-κB. ➍ MHV68 benefits from autophagy to reactivate by limiting virus-induced inflammation (red T bar). (B) Herpesviruses can block autophagy during latency. ➎ HHV8 via vFLIP blocks autophagy to protect against oncogene-induced senescence (green T bar). ➏ The inhibition of autophagy by M11 encoded by MHV68 contributes to the maintenance of latent reservoir (orange T bar).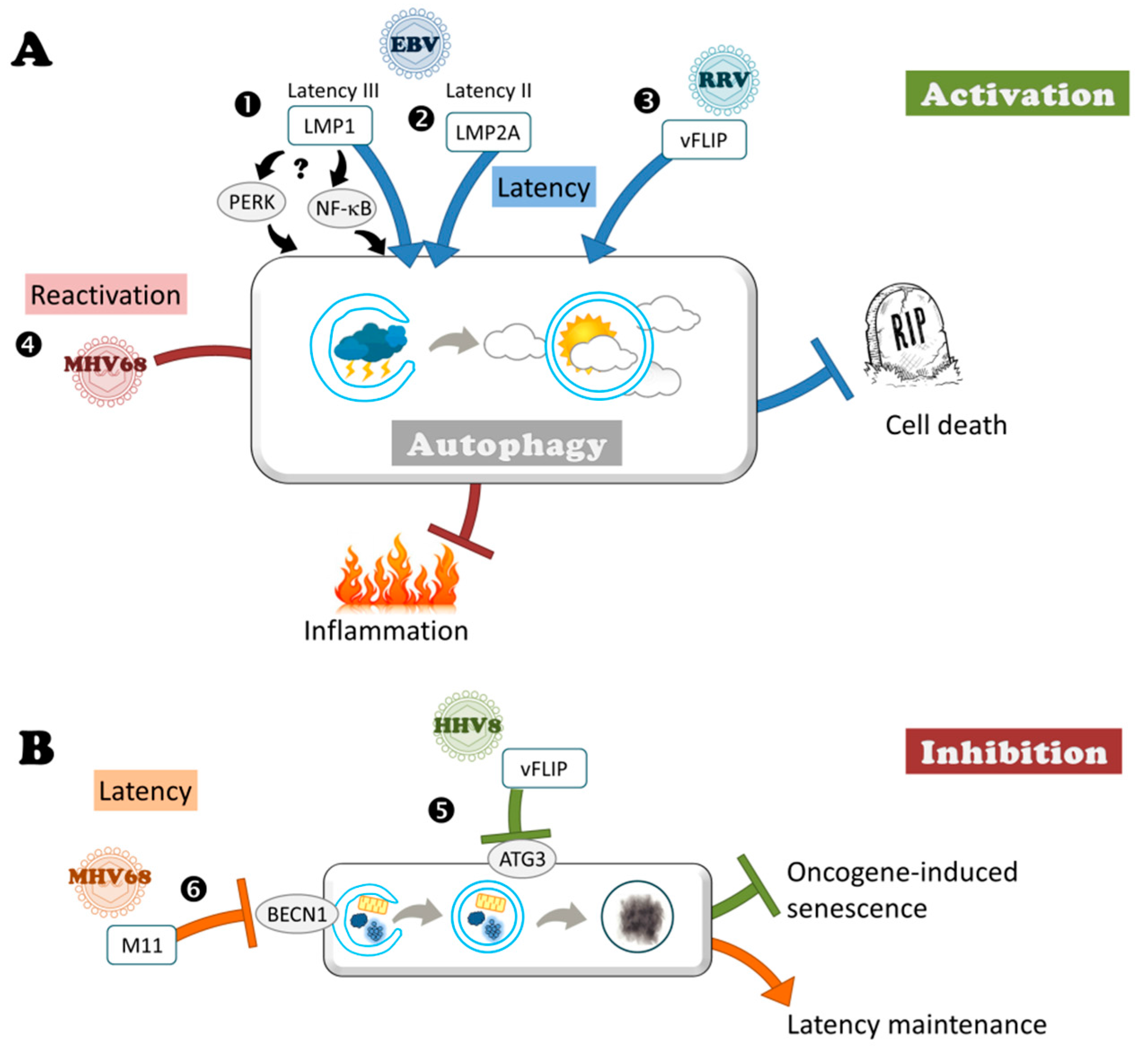 Subfamily
Name
Abbreviation
Host
Subversion of Autophagy
Ref.

Alphaherpesvirinae

Herpes simplex virus type 1
HSV-1
Human
Transient activation of autophagy in THP-1 cells via MyD88 adaptor protein, beneficial for viral entry
[67]
Herpes simplex virus type 2
HSV-2
Human
Basal autophagy promotes viral replication in fibroblasts
[70]
Varicella-Zoster virus
VZV
Human
VZV stimulates complete autophagy in several cell types and that is necessary for efficient viral glycoprotein processing.
Hijack of amphisomes for viral egress.
[71,86,87,90]
[15]
Duck enteritis virus
DEV
Waterfowl
Autophagy is stimulated at late time of infection to optimize viral production.
[72]

Betaherpesvirinae

Human Cytomegalovirus
HCMV
Human
Infection stimulates autophagy and subsequently blocks autophagosome degradation. Autophagy proteins or membranes participate in viral propagation.
[49,50,74]
Murine Cytomegalovirus
MCMV
Mouse
The viral protein M45 targets NEMO to autophagosomes for selective degradation and therefore participates to the inhibition of innate immunity
[91]

Gammaherpesvirinae

Epstein-Barr virus
EBV
Human
During lytic cycle: autophagic flux is blocked and autophagic vacuoles are hijacked by the virus for envelopment/egress
During latency: autophagy stimulation by LMP1 and LMP2A favors cell survival
[14,78]
[66,95,96]
Kaposi's sarcoma-associated Herpesvirus
KSHV or HHV8
Human
Evidence of viral particle transport in autophagosomes and positive role of autophagy during viral reactivation
During latency: Autophagy inhibition blocks oncogene-induced senescence
[80,81]
[99]
Rhesus monkey Rhadinovirus
RRV
Rhesus monkey
During latency: vFLIP-induced autophagy protects cells from apoptosis
[98]
Murid Herpesvirus 68
MHV68
Mouse and small rodents
Autophagy participates in the control of inflammation, allowing virus reactivation from latency
[100]

© 2017 by the authors. Licensee MDPI, Basel, Switzerland. This article is an open access article distributed under the terms and conditions of the Creative Commons Attribution (CC BY) license (http://creativecommons.org/licenses/by/4.0/).