Herpesvirus and Autophagy: "All Right, Everybody Be Cool,
This Is a Robbery

!"

Institute for Integrative Biology of the Cell (I2BC), CEA, CNRS, University of Paris-Sud, Université Paris-Saclay, 91198 Gif-sur-Yvette CEDEX, France

*

Author to whom correspondence should be addressed.

Received: 18 October 2017 / Revised: 26 November 2017 / Accepted: 27 November 2017 / Published: 4 December 2017
Abstract
Autophagy is an essential vacuolar process of the cell, leading to lysosomal degradation and recycling of proteins and organelles, which is extremely important in maintaining homeostasis. Multiple roles have been now associated with autophagy, in particular a pro-survival role in nutrient starvation or in stressful environments, a role in life span extension, in development, or in innate and adaptive immunity. This cellular process can also take over microorganisms or viral proteins inside autophagosomes and degrade them directly in autolysosomes and is then called xenophagy and virophagy, respectively. Several Herpesviruses have developed strategies to escape this degradation, by expression of specific anti-autophagic proteins. However, we are increasingly discovering that Herpesviruses hijack autophagy, rather than just fight it. This beneficial effect is obvious since inhibition of autophagy will lead to decreased viral titers for human cytomegalovirus (HCMV), Epstein-Barr virus (EBV) or Varicella-Zoster virus (VZV), for example. Conversely, autophagy stimulation will improve viral multiplication. The autophagic machinery can be used in whole or in part, and can optimize viral propagation or persistence. Some viruses block maturation of autophagosomes to avoid the degradation step, then autophagosomal membranes are used to contribute to the envelopment and/or the egress of viral particles. On the other hand, VZV stimulates the whole process of autophagy to subvert it in order to use vesicles containing ATG (autophagy-related) proteins and resembling amphisomes for their transport in the cytoplasm. During latency, autophagy can also be activated by latent proteins encoded by different oncogenic Herpesviruses to promote cell survival and achieve long term viral persistence in vivo. Finally, reactivation of gammaherpesvirus Murid Herpesvirus 68 (MHV68) in mice appears to be positively modulated by autophagy, in order to control the level of inflammation. Therefore, Herpesviruses appear to behave more like thieves than fugitives.
View Full-Text
►

▼

Figures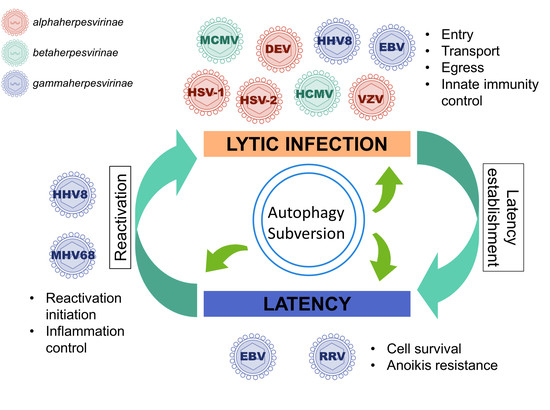 Graphical abstract
This is an open access article distributed under the
Creative Commons Attribution License
which permits unrestricted use, distribution, and reproduction in any medium, provided the original work is properly cited (CC BY 4.0).

Share & Cite This Article
MDPI and ACS Style
Lussignol, M.; Esclatine, A. Herpesvirus and Autophagy: "All Right, Everybody Be Cool, This Is a Robbery!". Viruses 2017, 9, 372.
Note that from the first issue of 2016, MDPI journals use article numbers instead of page numbers. See further details here.
Related Articles
Comments
[Return to top]