Promoter Motifs in NCLDVs: An Evolutionary Perspective
1
Laboratório de Vírus, Departamento de Microbiologia, Instituto de Ciências Biológicas, Universidade Federal de Minas Gerais, Belo Horizonte 31270-901, Minas Gerais, Brazil
2
Unité de Recherche sur les Maladies Infectieuses et Tropicales Emergentes (URMITE) UM63 CNRS 7278 IRD 198 INSERM U1095, Aix-Marseille Université., 27 Boulevard Jean Moulin, Faculté de Médecine, 13385 Marseille Cedex 05, France
†
These authors contributed equally to this work.
*
Author to whom correspondence should be addressed.
Academic Editor: Eric Freed
Received: 14 November 2016 / Revised: 30 December 2016 / Accepted: 5 January 2017 / Published: 20 January 2017
Abstract
For many years, gene expression in the three cellular domains has been studied in an attempt to discover sequences associated with the regulation of the transcription process. Some specific transcriptional features were described in viruses, although few studies have been devoted to understanding the evolutionary aspects related to the spread of promoter motifs through related viral families. The discovery of giant viruses and the proposition of the new viral order Megavirales that comprise a monophyletic group, named nucleo-cytoplasmic large DNA viruses (NCLDV), raised new questions in the field. Some putative promoter sequences have already been described for some NCLDV members, bringing new insights into the evolutionary history of these complex microorganisms. In this review, we summarize the main aspects of the transcription regulation process in the three domains of life, followed by a systematic description of what is currently known about promoter regions in several NCLDVs. We also discuss how the analysis of the promoter sequences could bring new ideas about the giant viruses' evolution. Finally, considering a possible common ancestor for the NCLDV group, we discussed possible promoters' evolutionary scenarios and propose the term "MEGA-box" to designate an ancestor promoter motif ('TATATAAAATTGA') that could be evolved gradually by nucleotides' gain and loss and point mutations.
View Full-Text
►

▼

Figures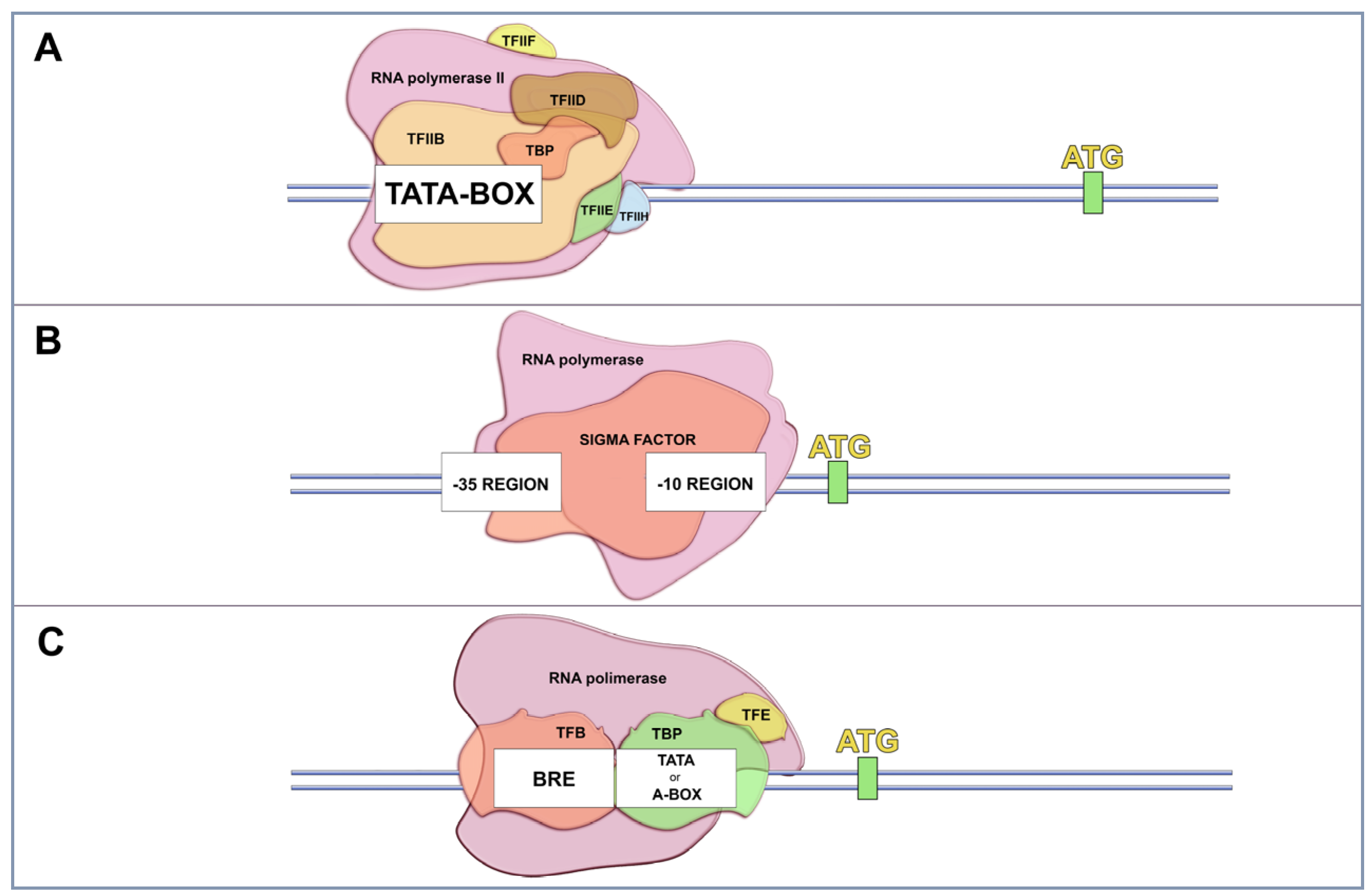 Figure 1
This is an open access article distributed under the
Creative Commons Attribution License
which permits unrestricted use, distribution, and reproduction in any medium, provided the original work is properly cited (CC BY 4.0).

Share & Cite This Article
MDPI and ACS Style
Oliveira, G.P.; Andrade, A.C.S.P.; Rodrigues, R.A.L.; Arantes, T.S.; Boratto, P.V.M.; Silva, L.K.S.; Dornas, F.P.; Trindade, G.D.S.; Drumond, B.P.; La Scola, B.; Kroon, E.G.; Abrahão, J.S. Promoter Motifs in NCLDVs: An Evolutionary Perspective. Viruses 2017, 9, 16.
Note that from the first issue of 2016, MDPI journals use article numbers instead of page numbers. See further details here.
Related Articles
Comments
[Return to top]