Binding Specificities of the Telomere Phage ϕKO2 Prophage Repressor CB and Lytic Repressor Cro
1
Bundesinstitut für Risikobewertung (Federal Institute for Risk Assessment), Department of Biological Safety, Diedersdorfer Weg 1, D-12277 Berlin, Germany
2
Max-Planck-Institut für Molekulare Genetik, Ihnestraße 63-73, D-14195 Berlin, Germany
3
Institute of Animal Hygiene and Environmental Health, Free University Berlin, Robert-von-Ostertag-Str. 7-13, D-14163 Berlin, Germany
*
Author to whom correspondence should be addressed.
Academic Editor: Rob Lavigne
Received: 27 May 2016 / Revised: 15 July 2016 / Accepted: 25 July 2016 / Published: 3 August 2016
Abstract
Temperate bacteriophages possess a genetic switch which regulates the lytic and lysogenic cycle. The genomes of the temperate telomere phages N15, PY54, and ϕKO2 harbor a primary immunity region (
immB
) comprising genes for the prophage repressor (
cI
or
cB
), the lytic repressor (
cro
) and a putative antiterminator (
q
). The roles of these products are thought to be similar to those of the lambda proteins CI (CI prophage repressor), Cro (Cro repressor), and Q (antiterminator Q), respectively. Moreover, the gene order and the location of several operator sites in the prototype telomere phage N15 and in ϕKO2 are reminiscent of lambda-like phages. We determined binding sites of the ϕKO2 prophage repressor CB and lytic repressor Cro on the ϕKO2 genome in detail by electrophoretic mobility shift assay (EMSA) studies. Unexpectedly, ϕKO2 CB and Cro revealed different binding specificities. CB was bound to three
OR
operators in the intergenic region between
cB
and
cro
, two
OL
operators between
cB
and the replication gene
repA
and even to operators of N15. Cro bound exclusively to the 16 bp operator site
OR3
upstream of the ϕKO2 prophage repressor gene. The ϕKO2 genes
cB
and
cro
are regulated by several strong promoters overlapping with the
OR
operators. The data suggest that Cro represses
cB
transcription but not its own synthesis, as already reported for PY54 Cro. Thus, not only PY54, but also phage ϕKO2 possesses a genetic switch that diverges significantly from the switch of lambda-like phages.
View Full-Text
►

▼

Figures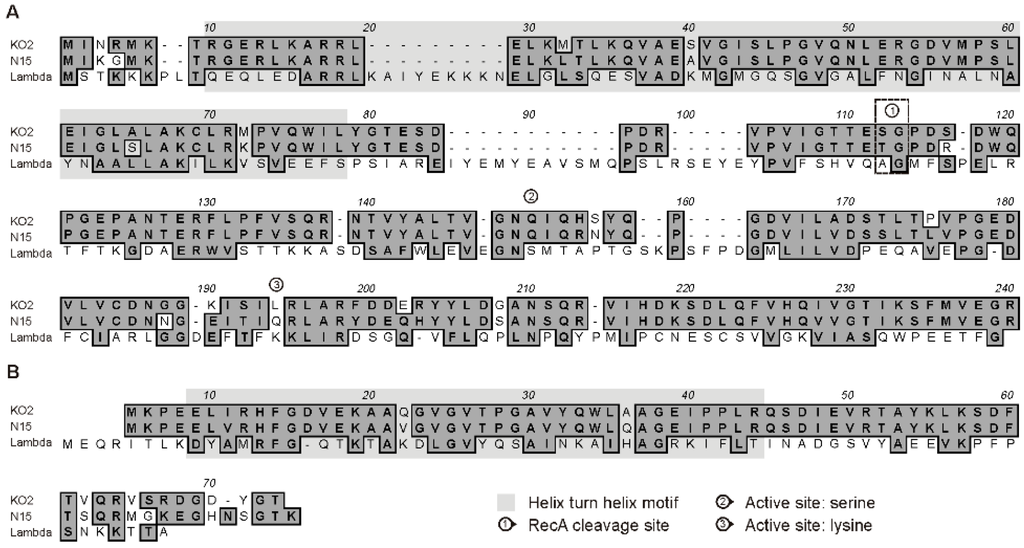 Figure 1
This is an open access article distributed under the
Creative Commons Attribution License
which permits unrestricted use, distribution, and reproduction in any medium, provided the original work is properly cited (CC BY 4.0).

Share & Cite This Article
MDPI and ACS Style
Hammerl, J.A.; Jäckel, C.; Lanka, E.; Roschanski, N.; Hertwig, S. Binding Specificities of the Telomere Phage ϕKO2 Prophage Repressor CB and Lytic Repressor Cro. Viruses 2016, 8, 213.
Note that from the first issue of 2016, MDPI journals use article numbers instead of page numbers. See further details here.
Related Articles
Comments
[Return to top]