Emergence of a Latent Indian Cassava Mosaic Virus from Cassava Which Recovered from Infection by a Non-Persistent Sri Lankan Cassava Mosaic Virus
1
Department of Plant Biotechnology, School of Biotechnology, Madurai Kamaraj University, Madurai-625021, Tamil Nadu, India
2
Institute of Botany, University of Basel, Schöenbeinstrasse 6, Basel 4056, Switzerland
3
Present address: ICAR-National Research Centre on Plant Biotechnology, PusaCampus, New Delhi110012, India
4
Present address: Department of Agricultural Biotechnology, Assam Agricultural University, Jorhat 785013, India
*
Author to whom correspondence should be addressed.
Academic Editor: Eric O. Freed
Received: 6 August 2016 / Revised: 18 September 2016 / Accepted: 19 September 2016 / Published: 28 September 2016
Abstract
The major threat for cassava cultivation on the Indian subcontinent is cassava mosaic disease (CMD) caused by cassava mosaic geminiviruses which are bipartite begomoviruses with DNA A and DNA B components. Indian cassava mosaic virus (ICMV) and Sri Lankan cassava mosaic virus (SLCMV) cause CMD in India. Two isolates of SLCMV infected the cassava cultivar Sengutchi in the fields near Malappuram and Thiruvananthapuram cities of Kerala State, India. The Malappuram isolate was persistent when maintained in the Madurai Kamaraj University (MKU, Madurai, Tamil Nadu, India) greenhouse, whereas the Thiruvananthapuram isolate did not persist. The recovered cassava plants with the non-persistent SLCMV, which were maintained vegetative in quarantine in the University of Basel (Basel, Switzerland) greenhouse, displayed re-emergence of CMD after a six-month period. Interestingly, these plants did not carry SLCMV but carried ICMV. It is interpreted that the field-collected, SLCMV-infected cassava plants were co-infected with low levels of ICMV. The loss of SLCMV in recovered cassava plants, under greenhouse conditions, then facilitated the re-emergence of ICMV. The partial dimer clones of the persistent and non-persistent isolates of SLCMV and the re-emerged isolate of ICMV were infective in
Nicotiana benthamiana
upon agroinoculation. Studies on pseudo-recombination between SLCMV and ICMV in
N. benthamiana
provided evidence for trans-replication of ICMV DNA B by SLCMV DNA A.
View Full-Text
►

▼

Figures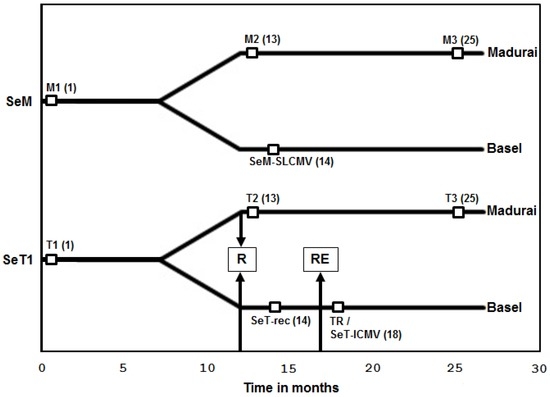 Figure 1
This is an open access article distributed under the
Creative Commons Attribution License
which permits unrestricted use, distribution, and reproduction in any medium, provided the original work is properly cited (CC BY 4.0).
Supplementary materials
Supplementary File 1:

Supplementary (PDF, 324 KB)

Externally hosted supplementary file 1
Link: http://no
Description: Fig. S1 Infectivity analysis of Sri Lankan cassava mosaic virus-[SeT1] partial dimers in N. benthamiana plants (a) Symptoms displayed by N. benthamiana plants agroinoculated with the partial dimers of SLCMV-[SeT1]. Bottom half shows individual leaves of the tested plants. (b) Southern blot analysis using SLCMV-[SeT1] DNA-A (without CR [ΔCR]) labelled with [α-32P]dCTP as the probe. The plasmid pBS-SLCMV-Tv-A digested with PstI (50 pg and 250 pg) was used as the positive control. (c) Southern blot analysis using [α-32P]dCTP-labelled SLCMV-[SeT1] DNA-B (without CR [ΔCR]) as the probe. The plasmid pBS-SLCMV-Ma-B digested with BamHI (50 pg and 250 pg) was used as the positive control. In (b) and (c), DNA (1 μg) from uninfected plant (C), plant mock infected with the A. tumefaciens strain Ach5 (Ach5), plant agroinoculated with the partial dimers of DNA-A alone (A), DNA-B alone (B) and plants co-agroinoculated with the partial dimers of DNA-A + DNA-B (A + B) (in duplicates) were loaded in the respective lanes. Positions of different forms of viral DNA-single stranded (ss), super-coiled (sc), open circular (oc) and linear (lin) are marked. Ethidium bromide stained high molecular weight plant DNA is shown for loading control at the bottom.

Share & Cite This Article
MDPI and ACS Style
Karthikeyan, C.; Patil, B.L.; Borah, B.K.; Resmi, T.R.; Turco, S.; Pooggin, M.M.; Hohn, T.; Veluthambi, K. Emergence of a Latent Indian Cassava Mosaic Virus from Cassava Which Recovered from Infection by a Non-Persistent Sri Lankan Cassava Mosaic Virus. Viruses 2016, 8, 264.
Note that from the first issue of 2016, MDPI journals use article numbers instead of page numbers. See further details here.
Related Articles
Comments
[Return to top]