Gene Acquisition Convergence between Entomopoxviruses and Baculoviruses
1
Institut de Recherche sur la Biologie de l'Insecte, CNRS UMR 7261, Université François-Rabelais, UFR Sciences et Techniques, 37200 Tours, France
2
Université de Poitiers, UMR CNRS 7267 Ecologie et Biologie des Interactions, Equipe Ecologie Evolution Symbiose, 86073 Poitiers, France
3
Forestry and Forest Products Research Institute, Matsunosato, Tsukuba, Ibaraki 305-8687, Japan
4
Institute of Agriculture, Tokyo University of Agriculture and Technology, Saiwai, Fuchu, Tokyo 183-8509, Japan
5
Great Lakes Forestry Centre, Sault Sainte Marie, ON P6A 2E5, Canada
*
Author to whom correspondence should be addressed.
†
Present address: Department of Zoology, University of Oxford, South Parks Road, Oxford, OX1 3PS, UK.
Academic Editor: Elliot J. Lefkowitz
Received: 17 December 2014 / Revised: 25 March 2015 / Accepted: 8 April 2015 / Published: 13 April 2015
Abstract
Organisms from diverse phylogenetic origins can thrive within the same ecological niches. They might be induced to evolve convergent adaptations in response to a similar landscape of selective pressures. Their genomes should bear the signature of this process. The study of unrelated virus lineages infecting the same host panels guarantees a clear identification of phyletically independent convergent adaptation. Here, we investigate the evolutionary history of genes in the accessory genome shared by unrelated insect large dsDNA viruses: the entomopoxviruses (EPVs,
Poxviridae
) and the baculoviruses (BVs). EPVs and BVs have overlapping ecological niches and have independently evolved similar infection processes. They are, in theory, subjected to the same selective pressures from their host's immune responses. Their accessory genomes might, therefore, bear analogous genomic signatures of convergent adaption and could point out key genomic mechanisms of adaptation hitherto undetected in viruses. We uncovered 32 homologous, yet independent acquisitions of genes originating from insect hosts, different eukaryotes, bacteria and viruses. We showed different evolutionary levels of gene acquisition convergence in these viruses, underlining a continuous evolutionary process. We found both recent and ancient gene acquisitions possibly involved to the adaptation to both specific and distantly related hosts. Multidirectional and multipartite gene exchange networks appear to constantly drive exogenous gene assimilations, bringing key adaptive innovations and shaping the life histories of large DNA viruses. This evolutionary process might lead to genome level adaptive convergence.
View Full-Text
►

▼

Figures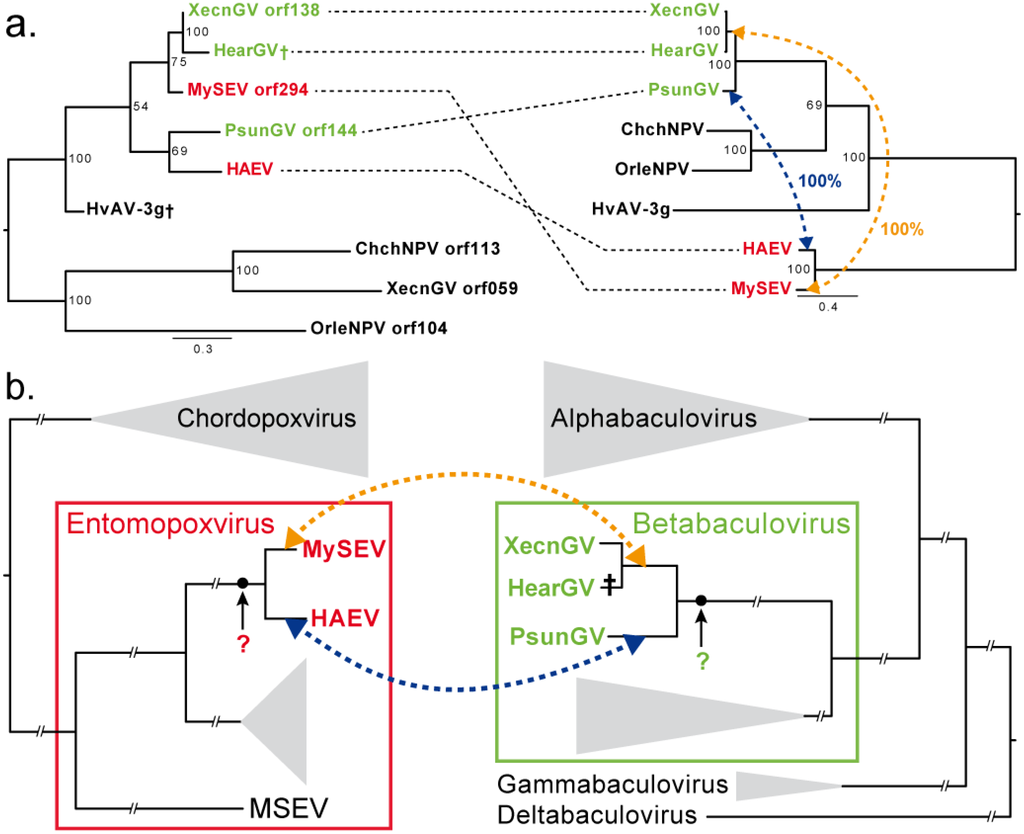 Figure 1
This is an open access article distributed under the
Creative Commons Attribution License
which permits unrestricted use, distribution, and reproduction in any medium, provided the original work is properly cited (CC BY 4.0).

Share & Cite This Article
MDPI and ACS Style
Thézé, J.; Takatsuka, J.; Nakai, M.; Arif, B.; Herniou, E.A. Gene Acquisition Convergence between Entomopoxviruses and Baculoviruses. Viruses 2015, 7, 1960-1974.
Related Articles
Comments
[Return to top]