Insect-Specific Flaviviruses: A Systematic Review of Their Discovery, Host Range, Mode of Transmission, Superinfection Exclusion Potential and Genomic Organization
1
Department of Veterinary Microbiology and Preventive Medicine, College of Veterinary Medicine, Iowa State University, Ames, IA 50011, USA
2
Department of Pathology, University of Cambridge, Cambridge CB2 1QP, UK
*
Author to whom correspondence should be addressed.
Academic Editor: Karyn Johnson
Received: 13 February 2015 / Revised: 30 March 2015 / Accepted: 8 April 2015 / Published: 10 April 2015
Abstract
There has been a dramatic increase in the number of insect-specific flaviviruses (ISFs) discovered in the last decade. Historically, these viruses have generated limited interest due to their inability to infect vertebrate cells. This viewpoint has changed in recent years because some ISFs have been shown to enhance or suppress the replication of medically important flaviviruses in co-infected mosquito cells. Additionally, comparative studies between ISFs and medically important flaviviruses can provide a unique perspective as to why some flaviviruses possess the ability to infect and cause devastating disease in humans while others do not. ISFs have been isolated exclusively from mosquitoes in nature but the detection of ISF-like sequences in sandflies and chironomids indicates that they may also infect other dipterans. ISFs can be divided into two distinct phylogenetic groups. The first group currently consists of approximately 12 viruses and includes cell fusing agent virus, Kamiti River virus and Culex flavivirus. These viruses are phylogenetically distinct from all other known flaviviruses. The second group, which is apparently not monophyletic, currently consists of nine viruses and includes Chaoyang virus, Nounané virus and Lammi virus. These viruses phylogenetically affiliate with mosquito/vertebrate flaviviruses despite their apparent insect-restricted phenotype. This article provides a review of the discovery, host range, mode of transmission, superinfection exclusion ability and genomic organization of ISFs. This article also attempts to clarify the ISF nomenclature because some of these viruses have been assigned more than one name due to their simultaneous discoveries by independent research groups.
View Full-Text
►

▼

Figures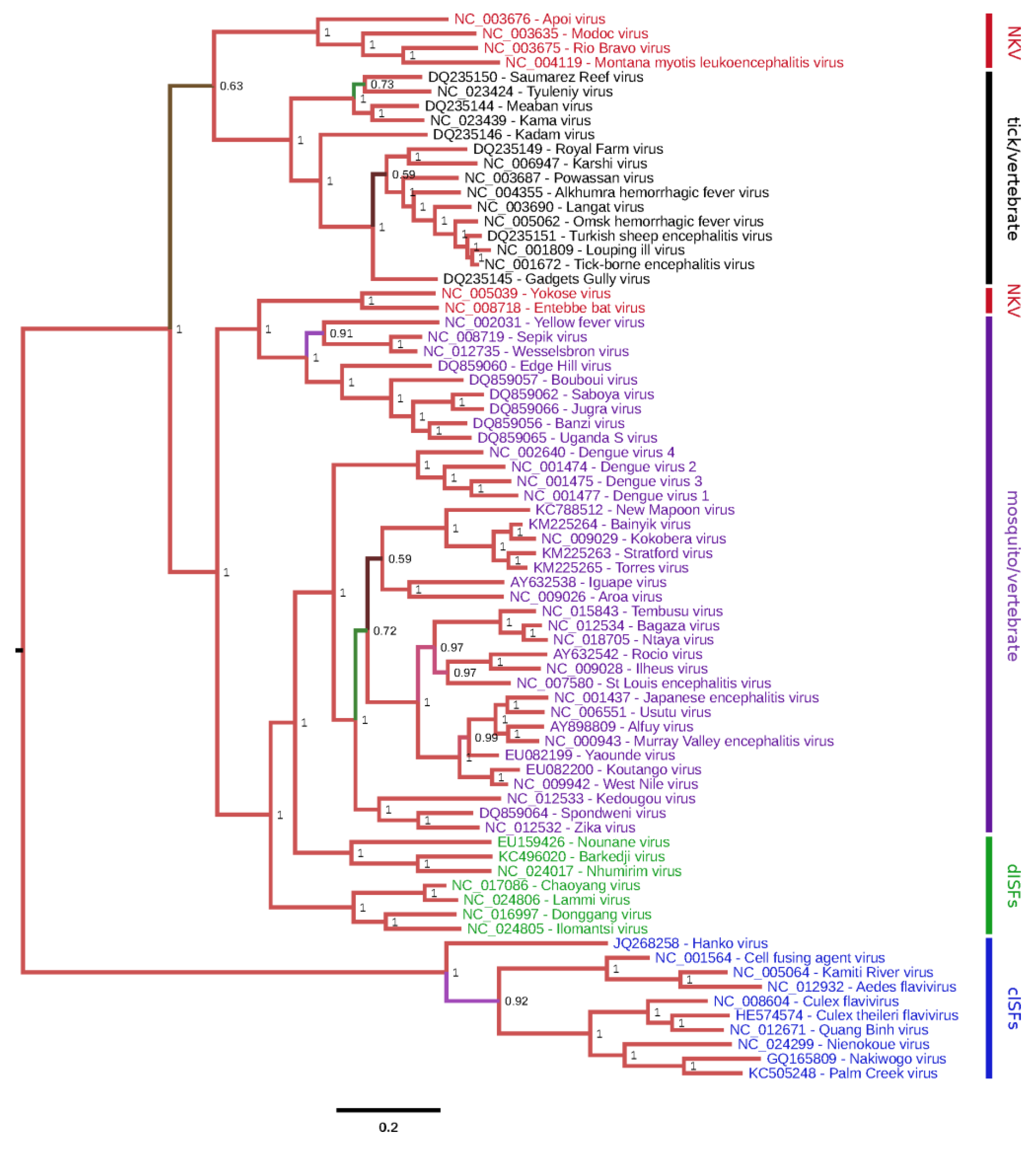 Figure 1
This is an open access article distributed under the
Creative Commons Attribution License
which permits unrestricted use, distribution, and reproduction in any medium, provided the original work is properly cited (CC BY 4.0).

Share & Cite This Article
MDPI and ACS Style
Blitvich, B.J.; Firth, A.E. Insect-Specific Flaviviruses: A Systematic Review of Their Discovery, Host Range, Mode of Transmission, Superinfection Exclusion Potential and Genomic Organization. Viruses 2015, 7, 1927-1959.
Related Articles
Comments
[Return to top]