Fitness Impaired Drug Resistant HIV-1 Is Not Compromised in Cell-to-Cell Transmission or Establishment of and Reactivation from Latency
1
Department of Microbiology and Immunology, McGill University, Montreal, Québec H3T1E2, Canada
2
McGill University AIDS Centre, Lady Davis Institute for Medical Research, Jewish General Hospital, Montreal, Québec H3T1E2, Canada
*
Author to whom correspondence should be addressed.
Received: 18 July 2014 / Revised: 1 September 2014 / Accepted: 17 September 2014 / Published: 19 September 2014
(This article belongs to the Special Issue
HIV Latency
)
Abstract
Both the presence of latently infected cells and cell-to-cell viral transmission are means whereby HIV can partially evade the inhibitory activities of antiretroviral drugs. The clinical use of a novel integrase inhibitor, dolutegravir (DTG), has established hope that this compound may limit HIV persistence, since no treatment-naïve patient treated with DTG has yet developed resistance against this drug, even though a R263K substitution in integrase confers low-level resistance to this drug in tissue culture. Here, we have studied the impact of R263K on HIV replication capacity and the ability of HIV to establish or be reactivated from latency and/or spread through cell-to-cell transmission. We affirm that DTG-resistant viruses have diminished capacity to replicate and establish infection. However, DTG-resistant viruses were efficiently transmitted via cell-to-cell contacts, and were as likely to establish and be reactivated from latent infection as wildtype viruses. Both cell-to-cell transmission of HIV and the establishment of and reemergence from latency are important for the establishment and maintenance of viral reservoirs. Since the DTG and other drug-resistant viruses studied here do not seem to have been impaired in regard to these activities, studies should be undertaken to characterize HIV reservoirs in patients who have been treated with DTG.
View Full-Text
►

▼

Figures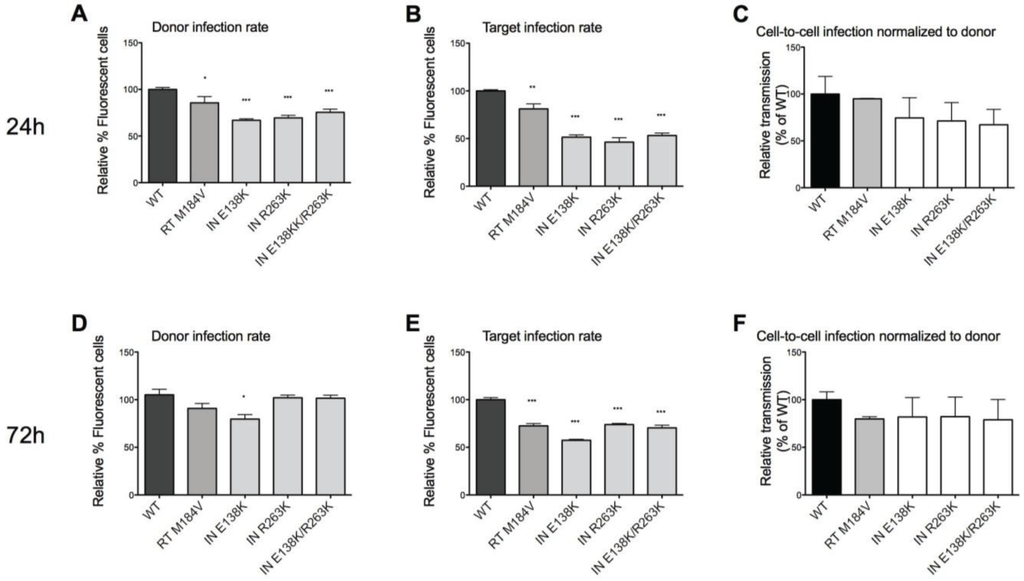 Figure 1

Share & Cite This Article
MDPI and ACS Style
Bastarache, S.M.; Mesplède, T.; Donahue, D.A.; Sloan, R.D.; Wainberg, M.A. Fitness Impaired Drug Resistant HIV-1 Is Not Compromised in Cell-to-Cell Transmission or Establishment of and Reactivation from Latency. Viruses 2014, 6, 3487-3499.
Related Articles
Comments
[Return to top]