Friend Spleen Focus-Forming Virus Activates the Tyrosine Kinase sf-Stk and the Transcription Factor PU.1 to Cause a Multi-Stage Erythroleukemia in Mice
Laboratory of Cancer Prevention, National Cancer Institute, Frederick, MD 21702, USA
*
Author to whom correspondence should be addressed.
Received: 26 August 2010 / Revised: 11 September 2010 / Accepted: 16 September 2010 / Published: 11 October 2010
Abstract
Hematological malignancies in humans typically involve two types of genetic changes: those that promote hematopoietic cell proliferation and survival (often the result of activation of tyrosine kinases) and those that impair hematopoietic cell differentiation (often the result of changes in transcription factors). The multi-stage erythroleukemia induced in mice by Friend spleen focus-forming virus (SFFV) is an excellent animal model for studying the molecular basis for both of these changes. Significant progress has been made in understanding the molecular basis for the multi-stage erythroleukemia induced by Friend SFFV. In the first stage of leukemia, the envelope protein encoded by SFFV interacts with and activates the erythropoietin (Epo) receptor and the receptor tyrosine kinase sf-Stk in erythroid cells, causing their Epo-independent proliferation, differentiation and survival. In the second stage, SFFV integration into the S
fpi1
locus activates the myeloid transcription factor PU.1, blocking erythroid cell differentiation, and in conjunction with the loss of p53 tumor suppressor activity, results in the outgrowth of malignant cells. In this review, we discuss the current level of understanding of how SFFV alters the growth and differentiation of erythroid cells and results in the development of erythroleukemia. Our knowledge of how SFFV causes erythroleukemia in mice may give us clues as to how the highly related human retrovirus XMRV causes malignancies in humans.
►

▼

Figures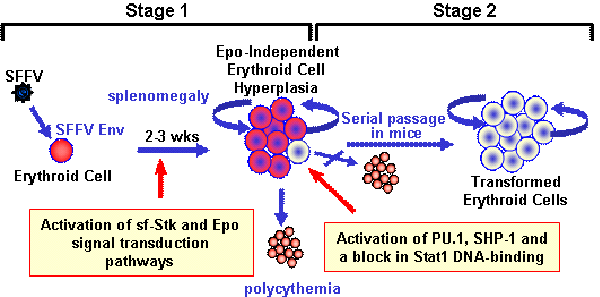 Graphical abstract

Share & Cite This Article
MDPI and ACS Style
Cmarik, J.; Ruscetti, S. Friend Spleen Focus-Forming Virus Activates the Tyrosine Kinase sf-Stk and the Transcription Factor PU.1 to Cause a Multi-Stage Erythroleukemia in Mice. Viruses 2010, 2, 2235-2257.
Related Articles
Comments
[Return to top]