Evasion of the Interferon-Mediated Antiviral Response by Filoviruses
Laboratorio de Biomedicina, FIMCM, Escuela Superior Politécnica del Litoral (ESPOL), Campus Gustavo Galindo, Km 30.5 via Perimetral, Apartado 09-01-5863, Guayaquil, Ecuador
Received: 3 September 2009 / Revised: 11 January 2010 / Accepted: 19 January 2010 / Published: 21 January 2010
Abstract
The members of the filoviruses are recognized as some of the most lethal viruses affecting human and non-human primates. The only two genera of the
Filoviridae
family, Marburg virus (MARV) and Ebola virus (EBOV), comprise the main etiologic agents of severe hemorrhagic fever outbreaks in central Africa, with case fatality rates ranging from 25 to 90%. Fatal outcomes have been associated with a late and dysregulated immune response to infection, very likely due to the virus targeting key host immune cells, such as macrophages and dendritic cells (DCs) that are necessary to mediate effective innate and adaptive immune responses. Despite major progress in the development of vaccine candidates for filovirus infections, a licensed vaccine or therapy for human use is still not available. During the last ten years, important progress has been made in understanding the molecular mechanisms of filovirus pathogenesis. Several lines of evidence implicate the impairment of the host interferon (IFN) antiviral innate immune response by MARV or EBOV as an important determinant of virulence.
In vitro
and
in vivo
experimental infections with recombinant Zaire Ebola virus (ZEBOV), the best characterized filovirus, demonstrated that the viral protein VP35 plays a key role in inhibiting the production of IFN-α/β. Further, the action of VP35 is synergized by the inhibition of cellular responses to IFN-α/β by the minor matrix viral protein VP24. The dual action of these viral proteins may contribute to an efficient initial virus replication and dissemination in the host. Noticeably, the analogous function of these viral proteins in MARV has not been reported. Because the IFN response is a major component of the innate immune response to virus infection, this chapter reviews recent findings on the molecular mechanisms of IFN-mediated antiviral evasion by filovirus infection.
View Full-Text
►

▼

Figures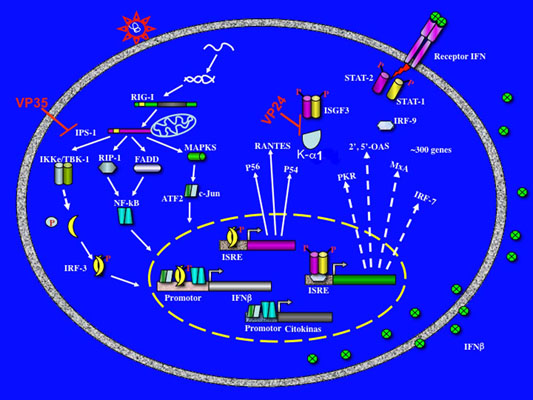 Graphical abstract

Share & Cite This Article
MDPI and ACS Style
Cárdenas, W.B. Evasion of the Interferon-Mediated Antiviral Response by Filoviruses. Viruses 2010, 2, 262-282.
Related Articles
Comments
[Return to top]