Open Access This article is
freely available
re-usable
Article
High Genomic Variability in Equine Infectious Anemia Virus Obtained from Naturally Infected Horses in Pantanal, Brazil: An Endemic Region Case
1
Institute for Biotechnology, São Paulo State University (Unesp), Botucatu 18607-440, Brazil
2
Agrarian Sciences Institute (ICA), Vales do Jequitinhonha e Mucuri Federal University (UFVJM), Unaí 39803-371, Brazil
3
Center for Technological Innovation, Evandro Chagas Institute, Ananindeua 67030-000, Brazil
4
Virology Laboratory, Universidade Federal de Minas Gerais, Belo Horizonte 31270-901, Brazil
5
Virology and Rickettsiosis Laboratory, Mato Grosso Federal University, Cuiabá 78060-900, Brazil
6
EMBRAPA Pantanal, Corumbá 79320-900, Brazil
*
Author to whom correspondence should be addressed.
Received: 12 November 2019 / Accepted: 4 February 2020 / Published: 12 February 2020
Abstract
:
Equine infectious anemia virus (EIAV) is a persistent lentivirus that causes equine infectious anemia (EIA). In Brazil, EIAV is endemic in the Pantanal region, and euthanasia is not mandatory in this area. All of the complete genomic sequences from field viruses are from North America, Asia, and Europe, and only proviral genomic sequences are available. Sequences from Brazilian EIAV are currently available only for
gag
and LTR regions. Thus, the present study aimed for the first time to sequence the entire EIAV genomic RNA in naturally infected horses from an endemic area in Brazil. RNA in plasma from naturally infected horses was used for next-generation sequencing (NGS), and gaps were filled using Sanger sequencing methodology. Complete viral genomes of EIAV from two horses were obtained and annotated (Access Number: MN560970 and MN560971). Putative genes were analyzed and compared with previously described genes, showing conservation in
gag
and
pol
genes and high variations in LTR and
env
sequences. Amino acid changes were identified in the p26 protein, one of the most common targets used for diagnosis, and p26 molecular modelling showed surface amino acid alterations in some epitopes. Brazilian genome sequences presented 88.6% nucleotide identity with one another and 75.8 to 77.3% with main field strains, such as EIAV Liaoning, Wyoming, Ireland, and Italy isolates. Furthermore, phylogenetic analysis suggested that this Brazilian strain comprises a separate monophyletic group. These results may help to better characterize EIAV and to overcome the challenges of diagnosing and controlling EIA in endemic regions.
Keywords:
equine infectious anemia virus; molecular characterization; endemic region; RNA genome; equine
1. Introduction
In this study, we aimed to characterize circulating EIAV in the Pantanal region by sequencing the complete viral genome. Our results may provide important data for resolving conflicting results based on different diagnostic techniques and establishing a fundamental theoretical basis for future research on this equid retrovirus.
2. Materials and Methods
2.1. Ethics Statement
The experiments were approved by the Institutional Animal Care and Use Committees from the School of Veterinary Medicine and Animal Science (protocol number 195/2012-CEUA), São Paulo State University (UNESP), São Paulo, Brazil.
2.2. Sample Collection and RNA Purification
Plasma from two horses (BRA1 and BRA2) from Poconé, MT, Brazil, was collected for this study, both were positive for EAIV according to AGID [
21
] and ELISA [
22
] tests. BRA1 was an asymptomatic viral carrier, and BRA2 presented oedema of low parts, high fever, and hypochlorous mucous membranes. Both animal samples were positive by semi-nested PCR with reverse transcription analysis [
23
], confirming the presence of viral RNA. Plasma was previously centrifuged at 8000× g for 10 min, and 200 µL of the pellet was used for RNA extraction with TRIzol LS Reagent (Invitrogen, Carlsbad, CA, USA) according to the manufacturer's instructions. RNA samples were quantified using the commercial fluorometer Qubit 2.0 (Invitrogen) with an RNA assay kit (Invitrogen), and 260/280 and 260/230 were measured with a NanoDrop™ 1000 Spectrophotometer (Thermo Fisher Scientific, Waltham, MA, USA). Samples were then treated with DNase I (Sigma-Aldrich, Saint Louis, MO, USA), according to the manufacturer's instructions.
2.3. Library Preparation and Next-Generation Sequencing
The BRA1 dsDNA library was synthesized from total RNA with a strand-specific RNA library prep kit (Agilent Technologies, Santa Clara, CA, USA) following the manufacturer's recommendations and quantified with an Illumina library quantification kit (KAPA Biosystems, Wilmington, MA, USA). The qPCR product generated was fractionated by 1.5% agarose horizontal gel electrophoresis.
The BRA2 library was prepared with a Nextera XT DNA library preparation kit (Illumina Inc., San Diego, CA, USA) and quantified using a KAPA library quantification kit for the Illumina Sequencing platform (KAPA Biosystems) according to a previously described protocol [
24
].
The BRA1 library was sequenced with the NextSeq System (Illumina) using a NextSeq 550 System high-output kit (1 × 75 cycles). The BRA2 library was sequenced using a NextSeq mid-output kit (2 × 150 cycles) (Illumina).
2.4. Bioinformatics Analysis
Initially, raw data (reads) were evaluated using the program Trim_Galore v.0.6.5 [
25
] to remove possible adapters. The data were then filtered and trimmed for sequence quality and size (<50 bp) using the PRINSEQ-lite algorithm [
26
]. Afterwards, de novo analysis was performed with the IDBA-UD v.1.1.3 [
27
] and SPAdes v.3.13.1 programs [
28
] to assemble the reads into contigs. Comparison with the non-redundant protein database was carried out by BlastX implemented in the DIAMOND tool v.0.9.26 [
29
], with an E-value of 0.00001 [
30
]. Data visualization using the Krona tool [
31
] allowed intuitive exploration of relative abundances and confidences within the complex hierarchies of taxonomic classifications of the generated contig sets. Geneious R8 v.8.1.9 [
32
] was used to complete the bioinformatics analysis by mapping the contigs and high-quality reads to a reference genome. EIAV genome sequences Liaoning (AF327877), Wyoming (AF033820), Miyazaki 2011-A (JX003263), IRE F2 (JX480631), Devon 2010 (MH580897), and Cornwall 2012 (MH580898) and two incomplete sequences, ITA DE (KM247554) and ITA SA (KM247555), were aligned with the NGS reads. Alignments and phylogenetic trees were built with MEGA 7 software [
33
]. Sequences were aligned by the MUSCLE algorithm v.3.8.31, and trees were constructed using the maximum-likelihood algorithm. The Tamura-Nei model was employed to stipulate distances with bootstrapping of 1000 replicates.
2.5. Primer Design and Sanger Sequencing
Primers were designed for different regions of the EIAV genome, flanking products from 800 to 1300 bp, as based on a consensus sequence obtained by massive sequencing to cover possible gaps and validate the obtained consensus sequence. The primers were designed using Primer 3 software [
34
] and analyzed by OligoAnalyzer 3.1, available online on the Integrated DNA Technologies-IDT site (
https://www.idtdna.com/calc/analyzer
), and by Primer-BLAST software (
www.ncbi.nlm.nih.gov
) (
Table 1
).
The PCR products were amplified in a reaction with 2 × GoTaq Green Master Mix (Promega, Madison, WI, USA), 0.3 mM of each primer, 5 µL of sample, and 25 µL of nuclease-free water q.s.p. The conditions of the first PCR cycles consisted of an initial denaturation for 10 min at 95 °C, 5 repeated cycles of 30 s at 95 °C, 30 s at 60 °C, and 2 min at 72 °C, 5 repeated cycles of 30 s at 95 °C, 30 s at 55 °C, and 2 min at 72 °C, and 30 repeated cycles of 30 s at 95 °C, 30 s at 50 °C, and 2 min at 72 °C, followed by 10 min of final extension at 72 °C. Amplification was analyzed by 1.5% horizontal agarose gel electrophoresis and purified for Sanger sequencing. Internal primers were designed to enhance Sanger sequencing for large products. The amplified product of the
env
gene region (nt 5112 to 8000; see
Table 1
) could not be sequenced with PCR purification alone, thus, the fragment was inserted into the pGEM-T Easy Vector (Promega) and transformed into
Escherichia coli
DH5-α following the manufacturer's protocol. For PCR product sequencing, we used BigDye Terminator v3.1 cycle sequencing (Life Technologies), with a reaction per primer following the manufacturer's directions. Capillary electrophoresis and analysis were performed using an ABI 3500 automatic sequencing system (Life Technologies).
2.6. Variability Analysis
A search for variability and single-nucleotide polymorphisms (SNPs) was performed using all the aligned reads for the final consensus BRA1 sequence obtained, which presented an average coverage greater than 1000 reads. As the estimated sequencing error rate with the Illumina platform is approximately 2%, we stipulated a minimum coverage of 10 and a minimum variance frequency of 0.2 for analysis using Geneious R8 v. 8.1.9 program tools.
2.7. Molecular Modelling
A molecular model of the
gag
protein p26 was built to verify possible variations of epitopes, because this protein is used for serological diagnosis (AGID). This molecular model was based on the 2.7 Å resolution-crystallographic structure of p26 (1EIA) from a previous X-ray diffraction experiment [
35
]. Linear p26 amino acid sequences from BRA1 and BRA2 were used to search for homology sequences for threading using the HHpred server (
https://toolkit.tuebingen.mpg.de/#/tools/hhpred
) [
36
]. Modeller 9.15 [
37
] was applied to generate the p26 models, and the best model was chosen based on stereochemistry parameters assayed on the MOLProbity server (
http://molprobity.biochem.duke.edu/
) [
38
]. Previously described epitope sequences [
39
,
40
,
41
] were compared by structure alignment using the CHIMERA program [
42
].
3. Results
3.1. Complete Sequence of Brazilian EIAV
Next-generation sequencing using the Illumina platform was performed with two RNA samples obtained from the plasma samples of two naturally infected horses. The sequencing of equine 1 (BRA1) yielded more reads than did the sequencing of equine 2 (BRA2) (
Table 2
). The sequences were aligned using six complete EIAV genomes as references: Liaoning (AF327877), Wyoming (AF033820), Miyazaki2011-A (JX003263), IRE F2 (JX480631), Devon 2010 (MH580897), Cornwall 2012 (MH580898), and two incomplete sequences, ITA DE (KM247554) and ITA SA (KM247555), obtained from field animals. The overall alignment presented some gaps in different consensus regions of the viral genome, especially in the
env
gene.
In order to cover the remaining regions and to obtain the complete genomic sequence, primers were designed based on the partial consensus BRA1 and BRA2 sequences and their sequenced products. The PCR product corresponding to the
env
gene did not show multiple bands by gel electrophoresis, however, the results indicated that more than one product had been amplified. In this case, cloning of the products was performed, and six individual colonies for BRA1 and five colonies for BRA2 were sequenced.
The sequences obtained by Sanger were incorporated into the map for reference analysis with each complete genome already described. Such sequences acted as a guide for the highly divergent regions of the original sequence and helped with genome coverage. The consensus sequences ultimately obtained for BRA1 and BRA2 presented 8016 and 7968 bases, respectively, from R to R (LTR), ending with a poly A tail, a characteristic typical of retroviruses. The consensus sequences were annotated with prediction ORFs based on other genome annotations.
Multiple alignments of the complete sequences were performed to generate a phylogenetic tree based on the maximum-likelihood method. Identities between the described genomes and the Brazilian sequences are provided in
Table 3
. European sequences exhibit higher identity, with degrees of identity varying between 98.22% and 99.42%. However, genomes from different world regions show identity of approximately 74% to 79%. In contrast, the Brazilian sequences (BRA1 and BRA2) present an identity of 88.56%. The phylogenetic tree showed clades containing sequences from mixed geographic locations: England/Brazil, Europe, Asia/USA (
Figure 1
).
3.2. Polymorphisms in the EIAV Genome
Genetic variation between the viral genomes comprised SNPs, insertions, and deletions. Sufficient coverage for variation analysis was only achieved for the BRA1 sample (coverage above 1000 reads). In total, 33 SNPs were identified in the BRA1 reads, with 19 causing amino acid changes (Supplemental
Figure 1
). The highest number of SNPs was found for the
pol
gene (21), followed by
env
(7), and
gag
(4). Only one SNP was located in the U5 LTR (
Figure 2
). No insertions or deletions passed the cut-off frequency of 0.25.
Sanger sequences of
env
were assembled to compare variations in this gene. Sequences from the same equine show insertions and deletions from 3 to 24 nucleotides (1 to 6 amino acids) and nucleotide/amino acid substitutions (
Supplementary Figure S1
). It was not possible to sequence the total
env
gene by Sanger sequencing using only one PCR fragment, therefore, more than one fragment was necessary to cover the whole gene. However, due to the presence of different PCR fragments obtained from different quasispecies present in the BRA1 sample, we were not able to define the precise sequence of each specific
env
gene.
3.4. Gag Variation and p26 Molecular Modelling
Brazilian p26 is 232 amino acids long, with alterations between BRA1 and BRA2 (
Table 4
). Analysis of these alterations indicated no alteration in the physical and chemical characteristics of the modified residues. Models of p26 BRA1 and BRA2 were analyzed with regard to epitope structural analysis. All altered residues in the epitopes were located on the protein surface (
Figure 3
).
5. Conclusions
Here, complete genomic sequences of Brazilian EIAV (BRA1 and BRA2) from an area at high risk of EIA transmission area are described. The NGS strategy developed was able to generate sequences without pre-amplification of the RNA equine sample. Based on sequence alignments and similarity plot analysis, BRA1 and BRA2 are not closely related to any other strain reported to date, forming a separate monophyletic group that can be classified as a novel EIAV strain. Based on
env
gene analysis, different viral quasispecies were also observed in both equines. Studies on variations in the EIAV genome can help elucidate the viral complexity and evolutionary mechanisms of EIAV in natural and persistent infection in areas of high viral circulation.
Supplementary Materials
The following are available online at
https://www.mdpi.com/1999-4915/12/2/207/s1
. Table S1: Table of SNPs for BRA1, Figure S1: Alignment of
env
clone sequences of BRA1 and BRA2 based on Sanger sequencing, Figure S2: Alignment of nucleotide sequences in the EIAV LTR, Figure S3: Alignment of the EIAV Gag polyprotein, Figure S4: Alignment of the EIAV Pol polyprotein, Figure S5: Alignment of the EIAV
env
region, Figure S6: Phylogenetic trees of Brazilian field sequences and sequences from abroad, Figure S7: Multiple alignment of
gag
sequences from Bahia (Brazil) and BRA1 and BRA2 from Pantanal (Brazil).
Author Contributions
Data curation, C.D.M. and J.P.A.J. Formal analysis, C.D.M., J.F.C. and A.J.M. Funding acquisition, M.F.N. and J.P.A.J. Investigation, C.D.M., E.G.F., A.M.C.M.B., M.F.N. and L.S.U. Project administration, J.P.A.J. Resources, E.G.F., A.J.M., E.G.K., D.d.M.A. and M.F.N. Supervision, J.P.A.J. Visualization, C.D.M. Writing—original draft, C.D.M. Writing—review & editing, C.D.M., A.J.M. and L.S.U. All authors have read and agreed to the published version of the manuscript.
Funding
This research was funded by Fundação de Amparo à Pesquisa do Estado de São Paulo (2014/13532-3).
Acknowledgments
The authors thank Embrapa for technical support.
Conflicts of Interest
The authors declare no conflict of interest. The funders had no role in the design of the study; in the collection, analyses, or interpretation of data; in the writing of the manuscript, or in the decision to publish the results.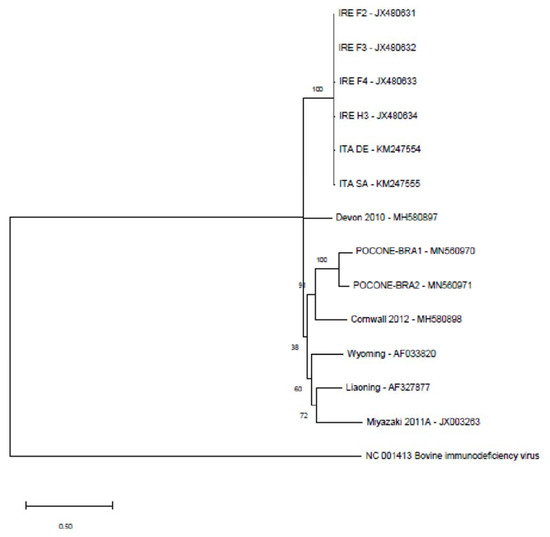 Figure 1. Cladogram involving equine infectious anemia virus (EIAV) complete genome sequences and BRA1 and BRA2 sequences obtained from the Pantanal region using the maximum-likelihood method. The following sequences were used: EIAV Miyazaki 2011A (Japan); EIAV BRA1 and EIAV BRA2 (Brazil); EIAV Liaoning (China); EIAV Wyoming (USA); EIAV ITA SA and EIAV ITA DE (Italy); EIAV IRE F2, EIAV IRE F3, EIAV IRE F4 and EIAV IRE H3 (Ireland); EIAV Cornwall 2012 and EIAV Devon 2010 (England); bovine Immunodeficiency virus (outgroup—NC_001413.1).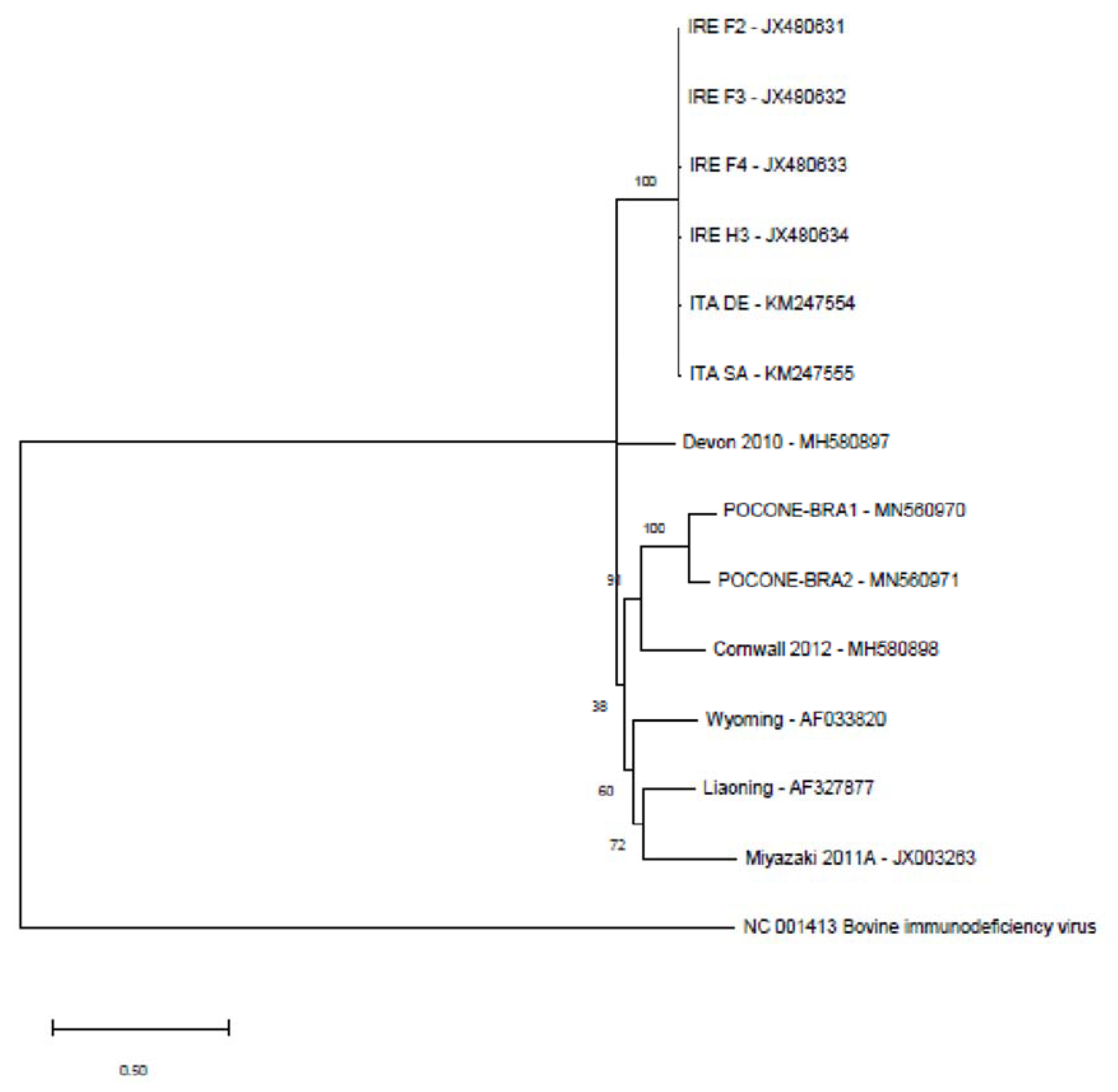 Figure 2. Representative genome of EIAV BRA1. Genome annotation shows the variant distribution, marked below in yellow. Coverage is represented in blue, and identity is represented in dark yellow.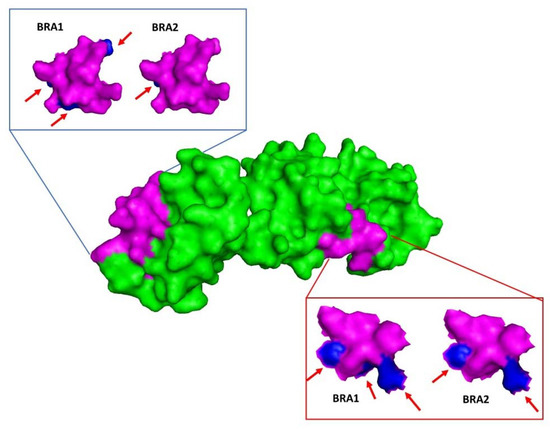 Figure 3. Molecular modelling of BRA1 and BRA2 p26 using a p26 crystallographic structure (PDB code 1EIA) with Modeller software. Epitopes with amino acid alterations were compared in both models, showing surface residue alterations. Blue arrows point to amino acid alteration compared to the reference.

Table 1. Primers for equine infectious anemia virus (EIAV) genome regions. Genome positions are according to MN560970.
Primer
Sequence 5′-3′
Genome Position
Product Size
AIE_GEN F 463-482
CCA GAG CAC AGG ARG ACA GG
463-482
AIE_GEN R 926-906 *
CCT CTG GGK GTT AAG GGT CGG
926-906
889 bp
AIE_GEN R 1352-1333
TAA GGC TCT TTK GGS CCT TG
1352-1333
AIE_GEN F 1333-1352
CAA GGS CCM AAA GAG CCT TA
1333-1352
AIE_GEN R 1963-1943 *
TTA CTC CCA CAA ACT GCT CAG
1963-1943
940 bp
AIE_GEN R 2273-2254
GCC ATT ACC AAT TGT GCC CC
2273-2254
AIE_GEN F 3878-3897
GCC AGG TCA CAA GGG CAT AT
3878-3897
AIE_GEN R 4540-4521 *
CCT GCA GGT CCA GAT CCY TG
4540-4521
1096 bp
AIE_GEN R 4974-4955
CCA TGG TGT TTG KCC YCC CA
4974-4955
AIE_GEN F 5112-5132
GGG TGA TGG TGC TGT AGT GGT
5112-5132
AIE_GEN F 5934-5959 *
GTG TAC AGA TAG TGA TCA TTG TCA AG
5934-5959
1637 bp
AIE_GEN R 6749-6727
GCC CGA GAA GTA ACA GGA AAA GG
6749-6727
AIE_GEN F 6823-6842
GCT ATT GCT GCT AGT GCY AC
6823-6842
1177 bp
AIE_GEN R 8000-7981
AGA TGT AGC TGG ATT TAR CG
8000-7981
AIE_GEN F 7751-7770
CAA AGC GAA GGA GGA AAC AT
7751-7770
526 bp
AIE_GEN R 8277-8258
GGG ACT CAG ACC GCA GAA TC
8277-8258
* Used as an inner primer for Sanger sequencing.
| Samples | Raw Reads | Reads at Least Q30 | Mapped Reads | Mean Coverage |
| --- | --- | --- | --- | --- |
| BRA1 | 18,371,626 | 92.7% | 422,676 | 3969 |
| BRA2 | 10,374,696 | 71.2% | 6927 | 78.3 |

Table 3. The identity matrix with EIAV genomes shows the percentage of bases/residues that are identical.
| | Miyazaki | BRA1 | BRA2 | Cornwall | Wyoming | Devon | Liaoning | IRE H3 | IRE F4 | IRE F2 | IRE F3 | ITA SA | ITA DE |
| --- | --- | --- | --- | --- | --- | --- | --- | --- | --- | --- | --- | --- | --- |
| Miyazaki - JX003263 | | | | | | | | | | | | | |
| BRA1 - MN560970 | 74.963 | | | | | | | | | | | | |
| BRA2 - MN560971 | 74.944 | 88.507 | | | | | | | | | | | |
| Cornwall 2012 - MH580898 | 72.507 | 75.171 | 75.440 | | | | | | | | | | |
| Wyoming - AF033820 | 75.156 | 76.601 | 76.614 | 74.829 | | | | | | | | | |
| Devon 2010 - MH580897 | 75.897 | 76.500 | 77.322 | 75.255 | 77.490 | | | | | | | | |
| Liaoning - AF327877 | 76.531 | 76.751 | 77.491 | 75.115 | 77.860 | 78.906 | | | | | | | |
| IRE H3 - JX480634 | 75.568 | 77.021 | 76.741 | 75.044 | 78.189 | 78.855 | 79.018 | | | | | | |
| IRE F4 - JX480633 | 75.520 | 77.058 | 76.741 | 74.994 | 78.196 | 78.951 | 79.066 | 99.190 | | | | | |
| IRE F2 - JX480631 | 75.348 | 77.042 | 77.015 | 75.224 | 78.393 | 79.080 | 79.297 | 98.937 | 99.118 | | | | |
| IRE F3 - JX480632 | 75.612 | 77.005 | 76.741 | 75.053 | 78.149 | 78.934 | 78.990 | 99.057 | 99.299 | 99.420 | | | |
| ITA SA - KM247555 | 75.455 | 76.756 | 76.823 | 75.409 | 78.338 | 79.128 | 79.252 | 98.512 | 98.792 | 99.197 | 98.983 | | |
| ITA DE - KM247554 | 75.253 | 76.630 | 76.798 | 75.282 | 78.288 | 79.014 | 79.176 | 98.461 | 98.665 | 99.133 | 98.944 | 99.324 | |

Table 4. Previously described epitope alterations for each p26 sequence obtained. Alterations are marked in red.

© 2020 by the authors. Licensee MDPI, Basel, Switzerland. This article is an open access article distributed under the terms and conditions of the Creative Commons Attribution (CC BY) license (http://creativecommons.org/licenses/by/4.0/).