MiR-125b Suppression Inhibits Apoptosis and Negatively Regulates Sema4D in Avian Leukosis Virus-Transformed Cells
1
Division of Avian Infectious Diseases, State Key Laboratory of Veterinary Biotechnology, Harbin Veterinary Research Institute, The Chinese Academy of Agricultural Sciences, Harbin 150069, China
2
Department of Life science, Northeast Forestry Universtiy, Harbin 150069, China
3
The Pirbright Institute & UK-China Centre of Excellence for Research on Avian Diseases, Pirbright, Ash Road, Guildford, Surrey GU24 0NF, UK
*
Authors to whom correspondence should be addressed.
Received: 13 May 2019 / Revised: 9 July 2019 / Accepted: 2 August 2019 / Published: 7 August 2019
Abstract
Subgroup J avian leukosis virus (ALV-J), an oncogenic retrovirus, causes hemangiomas and myeloid tumors in chickens. We previously showed that miR-125b is down-regulated in ALV-J-induced tumors. This study aimed to investigate the possible role of miR-125b in ALV-J-mediated infection and tumorigenesis. Knockdown of miR-125b expression in HP45 cells reduced, whereas over-expression induced late-stage apoptosis. Bioinformatics analysis and luciferase activity assays indicate that miR-125b targets Semaphorin 4D/CD100 (Sema4D) by binding the 3′-untranslated region of messenger RNA (mRNA). Up-regulation of miR-125b in the DF1 cell line suppressed Sema4D expression, whereas miR-125 down-regulation increased Sema4D expression levels. To uncover the function of Sema4D during ALV-J infection, animal infection experiments and in vitro assays were performed and show that
Sema4D
mRNA levels were up-regulated in ALV-J-infected tissues and cells. Finally, functional experiments show that miR-125 down-regulation and Sema4D over-expression inhibited apoptosis in HP45 cells. These results suggest that miR-125b and its target Sema4D might play an important role in the aggressive growth of HP45 cells induced by avian leukosis viruses (ALVs). These findings improve our understanding of the underlying mechanism of ALV-J infection and tumorigenesis.
View Full-Text
►

▼

Figures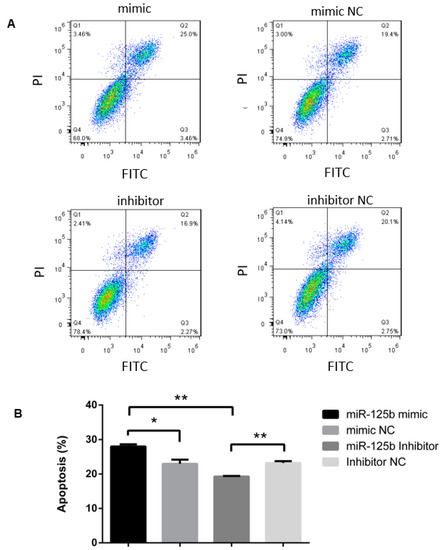 Figure 1
This is an open access article distributed under the
Creative Commons Attribution License
which permits unrestricted use, distribution, and reproduction in any medium, provided the original work is properly cited (CC BY 4.0).

Share & Cite This Article
MDPI and ACS Style
Ren, C.; Xie, R.; Yao, Y.; Yu, M.; Chang, F.; Xing, L.; Zhang, Y.; Liu, Y.; Wang, S.; Farooque, M.; Wang, Y.; Qi, X.; Liu, C.; Zhang, Y.; Cui, H.; Li, K.; Gao, L.; Pan, Q.; Nair, V.; Wang, X.; Gao, Y. MiR-125b Suppression Inhibits Apoptosis and Negatively Regulates Sema4D in Avian Leukosis Virus-Transformed Cells. Viruses 2019, 11, 728.
Note that from the first issue of 2016, MDPI journals use article numbers instead of page numbers. See further details here.
Related Articles
Comments
[Return to top]