Genetic Markers Associated with Field PRRSV-Induced Abortion Rates
1
Departament de Ciència Animal, Universitat de Lleida – AGROTECNIO Centre, 25198 Lleida, Spain
2
INZAR, SL, 50840 Zaragoza, Spain
3
Free-lance Veterinarian, 50001 Zaragoza, Spain
*
Author to whom correspondence should be addressed.
Received: 5 July 2019 / Revised: 30 July 2019 / Accepted: 30 July 2019 / Published: 1 August 2019
Abstract
In gilts and sows, the more severe clinical manifestation of porcine reproductive and respiratory syndrome virus (PRRSV) occurs in late gestation and can result in up to a 40% abortion incidence. Despite the known genetic component in resilience to PRRSV, there is scarce information regarding the abortive outcome of this disease. We tested the relationship between eight molecular markers (six from published studies and two identified in the present study in the
HDAC6
gene) and the probability of abortion during a PRRSV outbreak, using data from two commercial Landrace x Large White sow farms with an incidence of abortion of 35% and 17%. From the markers tested,
USP18
_-1533G>A did not segregate in these populations, and
CD163
_c.3534C>T and
HDAC6
_g.2360C>T did not affect the abortion rate. In contrast, the minor allele of two markers in SSC4 (WUR1000125 in
GBP1
and rs340943904 in
GBP5
), which lower viremia in growing pigs, and the major alleles of
CD163
_rs1107556229 and
HDAC6
_rs325981825 were associated with a lower probability of abortion during PRRSV outbreaks. The more striking result was for the
MX1
gene, where the odds ratio of aborting versus not aborting was nine times lower in the sows homozygous for a 275-bp insertion than in the other genotypes. Interactions between markers were not relevant. All together, we bring here the first evidence that mutations in the host genome can predispose or protect from complete reproductive failure in sows infected with PRRSV.
View Full-Text
►

▼

Figures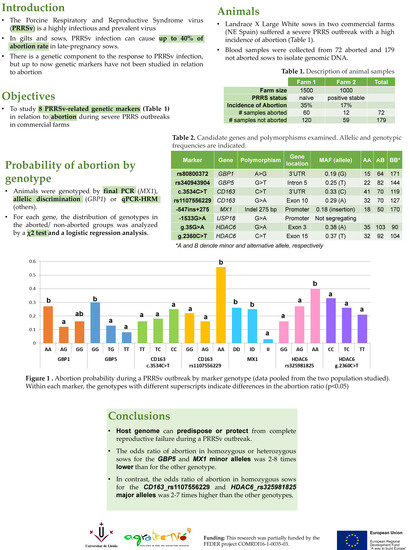 Graphical abstract
This is an open access article distributed under the
Creative Commons Attribution License
which permits unrestricted use, distribution, and reproduction in any medium, provided the original work is properly cited (CC BY 4.0).

Share & Cite This Article
MDPI and ACS Style
Pena, R.N.; Fernández, C.; Blasco-Felip, M.; Fraile, L.J.; Estany, J. Genetic Markers Associated with Field PRRSV-Induced Abortion Rates. Viruses 2019, 11, 706.
Note that from the first issue of 2016, MDPI journals use article numbers instead of page numbers. See further details here.
Related Articles
Comments
[Return to top]